---
Movers & Shakers: Matías Tarnopolsky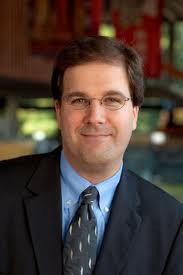 Matías Tarnopolsky
Director
Cal Performances
Matías Tarnopolsky is one of those people who needs to know a lot about a lot of things. As director of Cal Performances since 2009, he heads an organization that presents and commissions more than 100 performances and projects every year at the University of California at Berkeley. This season's offerings on the hilly campus just outside San Francisco stretch from countertenors and the Vienna Philharmonic to mariachi bands and Chinese ballet companies.
Tarnopolsky's budget is in the $12 million range, and he has six venues at his disposal. There are four chamber-sized spaces in addition to the main venue, Zellerbach Hall, with approximately 2,000 seats, which opened in 1968. And let's not forget the 8,500-seat outdoor Greek Theater where Sarah Bernhardt appeared in 1906 to bolster the spirits of San Franciscans after the earthquake and fire that nearly destroyed the city. Cal Performances dates its 107-year-old history to that monumental event.
Tarnopolsky's eclectic background may explain why he's settled in so well on the northern California campus. Now in his early 40s, he was born in Buenos Aires and raised in London. After working as a producer for the BBC Symphony Orchestra and BBC Singers, he came to the U.S. in 1999 for a six-year stint with the Chicago Symphony Orchestra. While there, he helped establish MusicNOW, the CSO's vibrant contemporary music chamber series, and initiated CSO collaborations with some of Chicago's leading dance and theater companies. He left in 2006 to become vice president for artistic planning at the New York Philharmonic.
Soft-spoken but passionate about music, Tarnopolsky has pushed hard on two fronts at Berkeley. He wants to connect Cal Performances more closely to the greater Berkeley-Oakland community and to the 36,000-plus students on the Cal-Berkeley campus. In September 2010 he launched Free for All, a day of continuous free performances open to anybody who might wander by Zellerbach Hall or other of the venues. That first year he worried that nobody would show up. But Free for All was an instant hit, and now draws thousands every fall. Further to his outreach efforts, Tarnopolsky has organized seminars focusing on music education and the importance of its role in early childhood and grade school.
He's been equally successful connecting visiting artists and ensembles with students. The Vienna Philharmonic, Valery Gergiev, and the Mariinsky Orchestra don't simply give a concert at Zellerbach Hall. They spend time in residence on campus, giving master classes and working with students.
Berkeley by way of Buenos Aires, London, Chicago, and New York. Good training for directing Cal Performances' potpourri of international artists and artistry.

WHO'S BLOGGING


RENT A PHOTO
Search Musical America's archive of photos from 1900-1992.