---
Movers & Shakers: Mark Volpe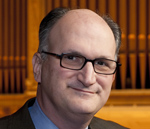 Mark Volpe
Managing Director
Boston Symphony Orchestra
Mark Volpe oversees what might be considered a musical empire: the Boston Symphony Orchestra, the Boston Pops, and Tanglewood, the BSO's summer festival in the Berkshires and home to the Tanglewood Music Center for pre-professional musicians. The advantage of owning 800 acres in western Massachusetts is but one point the BSO's managing director brings up to underline the organization's general good fortune amid challenges that face all major arts institutions.
Now in his 16th year at the helm, Volpe is the motor behind the growth of the operating budget from $49.9 million (in 1997) to $86.3 million, and the endowment from $149 million to $435 million. He's worked with soon-to-be three music directors—Seiji Ozawa, James Levine, and, as of next September, Andris Nelsons. When Levine's health forced him to skip concerts and ultimately resign after seven seasons, Volpe kept a supply of eminent maestros (Christoph von Dohnányi, Bernard Haitink, Lorin Maazel) and gifted young conductors on the podium.
He has brought the orchestra deeply into the technological age. "One thing we can learn from sports empires is how they use media to drive people to events," Volpe says. "It's a source of revenue for them. When I speak with our players, we talk about how to use media." The web site draws 7.3 million visitors each year and has generated a total of $85 million in revenue. The orchestra sells thousands of tickets—for Symphony Hall and Tanglewood—online, as well as recording downloads and merchandise. Among his strategies for luring new audiences, Volpe has instituted several reduced-ticket policies aimed at college students and people under 40, and added a BSO101 series at Symphony Hall.
He is determined to raise the profile of the BSO brand ever higher. "When people say Boston, certainly they're going to think education and medicine, but when they think culture I want them to think about us," he says. "With that comes philanthropy. If you matter, people will invest." Yet Volpe never takes the orchestra's healthy financial position for granted: "Frankly, I see one of my roles is to make sure not that we just give great concerts in 2013, but that the orchestra is here 50 years from now."

WHO'S BLOGGING


RENT A PHOTO
Search Musical America's archive of photos from 1900-1992.