---
Movers & Shakers: Roger Wright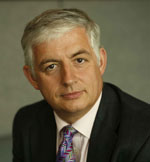 Roger Wright
Controller BBC Radio 3
Director BBC Proms
Roger Wright has been controller of the BBC's classical music and drama network, Radio 3, for 15 years—his longest stay in any job, further enlivened in 2007 when he also became director of the BBC Proms. His work has met with a mixed response, his achievements with the Proms widely lauded, his efforts to popularize the radio network provoking much dissent. He bats off criticism with a schoolboy-like humor (he is addicted to poor puns) and lets off steam on the tennis court when a knee injury permits. Wright is in charge of Radio 3's editorial strategy, commissioning, and scheduling policies. He is also responsible for four of the BBC's performing groups: the BBC Concert Orchestra, the BBC Philharmonic, the BBC Symphony Orchestra, and the BBC Singers.
Under his leadership, BBC Radio 3 has increased its commitment to live music and to nurturing young artists. He has heartily embraced the digital era, including a controversial Radio 3 Beethoven download project in 2005, which prompted one million (free) downloads of the Beethoven symphonies in one week, to the chagrin of some record company executives. Wright has been the driving force behind groundbreaking composer-focused seasons such as The Beethoven Experience, A Bach Christmas, Webern Day, and most recently, the complete works of Mozart and Schubert.
Contemporary music is central to Wright's vision in both his jobs, and the publicly funded Proms season is notable for the number and range of its premieres, many of them BBC commissions. While the BBC does not discuss internal funding arrangements, it is clear that Wright has been successful in convincing the right people to maintain support for BBC's classical output.
Educated at Chetham's School of Music, Manchester, Wright earned his music degree at the University of London. He started his career at the British Music Information Center, ultimately running the world's largest collection of British contemporary music. After a spell as senior producer of the BBC Symphony Orchestra he became artistic administrator of the Cleveland Orchestra (1989 to 1992), then executive producer and then vice-president, artists & repertoire, at Deutsche Grammophon, where he managed the artistic planning and production of all DG's audio and visual output.
Roger Wright is a fellow of the Royal College of Music, a fellow of the Radio Academy and an Honorary Fellow of Royal Holloway, University of London and Honorary Member of the Royal Northern College of Music. He has received the Association of British Orchestras Award for his outstanding contribution to orchestral life in the U.K.
Mover & Shaker Francesca Zambello

WHO'S BLOGGING


RENT A PHOTO
Search Musical America's archive of photos from 1900-1992.