---
The Best Classical Music App Yet

Stephen Hough's enlightening, illuminating, and thoroughly engaging dissection of the Liszt Piano Sonata in B minor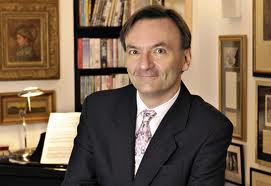 Stephen Hough has long owned the title Renaissance Man of Music—as pianist, writer, painter he has been named by the Economist as one of 20 living polymaths and was the first classical performer to win the MacArthur Fellowship. Now he brings together his musical prowess, his love of words, and his enthusiasm for new technology with an app for iPad drilling deep into the Liszt Piano Sonata in B minor, created by Touch Press. [See Another New Wrinkle for Classical Recordings: The App.]
It is a triumph. For anyone trying to come to grips with the piece as a performer or just wanting to learn more about it as a listener, this comprehensive overview of one of the piano repertoire's great warhorses scores high in so many ways.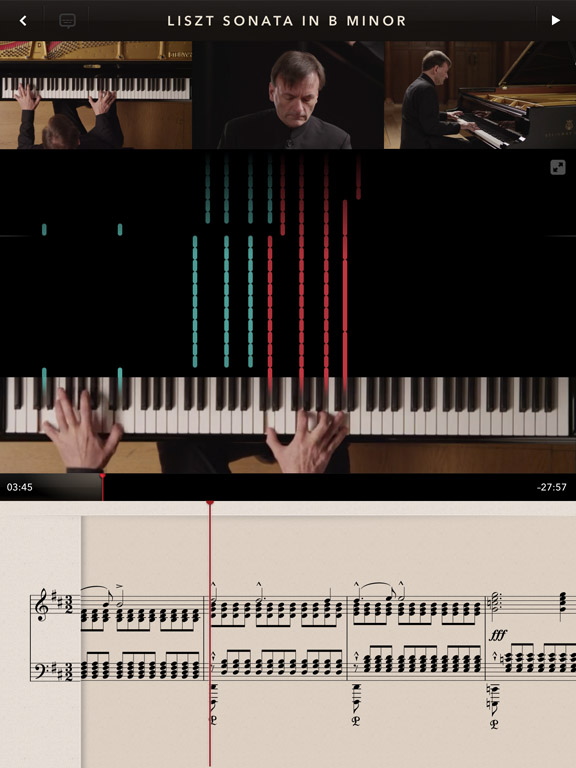 Half the app is given over to "The Performance," in which Hough gives a beautifully wrought account of the piece that can be viewed in various ways. You can see him full face, viewed from the audience perspective, just watch his hands on the keyboard filmed from above, or see an intriguing "note-fall," which turns every note of the piece into colored shapes—green for left hand and red for right—tying them to the notes being played on the keyboard pictured below.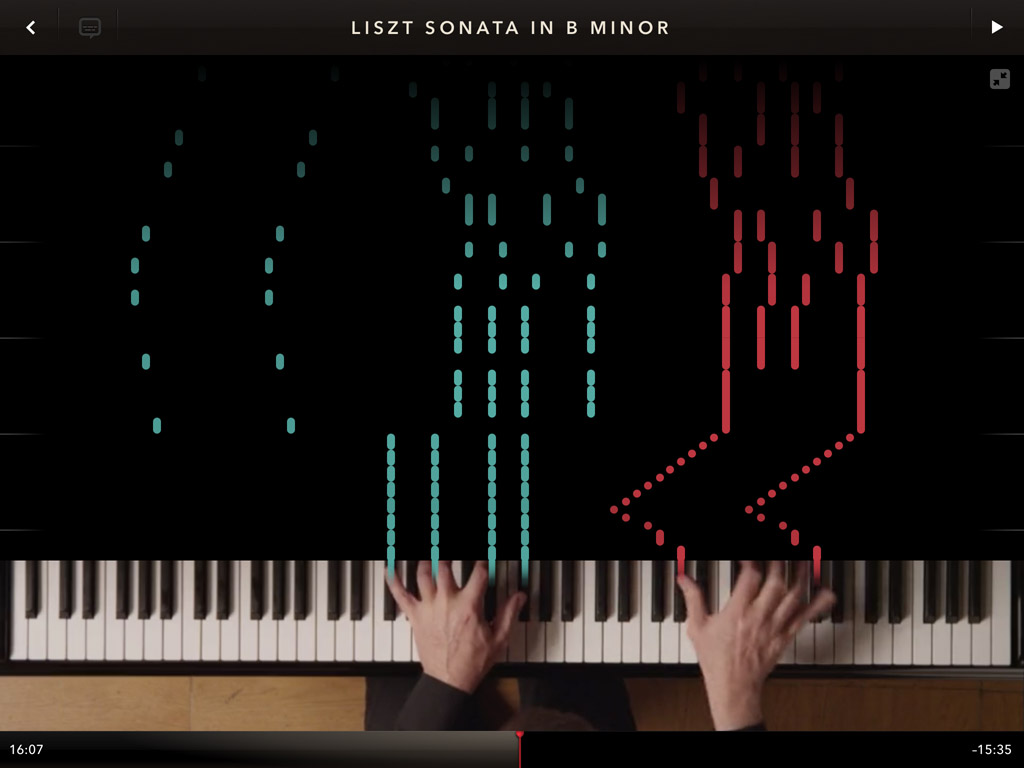 Underneath all these views, the piano score scrolls along as the performance progresses. The other half of the app is given over to "About the Piece"—Charlotte Gardner's introduction to the sonata with notes on the composer, a full program note, structural analysis, and a history of sonata form, punctuated by a filmed interview with Hough in various insets.
But the real meat of the app lies in Hough's own spoken commentary as the piece goes along, which can be heard or just watched as subtitles. This gives a real performer's insight, dealing with the technical difficulties as well as flagging up the various motifs as they come up and generally enthusing over the emotional import of the music.
By way of example, at one point Hough says: "A hint now of the major that's coming, and here's the point of arrival of the D major. It's such a radiantly wonderful moment, and you feel the whole instrument vibrating under your fingers, and indeed under your knees at this point."
His enthusiasm is as infectious as the playing, and adds greatly to the overall experience of the work.
Classical music has spawned a number of apps of varying quality, but The Liszt Sonata, as it is titled, should be up there on the awards platform. "Is this the best classical music app yet," said Gramophone, with very good reason. In a relatively new market, it will be interesting to see whether it attracts enough takers to encourage Hough to try a similar approach on other great works from the repertoire.
---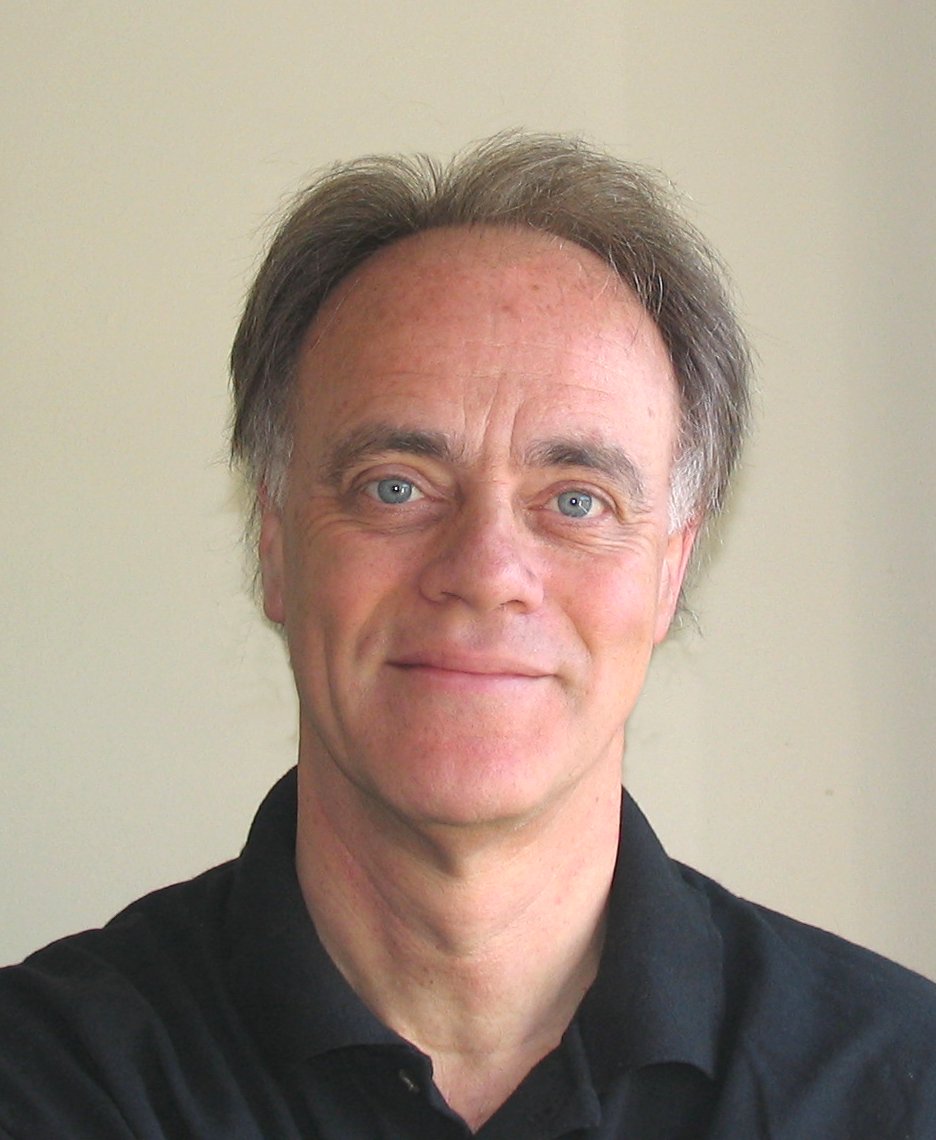 Keith Clarke is a freelance music journalist and consulting editor of Classical Music magazine, which he edited for 21 years. He has been the London correspondent for Musical America and
MusicalAmerica.com since 1999.
---

WHO'S BLOGGING

Interviews with musicians who have successfully created their own opportunities.
PROFESSIONAL
GROWTH
FIND:
»MORE

| | |
| --- | --- |
| 1. | Aspen Hires New General Manager |
| 2. | ROH Loses Its Appeal on Damaged Hearing Case |
| 3. | ENO Artistic Director to Exit |
| 4. | Revolving Podiums: Last-minute Changes in Philly, Toronto, D.C., New York, Boston |
| 5. | Surprise Newcomer to Helm Berkeley Symphony |
| 6. | CSO, Musicians Meet Tuesday |
| 7. | Notre Dame: Fire Is Out, Organ Intact; Funds Pledged |
| 8. | Peter Serkin, Murray Perahia, Both Cancelling for Illness |
| 9. | Party Time: Salonen, LA Phil, and Stravinsky's Rite |
| 10. | The Audience Survives: JACK Attacks All Five Carter Quartets |
NETWORK
FIND:
Updates to artist manager rosters
»MORE
RENT A PHOTO
Search Musical America's archive of photos from 1900-1992.