---
First Annual JJ Opera Awards

In order to gather as many important operatic events of the recent past as possible in one place, I have prepared not so much a roundup as a stampede of 18 months' duration, extending back from the present to May 2011.
---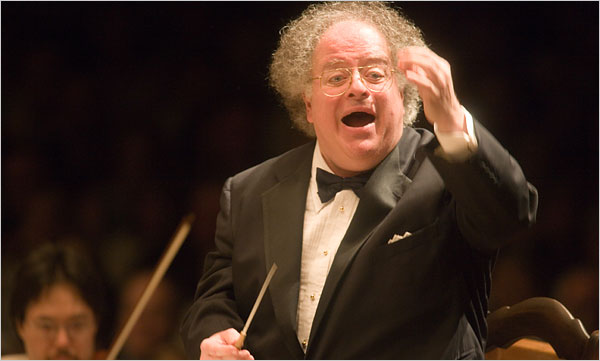 Most Important News Story
May 14, 2011 marked the most recent Metropolitan Opera performance conducted by James Levine, Die Walküre. Earlier that month in this still unfurling yarn, Levine resigned as music director of the Boston Symphony Orchestra after repeated cancellations and absences. That summer, he underwent surgery for his back then suffered a setback when he fell in September. For a year, almost complete silence reigned, with Met Principal Conductor Fabio Luisi taking up much of the slack on the podium. Then, on October 11, 2012, the Met announced Levine's successful physical rehabilitation and his plan to return in 2013–14 for three productions including a new Falstaff staging. If Levine's recovery can be sustained—and that's a big "if"—this will continue to be one of the most important opera news stories of the 21st century.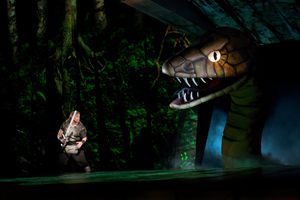 Biggest Disappointment
Speaking of that Ring cycle, it deserves a nod for biggest disappointment. Robert Lepage's résumé suggested he was an interesting if controversial choice to bring Wagner's tetralogy up to date for the Met, and early computer renderings indicated fluid and brisk movement from the massive 45-ton, 25-plank rotating "Machine" unit set. But on opening night, some effects looked unconvincingly half-baked (e.g., a singularly unscary dragon) or else obviously didn't work (notoriously, the entrance of the gods into Valhalla, presented to a gala audience, plus every critic you've ever heard of, as a few vaguely pulsing disco lights as the planks malfunctioned and froze). It just got worse from there: accidents, delays, technical glitches, and noisy scene changes. Finally, exploding statues at the end of Götterdämmerung set the whole theater giggling. And now, starting with the production's first performance in the spring of 2012, New York is stuck with it until a board member coughs up the $30 million required to replace it. I'm not holding my breath.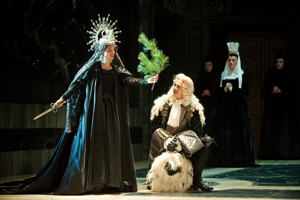 Best Opera Production
This award goes not to the Met but to the Brooklyn Academy of Music, and Les Arts Florissants's revival of Lully's Atys in September 2011. Really superb art is quite difficult to describe, harder yet to criticize. The best I can do is to say that when I exited the matinee performance, the stunning autumn afternoon outside seemed phony and cheap in comparison to the monochromatic splendor of Jean-Marie Villégier's staging and William Christie's splendid musical direction. What perhaps I loved best about this production is that it didn't impose any overt intellectual concept on the piece; rather, the opera's superb taste and restraint spoke for itself.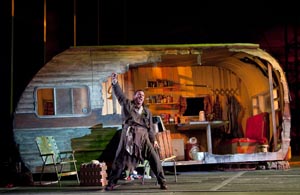 Most Successful Ring Cycle
Never mind the Met's attempt, San Francisco Opera's new Ring, launched in the summer of 2011, is deserving of highest accolades. True, Francesca Zambello's all-American take on the drama is hardly the most imaginative approach—that honor would go to Achim Freyer's surrealistic vision for Los Angeles Opera the previous summer. But, in contrast to Lepage at the Met, Zambello at least seems to have a clear idea of what the saga is about, and, as she generally does, she brought out sensitive acting details, particularly among the women of the cast. This production marked the pre-Met emergence of Jay Hunter Morris as Siegfried (subbing for an ailing Ian Storey) and starred the Brünnhilde who should have been at the Met, the magnificent Nina Stemme.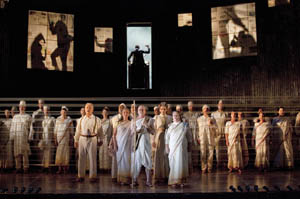 Most Important Opera Production
The Met can claim this one, even though the company didn't really have anything to do with what made it so timely and vital. The revival of Glass's Satyagraha in the fall of 2011 happened to coincide with the zenith of the Occupy Wall Street movement, and history was made after the last performance on December 1. A large crowd of Occupy supporters assembled just outside the Lincoln Center plaza to hear the composer take to the "people's microphone," reciting a snippet of the opera's text about how goodness is "thrusting back evil and setting virtue on her seat again." With Alex Ross Tweeting the news, the event bracingly reaffirmed the often-ignored connection between culture and political action.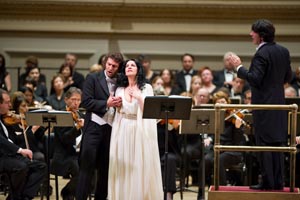 Grandest Opera Production
Less intellectually lofty, but hitting every button on the "You had to be there" board was Francesco Cilea's Adriana Lecouvreur at Opera Orchestra of New York on November 8, 2011. Oh, everyone was there, including people you had long since assumed were dead. Who knows, maybe they were dead, but just had to come back this once. Angela Gheorghiu and Jonas Kaufmann cooed and roared and sighed and swooned, looking like Nouvelle Vague film stars the whole time. The mere presence of the cancellation-prone Gheorghiu was enough to transform the concert into an operaphile's best dream. Even if her wispy performance of "Io son l'umile ancella" provoked less than flattering comparisons to Scotto or Tebaldi, nobody could fault her fluttering of that white silk caftan in her death scene.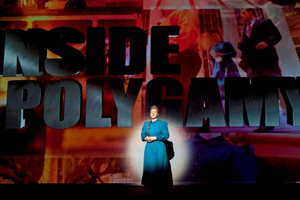 Most Interesting Failure
Not every premiere can be a hit, and you have admire companies that take the risk of presenting new works—such as Gotham Chamber Opera's production of Nico Muhly's Dark Sisters. The piece was oddly proportioned and slow to get started, but fascinated with both its unconventional subject matter (a rebellious "sister wife" of a self-styled Mormon prophet) and eclectic musical treatment (from haunting part-writing for the women's voices to jittery pastiche in a segment set on a cable news show.) If he can develop a firmer grasp of musical dramaturgy, Muhly may well have a bright future as an opera composer. On the other hand, I'd sit though Dark Sisters a dozen times before I'd return to Rufus Wainwright's Prima Donna. The New York City Opera's American premiere of this syrupy pastiche attracted all sorts of arty celebs—Yoko Ono, Parker Posey, and the composer himself in one of his trademark silly hat—who stoically endured a nearly plotless, nearly tuneless trifle about an opera singer who doesn't want to sing any more. With music like Wainwright's on the program, who can blame her?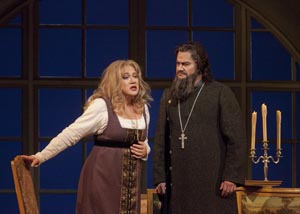 Sleeper Hit
Back at the Met, there were a few high points among (many) lows. The revival of Mussorgsky's densely historical Khovanshchina showcased bravura performances of a galaxy of stars of the Met's Russian wing: Olga Borodina, Misha Didyk, Anatoli Kotscherga, George Gagnidze, and Ildar Abdrazakov. Conductor Kirill Petrenko's controversial decision to use an alternate quiet finale for the climactic mass suicide of the Old Believers worked brilliantly, ending the fourhour saga like an eerie dream.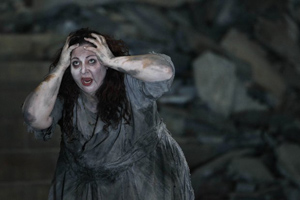 Most Encouraging News
Lyric Opera of Chicago suffered a frankly dreary 2011–12 season: When Show Boat is the most talked about event of the year, all the rebranding in the world isn't going to help. So it's encouraging that the company kicked off fall 2012 with a crackling production of Elektra—most unlikely opening-night fare. It won some of the loudest ovations heard at the Civic Opera House in years, with Christine Goerke's fearless performance of the title role and David McVicar's suitably creepy production singled out for top honors.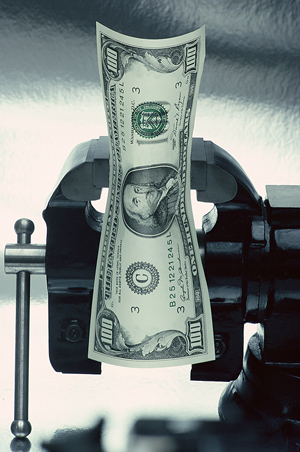 Least Encouraging News
The stagnant U.S. economy continues to batter regional companies. Innovative Opera Boston shut down completely at the start of 2012, and even such stalwarts as Seattle Opera and Dallas Opera are feeling the pinch, laying off staff, curtailing programs, and generally just trying to hold on season by season. Will regional opera ever rebound, or will shorter seasons and safe repertory be "the new normal?"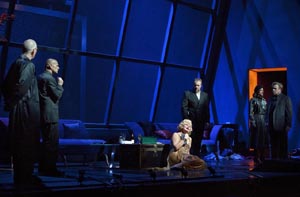 Most Fabulous Farewell
This belongs to Karita Mattila in The Makropulos Case (May 11, 2012) at the Met, though the accolade may have to include an asterisk. This vocal supernova depicting the demise of 300- something diva Emilia Marty was not officially announced as her last at the Met, but a witness at the final performance in the run testifies that during the thundering standing ovation, Mattila took a moment to kneel and plant a kiss on the stage. (A week later, the company announced she would withdraw from this season's new production of Un ballo in maschera.) Anyway, if magnificent Mattila does return to the company at some later date, she'll surely garner a nomination for Most Spectacular Comeback.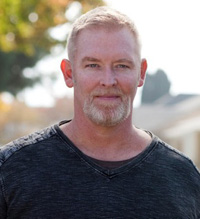 Einspringer of the Decade
At the other end of the career scale, the Met featured a number of very promising debuts, including countertenor Iestyn Davies and soprano Latonia Moore. But overshadowing them all was a second debut of sorts for Jay Hunter Morris (previously heard at the Met in Jenufa) in that most exacting of tenor roles, the titular hero of Siegfried. The production opened October 27, 2011, barely a week after Morris, third in line for the part, was promoted. His tireless voice, plausibly heroic look, and, wonder of wonders, actual acting won him success on the first night. That triumph was followed by the achievement of bringing a few sparks of excitement to otherwise dreary full Ring cycles the following spring.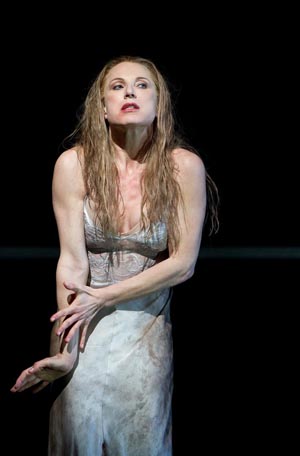 Egg-on-Her-Face Diva of the Decade
Other newcomers made less favorable impressions, but only one qualifies for this category. Mess o'soprano Nadja Michael caterwauled and flailed her way through Verdi's Macbeth in March 2012 to a notably frigid audience response. It would be unfair to single out her screeched high D-flat in the Sleepwalking Scene—broadcast and then shared widely among connoisseurs of operatic Schadenfreude—if in fact this singular note were not emblematic of Michael's sheer overwhelming awfulness.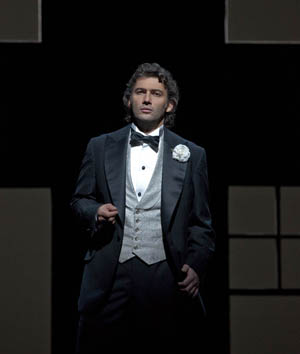 Most Vitally Important Tenor
You could say a lot of nasty hings about the listless, pointless, cheesy staging of Faust by Des McAnuff at the Met (see how easy that was?). But you have to admit even so ghastly a night as November 29, 2011 had one saving grace: the clear demonstration that Jonas Kaufmann can sing practically everything. What's more, he sings it all in a superbly musical and personal way, and what's even more than that, every moment he's on stage, he is intensely and viscerally engaged from his toes to the tips of his tousled sable curls. It's a tribute to Peter Gelb's casting acumen that Kaufmann features so prominently in (rumored) casting for the Met over the next five to seven years, beginning with the (confirmed) title role of Parsifal in February 2013.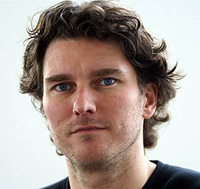 Most Promising Trend
Speaking of the future, the overdue advent of some of Europe's most exciting and controversial stage directors bodes well for the future of the Met. A first step this season is the arrival of David Alden (now in the fourth decade of his career) to stage Un ballo in maschera, to be followed next year by Dmitri Tcherniakov for Prince Igor. The names of a number of other Regietheater superstars are apparently in the hopper for the planned seasons of 2015 onward. Is it too much to hope that by 2020 or so the Met will showcase Stefan Herheim of the legendary Bayreuth Parsifal?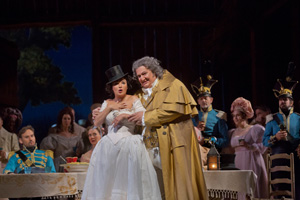 Silliest Costume
There's strong competition in this category, but one front-runner is Chabrier's Le Roi Malgré Lui at Bard SummerScape in July 2012. In this determinedly wacky production by Thaddeus Strassberger, baritone Liam Bonner made his first entrance inside a tanning bed as the reluctant king sang of the warm sun of his native France. He then emerged sporting a tricolor Speedo and, frankly, looking more than a little embarrassed. But the winner of this category would have to be the top hat perched on the lovely noggin of Anna Netrebko through most of the Met's production of L'elisir d'amore. I've long since given up on Bartlett Sher's shows being imaginative or even visually interesting, but this infernal topper was distracting; it was ugly; it was pointless; and, what's worse, it kept falling off. Netrebko seemed to find this mishap pretty hilarious (regardless of the current mood of the scene) but she was the only one.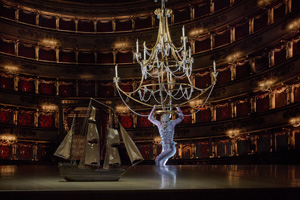 Best Opera Based on Shakespeare's The Tempest to Premiere at the Met.
I'm going to have to call this one a tie. The Jeremy Sams pastiche The Enchanted Island (January 2012) was a fascinating idea and a showcase for some terrific baroque tunes and musical stylists, notably conductor William Christie and singers Joyce DiDonato (Sycorax), David Daniels (Prospero), and Elizabeth DeShong (Hermia). On the other hand, the music of Thomas Adès's The Tempest (October 2012) was worked out with precise elegance superbly highlighted by the composer's virtuoso conducting. Robert Lepage's production was surprisingly chic and focused, and the cast, headed by Simon Keenlyside (Prospero) and Audrey Luna (Ariel) could hardly be bettered.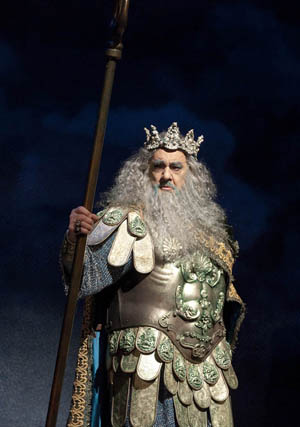 Worst Opera Based on Shakespeare's The Tempest to Premiere at the Met
This looks like another tie. The Enchanted Island lasted, oh, what was it, 18 hours or so, and Plácido Domingo (Neptune) kept showing up looking like he wandered into the wrong rehearsal. Plus there was way too much of Danielle de Niese at her most tooth-rattling as Ariel, including the evening's final aria, a rough approximation of Vivaldi's "Agitata da due venti." Despite its brevity, The Tempest also outstayed its welcome by presenting all the least dramatic scenes of Shakespeare's original, translated by Meredith Oakes into couplets that would make Dr. Seuss shudder, and accompanied by the bloodless Adès score. And though it's a minor matter, that bare-assed ballet was enough to make even Fame star Debbie Allen cringe. As we move toward 2013, let's definitely have more new operas, but please, no more Tempests.


WHO'S BLOGGING


RENT A PHOTO
Search Musical America's archive of photos from 1900-1992.