---
2012's Ten Truly Inspired Ideas, part 2

UCLA Live Gets a New Name and a Revitalized Brand
In 2010, David Sefton, executive and artistic director of UCLA Live, the university's professional performing arts series, resigned. He cited drastic budget cuts and the loss of the important international theater series that he had built up during his decade-long tenure. These days he heads up Australia's Adelaide Festival.
"Sefton was terrific,'' says Los Angeles Times Music Critic Mark Swed. "He created the South Bank Festival in Britain. He's brilliant and really on top of things." But an arrogant streak made it difficult for him to work with university administrators and faculty.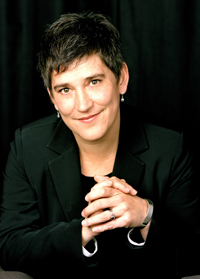 "We all thought that was it for UCLA," Swed says. He and other observers feared that the school's distinguished 75-year-old performing arts series would become provincial, offering a predictable roundup of big-name artists plying the international circuit. "We were just astonished when they brought in Kristy [Edmunds], who is one of the most imaginative arts presenters in the country."
Hired in 2011, Edmunds had done cutting-edge programming at the Melbourne Festival in Australia and at the Park Avenue Armory in Manhattan. For UCLA, she has devised a series of long- and short-term residencies that will bring Laurie Anderson, Robert Wilson, Meredith Monk, and two local artists—Lars Jan and Barak Marshall—to the campus for performances and sessions with students. UCLA Live has been renamed CAP (Center for the Art of Performance) UCLA.
Edmunds's innovations reach far beyond presenting hip artists. "She brings the students in," says Swed, "and actually creates relationships with the community—like having Wilson in a three-year residency. It's great to see somebody like this coming into town and really figuring out" how to set the right tone for the environs.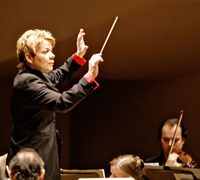 Baltimore Symphony Orchestra Teaches the Kids, Tolerates the Adults
OrchKids, for elementary school students, is "much different from any educational programs this orchestra has ever tried," says Baltimore Sun Music Critic Tim Smith. The Baltimore Symphony, founded in 1916, has been taking its music beyond the concert stage for decades. But since Marin Alsop arrived as music director in 2007, its education and community efforts have intensified. Using some money from the $500,000 MacArthur Foundation "genius'' grant she won in 2005, Alsop helped launch OrchKids. Based on Venezuela's El Sistema, it runs year-round in four public schools in Baltimore's west and east sides. Now in its fifth year, it includes 600 children in music classes and programs during and after the school day.
"This is setting up an actual education program in an inner city school," says Smith. "That in itself is pretty amazing. It's a different way of getting the orchestra into the community." At the other end of the age spectrum is the BSO's Rusty Musicians program, which invites amateur adult singers and
instrumentalists to join the orchestra onstage at its home base of Meyerhoff Hall for one night. (Singers are required to attend a special rehearsal.) Adults looking for more immersion can sign up for the BSO Academy, a week of study with BSO players that ends with a kind of Pro-Am concert conducted by Alsop.
"It all comes from Marin,'' says Smith. "Any kind of thing that changes people's perception of what an orchestra is. It's not just this holy thing you come and see once in a while. You can interact with it in some ways."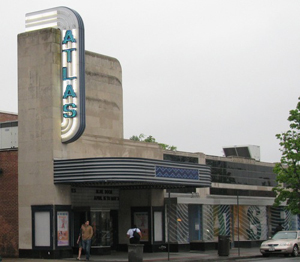 D.C.'s Atlas Performing Arts Center Gives Context to New Music
Once a sleek, Art Moderne landmark in the thriving H Street Northeast neighborhood of Washington, D.C., the Atlas movie house fell on hard times as residents began moving to the suburbs in the 1950s and 1960s. The theater became an all-purpose performing arts center in 2001, and last year its lineup expanded to include a cutting-edge new music series. This season's nine concerts are performed by guitarist Tim Brady, Prism Saxophone Quartet, So Percussion, cellist Maya Beiser, and the vocal ensemble Roomful of Teeth, among others.
"I don't know of any other series devoted exclusively to cutting-edge, contemporary music groups," says Anne Midgette, chief critic for The Washington Post. Typically, new-music ensembles share a series with other kinds of music, along with theater or dance. Or a group will create its own series, performing music by assorted composers over the season.
That the Center has carved out a special spot for these hot young groups is particularly laudable, says Midgette, "because it contextualizes the new music. And for a performing arts center that is trying to define itself as an alternative to the status quo and as having something to say to the neighborhood around it, it's a really good idea."
Continue to Part 3, 2012's Ten Truly Inspired Ideas

WHO'S BLOGGING


RENT A PHOTO
Search Musical America's archive of photos from 1900-1992.