---
2012 Newsmaker Damian Woetzel

From Ballet Superstar to Dance Impresario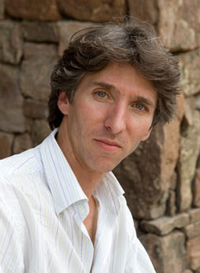 Not since the defection of Rudolf Nureyev has a ballet dancer moved so rapidly into the sphere where the arts, politics, power, and the media collide. Yet the international visibility of Damian Woetzel, whose Americana-style charisma won him accolades for two decades performing with the New York City Ballet, is now spreading into other areas.
Since his 2008 retirement, the former principal dancer has secured myriad prestigious positions: director of the Aspen Institute Arts Program; artistic director of the Vail International Dance Festival; founding director of the Jerome Robbins Foundation's New Essential Works (NEW) program; curator/director of the Studio 5 performance series at New York City Center; arts educator in Yo-Yo Ma's Silk Road Connect project.
He's a networking tour de force, serving on the boards of New York City Center, The Clive Barnes Foundation, and The Sphinx organization. He also is on the Kennedy Center Honors and the Knight Foundation's National Arts advisory committees.
Woetzel is even plugged in at the White House. He was on the President's 2009 Committee on the Arts and Humanities. In September 2010, he directed the first White House Dance series, presenting well-traveled works by Alvin Ailey, George Balanchine, Paul Taylor, and Twyla Tharp in the East Room. To round out all the pre-1982 choreography, he enlisted break dancers Super Cr3w and had Dayton Tavares perform his solo, "Electricity," from Billy Elliot the Musical.
Woetzel's smarts, stamina, and ambition certainly account for his continued rise. But so do his connections. His late father, Robert K. Woetzel, was a legal scholar who spearheaded the creation of the International Criminal Court. His brother, Jonathan Woetzel, is the director of McKinsey & Company's office in greater China. Surely that factored into Woetzel's three-day, invitation-only U.S.-China Forum on Arts and Culture. His co-organizers were his Aspen Institute boss Elliot Gersen, who knew Damian from his City Ballet days, and Orville Schell, Asia Society's Director of the Center on U.S.-China Relations, whose late father was a City Ballet board chairman.
At the Beijing conference, Woetzel reprised The Swan, the hit event of the 2011
Aspen International Dance Festival, which he has directed since 2006. It involved the unlikely pairing of Yo-Yo Ma and Charles "Lil Buck" Riley, a Juke dancer. In Beijing, Lil Buck's fluid-style of break dancing and Yo-Yo Ma's potent interpretation of the Saint-Saëns favorite created "cultural mayhem," Woetzel declared at the 2012 Aspen Ideas Festival. His decision to have an African-American street dancer and the world's most famous Chinese-American cellist collaborate on a classic ballet score (read, "high art") is just the kind of mash-up that brings joy to the cockles of arts educators' and cultural diplomats' hearts.
Last July, Woetzel received the inaugural Gene Kelly Legacy Award from Kelly's widow. Like Kelly, Woetzel wants dance to be embraced by a diverse public. Helping him do that is wife Heather Watts, also a former New York City Ballet dancer, who posts his accomplishments on Facebook.
Woetzel's remarkable ascent is the result of chutzpah, connections, and impresario-like instincts for directing dance programs that make a splash. He may not be getting rich—this is dance, after all—but he certainly seems to be today's mover and shaker in the dance world.

WHO'S BLOGGING


RENT A PHOTO
Search Musical America's archive of photos from 1900-1992.