---
2012 Newsmaker Francesca Zambello

Stage Director, General Manager. Squared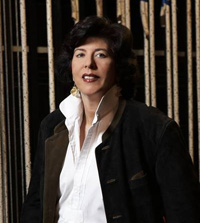 Stage director Francesca Zambello has long walked the delicate line between provocateur and entertainer—now challenging standard operatic mores, now bringing Disney musicals, such as The Little Mermaid to Broadway. Recently, she's taken on another balancing act, juggling the roles of director and administrator. Summer 2012 marked her second season at the helm of the Glimmerglass Festival in Cooperstown, N.Y.; it also saw her being named artistic director of the Washington National Opera.
Zambello had worked as an administrator in the past, but she was best known as a stage director, at least until 2008, when she came up with an intriguing plan for leading the foundering New York City Opera back to some semblance of health. When the City Opera job went to George Steel instead, it seemed to motivate Zambello to find somewhere else to put her plans into practice. By 2010, she was installed at the Glimmerglass Festival—as she renamed the former Glimmerglass Opera in upstate New York—where her new-broom, hands-on approach yielded several "innovations," such as well-known singers acting as artists-in-residence and adding Broadway musicals to the program.
Meanwhile, she made no secret of her interest in the Washington job. Plácido Domingo's contract as general director ended in 2011, and the company was headed for bankruptcy if it couldn't negotiate a merger with the Kennedy Center. The merger—accomplished immediately after Domingo's departure—meant that the company was free of immediate financial risk (and of having to pay rent). And Zambello—who had already directed ten productions at WNO and had a working relationship with the Kennedy Center's president, Michael Kaiser—was named artistic advisor as the company began finding its legs in its new, perhaps more modest, but financially solvent role. Few were surprised when Zambello's post was made permanent, although there was concern about appointing another director who, like Domingo, had both an active artistic career and another opera company (Domingo also runs the Los Angeles Opera). Zambello asserted that she was hoping to curtail her international directing; besides, her WNO contract stipulates that she spend more than four months a year in Washington.
She arrives with a lot of energy and ambition to broaden WNO's programming and profile. The company plans to add offerings in some of the center's smaller theaters rather than confine performances, as Domingo preferred, to the opera house. November saw the start of a new commissioning program: three one-act operas, each 20 minutes in duration, performed by apprentice artists in the intimate Terrace Theater. Another new initiative, an annual holiday opera, begins this year with Hansel and Gretel, also at the Terrace.
"I will be adding more vocal concerts, concert opera, working with other companies, Baroque companies," she told me recently. "I want to become a kind of producing umbrella…. We have a chance to be in such a city, with such a persona of government and politics and the capital of America. And we're not connected to any of that." Zambello: opera lobbyist? Stay tuned.

WHO'S BLOGGING


RENT A PHOTO
Search Musical America's archive of photos from 1900-1992.