---
Rising Stars in...Artist Management

Kristin Schuster
Artist Manager, IMG Artists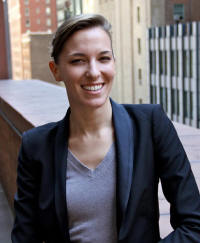 One of the first things Kristin told me about herself is that she likes to look at chaos and bring order to it. That makes her a real natural for the job! Her road to artist management began as a student of cultural science at Leipzig University, where she was required to complete an internship. Her piano teacher, mother of world-renowned violinist Julia Fischer, suggested she intern with Julia's manager, Jack Mastroianni. Fortunately, she followed that advice. Four years later, he offered her a job at IMG, which she accepted when she completed her studies 13 months later! (He told me that he patiently waited for her because he knew she would be a huge star in the business.) In the years since, she feels she has begun to trust her judgment in regard to what makes a singer great. She has been given the opportunity to sign and develop new talent and is thrilled by the prospect of making a real difference in artists'lives. She also considers herself very fortunate to work alongside Mastroianni for performers including Renée Fleming, Angela Gheorghiu, Jean-Yves Thibaudet, Julia Fischer, and, a recent discovery, 26-year-old mezzo-soprano Tara Erraught.
What makes Kristin stand out? Legendary veteran of public relations Mary Lou Falcone extols her great integrity, her patience in learning the trade, and her unfailing ability to evaluate a challenging situation, wrap her arms around it, and work it through. Renée Fleming offers similar high praise: "Kristin is exceptionally gifted and I know we will see big things from her in music management. She has a rare combination of intelligence, understanding of complex contracts, organizational skill, and attention to detail. Even more important perhaps—she is a quiet but strong advocate for the artist and I really enjoy working with her."
When I asked Kristin to describe her work ethic, she responded: "I believe in doing quality work. Artists pay us to represent them. We need to take great care with every communication on their behalf and we have a responsibility to maintain their image. We don't own the artists or their careers. In the end, all we have is our integrity. It alone defines who we are." What a refreshing and mature new presence on the artist management scene!
---

WHO'S BLOGGING

Interviews with musicians who have successfully created their own opportunities.
PROFESSIONAL
GROWTH
FIND:
»MORE

NETWORK
FIND:
Updates to artist manager rosters
»MORE
RENT A PHOTO
Search Musical America's archive of photos from 1900-1992.