---
Rising Stars in...Artist Management

John Zion
Booking/ArtistManager
Melvin Kaplan, Inc.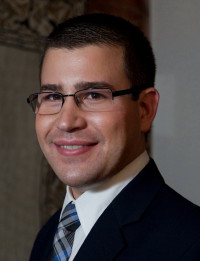 John Zion is the kind of person you want to be on the phone with when everything is going wrong around you. He is calm, thoughtful, focused, and attentive. I first met him when I was director of career development at the Colburn School and he approached us to see if we were interested in having the American String Quartet do a master class while in Los Angeles for a concert. His elegant and thorough emails immediately caught my attention.
John studied at Lawrence University and the Hartt School of Music, where he received his undergraduate degree in violin performance. After a year as a string teacher in the public schools, he decided to embark on a new direction. He wrote to all the East Coast managements about a possible internship and was accepted number of presenters with whom the management had never worked before and began to develop relationships with them. Kaplan told me recently that he kept John on, even though he didn't have the budget for it, because of the passion and dedication he brought to his work. He had never met anyone like him with all the natural instincts of what to do in a given situation, when, and why.
In the intervening years, John has made valuable contributions in an office where artists are shared amongby Melvin Kaplan. In that first summer of 2008, John identified a managers and booking agents. He organized a commissioning project with the Pacifica Quartet that brought together Wigmore Hall, Suntory Hall, and support from Music Accord. He also helped the American String Quartet conceive of an all-sextet program with guest artists Roberto and Andrés Díaz. Violinist Rachel Barton Pine, one of the company's newer artists, speaks of John as a "terrific strategic thinker with a long-term career perspective." She also welcomes his style of personal interaction, which has elicited frequent compliments from presenters. Edward Yim, artistic administrator of the New York Philharmonic, described John well when he said: "John presents himself with both confidence and modesty. That's a hard balance to strike in the early part of one's career but it comes with knowing what you are talking about."
Like all artist managers, John puts in very long hours. JetBlue gets him from his Burlington, VT, office to New York in no time, but he is never sorry to return to his home, just three blocks from work. Perhaps it's the majesty of New England that helps him maintain the exceptionally healthy and balanced perspective he brings to everything he does.

WHO'S BLOGGING


RENT A PHOTO
Search Musical America's archive of photos from 1900-1992.