---
Rising Stars in...Communications/Public Affairs

Philip Koester
Vice President of Sales and Marketing, Chicago Symphony Orchestra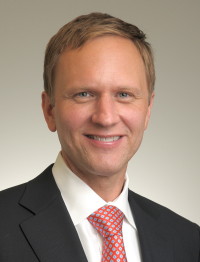 As director of marketing at the Los Angeles Opera from 2006–07, Philip Koester and his marketing team sold more tickets in a single season than any other in the history of the company. Small wonder, then, that he's among the most sought-after marketers in the business. The latest group to nab him is the Chicago Symphony Orchestra, where he's responsible for all sales and marketing, including customer relationships, patron services, the web site, social media, "and anything you see online. My primary job is maximizing revenue."
That seems a far cry from his original ambition, which was to become a college professor; Koester holds a master's degree in
medieval history from Loyola University in Chicago. But he has long loved classical music and opera, played piano, and had an interest in the business. "I just fell into marketing when I got a job at the Ravinia Festival. I knew the product extremely well, and took to it."
Koester has come very far, very fast. After four seasons at Ravinia in various capacities, he went to the Chicago Symphony as public elations manager, from 1999 to 2001. From there he became director of marketing and public relations at the Louisville Orchestra, and from there took the same job at the Lyric Opera of Chicago, from 2003 to 2006. He was director of marketing at the Los Angeles Opera in 2006–07, and was then recruited back to LOC as director of marketing. He returned to the CSO ("I know the Chicago market extremely well") in July, becoming a key member of the orchestra's 25-member, sales, marketing, ticketing, and box office staff.
The secret to his success? "You need to listen to your audience, to create programs that people want but at the same time be true to the music, to the artistic process.
"It's critical to maintain and refresh traditional artistic products and marketing tactics, but at the same time, we have to try new things to remain relevant to contemporary audiences. The ease of access to video and other rich content on smartphones, tablets, and other electronic devices is a major opportunity for arts marketers. Social media allows us to speak directly to our audience in real-time and build community and loyalty in new ways."
---

WHO'S BLOGGING

Interviews with musicians who have successfully created their own opportunities.
PROFESSIONAL
GROWTH
FIND:
»MORE

NETWORK
FIND:
Updates to artist manager rosters
»MORE
RENT A PHOTO
Search Musical America's archive of photos from 1900-1992.