---
Rising Stars in...Communications/Public Affairs

Heather Noonan
Vice President for Advocacy, League of American Orchestras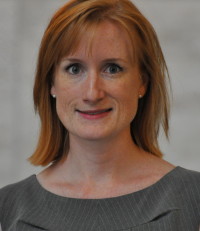 Heather Noonan, a widely acknowledged expert on government policies and their effect on performing arts and artists in the U.S., works in the League's Washington office, where she can better establish ties with policy-setting politicians and bureaucrats. Her primary responsibility is to advocate on behalf of American orchestras—and, by default, opera, theater, and dance companies—on federal policy to the White House, Congress, and assorted agencies.
Deceptively soft-spoken, highly articulate, Noonan has been credited with bringing the U.S. Department of State and the U.S. Citizens and Immigration Services up to speed on the special needs of performing arts groups; she is one of the primary authors of artistsfromabroad.org the definitive guide for securing U.S. visas for foreign artists from abroad. Many of the improvements in visa processing in the last decade are due to her efforts.
Noonan's background makes her ideally suited to the task, having studied piano and guitar as a child and political science in college. She originally came to Washington as an intern for the Federal arts caucus on Capitol Hill, "in the wake of the Republican revolution of the mid-90s," she says. "It was a time when arts advocates were definitely needed. That's where I learned about the Federal arts policy scene." Now with the League for 17 years, she's been involved in many of the federal policy changes, "punctuated," she notes, "by several pretty severe economic challenges."
Most of her time is spent advocating for public investment in the arts and mobilizing group efforts to maintain support. She takes the bread-and-roses approach; people need beauty as well as the basics. "We're making the case for how the arts are part of the broader nonprofit community," she says. "Orchestras contribute to public vitality. The performing arts do make immeasurable contributions to communities and to individuals. We work with the YMCA, the Red Cross, and talk to policymakers about why it's important to support the entire nonprofit community."

WHO'S BLOGGING


RENT A PHOTO
Search Musical America's archive of photos from 1900-1992.