---
Rising Stars in...Communications/Public Affairs

Adam Crane
Vice President for External Affairs, St. Louis Symphony Orchestra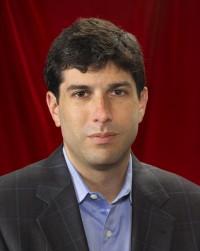 Adam Crane began his career at the Saint Louis Symphony Orchestra four years ago as director of communications and quickly distinguished himself as a man of many additional talents. He now oversees all external affairs, a department created specifically for him that encompasses education, community programs, the Saint Louis Symphony Youth Orchestra, government relations, and live radio broadcasts on the local NPR station, which he co-produces and co-hosts.
"I view our department as an education department overall," he says. "We are all communicators. I love to tell stories in a positive way about this great orchestra."
His self-confessed love affair with the SLSO began in the second grade, when his classes attended children's concerts in Powell Symphony Hall. "I walked in and felt an immediate connection with what was happening on stage," he recalls. Growing up, he studied piano, violin, and, especially, cello, which he later played in the Youth Orchestra.
While at New York University, Crane served as an intern for the sports department at a local TV station, gaining the experience in broadcasting he would later use professionally. But a posting for a publicity internship at Carnegie Hall proved irresistible. "I interviewed, I got the job, and I basically never left," he laughs. Crane worked with then Executive and Artistic Director Judith Aaron for two seasons; when she passed away in 1998, he moved to the record business, becoming a product manager for Universal and working with the likes of Lang Lang and Mitsuko Uchida.
In due time, he was snapped up by the Warner Music Group as its manager of classics and jazz for the U.S. and relocated to the company's headquarters in Burbank, CA. Then the Los Angeles Philharmonic came calling, in 2005, with the job of director of public relations, which in turn led to an altogether different chapter in his life. As liaison to the press, he one day got a call from Los Angeles Times columnist Steve Lopez, asking to come to a rehearsal in Walt Disney Concert Hall. Lopez wanted to bring his newfound friend from Skid Row, the brilliant schizophrenic cellist Nathaniel Ayers, to a concert. Crane obliged and quickly became Ayers's primary liaison to the orchestra, setting him up for lessons with two string players in the orchestra, Ben Hong, and accompanying him to numerous concerts. Lopez chronicled Ayers's story in the Times, which then became the book that became the film The Soloist, starring Jamie Foxx, in 2009. Crane also played a major role in "launching" Gustavo Dudamel's tenure as the orchestra's music director.
When the chance to return to Powell Hall arose in 2008, Crane was eager to take it. "It just seemed like the right fit at the right time," he says. "I just can't say enough good things about this organization." His philosophy is simple: "You have to communicate. You have to talk to the orchestra, you have to hang with them, you have to fly in the back of the plane with them. They are the people whose story you are telling." He believes in openness with journalists: "The music critics and journalists are our partners in this. Integrity is key. If they don't trust you, you're not going to be very effective."

WHO'S BLOGGING


RENT A PHOTO
Search Musical America's archive of photos from 1900-1992.