---
Rising Stars in...Education

Katie Wyatt
Executive Director, KidZNotes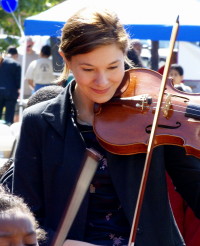 Katie Wyatt, a member of the first class of the Sistema Fellows Program (formerly called the Abreu Fellows), a post-graduate year at NEC that trains musicians how to create their own El Sistema programs, co-founded KidZNotes in an impoverished area of East Durham, NC, with local philanthropist Lucia Powe. The $460,000 organization, now entering its third year, currently serves 200 African-American and Latino elementary school students with afterschool instrumental and ensemble lessons, and plans to have 500 students by 2017. Like several dozen other El Sistema-inspired projects launched Stateside in the last five years, KidZNotes works in partnership with a local social service organization, in this case the East Durham Children's Initiative.
Wyatt studied political science and viola at Indiana University, earned a masters in viola performance at the Cleveland Institute, and Education joined the New World Symphony. In 2005 she worked with Youth Orchestra of the Americas, which toured with the Simón Bolivar Orchestra; their time in Venezuela gave her a first-hand look at El Sistema and changed her life. "Before, music was a competitive thing. It was all about winning the big job or playing something exactly right. In Venezuela, I saw the power of what music can provide in the lives of people who appreciate it on a spiritual level—on a survival level—and how it can lift people from poverty."
Intent on finding a way to put that revelation into practice, Wyatt went into arts administration. After a year in the League of American Orchestras Orchestra Management Fellowship Program, she was hired as director of education and community engagement for the North Carolina Symphony. She was accepted into the new Abreu Fellows program at NEC in 2009, and was soon introduced to Powe, who wanted a Fellow to come to Durham to start an El Sistema núcleo (center). As she continued her fellowship year, Wyatt and Powe raised seed money for KidZNotes, and launched it in 2010. The El Sistema philosophy pervades Wyatt's outlook."In setting expectations for our kids, there's no qualifier to the attitude of excellence and no idea that they can't do it because they come from poverty."

WHO'S BLOGGING


RENT A PHOTO
Search Musical America's archive of photos from 1900-1992.