---
Rising Stars in...Orchestra Leadership

Michael Costa
Executive Director, Philharmonia Baroque Orchestra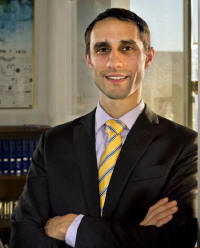 Michael Costa joined the Philharmonia Baroque Orchestra in 2010 on the heels of completing the League of American Orchestra's Essentials of Orchestra Management Seminar. His first job under then Executive Director Peter Pastreich was acting director of finance. He was quickly (as in, within two months) promoted to director of finance and administration, then to general manager, and finally, in December 2011, to executive director, succeeding the retiring Pastreich, his mentor.
As the PBO's chief administrative officer, Costa also oversees the Philharmonia Chorale, the Philharmonia Baroque Orchestra Period Instrument Trust, and the group's record label, Philharmonia Baroque Productions, which has issued four recordings (including one Grammy nominee) since its launch last year.
PBP is but one component of Costa's game plan to raise the orchestra's public profile.
"Our name is both a blessing and a curse," he says, adding that the PBO actually performs repertoire through the early Romantics. "The 'Baroque' part can be really off-putting to some folks; they tend to think immediately 'old and dusty,' as in, 'are they wearing wigs? 'are they wearing costumes?'"
To broaden the orchestra's appeal, Costa has plans to launch a series of online videos that are designed to dispel the musty connotations of early music. "What we really emphasize is getting shorter chunks out there—three- to five-minute segments and movements of works—to give people a sense of what it's like to be there as part of a concert and hopefully entice them to come and hear us."
Born in Providence, RI, Costa holds a BA in Classics from Brown University; a BA in Music from Rhode Island College, where he studied voice and piano; and an MS in Education from Northwestern University. He started his career as a classroom teacher on Chicago's South Side before moving to San Francisco to take a job as a program coordinator at Resources for Indispensable Schools and Educators (RISE), a nonprofit that places teachers in low-income communities. After a year working for a software firm that consults for nonprofits, he decided to return to his first love—a lucky move for the business in general and the PBO in particular.

WHO'S BLOGGING


RENT A PHOTO
Search Musical America's archive of photos from 1900-1992.