---
Rising Stars in...Presenting

Matt McBane
Founder and Director, Carlsbad Music Festival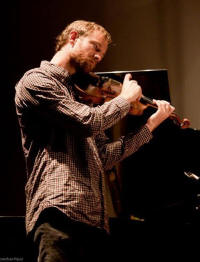 Maybe there's something in the drinking water in Carlsbad, California.
The town of approximately 100,000 residents on the Pacific Coast Highway between Los Angeles and San Diego isn't as conspicuously artsy as such California towns as Laguna Beach or La Jolla. But nine years ago, Matt McBane, a composer, violinist, and Carlsbad native, founded the Carlsbad Music Festival. Billed as an "alternative classical" event, it was launched by McBane and featured some Carlsbad friends who also happened to be gifted musicians. What started out as a casual, weekend-long fest, ranging from indie rock to cutting-edge classical in local churches and parks, has become something much more significant. In 2010 the festival, which has commissioned 12 works, won a CMA/ASCAP Award for Adventuresome Programming.
McBane, now the 33-year-old director of the festival and a New York City resident, is also involved with Build, an indie-classical band based in Brooklyn. But a decade ago, he was a freshly minted composition graduate of the University of California's Thornton School of Music and searching for a way to "have a life in music as a composer." After attending a summer festival run by the genrebusting Bang on a Can musicians at the Massachusetts Museum of Contemporary Art in North Adams, he came up with the idea of holding a weekend music festival in his hometown. He tapped a range of musicians with Carlsbad ties, from his long-time friend violinist Benjamin Jacobson of the Calder Quartet to bluegrass singer Sara Watkins of Nickel Creek. The city of Carlsbad helped with small grants. This year's festival (September 21–23) reached beyond the city's native sons and daughters with a lineup including Michael Gordon and the San Diego Children's choir.
"I started this when I was 23," said McBane, "and I didn't have any plan beyond the first year. Now we're trying to grow the organization and build something that will last."

WHO'S BLOGGING


RENT A PHOTO
Search Musical America's archive of photos from 1900-1992.