---
Rising Stars in...Radio & Recording

Judd Greenstein
Composer/Founder, New Amsterdam Records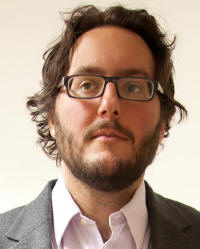 In 2007, composer Judd Greenstein, now 33, put feelers into the new music community about making recordings. Interest snowballed, and he quickly looked to his eventual co-directors of New Amsterdam Records: composer Sarah Kirkland Snider, an old friend with similar musical and professional values, and composer William Brittelle, who came from the rock and promoter world. Dozens of records from friends and collaborators immediately came across their desks. "My proverbial desk," in Greenstein's bedroom. "Now there are at least three desks. They may be IKEA, but they're desks."
When Greenstein was a student at Williams College, he revived the Independent Music Project, a series to which students came to hear new music. In graduate school at the Yale School of Music, he founded NOW Ensemble and took a part-time job curating a music series at the ArtSpace in New Haven, which paid him a percentage of the door. He later programmed concerts at a downtown art gallery under the name VIM: TriBeCa; presently, he runs The Yehudim. In 2011, Merkin Concert Hall at the Kaufman Center on New York's Upper West Side asked Greenstein to help create a new music series, a project that turned into The Ecstatic Music Festival. There's just one more thing: he's also a successful composer, currently composer-in-residence at the Alabama Symphony Orchestra.
Five years ago, New Amsterdam first spent the initial funds they raised on their web site; Greenstein points to publicity campaigns for new releases as being next on the to do list. "To some extent, what we've been doing from the start is bringing design and production of these [new music] records in line with contemporary standards."
Two press pieces helped secure New Amsterdam's place as a top label in the field of new music: The New Yorker's Alex Ross had already written a piece for the magazine about taking young composers seriously, and NPR's All Things Considered ran a story on New Amsterdam itself, not as a trend, but about what they were advocating.
Greenstein's goal is that "our brand becomes synonymous with quality and that people perceive that [we] actually do things for the artists on the roster. I want to help elevate this music from something to which a few people pay attention to something that's part of the much broader musical conversation."

WHO'S BLOGGING


RENT A PHOTO
Search Musical America's archive of photos from 1900-1992.