---
Mobile Solutions: Brooklyn Academy of Music

Brooklyn Academy of Music
Pro bono web site overhaul plus mobile ticketing
Issue: The sprawling multi-arts center has a reputation for adventure and hosts a wide variety of events including theater, music, dance, cinema, club acts, and individual artists. The organization was already on its fourth web site design, but presentation issues were complicated. Time for Web V.
Mobile Factor: At the same time, BAM wanted to give consideration to mobile devices, as well as to the large flatscreen TVs around the BAM campus. The same backend computer system would drive them. "The same logic needed to apply," said Stephen Litner, director of digital media.
Challenge: BAM's ticket-buyers are highly mobile, and given the strength of offerings in BAM's category of cinema—where buying via mobile devices is already the norm—the team felt priority had to be given to upgrade mobile ticketing first, before considering other content and design changes for the small screen.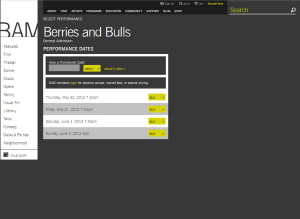 Solution: In March, BAM expanded its Tessitura ticketing services into mobile phone devices, optimized for thumbs but offering the same look and feel that customers had had on the web. People didn't have to fill out any forms if they had done it before. By late April—six weeks into the venture—nine percent of BAM's ticket purchases were coming in on mobile platforms. "It was great for us that we knew who they were," said Litner of the ticket buyers, who might be donors, subscribers, or occasional visitors.
Cost: The project involved some design work and pro bono help from R/GA, a full-service digital advertising agency that specializes in complex technology development. Robert Greenberg, the RG in R/GA, sits on BAM's board. Litner's in-house tech team of eight makes it possible to avoid outside vendors. They built the responsive e-commerce ticket path themselves.
Ahead: Litner thinks the new web site is most of the way toward being fully responsive to screen size, with content following e-commerce: "The design involves only 10 or 15 templates even though there are hundreds of pages. So we're in pretty good shape for it." He pointed to BAM's addictive festival mini-site for proof of the responsive concept.
eighth blackbird: $40, two sites, sweat equity, and WordPress
Steppenwolf Theater Company: $400,000, web redesign, link to Tessitura via CloudTix
Houston Symphony: 100th anniversary web redesign uses consultant plus InstantEncore app for ticketing
---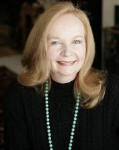 Nancy Malitz is the publisher of ChicagoOntheAisle.com. She has been writing about the intersection of the arts and technology most of her career. She developed some of Gannett Media's first newspaper web sites and worked on strategic projects for media change.

WHO'S BLOGGING


RENT A PHOTO
Search Musical America's archive of photos from 1900-1992.