---
Donations are in the Eye of the Beholder: ArtSeed's "Artathon"
All in a day's work: Making art, raising money, By H eidi Waleson building a community
In a different spin on the walkathon, San Francisco-based ArtSeed has raised money for the past four years by having participants solicit donations for every hour they spend making art or music.
ArtSeed provides arts education to inner-city youth and runs its day-long "Artathon" in April. Participants are invited to work on their own projects or try something new; there is live music, food, materials, and a Skype connection to a satellite event run by a supporter in her New York apartment. In 2012, the Artathon added $17,000 to ArtSeed's annual $80,000 budget, more than the group's annual appeal letter did.
Josefa Vaughan, who co-founded the organization in 2000, says that the Artathon's strength is its connection to the organization's mission. "It's a way we build our family," she says. "For people who have been putting off doing something creative—it gives them a day to do what they wanted to do anyway. It brings wealthy families together with poor ones; they sit at the same table, share the same materials. We have all age groups, from senior citizens to toddlers."
One of ArtSeed's programs is an apprenticeship that pairs working artists with students. "The Artathon gives artists a chance to try out that relationship in a festive atmosphere," says Vaughan. "It also gives our needy kids a chance to contribute: they can get their friends and family to sponsor them for $1 an hour."
At the other end of the spectrum, Vaughan once had a participant who contributed $5,000, the equivalent of $500 an hour. She estimates that about 100 people come and go during the day. Those who are not are asked for a $15 contribution for materials. Many of the art pieces that are created are sent to sponsors as thank-you gifts.
Musicians can also be sponsored: "We had a quartet play for ten hours—they wanted to see how long they could practice contemporary music!" Vaughan is game to have any kind of activity become part of the Artathon. "I wouldn't turn away someone with a yoga mat," she says. Whatever they want to do that's creative and can raise money."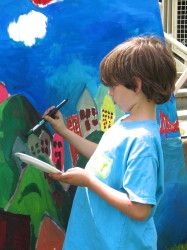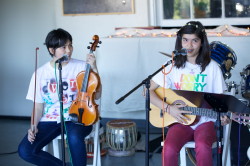 San Francisco's ArtSeed, which provides arts education for inner-city youth, hosts an annual day-long "Artathon," in which participants ask friends to sponsor them for their time spent creating art or music. Here, a budding Picasso examines his masterpiece, while a young violin-guitar duo prepares to create one.

WHO'S BLOGGING


RENT A PHOTO
Search Musical America's archive of photos from 1900-1992.