---
It's All in the Data
How one consultant helped the Art Institute of Chicago improve fundraising through data measurement
Ed Koch, the late great former mayor of New York City, used to walk around town and ask his constituents, "How'm I doin'?" Sure, the mayor had poll numbers and other statistics to look at, but with rampant crime and a deteriorating quality of life, fixing the City wasn't going to be about numbers. It was going to be about attitude, swagger, and instilling optimism in a pessimistic populace.
Fast forward to another three-term NYC mayor, Michael Bloomberg, and the answer to "How'm I doin'?" is all about numbers—setting goals, establishing metrics, and measuring the results. Crime is down 13 percent, mass transit ridership is up 22 percent. The good news is in the data, regardless of the Mayor's disposition.
As you look at your fundraising operations, which camp are you in? Are you making informed decisions based on hard data and/or specific metrics, or are you flying blind and using instinct to evaluate your efforts?
Guesswork makes messwork
The Art Institute of Chicago (AIC), for example, wanted to make data-driven decisions for its development efforts, but its systems and processes weren't set up for it. The team was left to make educated guesses, because its CRM (Constituent Relationship Management) system, Blackbaud's The Raiser's Edge,® was not configured to give them the data they needed. So they compensated by creating overly complex reports that were difficult to decipher and update. "Shadow systems"—small, user-created databases with a lot of duplicate data—began to pop up. Staff was creating reports manually in Word and Excel. Errors and outdated data began to creep into their reports.
We have a problem, Houston
Similar to a 12-step program, the first step for any organization is to admit that there is a problem. AIC did; leadership knew what they needed, but were unsure how to get it or if their technology could deliver it. Another complicating factor was that their recent database conversion to The Raiser's Edge had been done in a way that did not support their needs. All of the data was there, but not in a form they could use to get meaningful results.
For some, the next step might have been to try and recode the data base. But AIC first took a step back and asked themselves, "What do we need to know to manage our business more effectively?" Before any discussion of technology could begin, they needed to define their objectives and strategic measures and to get all of the stakeholders—development, membership, and finance—to come to a common understanding of "this is what we care about."
Mind the Gap
Once AIC had a definite path, it then turned to its current system and process. What could they get out of it? What couldn't they? They identified two gaps that needed to be filled. First, the badly converted gift data was not configured to allow AIC to analyze it. And second, the way the system was set up made it difficult to use a lot of the new and advanced Raiser's Edge functionality.
The steps taken previously had given the team real focus.
So closing the gap included:
Creating a new code schema that was built to serve AIC's BI (Business Intelligence) needs
Updating the database to reflect the new code schema
Creating a "prospect model" based on the needs of major giving
Updating reports and their BI software—Answers for The Raiser's Edge—to give direct access to data that was previously unavailable
Building a Prospect Model
AIC's objectives, as they related to tracking and measuring major gift opportunities, focused on two "levels" of data: the prospect and the proposal. At the prospect level, the data relates specifically to the person: does he or she have the capacity and inclination to make a major gift? At the proposal level, the information relates to the solicitation: What is the right ask amount? When do we expect it to be funded? What actions (e.g., meetings, calls, emails) have we undertaken to cultivate the prospect and get us to a proposal (ask)? And once the prospect has agreed to the proposal, what steps are we taking to steward that donor? (See below.)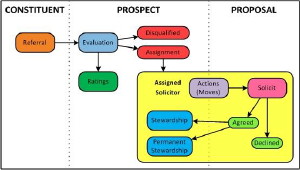 These cultivation steps may seem elementary, and many organizations do not track and measure where they stand or what their results have been. But AIC had bought into the maxim: "You can't manage what you don't measure." Leadership wanted to know how successful each fundraiser was at each step of the process using data instead of instinct. They could then use that information to make necessary alterations—or not. By setting specific weekly goals such as the number of contacts to make, the total value of proposals outstanding, and, most importantly, how many proposals were closed and how much money was raised, AIC could assess each fundraiser accurately. Additionally, it could predict how much money was likely to flow into the organization, and to which funding areas.
Of course, the relationship between the fundraiser and the prospect/donor is fluid. Fundraisers can have multiple proposals out to a single prospect. Once the prospect funds the proposal, the major gift officer can continue to steward the prospect and, when the time is right, cultivate him or her for the next gift. And, should the prospect not wish to fund a specific proposal, AIC's system recognizes that the prospect still has the capacity to give and can be reengaged for cultivating another opportunity. Figure 2 illustrates the prospect life cycle.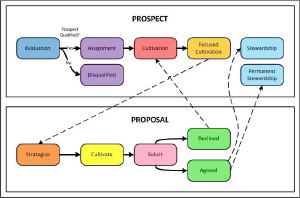 Take Stock
Building a true system with metrics and accountability is not easy. You have to have a plan before you start, and you have to have the right people on board. One without the other is like having an engine without gasoline. While it is often tempting to just dive in and go (and sometimes that does work), it can be an expensive and stressful approach. If you are converting systems, it is critical to identify your objectives and use them to make decisions involving that conversion. Do it right and you will save lots of time, money, and heartache. Do it wrong and you will have to do it over–provided you still have the budget (and you still have a job)! Fixing the core of a system when it's in production is like adding a basement to a house you're living in: it can be done, but boy is it painful.
Ultimately, AIC understood that a system is not just about technology and recording data. It's about building a platform that enables tracking and measuring pre-defined strategic objectives and making data-driven decisions. Just like Mayor Bloomberg.
---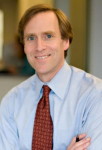 Steve Jacobson is president and CEO of Jacobson Consulting Applications, Inc., a firm he founded in 1988 to provide technology consulting to nonprofit organizations. He has provided system selection, integration, and best practices consulting for such clients as The Metropolitan Museum of Art, Wildlife Conservation Society, and the National Constitution Center. He is an active member of AFP, AAM, MCN and INTIX. Prior to founding JCA, Steve worked in the field of economic consulting. He holds a B.A. from Stanford University.

WHO'S BLOGGING


RENT A PHOTO
Search Musical America's archive of photos from 1900-1992.