---
Social Fundraising, an Essential Tool
Social fundraising—using social media to raise funds—is here to stay.
Here's the reason: it works. Over 45 percent of nonprofits are now fundraising through social networks and various social-fundraising platforms, according to the Nonprofit Technology Network (NTEN) Benchmark Study 2012. The social-fundraising platforms include services such as Causes, Razoo, Fundly, Crowdrise, or Indiegogo.
While individual dollar amounts are modest—usually in the $10,000 range—the collective total is increasing. Network for Good's quarterly Online Giving Index, which analyzes online fundraising sources, reported that social giving increased in the first half of 2011 as compared with the first half of 2010.
There are many benefits to social fundraising. Chief among them are increased awareness and closer communication with donors and patrons, in addition to the donors' ability to pass appeals on to their own networks. All in all, it's safe to now call social fundraising an essential tool for raising money.
Examples of how cause-related nonprofit organizations are using socialfundraising
Wiser Earth Leverages its Network for Dollars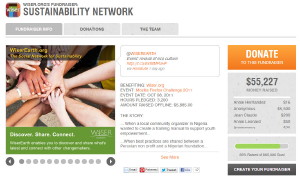 Wiser Earth, a network for environmental activists, set up a campaign on Crowdrise with the following goals
Raise $50,000
Increase donor base by 50%
Increase community engagement
The overall strategy was to make their members feel that they could make a difference with a small donation. This was Wiser Earth's first venture into social-fundraising and the first campaign not just done by staff or board. Executive Director Peggy Duvette explains that they also involved their members in planning the campaign, which she knew would be critical to success. Plus, they identified influential members of the community who could serve as "champions" and provided a space online for coordination, cheerleading, and lots of ideas and examples for members to conduct their own fundraisers on the Crowdrise platform.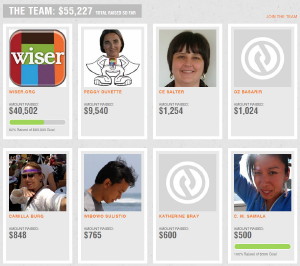 Other actions that made the campaign successful included lining up a donor to match their goal and offering incentives, such as an iPad for the person who brought in the most donors. Above all, says Duvette, "We made it fun and we thanked our donors within 24 hours."
Charity: Water Makes a Splash by Turning Friends Into Fundraisers
September 18 is Paull Young's birthday. But, back in 2008, he didn't ask for the newest iGadget or a dinner out as presents. This social media consultant wanted to do something meaningful to celebrate his birthday, so he decided to give fundraising a whirl. Young joined Charity: Water, an organization dedicated to providing drinking water to people in developing nations and a pioneer of social fundraising, via what has now become its "September Birthday" campaign. Young reached out to his family and friends, using social networking tools like Twitter, and his happy birthday raised over $800 for Charity: Water to build wells in Ethiopia.
Fast forward a couple of years, and social fundraising is a big part of the organization's tool box. Through its own online social network, My Charity Water, launched in 2009, it has raised $22,111,457.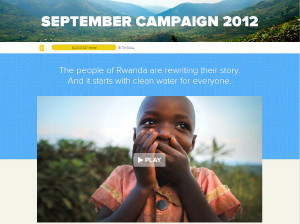 For its sixth anniversary in 2012, Charity: Water raised enough money to purchase a drilling rig for a partner in Rwanda that will provide access to clean and safe drinking water to 40,000 people a year. It surpassed its online goal of $1.7 million, raising over $2 million.
Over the years, Charity: Water has tracked its conversion rates from page visitors to donors to fundraisers. "We keep a close eye on Google Analytics," says Young, who has since joined the organization, "to ensure that enough people are visiting the campaign page. We also keep a close eye on the video views for the campaign trailers." [See above.]
Charity: Water's overall strategy revolves around building a grassroots movement for clean water based on the power of (cyber) word-of-mouth. As Young notes, "First, we aim to inspire with content: The two videos on the campaign page, which have had a great reaction, plus info-graphics explaining the campaign and images, banners, and other content available for campaigners."
They use a variety of predominantly online tools to spread the message to their audience: emails, personal outreach to supporters through Facebook and Twitter, and placement of ads in donated media spots. Says Young, "Once we drive people to the September Campaign page, we inspire them to fundraise. Supporters begin their own grassroots marketing campaign for the drilling rig. So 1,200 September Campaigns become 1,200 word-of-mouth efforts. For example, for my personal birthday fundraiser, I've been communicating regularly with my closest friends and family to connect them with the story of the rig."
They do a lot of A/B testing of landing pages and calls to action. Says Young, "For example, we used Optimizely to run a test of three different video thumbnails on the page to see which one would drive more engagement from users. We tested an image of our founder, one of the rig, and a shot of a child drinking water. Then, after two weeks, we chose the image with the best results to remain on the page."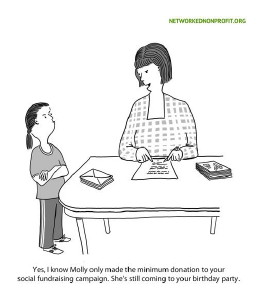 Young's advice about using measurement for social fundraising: "If you are set up to measure something the right way, every test is valuable, even if you don't get the result you hoped for. Define clear objectives [in this case, raising money and multiplying personal networks] that tie directly to your mission and monitor them rigorously."
Performance metrics measured for Charity: Water's September campaign, determined in advance, included traffic to the page, number of campaigns started, and average amount raised by each. "We also knew that matching grants and other revenue opportunities contributed to our goal, so we kept an eye on those."
Young's final words of wisdom about measurement: "There are a plethora of free tools you can use for online measurement (Google Analytics, Bit.ly,Facebook Insights, Radian 6, and hundreds of others) , but it is easy to get lost in the details. Identify the key metrics that matter for you and remember: The greatest analytics engine of all is the human brain!"
---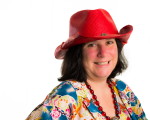 Beth Kanter is a specialist in the use of social media and networked approaches for nonprofit organizations. She blogs regularly on the subject and has co-authored two books: The Networked Nonprofit and Measuring the Networked Nonprofit. Named one of the most
influential women in technology by Fast Company and one of Business Week's "Voices of Innovation for Social Media," Beth is Visiting Scholar at the David and Lucile Packard Foundation 2009–13.

WHO'S BLOGGING


RENT A PHOTO
Search Musical America's archive of photos from 1900-1992.