---
Organizing Social Media

Have you ever noticed that everywhere you turn social media is staring right at you? Think about it, it's not just on the Internet anymore. From TV commercials to receipts there are social media logos located everywhere.
Clearly, there are no limits to having a social media presence (the more creative the better) but how do you know what outlet to use and how to manage it effectively? You need a good balance of content but adding something new to the mix will help it get better over time.
Since social media has drastically changed over the years and will continue to do so, there is no perfect plan detailing what will work for you. However we can learn from the past.
Step 1: Think through what you're trying to accomplish and who you're trying to reach
What are you trying to accomplish?
Social media can help you accomplish multiple goals, but it's important to know your priorities so you can budget time and eventually track the success of your efforts. Typical social media goals include:
Create awareness of your company among people who don't know you
Create a deeper relationship with existing customers or fans
Drive more eCommerce sales, such as music downloads
Drive more seasonal or last-minute ticket sales
Handle customer service issues
What type of business are you?
Artist? Management? Music store? School?
Also, do you consider your business direct-to-consumer or business-to-business?
Who are you are trying to reach?
Knowing your demographic is the most important part in maintaining a successful online presence. Keeping in mind who you are interacting with can help you build and maintain a following.
Take a look at the infographic below. Determine your audience and the type of people you are trying to engage. Keep in mind that your customers or fans might relate with you or your company better if you have a Pinterest account instead of a Twitter account. Perhaps your demographic is a boy in high school. You don't want to post status updates while he is in school.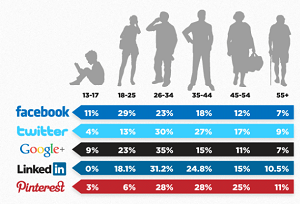 Source: The Blog Herald
What will be your "voice"?
Casual or formal? Third person or first person? Humorous and irreverent or straight and serious? Long and involved (not recommended) or short and pithy? A consistent approach to your minute-to-minute social media activities is not only key to good branding, it's also critical to efficiency and productivity.
Train yourself and your people to speak with a consistent voice and you'll be able to concentrate on the more sophisticated aspects of social media.
Step 2: Keep things consistent.
Not only do you want to be easily found online, you want to be recognized. By organizing your content and keeping it consistent you are putting an image to your brand that creates customer loyalty.
Tip: Try to keep the same URLs for all of your socials.
Twitter: @Target
Facebook: Facebook.com/Target
Youtube: Youtube.com/Target
Pinterest: Pinterst.com/Target
Have all of your profile information the same on each network, for example the "About" section, biography, profile picture, etc.
Tip: Create an elevator pitch. It is as simple as coming up with 2-3 sentences, or as I like to suggest, 140 characters or less that quickly and accurately describes your business. Make the speech appealing so that the reader is craving more. Put your elevator speech in the "About Me" section on Facebook, and the "profile" section on your other social networks.
Post to all social platforms, with the same content
Well, not precisely the same content. At the same time as you're posting to Facebook, post a tweet-appropriate version of the same content to Twitter and a graphic related to that same content on Pinterest—all at more-or-less the same time.
This will help you think through the postings to make them fit the audience on each network. It will also have a beneficial effect on the search engines and, since people's accounts are often
cross-mingled among networks, the impact to your audiences will be greater.
Step 3: Consider your work plan, update often, and update with interesting content!

Who is going to do the work? Just as you wouldn't expect to sit alone in a corner during a party, social media requires ongoing interaction and effort. Designate one person to be the social media "lead." That person has the responsibility to be on top of the interactions. The responsibility can even be rotated among people on a schedule, but one person should always have lead.
How much time each day or week will be spent on social media? Creating content and postings takes time and it's easy to let other tasks get in the way. Assume an hour or so a day for tending to your social media output. Try to make it happen every day, instead of ganging it up for a single day or two during the week.
When during the day or week will they do it? Dive into social media at the same time each day. As a result, it will quickly become part of the workday routine and you'll reap the benefits in the form of increased audience activity.
Also, the "lead" person should be monitoring the activity in your social media channels during the day and possibly also the early evening. The more quickly you can respond to what your audience
is doing in your social feeds, the more your will generate increased audience activity, thereby creating fertile ground for accomplishingyour goals. In addition, customer service issues will arise—those become very public on the social networks—and you'll want to deal with those quickly.
Tip: Put it in writing. Successful social media operations create written plans—some simple, some very detailed and elaborate. Much of your activity is in response to your audiences' comments and content, but the lion's share of your posts are those you originate. Those can be planned well in advance: the kind of postings (video, audio, text, pictures, etc.); the platforms (Facebook, Twitter, Pinterest, etc.); and the schedule (time of day, day of week, etc.).
For a view to how one modest-sized operation organizes its social media activity and what it puts in writing, have a look at the United States Army.
Although there are countless tools to help you manage your socials, using them to update your status is not always effective.
Did you know? Facebook uses an algorithm called "EdgeRank" to determine which status updates show up in your newsfeed? By using social media management systems such as Hootsuite, you are decreasing the visibility of your status. (EdgeRank 101)
Why you should care: You don't want your company to be lost in the mix. By creating creative content you are providing awareness of your page.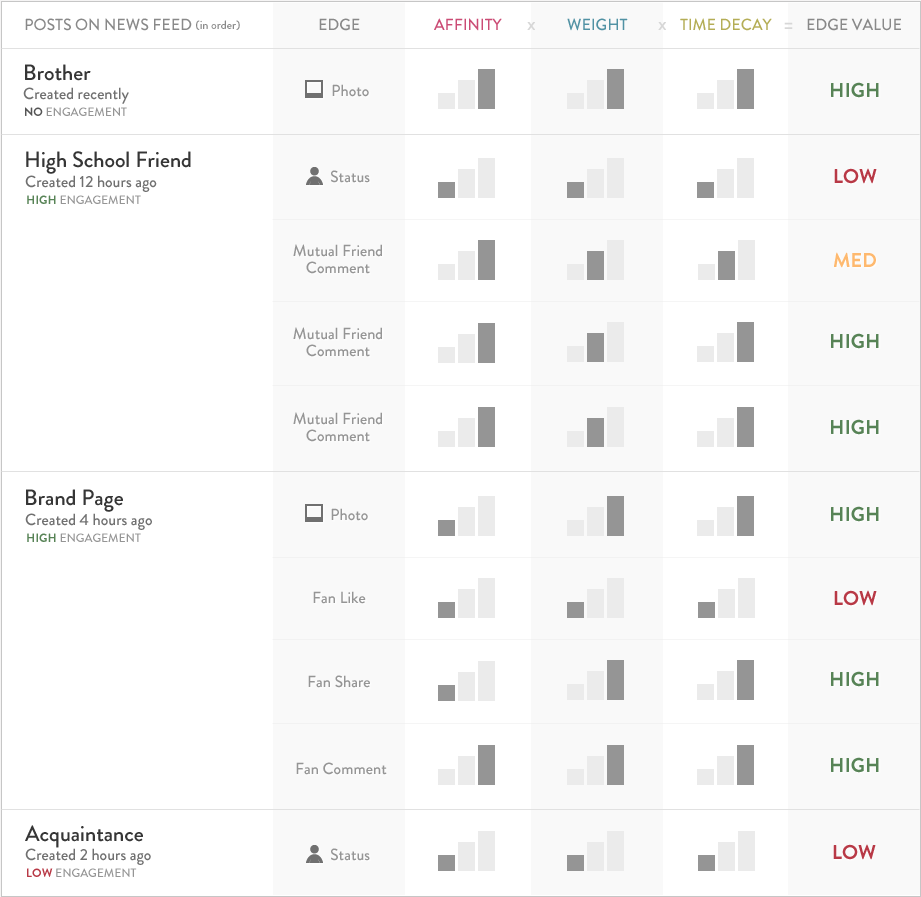 A Working Example of EdgeRank: As you can see, a brand that leverages
EdgeRank was able to enter the News Feed among family and friends.
Tips to help you engage with your fans:
Ask questions that require a response: Where, When, Why, and Would.
Connect with your fans and customers! Share pictures, ask their opinions, and make them be a part of your content!
Suggestion: Use the social network that works best for you.
Tips for Facebook:

Set up the correct type of Facebook page. The biggest mistake companies make is setting up a Facebook profile instead of a Facebook page. Remember: Although you want to be friends with your customers, you want them to "Like" you more.
If you are a business, set up a business page.
If you are an artist set up a musician page.
Know your demographic and post statuses that appeal to them.
Post statuses during key times for your demographic, e.g., right after school gets out, at lunchtime while young professionals are taking their lunch break, etc.
Do not link your Twitter to your Facebook!

Not only will your status reach decrease (Facebook does not like outside applications updating to their site) but many times statuses do not transfer properly.
Twitpics often do not show up
Twitter hashtags are included in status updates and people who are not familiar with Twitter will not understand your update.
Tags do not transfer.
Tips for Pinterest:

Pinterest is not for selling your product. Use it to connect with fans by sharing your favorite things.
Use Lady Antebellum's Pinterest as an example. The country act has one account, but each member has his or her own specific board to pin their favorite things. Ex: clothes, food,music, etc.
They have other boards that relate to the entire band such as song lyrics, "pinspartation from you," style.
Suggestion: If you are a musician, add venues you have played or dreamed of playing; in your profile add links to your web site and other social networks.
Tips for LinkedIn:

Create a group or company page.
Connect with customers.
Use your page to get recommendations from customers.
Connect with other business groups that relate.
Recommend people you have worked with.
Use Linkedin as a professional way to stay in contact.
---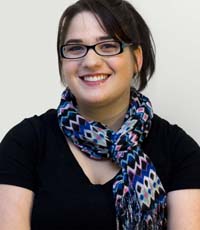 Jessica Dover is a young music industry professional who specializes in providing the 'ultimate fan experience'. Using her Music Business degree, Jessica has been able to work both on and off the road teaching artists how interact with fans.

WHO'S BLOGGING


RENT A PHOTO
Search Musical America's archive of photos from 1900-1992.