---
Apple Classical Goes Live: New Partners, New Playlists, New Search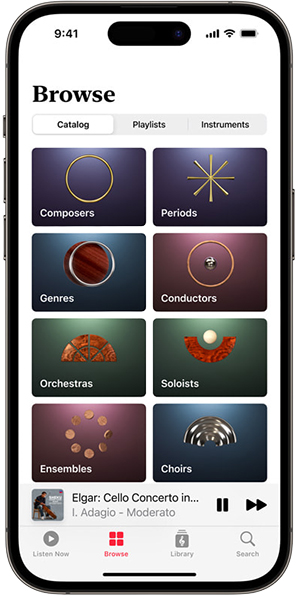 Earlier this month, news went out that Apple Music Classical, the long-awaited successor to Primephonic as a streaming music app dedicated to classical music—and equipped with search capabilities far better suited to classical than those of general streaming apps are—was to be released on March 28. Now that the glorious day doth appear (hat-tip to Mr. Henry Purcell), what does Apple Classical have to offer?
The basics
A stand-alone app independent of Apple Music and iTunes, Apple Classical has more than 5 million tracks covering over 20,000 composers and 115,000 individual works. Thus far, it is available only to iPhone users, though a Android app is said to be planned for future.
Technologically, the audio is the highest quality available: up to 24 bit/192 kHz. In addition, there are thousands of recordings (with more to be added weekly) remastered for the immersive audio technology Dolby Atmos, designed to recreate the 360-degree soundscape of a concert hall.
The search capabilities are specific to classical music, eliminating the frustration that frequently arises when trying to find a particular version of a widely recorded work on an app built for rock and pop. (Obtaining a search engine built for classical music, rather than developing a new one from scratch, is the reason Apple bought Primephonic in the first place.) Users can search by composer, work title, conductor, orchestra/ensemble, soloist, Opus/BWV/K. number, and even a work's nickname.
The user interface includes nearly all the relevant info for whichever recording a user is listening to: work name, all featured performers, even the year of issue.
The app is available in seven languages so far -- English, Spanish, French, Portuguese, German, Italian, and Dutch -- and in every country where Apple Music is available except China, Japan, South Korea, Taiwan, Russia, and Turkey.
What took so long?
Apple acquired Primephonic in August of 2021 and immediately shut it down, announcing that the app would be adapted and relaunched as an Apple Music service. That was 17 months ago, so why the long wait?
The primary issue was integrating Primephonic's software apparatus into the Apple universe, a long and painstaking process involving the review of countless lines of code to make sure that incompatibilities and unexpected bugs could be caught and eliminated. And while that was going on, the product development and editorial teams were developing a trove of additional content.
The extras: what's on offer besides the recordings themselves
For a start, there are already over 700 curated playlists available (with more to be added), covering individual composers, genres of music (orchestral, chamber, opera, solo piano, organ, etc.), historical periods, moods, and more. While important and useful, a bigger selling point is a set of playlists and additional content chosen by individual artists: Hilary Hahn, for instance, has assembled a set of her favorite performances, with personal observations about the music and the recording process. Yo-Yo Ma, Joshua Bell, and Joyce DiDonato have done so as well, with playlists of their own performances as well as others that are particularly dear to them.
For listeners relatively new to the genre, a team of critics and music historians has assembled "The Story of Classical," a set of audio guides offering an introductory tour through nine periods of classical music history, from the Medieval era through the 21st century (which, yes, gets its own category).
Beyond that, every week will see featured "Editor's Choice" recordings (either new releases or back catalog items), "Hidden Gems" (hand-picked works that deserve to be better known), and "Composer Undiscovered" lists (less familiar pieces by famous names).
Apple Music has also commissioned original artwork for many of its playlists as well as new, highly detailed portraits of great composers of the past.
The coup: exclusive concert recordings from the Big Guns
Ten of the field's highest-profile institutions have partnered with Apple for the new app: the Berlin Philharmonic, Chicago Symphony, London Symphony, New York Philharmonic, Royal Concertgebouw Orchestra, San Francisco Symphony, Vienna Philharmonic, Carnegie Hall, the Metropolitan Opera, and Opéra National de Paris.
Each will provide exclusive recordings of performances from their seasons and other content. It's not yet clear what will be streamed and when, but Apple did say that the Vienna Philharmonic's famously difficult-to-get-into subscription concerts at the Musikverein would be the first to be available.
What's missing
Apple could not provide a complete list of the record labels whose catalogs are on Apple Classical. Certainly the major groups—Universal, Sony, Warner—are there, since they were on Primephonic; likewise for Harmonia Mundi and Naxos, along with their distributed labels, as well as Pentatone, which was closely associated with Primephonic from the beginning.
Less clear is whether such smaller labels as the Outhere group (Linn, Ricercar, Channel Classics, etc.) and the in-house labels that various orchestras and other ensembles have developed over the past two decades will be involved, although many of their recordings are available on other services. The biggest question mark of all is Hyperion Records, which has remained famously resistant to streaming audio but which was just acquired earlier this month by Universal.
Beyond all that, what's missing for now is the opportunity to experience this promising venture on anything but an iPhone. Apple will say only that a version of the app for Android phones is "coming soon," and the time frame for adapting a program to a different operating system is rarely predictable.
Most unfortunate, perhaps, is that there appear to be no plans to make Apple Classical available through a browser for laptop and desktop users. So it seems that classical listeners who want both a really useful search engine and to play music on anything larger than a phone will have to stick with Idagio, Qobuz, or—the option that other reports always forget—Naxos Music Library, which includes the catalogs of just about every major and minor label out there (except Hyperion) and which solved the problem of classical music metadata more than 20 years ago.

WHO'S BLOGGING


RENT A PHOTO
Search Musical America's archive of photos from 1900-1992.