---
MA Top 30 Professional: Benjamin K. Roe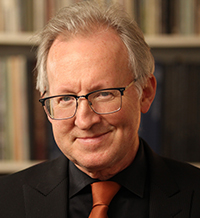 "The pandemic hasn't been a story of one crazy season and then getting back to normal," said Ben Roe, who has headed the Heifetz International Music Institute for young string players since 2014. "We've had three wildly different seasons in the last three years. We were virtual in 2020, a hybrid program in 2021, and for the most part fully in-person in 2022. It is our hope that 2023 will be the first 'normal' season for us in four years."
The Heifetz, a six-week summer school and festival held at Mary Baldwin University in Staunton, VA, was well-positioned to pivot to the remote teaching and performance that came with Covid. Roe's background is in broadcasting, including stints as a classical music producer with National Public Radio and WGBH in Boston. Tech-savvy Artistic Director Nicholas Kitchen, founding first violin of the Borromeo String Quartet, was an early adopter of playing scores from iPads rather than sheet music.
"Nick and I were able to develop in a very short time the whole idea of taking the Heifetz online and how we could use technology," said Roe, who developed the Institute's YouTube channel into a thriving destination for classical music lovers, with more than 54,000 subscribers and 13.4 million views. With opportunities for live concerts diminished during the pandemic, he launched the Heifetz Ensemble in Residence (HEIR) which brings selected alumni back to the Shenandoah Valley to perform in local hospitals, senior centers, schools, and other community venues—is still going strong.
Last summer, the Institute (founded in 1996 by violinist Daniel Heifetz, a distant cousin of superstar violinist Jascha Heifetz) had 163 students in the senior and junior divisions; of the 86 in the senior division, 27 were on full scholarship, the most ever in the history of the program. Musicians benefit from the Institute's innovative Performance & Communication Training method, with a curriculum that includes public speaking, dance, theater, yoga, and other extra-musical skills to cultivate confidence, expressivity, and stage presence.
SOCIAL LINKS

WHO'S BLOGGING


RENT A PHOTO
Search Musical America's archive of photos from 1900-1992.