---
New Artist of the Month: Cellist Zlatomir Fung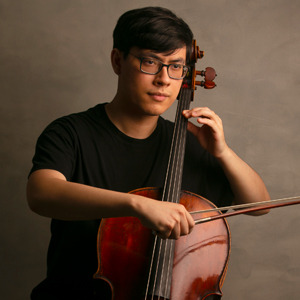 Competing with nature's own surround-sound orchestra, open-air performances aren't the optimal context for a soloist to shine. But Zlatomir Fung kept me riveted at last summer's Bravo! Vail Festival, eager not to miss a single nuance from the moment he began spelling out the theme in Tchaikovsky's Rococo Variations. Under the smiling direction of Leonard Slatkin, this also happened to be the young cellist's New York Philharmonic debut. Poise and virtuosity were assumed to be givens for a winner of the International Tchaikovsky Competition. What captivated me was his unforced musicality in using those qualities to make genuine poetry.
Now 23, Fung became the youngest musician in the illustrious competition's history to take the first prize in cello in 2019 (and the first American in four decades); he received an Avery Fisher Career Grant the year following. Even though neither of his parents is a musician—his mother is a math professor, his father a software engineer—Fung's natural affinity became evident when a friend recommended they take their three-year-old to a local Suzuki teacher. (All three of his siblings were also encouraged to play an instrument.)
"At first, it was a pretty low-key engagement," the cellist recalled during a recent Zoom conversation. But his attitude intensified at the age of 12. The family had moved from Oregon to the Boston area, where he found the musical environment more stimulating and attended the New England Conservatory prep school program. It was around this time that Fung says he first decided he wanted to pursue a career as a professional musician. He watched all the cello rounds when the Tchaikovsky Competition was broadcast online, dreaming of one day participating. "They archived the performances, so I had a routine every morning for six months, while I was eating breakfast, of watching the same performance of the Schumann concerto performed by Edgar Moreau. He was my hero at that time."
Mentors and models
Born in 1999 and of Bulgarian-Chinese heritage, Fung is a musician who has indeed been decisively shaped by the Internet. While still in high school, he began studying via Skype with Richard Aaron, his primary mentor at Juilliard (where he received his degree last May), "before it was fashionable to do lessons on the Internet." Mischa Maisky influenced his understanding of Bach "because his recordings of the Bach suites were among the first that were posted on YouTube. When I searched 'Bach cello suites,' he was what came up."
But Fung singles Rostropovich out as "the cellist who made me want to become a cellist. When I was 12, his recordings changed the course of my relationship with the instrument." He was especially drawn to the Russian's account of the First Cello Concerto of Shostakovich—a composer to whom Fung is especially attracted—and his solo performances. "I was blown away by the refinement of his playing and the way that he was able to communicate so specifically the character of that music." He also admires Yo-Yo Ma as "a beacon of musical intelligence."
The allure of new rep
An intensely goal-oriented individual, Fung adopted a practical attitude to cope with the stress of competitions: "Obviously competitions are something of a cruel instrument, but I always saw them as a way to motivate myself and an opportunity to learn new repertoire." Winning the 2017 Young Concert Artists International Auditions allowed him to give a round of recitals in which he could hone his interpretations of some of the repertoire he would eventually play in the Tchaikovsky Competition. Speed chess provided a reliable break from the pressure. So did his passion for film. (He was accepted to New York University's film criticism program when he applied to colleges—just to see if he could, knowing that music would be his path.)
Fung isn't content to play it safe by focusing only on standard repertoire. He seeks out collaborations with contemporary composers, such as Katherine Balch, who has written a cello concerto for him that Fung will premiere with the Dallas Symphony Orchestra in April 2023. The two met at the Aspen Music Festival in 2014, when the cellist was drawn to the "wildly imaginative stuff she was writing, like a piece for cello quartet where every cellist had a different scordatura [abnormal tuning]."
Another composer Fung works with is Marshall Estrin, whom he befriended at Juilliard and who has written several pieces for him, including a brand-new Carmen fantasy. "I'm very excited about it since we cellists only have two Carmen fantasies that are remotely good—and they don't compare to the ones for violin." Though nothing has been confirmed yet, Fung says his dream program for his debut album would be a selection of opera fantasies for cello and piano, "a few of which would be from forgotten corners of the repertoire of the 19th century, along with a couple of new arrangements."
Craft and art
Asked about his goals at this point in his career, Fung responds that along with his expanding list of orchestral debuts, he's been focusing on recital programming. "Recitals allow you to tell a whole story, to take people on a journey through what's possible in a particular subset of musical ideas." He also enjoys chamber music a great deal, which tends to be a focus in the summer in festival settings. "In rehearsals I try to stay quiet and let other people critique because I find it so interesting to see their thought process and their approach to improve something."
"Every instrument teaches you different things," Fung says, referring to the 1783 Lorenzo Storioni cello he has been playing of late thanks to a loan from a private benefactor. "It's a bit smaller than a full-size cello and has a rich interior voice. The challenge is to project its color in a way that can be felt from a distance." Fung himself has an air of understated modesty that belies the powerfully individual musical personality he is developing, with its combination of structural insight and expressive warmth.
"Itzhak Perlman said something that has stuck with me: 'Technique is the ability to manipulate a phrase the way you want to.' That resonates with me because I like to approach cello playing first and foremost as a craft. But you can't have that at the expense of seeing the larger picture—craft is always in service of something. I'm always trying to juggle these two aspects."

WHO'S BLOGGING


RENT A PHOTO
Search Musical America's archive of photos from 1900-1992.