---
MA Top 30 Professional of the Year: Sasha Gutiérrez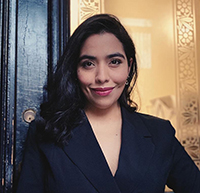 Soprano, Impresaria
When the pandemic closed everything down, Sasha Gutiérrez opened her art form to the world. Unfulfilled by merely practicing in her Brooklyn apartment, the Colombian soprano and graduate student at the Manhattan School of Music stepped outside her Brooklyn brownstone and, together with her fiancé, a drummer, and their bass-playing roommate, performed an al fresco concert of jazz and opera excerpts for the neighborhood. "It is essential," Gutiérrez said in an interview, "to have someone receive the music we perform in order for it to fulfill its purpose."
What began as a whim turned into a 13-concert series over the summer of 2020. Brooklyn families and visitors from other boroughs started showing up, picnics and other accoutrements in tow. For many in the crowd, Gutiérrez realized, her performances were their first exposure to opera.
"What we do is rarer than we imagine," said the singer. "It belongs to a certain niche…I believe that it should be shared with a broader and more diverse audience."
Finding that audience became her pandemic project. Using the work she'd been studying before the shutdown, Gutiérrez set about mounting an adaptation of Mozart's Così fan tutte. Tapping her network, she gathered singers, musicians, and support staff and raised enough money through a crowdfunding campaign titled "Help Us Put Opera on Our Block" to pay them for two performances. Police closed down her street and hundreds of people showed up. Best of all, she got the audience she wanted. "The greatest impact was seeing the people who have never considered going to an opera be completely mesmerized by the experience," Gutiérrez said. She plans to continue mounting operas in unconventional spaces with her new company, The Opera Next Door. "This experience has taught me that the music we love performing…serves a bigger purpose… when it is used to create and unite a community."
SOCIAL LINKS

WHO'S BLOGGING


RENT A PHOTO
Search Musical America's archive of photos from 1900-1992.