---
MA's Free Guide to (Mostly) Free Streams, March 22-29
We will be updating this list weekly. Please note that all times are given in U.S. Eastern Time (ET). To calculate in other time zones or counties, British Summer Time (BST) is currently five hours ahead of ET and Central European Time (CET) is currently six hours ahead. U.S. Central Daylight Time (CDT) is one hour behind ET. Mountain Time (MT) is two hours behind ET, while Pacific Time (PT) is three hours behind. Contact editor@musicalamerica.com.
Classical music coverage on Musical America is supported in part by a grant from the Rubin Institute for Music Criticism, the San Francisco Conservatory of Music, and the Ann and Gordon Getty Foundation. Musical America makes all editorial decisions.
---

** Highly recommended
Monday, March 22
9 am ET: Wigmore Hall presents Nash Ensemble. The Wigmore Hall Ensemble in Residence plays three of Bruch's Eight Pieces for Clarinet, Viola and Piano Op. 83 and Brahms's Piano Quintet in F minor, Op. 34. Register, view here and on demand for 30 days. LIVE
1 pm ET: Copland House presents Underscored: John Harbison's November 19, 1828. An exploration of Harbison's musical "hallucination" about Schubert crossing into the next world, complete with trumpet fanfares welcoming the traveler, recollections of the iconic Viennese composer's hallmark compositional styles, and speculative completions of unfinished or imagined works. Includes an introductory conversation with Harbison and live, post-performance Q&A between composer and viewers. Register and view here.
1 pm ET: The Choir of Trinity Wall Street presents Comfort at One. The Choir and Trinity Baroque Orchestra perform Preise dein Glücke, gesegnetes Sachsen, BWV 215 and the Sanctus, Osanna, and Dona nobis pacem from the B-minor Mass. Featured soloists include Andrew Fuchs, Christopher Dylan Herbert, and Sarah Brailey. (From 2016 12th Night Festival). View here.
2 pm ET: Wiener Staatsoper presents Verdi's Aida. Conductor: Marco Armiliato, director: Nicolas Joel. With Elena Guseva, Gregory Kunde, Ekaterina Gubanova, and Simone Piazzola. Production from June 2019. Register for free and view here.
3:15 pm ET: Bayerische Staatsoper presents Rossini's Il Signor Bruschino. Conductor: Antonino Fogliani, director: Marcus H. Rosenmüller. With Misha Kiria, Emily Pogorelc, Paolo Bordogna, Andres Agudelo, Andrew Hamilton, Edwin Crossley-Mercer, and Eliza Boom. View here. LIVE
3:15 ET: Philharmonie Essen presents Igor Levit plays Beethoven. Gilmore Artist Igor Levit performs Beethoven's final three piano sonatas: Sonata No. 30 in E, Op. 109, Sonata No. 31 in A flat, Op. 110, and Sonata No. 32 in C Minor, Op. 111. View here.
3:30 pm ET: Wigmore Hall presents London Handel Players & Lucy Crowe. The ensemble and soprano perform Bach's Ich habe genug BWV82a, Brandenburg Concertos No. 5 in D BWV1050 and No. 4 in G BWV1049, and arias by Handel. Register, view here and on demand for 30 days. LIVE
5 pm ET: Baryshnikov Arts Center presents Museum of Calm. Extended-technique vocalist and composer Holland Andrews (who often performs under name Like a Villain) blends vocal feats with electronic music and solo clarinet in a new work that is equal parts vocal music composition, meditation, and performance art video. Filmed at BAC's John Cage & Merce Cunningham Studio, the performance generates a cathartic emotional experience, offering strategies for navigating through chaos, and sustaining the energy to survive in a reforming society. There will be live-streamed conversation with Holland Andrews and performer Morgan Bassichis on March 24 at 8 pm ET. View here until March 29.
7:30 pm ET: Met Opera Streams presents Gluck's Orfeo ed Euridice. Starring Danielle de Niese, Heidi Grant Murphy, and Stephanie Blythe, conducted by James Levine. Production by Mark Morris. From January 24, 2009. View here and for 24 hours.
7:30 pm ET: Chamber Music Society of Lincoln Center presents The Art of Interpretation. Violinist Chad Hoopes and pianist Anne-Marie McDermott perform a recital and present a discussion of wide-ranging music by masters from three ages. Program: Mozart's Violin Sonata in C, K. 296, Schumann's Violin Sonata in A minor, Op. 105, and Debussy's Violin Sonata. Register and view here and on demand for a week.
Tuesday, March 23
6 am ET: IDAGIO Global Concert Hall presents Seiji Ozawa Music Academy: Beethoven & Tchaikovsky. Fumiaki Miyamoto conducts SOMA players in Beethoven's Egmont Overture, Op. 84, Tchaikovsky's Serenade in C, Op. 48, and Beethoven's Symphony No. 7 in A, Op. 92. The concert is streamed live from Tokyo Bunka Kaikan. Tickets $13. View here until April 30. LIVE
1 pm ET: The Choir of Trinity Wall Street presents Comfort at One. Guest conductor Michael Zaugg directs the Choir in an exploration of darkness and light through the music of Brahms, Lukaszewski, David Lang, and others. (From 2014's Lenten Lamentatio series). View here.
2 pm ET: Wiener Staatsoper presents Donizetti's Don Pasquale. Conductor: Jesús López Cobos, director: Irina Brook. With Michele Pertusi, Valentina Nafornita, Juan Diego Flórez, and Alessio Arduini. Production from May 2015. Register for free and view here.
3 pm ET: Royal Liverpool Philharmonic presents Petrenko conducts Shostakovich & Beethoven. Vasily Petrenko conducts Shostakovich's Cello Concerto No. 1 with soloist Anastasia Kobekina and Beethoven's Symphony No. 2. The concert will be preceded by a live pre-concert talk on Zoom and a post-concert Zoom Q&A with musicians and conductor in a sort of post-match analysis. Tickets £10 and view here for 30 days. LIVE
** 3 pm ET: Opera Factory Freiburg presents Mix For Six II. Klaus Simon conducts the Holst Sinfonietta in Dieter Ammann's The Freedom of Speech, Mark-Anthony Turnage's Grazioso!, Timo Andres's Checkered Shade, and Jennifer Higdon's Zaka. Tickets Euro 5. View here.
3:30 pm ET: Wigmore Hall presents Steven Isserlis & Mishka Rushdie Momen. The cellist and pianist perform works by Beethoven, Bloch, Bruch, Mendelssohn, and Ravel. Register, view here and on demand for 30 days. LIVE
3:30 pm ET: Philharmonie de Paris presents Paris Mozart Orchestra. Klaus Mäkelä conducts the Orchestre de Paris with pianist Kirill Gerstein in music by Ravel, Bartók, and Bruckner. View here. LIVE
5 pm ET: Copland House & I Care If You Listen present Cultivated Spaces. The first of a new six-program series featuring the world premieres of all six new works Copland House commissioned for its CULTIVATE 2020 emerging composers institute. This week: Machine Learning by New York-based composer-pianist Will Healy. View here.
7 pm ET: Buffalo Philharmonic Orchestra presents Handel & Mozart. JoAnn Falletta conducts with violinist Nikki Chooi and cor anglais player Anna Mattix as soloists in Handel's Concerto Grosso in C, Alexander's Feast, HWV 318, Kay's Pietà, Mozart's Violin Concerto No. 4 in D, and Ibert's Divertissement. Tickets $10. View here until April 15.
7 pm ET: American Ballet Theatre presents A Ratmansky Celebration. The World Premiere of a new ballet, Bernstein in a Bubble, based on Leonard Bernstein's Divertimento choreographed by Ratmansky, plus excerpts from The Seasons, Seven Sonatas, and The Sleeping Beauty. Tickets $25. View here until April 18.
7 pm ET: MATA & International Contemporary Ensemble present Radical Pairings 2. Saxophonist Ryan Muncy performs both Evan Williams's Rock Steady and for loops, as well as two works for voice and DIY instruments by composer-performer Bethany Younge. Younge is joined by soprano Charlotte Mundy. This program juxtaposes rhythmic virtuosity and groove with the otherworldly soundscape produced by found percussion and the human voice. Register and view here.
7 pm ET: Orchestre Symphonique de Montréal presents Surprise & Triumph. Kent Nagano conducts Haydn's Symphony No. 45 in F-sharp minor, Hob.I:45, Farewell and Mozart's Symphony No. 41 in C, K. 551, Jupiter. Tickets $20. View here until April 13.
7:30 pm ET: Nightly Met Opera Streams presents Berlioz's La Damnation de Faust. Starring Susan Graham, Marcello Giordani, and John Relyea, conducted by James Levine. Production by Robert Lepage. From November 22, 2008. View here and for 24 hours.
8 pm ET: DACAMERA presents Aaron Diehl. The pianist performs a recital of concert works composed in jazz style, featuring Dick Hyman's Etudes for Jazz Piano (In the Styles of the Great Jazz Pianists), Copland's Piano Blues No. 4, and Zodiac Suite, a solo work by American pianist, arranger and composer Mary Lou Williams, consisting of portraits of musical friends from each sign of the zodiac ("Aries" is for Ben Webster and Billie Holiday; "Taurus" is for Duke Ellington, etc.). Register and view here and for one week.
8:30 pm ET: Dallas Symphony Orchestra presents Mendelssohn & Schubert. Katherina Wincor conducts the DSO with violinist James Ehnes in Anna Clyne's Stride, Mendelssohn's Violin Concerto in E minor, and Schubert's Symphony No. 5 in B-flat. Tickets $10. View here until May 31.
Wednesday, March 24
1 pm ET: The Choir of Trinity Wall Street presents Comfort at One. Soprano Molly Netter curates and performs in a program pairing her own arrangement of Bach with a work she commissioned from Calvin Hitchcock. Netter accompanies herself on the clavicytherium, an instrument resembling an upright harpsichord. View here.
1 pm ET: Kronberg Academy presents Kirill Gerstein in an online seminar with actor, director, and author Simon Callow. The discussion will compare the process of interpretation for an actor and for a musician with Hamlet, Falstaff and Prospero supplying departure points to consider timing and meter, as well as historical implications and how acting is the nearest to living another person's thoughts. Register here for the free Zoom seminar. LIVE
2 pm ET: Wiener Staatsoper presents Verdi's Rigoletto. Conductor: Evelino Pidò, director: Pierre Audi. With Carlos Álvarez, Juan Diego Flórez, Olga Peretyatko, Ain Anger, and Nadia Krasteva. Production from January 2016. Register for free and view here.
2:30 pm ET: Musikkollegium Winterthur presents Sérgio Pires. Duncan Ward conducts with clarinetist Sérgio Pires. Program: Milhaud's La création du monde, Debussy's Première Rhapsodie pour Clarinette (arr. Todd Palmer), Lutoslawski's Dance Prelude for Clarinet, Harp, Piano, and Stings, and Dvorák's Symphony No. 9, From the New World. Tickets from $12. View here.
2:30 pm ET: Opéra de Lyon presents Dukas's Ariane et Barbe-Bleu. Conductor: Lothar Koenigs, director Àlex Ollé for La Fura dels Baus. With Katarina Karnéus (Ariane), Anaïk Morel (Nurse), and Tomislav Lavoie (Barbe-Bleue). View here.
3 pm ET: IDAGIO presents Classical (R)evolution with Rachel. Join soprano Rachel Fenlon as she explores what breaking the rules, embracing uncertainty, and thinking "outside the box" does for classical music-making. In this episode: soprano Julie Fuchs. View here. LIVE
---

---
3 pm ET: Frankfurt Radio Symphony Orchestra presents Mendelssohn Spotlight. Conductor Andrés Orozco-Estrada leads performances of Mendelssohn's Concert Overtures: The Hebrides, Das Märchen von der schönen Melusine, and Meeresstille und glückliche Fahrt. View here.
3:30 pm ET: Wigmore Hall presents Ashley Riches & Joseph Middleton. The duo presents a program of songs on the subject of Winter turning to Spring, including songs from Schubert's Winterreise, Britten's Winter Words Op. 52, Lieder by Brahms, and Finzi's Let us garlands bring Op. 18. Register, view here and on demand for 30 days. LIVE
3:30 pm ET: Royal Stockholm Philharmonic presents Stenhammar Quartet. As part of the festival of Svensk Musikvår (Swedish Musical Spring), the Stenhammar Quartet performs Gunnar Bucht's String Quartet No. 5 (World Premiere), Jan W Morthenson's Ancora, Meta Music for string quartet, Anna Einarsson's Courage, mon amie for string quartet (World Premiere), and Jonas Valfridsson's String Quartet No. 3 (World Premiere). View here and on demand.
4 pm ET: London Philharmonic presents The New World. Filmed without audience on March 2, 2021, Italian conductor Enrique Mazzola leads the London Philharmonic Orchestra in Dvorák's Symphony No. 9, From the New World and Haydn's Symphony No. 49, La Passione. View here for seven days.
6 pm ET: Philadelphia Chamber Music Society presents Miriam Fried & Jonathan Biss. Violin and piano, wisdom and vigor, mother and son. All come together in this joint performance by Miriam Fried and Jonathan Biss who have spent the past decade devoting a portion of their artistic endeavors to performing together. Program: Mozart's Violin Sonata in C, K. 303, Janácek's Violin Sonata, Debussy's Violin Sonata, and Mozart's Violin Sonata in A, K. 526. View here.
6:30 pm ET: Orchestra of St. Luke's presents Sounds & Stories. Anna Clyne, OSL's composer in residence, curates a program featuring the world premiere of Strange Loops for clarinet quintet, as well as the debut of Jyll Bradley's new film Woman Holding a Balance, scored by Clyne. The program threads together narratives of influence, from Bach's influence on Steve Reich to Reich's influence on Anna Clyne. With Jon Manasse, clarinet. Suggested donation $40. View here.
7:30 pm ET: Nightly Met Opera Streams presents Gluck's Iphégenie en Tauride. Starring Susan Graham, Plácido Domingo, Paul Groves, and Gordon Hawkins, conducted by Patrick Summers. Production by Stephen Wadsworth. From February 26, 2011. View here and for 24 hours.
8 pm ET: Baltimore Symphony Orchestra presents BSO Sessions: ¡Viva España! Jack Everly conducts the music of Spain as interpreted by a Spanish, a French, and a Russian composer. Albeniz's Córdoba, a standard for classical guitar, is here performed by the BSO. España was written by Chabrier after a vacation through the south of Spain. Shchedrin's Carmen Ballet, a rearrangement of Bizet's famous opera, reworks familiar melodies and highlights the talents of the percussion section. Tickets $10. View here and on demand.
Thursday, March 25
** 7:15 am ET: Royal Stockholm Philharmonic presents Oramo conducts Ravel. Sakari Oramo conducts the RSPO with pianist Bertrand Chamayou in an all-Ravel program comprising the Piano Concerto in G, Pavane pour une Enfant Défunte, Menuet antique, Le tombeau de Couperin, and "Fugue and Toccata" from Le tombeau de Couperin arr Kenneth Hesketh. View here and on demand.
8 am ET: The Hallé presents Paul Lewis plays Mozart. The concert opens with Mozart's Piano and Wind Quintet K.452, while concluding the program, Paul Lewis directs Mozart's early Piano Concerto No. 12. In contrast, the Hallé's string musicians perform Stravinsky's sunny Concerto in D for string orchestra directed by Eva Thorarinsdottir. Tickets £14. View here until June 25.
** 12 pm ET: Boston Symphony Orchestra presents BSO Online. Andris Nelsons leads an all-Russian program featuring Stravinsky's Symphonies of Wind Instruments and Shostakovich's Symphony No. 1 and Tahiti Trot; chamber music performances feature American composer Eda Rapoport's Poem, Op. 14, for viola and piano, with BSO violist Michael Zaretsky and pianist Randall Hodgkinson. Donate $100 for full access. View here for 30 days.
1:15 pm ET: Midtown Concerts presents Arnaut Consort. Medieval music from three precious manuscripts, the Llibre Vermell of Montserrat, the Manuscrit du Roi, and the Codex Faenza. The repertoire includes instrumental arrangements of traditional folk songs and rhythmic dance works as well as liturgical music from the 13th to the 15th century. View here.
2 pm ET: Wiener Staatsoper presents Massenet's Manon. Conductor: Frédéric Chaslin, director: Andrei Serban. With Nino Machaidze, Juan Diego Flórez, and Adrian Eröd. Production from January 2016. Register for free and view here.
2 pm ET: IDAGIO presents Thursdays with Thomas. Join Thomas Hampson in conversation with colleagues, friends, and other major personalities of the classical music world. In this episode Thomas chats with the President and CEO of Newark Symphony Hall, Taneshia Laird. View here. LIVE
3 pm ET: Royal Opera House presents Concerto. Created in 1966 for Berlin's Deutsche Opera Ballet and set to Shostakovich's Piano Concerto No. 2 in F, Concerto includes energetic corps de ballet sections as well as lyrical pas de deux that reflect the contrasting mood of the music. With vivid designs by Jürgen Rose, the work remains one of MacMillan's most celebrated creations. This recording from 2019 features Anna Rose O'Sullivan, James Hay, Mayara Magri, Yasmine Naghdi, and Ryoichi Hirano. Tickets £3. View here until April 25.
3 pm ET: Polyphonic Concert Club presents I Fagiolini. Filmed in the medieval ambience of York's National Centre for Early Music, vocal ensemble I Fagiolini presents an hour of vocal music from four musical capitals of the 16th-18th centuries. Tickets £95 for the series of six. View here and on demand.
3 pm ET: Frankfurt Radio Symphony Orchestra presents Mendelssohn's First. Violinist and Artist in Residence Pekka Kuusisto joins conductor Andrés Orozco-Estrada in Mendelssohn's Hebrides Overture and Symphony No. 1, as well as Magnus Lindberg's Violin Concerto. View here.
3:15 pm ET: Czech Philharmonic presents Jakub Hrusa & Lisa Batiashvili. Principal Guest Conductor Jakub Hrusa conducts Suk's tone poem Ripening and Saint-Saëns's Violin Concerto No. 3 with soloist Lisa Batiashvili. View here. LIVE
3:30 pm ET: Wigmore Hall presents Timothy Ridout & James Baillieu. The violist and pianist perform Flackton's Viola Sonata in G minor, Cecil Forsyth's Chanson Celtique, Vaughan Williams's Six Studies in English Folksong, the "Waltz" from Britten's Suite for violin and piano Op. 6, Beethoven's Moonlight Op. 27 No. 2 (arranged by York Bowen for violin and piano), Rebecca Clarke's Viola Sonata, and Eric Coates's First Meeting (souvenir). Register, view here and on demand for 30 days. LIVE
3:30 pm ET: Concertgebouw presents François Leleux: Haydn & Debussy. The Nederlands Kamerorkest is led by conductor and oboist François Leleux in a program of Debussy's Rapsodie, L. 116, Schnelzer's A Freak in Burbank, Haydn's Oboe Concerto in C, Hob. VIIg/C1, and Brahms's Variations on a theme of Haydn in B flat, Op. 56a. Tickets Euro 12.50. View here.
3:30 pm ET: Orchestra Svizzera Italiana presents Urbanski conducts Tchaikovsky. Krzysztof Urbanski and cellist Pablo Ferrández perform an all-Tchaikovsky program of the Romeo and Juliet Fantasy-Overture, the Variations on a Roccoco Theme, and the Symphony No. 4 in F Minor. View here.
5 pm ET: The Violin Channel & Vanguard Concerts present Lark, Yang & Vignola. Tessa Lark, violin, Amy Yang, piano, and Frank Vignola, guitar perform Kreisler's Syncopation, Praeludium and Allegro, and Liebesleid, Telemann's Fantasia No. 4 in D, Ysaÿe's Sonata No. 4 in E minor, Michael Torke's Milk from Spoon Bread, and the fifth movement from Avner Dorman's Violin Sonata No. 4. View here.
6:30 pm ET: Mannes School of Music presents American Piano Music: Friendships. Pianist Ursula Oppens performs a program which includes a world premiere of Friendship by Frederic Rzewski. The concert also features Laura Kaminsky's Reckoning: Five Miniatures for America for piano four-hands (with Jerome Lowenthal), Elliott Carter's Two Diversions and an excerpt from the Double Concerto, Conlon Nancarrow's "Canon B" from Two Canons for Ursula, and Julius Hemphill's Parchment. Register and view here.
7 pm ET: Philadelphia International Music Camp & Festival presents Violin Master Class with Dara Morales. As part of a series featuring principal players of The Philadelphia Orchestra, Dara Morale will present a live 60-minute master class followed by a 30-minute Q&A in which audience members can interact directly. Reserve tickets here.
7 pm ET: Kaufman Music Center presents Performance as Process with Conrad Tao. Kaufman Music Center Artist-in-Residence, pianist, and composer Conrad Tao invites audiences into his creative practice as he develops programming for his May 6 Ecstatic Music performance in Merkin Hall. Streamed from his home in Manhattan, this event will give the audience a deeper look into his work in piano, electronics, composition, and improvisation. View here.
7 pm ET: The Cleveland Orchestra presents In Focus Episode 7: Lyrical Cello. Franz Welser-Möst and principal cello Mark Kosower perform a concerto by one of Johann Sebastian Bach's most prolific sons. Next comes Shostakovich's Chamber Symphony, adapted from his Eighth String Quartet. The program concludes with a transformative vision by Olivier Messiaen. View here via TCO's streaming platform Adella.
** 7:30 pm ET: Nightly Met Opera Streams presents Richard Strauss's Elektra. Starring Nina Stemme, Adrianne Pieczonka, Waltraud Meier, and Eric Owens, conducted by Esa-Pekka Salonen. Production by Patrice Chéreau. From April 30, 2016. View here and for 24 hours.
7:30 pm ET: Chamber Music Society of Lincoln Center presents International Quartet Series: Schumann Quartet. The quartet performs Tchaikovsky's String Quartet No. 1 in D and Beethoven's String Quartet in F, Op. 59, No. 1, Razumovsky. View here and on demand for one week.
7:30 pm ET: Celebrity Series of Boston presents Charles Overton & Julian Loida: Soul & Spark. It's an unlikely pairing of instruments—a harp and a vibraphone—but Charles Overton and Julian Loida weave their ethereal sounds in music that crosses and combines styles: ambient, jazz, world, classical, and more. View here.
7:30 pm ET: 92nd St Y presents Alisa Weilerstein & Inon Barnatan. The cellist and pianist perform Falla's Suite Populaire Espagnole and Rachmaninov's Sonata for Cello and Piano. Tickets $20. View here.
7:30 pm ET: St Louis Symphony Orchestra presents Night Music. Erin Schreiber, Hannah Ji, and Shawn Weil, violins, Beth Guterman Chu and Leonid Plashinov-Johnson, violas, and Melissa Brooks and Bjorn Ranheim, cellos perform the Sextet from Richard Strauss's Capriccio, Missy Mazzoli's Vespers for Violin, and Schoenberg's Verklärte Nacht (Transfigured Night). Tickets $15. View here until April 24.
Friday, March 26
6 am ET: Göteborg Opera presents Wagner's Siegfried. Stephen Langridge's environmentally conscious production addresses the themes of the cycle through a new lens: abuses of power, liberation, atonement and destruction see the earth robbed of its natural resources, its power converted for selfish gain and destruction. With Fredrik Zetterström and Anders Lorentzson (The Wanderer), Daniel Brenna (Siegfried), Dan Karlström (Mime), Olafur Sigurdarson (Alberich), Mats Almgren (Fafner), Hege Høisæter (Erda), Sofie Asplund (Woodbird), and Ingela Brimberg (Brünnhilde). One act posted per day with all three available on March 28. View here until March 31.
12 pm ET: Princeton Symphony presents Buskaid: A Musical Miracle. Buskaid-trained violinist Kabelo Monnathebe performs Vaughan Williams's The Lark Ascending in a program infused with dance rhythms that includes Muffat's "Passacaglia" from Armonico tributo, Sonata No. 5, Mussorgsky's Hopak, excerpts from Grieg's Holberg Suite, Op. 40, and Bobby McFerrin's "Don't Worry, Be Happy". Rosemary Nalden conducts the Buskaid Soweto String Ensemble. Tickets $5. View here for 72 hours.
2 pm ET: OperaVision presents La Voix Humaine & L'Heure Espagnole. Opera Zuid's double bill of one-act operas comprises Poulenc's La Voix humaine and Ravel's L'Heure espagnole—two sides of the same coin united by the same longing for connection to another human being. Conductor: Karel Deseure, director: Béatrice Lachaussée. With Talar Dekrmanjian, Gilles Ragon, Romie Estèves, Michael Wilmering, Alexandre Diakoff, and Peter Gijsbertsen. Recorded on 14 November 2020. View here for three months.
2 pm ET: Wiener Staatsoper presents Donizetti's Don Pasquale. Conductor: Jesús López Cobos, director: Irina Brook. With Michele Pertusi, Valentina Nafornita, Juan Diego Flórez, and Alessio Arduini. Production from May 2015. Register for free and view here.
2 pm ET: Daniel Hope presents Europe@Home. The British violinist celebrates Europe and its rich musical and cultural diversity. With each episode devoted to a different one of the European Union's 27 member states, Hope invites young musicians into his Berlin home to collaborate on music by composers from their respective countries. This episode's guest: pianist Kristjan Järvi (Estonia). View here.
2 pm ET: IDAGIO presents Jean-Guihen Queyras: Bach Cello Suites. Queyras takes a journey into the secrets of one of the most famous works for cello solo. In this episode—Suite 6, Sarabande: Universal Love—Queyras explores Bach's glorification of musical harmony as a metaphor for the harmony humanity should be striving for repeatedly. View here. LIVE
2:30 pm ET: IDAGIO Global Concert Hall presents A Midsummer Night's Dream. Live from the Tonhalle Maag in Zürich, the Tonhalle-Orchester Zürich under the baton of its Music Director Paavo Järvi takes you into the dream world of Mendelssohn's incidental music to Shakespeare's A Midsummer Night's Dream. Tickets $13. View here for 48 hours. LIVE
3 pm ET: DG Stage presents Camille Thomas: Voice of Hope. Filmed against the backdrop of a series of Parisian settings, the Franco-Belgian cellist talks about her repertoire choices and the power of culture to help us in times of adversity. Performances include Ravel's Kaddisch and an extract from Never Give Up, the concerto written for her by Fazil Say, as well as arrangements of songs and operatic excerpts by Purcell, Gluck, Mozart, Bellini, Donizetti, Massenet, Dvorák, and Wagner. Tickets Euro 9.90. View here.
3 pm ET: Opera Streaming presents Rossini's Il Barbiere di Siviglia. Live from Reggio Emilia, Teatro Valli. Conductor: Leonardo Sini, director: Fabio Cherstich. With Pablo Ruiz, Michela Antenucci, Simone Del Savio, Guido Loconsolo, Ana Victoria Pitts, Alex Martini, Filarmonica dell'Opera Italiana Bruno Bartoletti, and Coro Claudio Merulo di Reggio Emilia. View here. LIVE
3 pm ET: University of Washington's Meany Center presents Dover Quartet. The 2020 Grammy nominated quartet's recital was filmed at The Curtis Institute of Music, Philadelphia February 2021 and features William Grant Still's Lyric Quartette as well as Mozart's String Quartet No. 18 and Schubert's single-movement Quartettesatz. View here until April 2.
** 3:30 pm ET: Wigmore Hall presents Alina Ibragimova, Arcangelo & Jonathan Cohen. A concert program that includes Vivaldi's Violin Concerto in D RV234, L'Inquietudine, Locatelli's Concerto grosso in G Op. 7 No. 3, Bach's Violin Sonata in E minor BWV1023, Vivaldi's Concerto in B minor for four violins Op. 3 No. 10, Corelli's Concerto grosso in D Op. 6 No. 7, and Bach's Violin Concerto in A BWV1055. Register, view here and on demand for 30 days. LIVE
** 3:30 pm ET: Bavarian Radio Symphony Orchestra presents Mirga Gražinyte-Tyla. Pianist Francesco Piemontesi joins the Symphonieorchester des Bayerischen Rundfunks and conductor Mirga Gražinyte-Tyla in a program of Weinberg's Symphony No. 2, Mozart's Piano Concerto in B, KV 595, and Beethoven's Leonora Overture No. 3 in C. View here.
3:30 pm ET: Royal Stockholm Philharmonic presents Mother Tongue. Igbo is a language consisting of eight vowels and 30 consonants spoken by 18 million people in Nigeria. It contains two distinctive pitches that can be used when composing, which composer Charles Uzor has done in his piece Mother Tongue. As part of the festival of Svensk Musikvår (Swedish Musical Spring), Christian Karlsen conducts KammarensembleN with mezzo-soprano Isabel Pfefferkorn. View here and on demand.
** 7:30 pm ET: Nightly Met Opera Streams presents Mozart's Idomeneo. Starring Hildegard Behrens, Ileana Cotrubas, Frederica von Stade, Luciano Pavarotti, and John Alexander, conducted by James Levine. Production by Jean-Pierre Ponnelle. From November 6, 1982. View here and for 24 hours.
7:30 pm ET: Detroit Symphony Orchestra presents Broadway Then & Now Part I. Andy Einhorn leads a concert of the best of Broadway "then" and "now" in this two-part musical journey from the Golden Age through today. Tickets $12. View here. LIVE
7:30 pm ET: Jorgensen Center for the Performing Arts presents Arcis Saxophone Quartet. The Arcis Saxophone Quartet takes a journey through a broad musical exhibition of the American way of life. Program: Reich's New York Counterpoint, Dvorák (arr. ASQ) String Quartet No. 12, American, Bernstein (arr. James Boatman) West Side Story Suite, and Gershwin (arr. Sylvain Dedenon) Porgy and Bess Suite. Tickets $15. View here.
8 pm ET: Washington Performing Arts presents Home Delivery Plus: J'Nai Bridges. The mezzo-soprano has been recorded at Sixth & I in a program on the themes of uplift and community, featuring 20th- and 21st-century composers (some her close collaborators), including Richard Danielpour, Florence Price, Shawn Okpebholo, Carlos Simon, Margaret Bonds, and more. The program will also feature works by Brahms and Berg, as well as multidisciplinary collaborations and conversations on the topic of "Rising, Together." View here.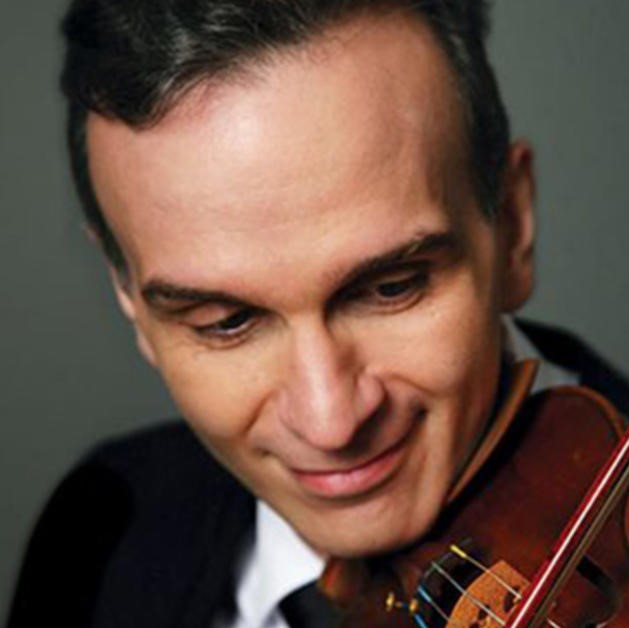 8:45 pm ET: Austin Chamber Music Center presents Imagination. Following a pre-concert talk, Austin natives James Shields and Laura Andrade, along with Emily Cole and Michelle Schumann, perform Khatchaturian's Trio in G Minor for Violin, Clarinet, and Piano, Brahms's Clarinet Trio in A Minor, Op. 114, and Paquito d'Rivera's Danzón. Tickets are pay what you can up to $40. View here.
9 pm ET: The Tabernacle Choir presents Handel's Messiah. The Tabernacle Choir and Orchestra at Temple Square celebrate Easter around the world with a stream of Handel's Messiah with guest soloists Amanda Woodbury, Tamara Mumford, Tyler Nelson, and Tyler. The performance was recorded in 2018. View here.
9:30 pm ET: Los Angeles Chamber Orchestra presents Gil Shaham plays Boulogne. Music Director Jaime Martín and Director and Designer James Darrah seek to create a digital series that celebrates collaboration in an age of isolation through classical music performances set to images and art created and processed in a first-of-its-kind digital studio at Wilhardt + Naud. In this episode, violinist Gil Shaham makes his LACO debut as guest soloist in Arvo Pärt's Fratres and Boulogne, Chevalier de Saint-Georges's Violin Concerto No. 9. For the first time, Close Quarters cinematographer Michael Elias Thomas is filming from within the orchestra, immersing the viewer in the beauty of music-making. View here.
Saturday, March 27
1 pm ET: San Francisco Opera presents Wagner's Götterdämmerung. Francesca Zambello's staging of Wagner's Der Ring des Nibelungen was filmed at the War Memorial Opera House in summer 2018 and streams across four weekends accompanied by complementary live Ring-related events. Donald Runnicles conducts with Iréne Theorin as Brünnhilde, Greer Grimsley as Wotan, Daniel Brenna as Siegfried, Brandon Jovanovich as Froh and Siegmund, Karita Mattila as Sieglinde, Falk Struckmann as Alberich, Jamie Barton as Fricka, the Second Norn and Waltraute and Ronnita Miller as Erda and the First Norn. View here until midnight the following day.
** 2 pm ET: Wiener Staatsoper presents Wagner's Der Fliegende Holländer. Conductor: Peter Schneider, director: Christine Mielitz. With Michael Volle, Hans-Peter König, Ricarda Merbeth, and Herbert Lippert. Production from September 2015. Register for free and view here.
2 pm ET: Daniel Hope presents Europe@Home. The British violinist celebrates Europe and its rich musical and cultural diversity. With each episode devoted to a different one of the European Union's 27 member states, Hope invites young musicians into his Berlin home to collaborate on music by composers from their respective countries. This episode's guests: Sarah Aristidou, soprano and Annika Treutler, piano (Cyprus). View here.
3 pm ET: IDAGIO Global Concert Hall presents René Pape in Concert. The German bass recites the texts and performs Dvorák's contemplative Biblical Songs accompanied by an instrumental ensemble in an intimate evening filmed by his son, filmmaker and director Leopold Pape, at the Maria am Wasser Church in Pape's hometown of Dresden. Tickets from $8. View here until December 31. LIVE
3 pm ET: Medici.tv presents Thielemann conducts Bruckner. From Vienna's Musikverein, the Wiener Philharmoniker pays homage to Bruckner as Christian Thielemann conducts the Austrian composer's Third Symphony. Recorded on 29 November 2020. Tickets $13. View here.
7:30 pm ET: Nightly Met Opera Streams presents Mozart's Don Giovanni. Starring Renée Fleming, Solveig Kringelborn, Hei-Kyung Hong, Paul Groves, Bryn Terfel, Ferruccio Furlanetto, and Sergei Koptchak, conducted by James Levine. Production by Franco Zeffirelli. From October 14, 2000. View here and for 24 hours.
** 7:30 pm Tesla Quartet presents A Bartók Journey Part III. The Tesla Quartet journeys through the six string quartets of Béla Bartók. This week, a complete performance of String Quartet No. 3, Sz. 85. For a deeper dive, March 24 features a talk by Dániel Hamar, co-founder of Hungarian folk music group Muzsikás, and there is a Virtual Open Rehearsal on March 26 at 1 pm ET. Register for complete series and view here.
7:30 pm ET: Detroit Symphony Orchestra presents Broadway Then & Now Part II. Andy Einhorn leads a concert of the best of Broadway "then" and "now" in this two-part musical journey from the Golden age through today. Tickets $12. View here. LIVE
7:30 pm ET: Charlotte Symphony presents Debussy + Strauss. Principal harpist Andrea Mumm Trammell performs Debussy's Danses sacrée et profane, a shimmering work that evokes the sounds of Ancient Greece and Rome. Richard Strauss composed Metamorphosen during the turmoil of World War II, utilizing 23 solo string parts as a reflection on the destruction he witnessed in Munich. Christopher Warren-Green conducts. Tickets $20. View here until April 3.
7:30 pm ET: Louisville Symphony Orchestra presents Abrams plays Ravel. Part of Teddy Abrams's tribute to the music of Black songwriters and composers. French composer Maurice Ravel was particularly drawn to the colors and rhythms of jazz. Abrams plays and conducts the work in a program that also includes traditional songs and blues. Four concert subscription $75. View here. LIVE
9 pm ET: Houston Symphony presents Esa-Pekka Salonen. Esa-Pekka Salonen makes his Houston conducting debut with a program of classics with a contemporary twist. Music by Bach is arranged for small orchestra by some of the 20th century's most groundbreaking composers. The "Prelude" from the Violin Partita No. 3 is performed by concertmaster Yoonshin Song, then transformed into an ethereal soundscape in Salonen's Fog. The concert closes with Beethoven's Symphony No. 1. Tickets $20. View here. LIVE
Sunday, March 28
9 am ET: Royal Stockholm Philharmonic presents Mayer, Tailleferre & Bacewicz. Patrik Swedrup and Johannes Lörstad violins, Grop Mikael Sjögren viola, Mikael Sjögren cello, and Stefan Lindgren piano, perform Emilie Mayer's String Quartet No. 1 in G minor, Germaine Tailleferre's Partita for Piano and String Quartet, and Grazyna Bacewicz Piano Quintet No. 1. View here and on demand.
1 pm ET: Wiener Staatsoper presents Wagner's Das Rheingold. Conductor: Adam Fischer, director: Sven-Eric Bechtolf. With Tomasz Konieczny, Norbert Ernst, Jochen Schmeckenbecher, Herwig Pecoraro, Michaela Schuster, and Caroline Wenborne. Production from January 2016. Register for free and view here.
1 pm ET: Daniel Hope presents Europe@Home. The British violinist celebrates Europe and its rich musical and cultural diversity. With each episode devoted to a different one of the European Union's 27 member states, Hope invites young musicians into his Berlin home to collaborate on music by composers from their respective countries. This episode's guests: Jacques Ammon, piano, Ferenc Snetberger, guitar, Budapest Festival Orchestra and Ivan Fischer (Hungary). View here.
** 2 pm ET: London Symphony Orchestra presents Thomas Adès 50th Birthday Concert. Thomas Adès conducts the LSO with pianist Kirill Gerstein in Sibelius's Symphony No. 6 and Adès's own In Seven Days for piano and orchestra. View here.
2 pm ET: VOCES8 Live from London, Spring presents Jason Max Ferdinand Singers. Jason Max Ferdinand has garnered a string of national and international accomplishments for his performances and teaching. He has led The Aeolians of Oakwood University for the past 13 seasons, turning their talent into world-renowned performances. Live From London hosts the debut performance of the ensemble bearing his name. Tickets $12.50 and view here.
2 pm ET: Peoples' Symphony Concerts presents Calidore String Quartet. The Calidore String Quartet plays Schumann's String Quartet No. 3, Op. 41 No. 3 and Schubert's String Quartet No. 15. Tickets $50 for five concerts. View here.
2 pm ET: National Philharmonic presents Music That Renews: American Roots. Nicolette Oppelt, flute, Mark Hill, oboe, Michael Hall, horn, Erich Heckscher, bassoon, Cheryl Hill, clarinet, Laura Colgate, violin, Gino Madrid, violin, Stephanie Knutsen, viola, and Kerry van Laanen, cello, perform Valerie Coleman's Umoja, Florence Price's Five Folksongs in Counterpoint, Barber's Summer Music, Amy Beach's Pastorale for Woodwind Quintet, Jerod Tate's Pisachi (Reveal), and Gershwin's Lullaby. View here.
2:30 pm ET: St John's Smith Square & Tenebrae present Holy Week Festival 2021. Tenebrae opens Holy Week Festival 2021 with this sequence of music and readings for Palm Sunday. Beginning with Weelkes's celebratory anthem Hosanna to the Son of David, the program travels from Christ's entry into Jerusalem through the Crucifixion and to the sealing of his tomb. Renaissance gems such as Byrd's Civitas sancti tui sit alongside lesser-known works such as Casals's dramatic setting of O vos omnes in this candlelit performance, with readings by Rev. Graham Buckle and Helena Bickley-Percival. View here.
4 pm ET: The Gilmore presents Angela Hewitt. The Canadian pianist demonstrates her command over the music of Johann Sebastian Bach. Program: Toccata in C Minor, BWV 911, French Suite No. 5 in G, BWV 816, Chromatic Fantasy and Fugue, BWV 903, and Italian Concerto, BWV 971. Suggested donation $25. View here for 30 days. LIVE
4 pm ET: Our Concerts Live presents Concertos from the Inside: Week 12: Lalo's Symphonie Espagnole. In a 24-part series, Rachel Barton Pine performs the entire solo violin part of the greatest violin concertos unaccompanied and shares her perspective on each, explaining how she prepares and how her performance connects to the work's historical and musical context. The series is geared towards career violinists, advanced students, violin teachers, and violin aficionados. Tickets $20. Register and view here.
6 pm ET: Santa Rosa Symphony presents SRS@Home. The program comprises Jessie Montgomery's Starburst for String Orchestra, Barber's Adagio for Strings, Zwilich's Concerto for Cello and Orchestra, Ives's The Unanswered Question, and Brahms's Serenade No. 2. Conducted by Francesco Lecce-Chong with Zuill Bailey, cello. View here.
7 pm ET: University of Idaho presents St. Lawrence String Quartet. The Toronto-based quartet plays Beethoven's String Quartet No. 4 in C minor, Op. 18, No. 4, John Adams's Second Quartet, and Beethoven's String Quartet No. 10 in E-flat, Op. 74, Harp. View here.
7 pm ET: Berkeley Symphony presents REAL Berkeley: Rad Women. A four-episode filmed series opens with writer and guest curator Kate Schatz, author of the best-selling book Rad American Women A-Z, and three works by prominent women composers: Reena Esmail's Meri Sakhi Ki Avaaz (My Sister's Voice), Gabriella Smith's Tessellations, and Clara Schumann's Piano Trio. View here.
7:30 pm ET: Met Opera Streams presents Wagner's Der Fliegende Holländer. Starring Anja Kampe, Mihoko Fujimura, Sergey Skorokhodov, David Portillo, Evgeny Nikitin, and Franz-Josef Selig, conducted by Valery Gergiev. Production by François Girard. From March 10, 2020. View here and for 24 hours.
Monday, March 29
9 am ET: Wigmore Hall presents Kaleidoscope Chamber Collective. The ensemble performs Mélanie Bonis's Soir–matin, Lili Boulanger's D'un soir triste, and Fauré's Piano Quartet No. 2 in G minor Op. 45. Register, view here and on demand for 30 days. LIVE
12 pm ET: Orchestra of The Swan presents The Interpretation of Dreams. Why do we dream? What makes our nocturnal visions so intriguing? Do dreams really have a bearing on our waking existence? David Le Page conducts an exploration of this creative seam using words and music with performances of works by Cage, Bach, Faure, Schubert, Lizst, and Debussy. Tickets £10. View here.
1 pm ET: Wiener Staatsoper presents Wagner's Die Walküre. Conductor: Adam Fischer, director: Sven-Eric Bechtolf. With Christopher Ventris, Ain Anger, Waltraud Meier, Linda Watson, and Tomasz Konieczny. Production from January 2016. Register for free and view here.
2 pm ET: La Monnaie presents Bejun Mehta: Many Lives, One Love. Bejun Mehta returns to La Monnaie for a recital centered on the countertenor voice. The variety of its inflections (androgynous, feminine, masculine, powerful, or sensitive) is well suited to a diversity of a repertoire that ranges from Mozart to Britten, evoking the different forms that love can take. View here and on demand.
2:30 pm ET: St John's Smith Square & Tenebrae present Holy Week Festival 2021. Violinist Lana Trotovšek joins Tenebrae's four Associate Artists in this performance of Bach's Partita No. 2 in D minor. Professor Helga Thoene has suggested that the Partita was intended as a homage to Bach's first wife, Maria Barbara, who had died unexpectedly, and that the Chaconne is based on a number of funeral melodies from the Lutheran church. Here, the movements of the Partita are interspersed with chorales before Tenebrae joins in the Chaconne to bring out the hidden melodies. View here.
3:30 pm ET: Wigmore Hall presents Ian Bostridge & Julius Drake. The duo performs songs by Schubert and Fauré as well as both books of Debussy's Fêtes galantes. Register, view here and on demand for 30 days. LIVE
7:30 pm ET: Met Opera Streams presents Bellini's Norma. Starring Sondra Radvanovsky, Joyce DiDonato, Joseph Calleja, and Matthew Rose, conducted by Carlo Rizzi. Production by Sir David McVicar. From October 7, 2017. View here and for 24 hours.
** 7:30 pm ET: Lincoln Center at Home presents Jessye Norman in Concert. A rebroadcast of a classic performance with Jessye Norman, and Jane Glover conducting the Orchestra of St. Luke's, entitled "Women of Legend, Fantasy, and Lore". Norman performs a program including "Mon cœur s'ouvre à ta voix," "Dido's Lament," Carmen's "Seguidilla" and more. The episode hasn't been seen since it originally aired on Live From Lincoln Center in 1994. View here for 30 days.
7:30 pm ET: SalonEra presents Medieval Visionaries. Illuminating the lives and works of two Medieval visionaries: Christine de Pizan and Guillaume de Machaut. The greatest poet-musician of the 14th century, Machaut was a trailblazer across multiple forms and genres. Pizan challenged misogyny in her writing, envisioning a feminist utopia in her famous book The City of Ladies, and championing equal rights for women. Multi-instrumentalist Scott Metcalfe, director of vocal ensemble Blue Heron, joins Medieval organetto virtuoso Catalina Vicens for music by Machaut, Binchois, Dufay, and others. View here.
Artists and Organizations Offering Free Content
The following are all accessible during the coronavirus pandemic:
Academy of Ancient Music
The most listened-to period instrument ensemble, directed by Richard Egarr, has made a number of streams available on its website. Guest artists include Louise Alder, soprano, Nicola Benedetti, violin, Mary Bevan, soprano, David Blackadder, trumpet, Iestyn Davies, countertenor, Tim Mead, countertenor, Christopher Purvis, bass, and Tenebrae, directed by Nigel Short. Explore here.
Alternative Classical
Humans of Classical Music is a video series in which musicians, actors, comedians, and podcasters from around the world recommend their favorite piece of classical music in one minute. A new video will go live every Thursday during 2021, starting on February 4, accompanied with a link on Spotify. Each video is free of musical jargon and is suitable for anyone interested in exploring the world of classical music. The list includes countertenor Anthony Roth Costanzo, three-time Edinburgh Comedy Award nominee Kieran Hodgson, Principal Conductor of Glyndebourne on Tour Ben Glassberg-Frost, Chief Executive of Manchester Collective Adam Szabo, and composers Anna Clyne, Gabriel Prokofiev, and Missy Mazzoli. Explore here.
American Lyric Theater: Opera Writers Symposium
ALT is recruiting musicians and for a series of workshops and mini-seminars taking place February 27 – April 24. ALT seeks to introduce musicians and writers from diverse racial and artistic backgrounds to opera and explore how they might use the tools of the art form to tell their stories. ALT also hopes to encourage applications to the Composer Librettist Development Program (CLDP), the country's only full-time paid mentorship for emerging opera composers, librettists and dramaturgs. No previous experience in writing opera is necessary. Classes will address timely topics like Dramatizing History and Opera as Activism led by composer Anthony Davis and dramaturg Cori Ellison; Opera, Technology and Innovation with composers Kamala Sankaram and Jorge Sosa; From Erased to Self-Empowered: Celebrating BIPOC Opera Composers and Librettists led by ALT's Associate Artistic Director Kelly Kuo; The Architecture of Opera led by composer/librettist Mark Adamo. Guest speakers include composers Missy Mazzoli, Daniel Bernard Roumain, Huang Ruo and Errollyn Wallen; and librettists Mark Campbell, Thulani Davis (also a poet and playwright), David Henry Hwang, and Andrea Davis Pinkney.
American Opera Project
First Glimpse is a video album of 20 songs created during the first year of AOP's 2019-21 fellowship program, Composers & the Voice. Originally intended as a live concert, the videos will be released every Friday beginning October 23 and for the following six weeks. The composers are Alaina Ferris, Matt Frey, Michael Lanci, Mary Prescott, Jessica Rudman and Tony Solitro, with librettists Amanda Hollander and Jonathan Douglass Turner. Videos will be free for one week following their release, after which they will be available to rent or purchase, individually or as a full set through AOP's Website. Explore here.
American Symphony Orchestra
American Symphony Orchestra releases weekly recordings from its archives with content alternating between live video recordings of SummerScape operas and audio recordings from previous ASO concerts. Ethel Smyth's The Wreckers, Richard Strauss's Die Liebe aus Danae, and Korngold's Das Wunder der Heliane, all conducted by Leon Botstein, are all highly recommended and available now.
Apollo's Fire: Music for the Soul
The Cleveland-based baroque orchestra founded by Artistic Director Jeannette Sorrell is offering a series of video streams entitled "Music for the Soul." New episodes are posted here.
Atlanta Opera
The Atlanta Opera has released the first four episodes of Orfano Mondo, a world premiere film series by bass-baritone Ryan McKinny and filmmaker Felipe Barral. Taking its title from the prologue to Leoncavallo's Pagliacci, Orfano Mondo ("orphan world") addresses the fears surrounding live performance during the pandemic though exclusive behind-the-scenes footage, material filmed expressly for the series, and scenes from Atlanta's live fall productions of Pagliacci and of Viktor Ullmann and Peter Kien's The Kaiser of Atlantis. Performed in Italian and German with English subtitles available, each Orfano Mondo episode is 10-15 minutes long, and four more episodes are scheduled for release over the next two months. Explore here through April.
Baltimore Symphony Orchestra
BSO Sessions continues to bring the stories of BSO musicians, conductors, and collaborators to life through a documentary-style narrative. Real stories are paired with powerful music, including the elevation of unheard voices in classical music. Episodes premiere weekly on Wednesdays at 8 pm ET and are available through June 2021. Explore here.
Bard SummerScape & Fisher Center
Archival works highlight Bard's wealth and breadth of programming, including performances from its SummerScape Opera and BMF archives. Recent include Bard SummerScape's 2011 production of Strauss's rarely performed Die Liebe der Danae and last year's Daniel Fish directed staging of Michael Gordon's Acquanetta. More details here.
NEW: The Benedetti Foundation
Intention, thought, confidence, openness, and individuality are all intrinsic to developing playing. How to stand, how to breathe, focus and comfort, are all important questions. This new series of virtual sessions from March 28 to April 18 will help musicians address their physical and psychological foundations and the majority are open to players of any instrument and at any level. The sessions are intended to complement participants' individual lessons or group tuition. There will be live sessions, improvisation sessions, wellbeing sessions and daily challenges available for any instrument. Participants can join in as often as they want, and each live session will be repeated each day to allow those in different time zones to attend live. The Sessions will be free but with a recommended donation of £25 per person. Explore here.
Bergen Philharmonic
Bergen's outstanding orchestra enjoys national status in Norway with a history dating back to 1765. Its free streaming service was established as part of 250-year anniversary in 2015 and offers a fine selection of works from its concert series in Grieghallen, Bergen. Conductors include Edward Gardner, James Gaffigan, Thierry Fischer, David Zinman, Neeme Järvi, Jukka Pekka Saraste, Nathalie Stutzmann, and Christian Zacharias with soloists including Leif Ove Andsnes, Lise Davidsen, Truls Mørk, Mari Eriksmoen, and Freddy Kempf. Well worth exploring here.
Carnegie Hall
More than 200 teen musicians hailing from 41 states across the US came together in July 2020 as an online virtual community to form three musical ensembles: the National Youth Orchestra of the United States of America (NYO-USA), NYO2, and NYO Jazz. All three ensembles recorded exuberant virtual performance videos during the residency, directed by Emmy Award-winner Habib Azar. The first four videos—Valerie Coleman's Umoja by the musicians of NYO-USA; a unique adaptation of Grieg's Morning Mood by NYO2; and Thad Jones's Cherry Juice and Wycliffe Gordon's We're Still Here by NYO Jazz—are now available for viewing. Explore here.
Chatham Baroque
Chatham Baroque is releasing high-quality monthly videos featuring leading baroque performers including gambist Jaap ter Linden, lutenists Nigel North and Stephen Stubbs, and countertenor Reginald Mobley. Once posted, videos are available on demand through June 30, 2021. Each program includes artist interviews and are available for as little as $18 per program. Explore here.
Cliburn Kids
Cliburn Kids is a growing collection of entertaining 7- to 10-minute videos designed to introduce children to the fun of classical music. How does music paint pictures, tell stories, express feelings? Host Buddy Bray and guest artists use individual pieces to explore topics that delve into the way music is organized and structured, counting and rhythm, expressive elements, and sometimes just lighthearted enjoyment. Programs are geared towards elementary-aged children, and activities are provided for each episode that are perfect for in-classroom or at-home studies. New episodes and lesson plans are released every Tuesday. Explore here.
Daniel Hope: Europe@Home
Streaming live each Friday, Saturday and Sunday in February and March, this newest incarnation of the violinist's show celebrates Europe and its rich musical and cultural diversity. With each episode devoted to a different one of the European Union's 27 member states, Hope invites young musicians into his Berlin home to collaborate on music by composers from their respective countries. Conceived as "DIY TV" for socially distanced times, the Hope@Home series combine high-quality audio with the intimacy and immediacy of live, world-class home music-making. Together with its sequels, Hope@Home on Tour! and Hope@Home Next Generation, the original show ran to almost 120 episodes, was streamed more than ten million times, and raised tens of thousands of Euros for artists in need. View here with episodes archived here.
Days & Nights Festival
The annual multidisciplinary Days and Nights Festival—which since 2011 has taken place in and around Big Sur, California and has brought together luminaries and pioneers in fields including music, dance, theater, literature, film and the sciences—launches its premiere streaming portal featuring exclusive films of a selection of its landmark performances and events. Films slated for release, from February to May 2021, includes contributions by such wide-ranging figures as JoAnne Akalaitis, Tibetan artist Tenzin Choegyal, Danny Elfman, Molissa Fenley, María Irene Fornés, Allen Ginsberg, Dev Hynes (Blood Orange), Jerry Quickley, and Glass himself. Featured performers and ensembles include Dennis Russell Davies, Ira Glass, Matt Haimovitz, Tara Hugo, Lavinia Meijer, Maki Namekawa, Gregory Purnhagen, Third Coast Percussion, Opera Parallèle, and Glass and his Philip Glass Ensemble. Explore here.
Detroit Symphony Orchestra
The Detroit Symphony Orchestra has made its webcast archive available for free. The collection features 200+ works going back three years, and highlights include Leonard Slatkin conducting John Luther Adams's climate change-inspired Become Ocean from 2019, several world premieres, and a host of bite-sized encores. Explore here.
Deutsche Grammophon Yellow Lounge
The German classical music giant is streaming Yellow Lounge broadcasts from its archives. Recent additions include clarinetist Andreas Ottensamer, pianists Alice Sara Ott and Chihiro Yamanaka, and cellist Mischa Maisky. Performances are broadcast in rotation, one video at a time, adding a new performance every few days. DG communicates the start of each new performance by newsletter at the start of each week. To keep updated sign up here.
English Symphony Orchestra
The English Symphony Orchestra's ESO Digital is an expanding digital archive of music, performed by English Symphony Orchestra and its partners, that you are unlikely to hear anywhere else. Access is free with a monthly donation; however Musical America readers can get a free trial of one week when setting up a new donation by using the coupon code MusicalAmerica2021. Register here.
Finnish National Opera
Finnish National Opera presents Stage24, a series of streamed archived performances on its website, which are then available for the next six months. Recent content includes a staged version of Sibelius's Kullervo, Stravinsky's The Rake's Progress, Caspar Holten's staging of Wagner's Der Fliegende Holländer with Camilla Nylund, and Christoff Loy's Tosca. An excellent company and some interesting and original work worth investigating. Explore here.
Handel and Haydn Society
Boston's Handel and Haydn Society has created the H+H Listening Room where you can hear and watch H+H performances including Mozart's Requiem, Handel's Messiah, and Purcell's Dido and Aeneas filmed at New York's Met Museum. There are also more than a dozen videos of musicians performing from their homes, a special video of principal flutist Emi Ferguson teaching people how to make their own baroque flute, and a new podcast called "Tuning In". In the first episode Principal Cellist Guy Fishman interviews Artistic Director Harry Christophers about Bach's St. Matthew Passion. Explore here.
Kennedy Center: Arts Across America: Winter Traditions.
As millions across the United States will be altering traditions to keep friends, loved ones, and neighbors safe, the Kennedy Center will be sharing performances from across the country and numerous communities and cultures to celebrate traditions held dear. Highlights include performances from Renée Fleming, Amythyst Kiah, Broadway's Austin Colby, Caroline Bowman, and Nicholas Ward, Los Texmaniacs celebrating their own Texas miracle following a battle with COVID-19, and D.C. favorites DuPont Brass, Aaron Myers, and Chuck Redd. Explore Winer Traditions here and other Kennedy Center regular online releases via their digital stage here.
La Scala/RAI
Italy's RAI presents five productions from La Scala Milan including the world premiere of Kurtág's Fin de Partie, Daniel Barenboim conducting Götterdämmerung, Lisette Oropesa in Verdi's I Masnadieri, Montedervi's Orfeo conducted by Rinaldo Alessandrini, and Les Vêpres Siciliennes conducted by Daniele Gatti. A wide range of concerts are also available. Explore and register here.
Les Arts Florissants
Les Arts Florissants's annual Festival in Thiré, France included a series of 10- to 15-minute "Meditation" concerts recorded earlier this summer. Now available to enjoy online, the Meditations include performances by students of Juilliard's Historical Performance program in the spirit of their annual participation in the Festival. View here.
Lincoln Center Lincoln Center Passport to the Arts
A variety of virtual classes, performances, and bonus content designed for children, teens and adults with disabilities and their families. Offerings include programs with Chamber Music Society of Lincoln Center, Jazz at Lincoln Center, the Metropolitan Opera Guild, New York City Ballet, the New York Philharmonic, and The New York Public Library for the Performing Arts. Families can attend dance, music or drama classes, watch exclusive performances, check out behind-the-scenes content, and even meet performers—all from their homes. Families will receive pre-visit materials, including social narratives, photos, and links before each program. All programs take place via Zoom. Register here.
Los Angeles Chamber Orchestra
LACO AT HOME offers streaming and on demand performances, including a full showing of the orchestra's critically acclaimed West Coast premiere of Dark with Excessive Bright for double bass and strings by LACO Artist-in-Residence Missy Mazzoli. View streaming here and on demand here.
Los Angeles Master Chorale
Videos recorded as part of the "Offstage with the Los Angeles Master Chorale" series from April 24 to June 19 included interviews conducted by Artistic Director Grant Gershon and Associate Conductor Jenny Wong with notable performers—including special guests Reena Esmail, Morten Lauridsen, Anna Schubert, Peter Sellars, Derrick Spiva—as well as Master Chorale singers. Available on demand here.
Mark Morris Dance Group 40th Anniversary Digital Season
MMDG continues to celebrate its 40th Anniversary with a new archival collection featuring three excerpts from Mark Morris dances?I Don't Want to Love, Rhymes With Silver, and V, and one full-length work, Rock of Ages, selected by veteran MMDG company members Joe Bowie and Lauren Grant. Viewers are also able to watch the full performances of the excerpted works on demand. Each work is preceded by video introductions by Joe Bowie and Lauren Grant. Explore here.
Metropolitan Opera Live In Schools
The Metropolitan Opera's HD Live in Schools program has launched a new series for the 2020–21 school year, creating cross-disciplinary educational opportunities across the country. For the 2020–21 school year, students and teachers will receive free subscriptions to the Met Opera on Demand service, with a catalogue of more than 700 Live in HD presentations, classic telecasts, and radio broadcasts. Ten operas have been selected for the HD Live in Schools program, and will be presented in five educational units, with two thematically paired operas per unit. The series opens with Beethoven's Fidelio and Donizetti's La Fille du Régiment (September 28–October 16), both of which explore the intersection of music and politics. The Met will continue to offer teachers HD Live in Schools Educator Guides and access to Google Classroom materials that can be adapted for virtual learning lesson plans. In addition, the Met's National Educators Conference will be hosted on a virtual platform this year and take place on five Saturdays throughout the 2020–21 school year. Two conferences, scheduled for October 10, 2020, and October 17, 2020, will also feature live conversations with Met artists. More information here.
Minnesota Orchestra
Minnesota Orchestra at Home shares video, audio, and educational materials through the categories of Watch, Listen and Learn, including videos from the orchestra's archives and newly created "mini-concerts" directly from the homes of Orchestra musicians. Explore and view here.
National Sawdust Digital Discovery Festival, Volume One
With more than 65 events, featuring over 100 artists premiering in a four-month span, National Sawdust Digital Discovery Festival: Volume One was a bright spot in NYC's post-COVID live music world. Featuring post-COVID performances from Robert Wilson, Julian Lage, Tyondai Braxton, Emel Mathlouthi, Matthew Whitaker, Dan Tepfer, Ashley Bathgate, Emily Wells, Brooklyn Rider, Joel Ross, Conrad Tao, Andrew Yee, and Lucy Dhegrae, and recently recorded Masterclasses with Tania León, Ted Hearne, Vijay Iyer, Jamie Barton, Lawrence Brownlee, Trimpin, and Lara St. John. Archival performances include David Byrne, Lara Downes and Rhiannon Giddens, and Ryuichi Sakamoto. Explore here.
New World Symphony
The New World Symphony presents a web-based series called NWS Archive+. Michael Tilson Thomas moderates discussions with NWS Fellows, alumni, guest artists, and visiting faculty about archived recordings. Performances will be available here. NWS Fellows also play live, informal chamber music concerts from their homes in Miami Beach and broadcast via Facebook Live. In addition, the NWS online archive contains master classes, tutorials and town halls, which can be found here. Finally, for the past 10 years, the Fellows have performed one-hour concerts for local school children. These concerts and preparatory material will be available free to students and parents. NWS Educational concerts can be found here.
Opera Australia
OA | TV: Opera Australia on Demand is the Sydney-based company's new digital space. Alongside the world's largest collection of Dame Joan Sutherland on video, OA will offer exclusive content from the OA back catalogue, productions from Handa Opera on Sydney Harbour, and a new series of chat show-style interviews conducted by AD Lyddon Terracini. The first posted full show is Sutherland in The Merry Widow, and the fileted aria's in the section labelled "The Best of Dame Joan Sutherland" are even better. View here.
Opéra National de Paris
The Palais Garnier and Bastille Opera have made their digital stage, "The 3e Scène," free. The platform is a pure place of artistic adventure and exploration, giving free rein to photographers, filmmakers, writers, illustrators, visual artists, composers, and choreographers to create original works. Visit here. Some of Opéra National de Paris's productions are accessible on the company's Facebook Page. In addition, Octave, the Paris Opera's online magazine, is posting articles, videos, and interviews here.
Opera North
One of Britain's most respected smaller opera companies, Opera North has put its acclaimed semi-staged concerts of Wagner's epic Ring Cycle online. "Beg, borrow, or be like Wotan and steal a ticket for this show," said the UK's Times of Das Rheingold. "You'd be lucky to hear as good at Bayreuth," said The Telegraph of Die Walküre. Richard Farnes proves a seriously impressive Wagner conductor. Watch here.
Opera Philadelphia Channel
Opera Philadelphia has created its own channel through which to share its digital offering. Operatic films like David T. Little's Soldier Songs, world premiere digital commissions by Tyshawn Sorey, Courtney Bryan, Angélica Negrón, and Caroline Shaw, and recordings of stage productions like La Traviata and Breaking the Waves are available on-demand. Season subscriptions priced at $99 are offered along with pay-per-view rentals for individual performances. The channel is available on computers and mobile devices, as well as AppleTV, Android TV, Roku, and Amazon FireTV. Explore here.
OperaVision
OperaVision offers livestreams of operas available for free and online for up to six months. Previous offerings include Barrie Kosky's visually spectacular Moses und Aron, David McVicar's superb Die Entführung aus dem Serail from Glyndebourne, and Deborah Warner's thoughtful Death in Venice for English National Opera. View upcoming and past content here.
Rotterdam Philharmonic Orchestra: Beethoven at Home
RPO brought Beethoven to living rooms in December playing all nine symphonies. The musicians performed the first eight symphonies in small chamber ensembles varying from a string sextet to a 15-strong brass ensemble. The Grand Finale took place on New Year's Eve: Beethoven's Ninth, played by the full orchestra with chorus and soloists. View here.
Orli Shaham Bach Yard Playdates
Pianist Orli Shaham brings her acclaimed interactive concert series for kids to the internet. Bach Yard Playdates introduces musical concepts, instruments, and the experience of concert-going to a global audience of children and their families. A number of 10-minute episodes are already available for on-demand streaming. Programs and performances range from Bach's Two-Part Invention to Steve Reich's Clapping Music. Explore here.
The Sixteen Choral Odyssey
Actor Sir Simon Russell Beale, Harry Christophers and The Sixteen have recorded a special, five-part series. A Choral Odyssey explores choral music from across the ages in iconic, relevant surroundings—from Byrd in Elizabeth I's childhood home of Hatfield House, to Purcell in the reconstructed 17th-century theatre of the Sam Wanamaker Playhouse at London's Globe Theatre. With a mix of conversation, music demonstration and performance, these programs reunite Harry Christophers and Simon Russell Beale—a partnership which proved successful in the popular BBC Sacred Music series—and feature performers from The Sixteen. Tickets £10 per episode. View here until March 31.
Trinity Wall Street
New York's Trinity Church Wall Street introduces daily weekday "Comfort at One" (1 pm ET) streaming performances on Facebook with full videos posted here. Tune in for encore performances of favorite Trinity concerts, professionally filmed in HD, along with current at-home performances from Trinity's extended artistic family.
University of Colorado Boulder
University of Colorado Boulder College of Music faculty artists perform with students and colleagues in Faculty Tuesdays, chamber music recitals featuring world premieres alongside classics. Free most Tuesdays from September 2020 through March 2021. Upcoming performers include violinist Harumi Rhodes, violist Richard O'Neill, cellist David Requiro, pianist David Korevaar, harpist Janet Harriman, and more. Explore here.
Voices of Ascension
New York choir Voices of Ascension, which celebrates its 30th anniversary next season, is posting a daily offering of choral beauty on its website. Music is chosen by staff, members of the chorus and orchestra, and listeners. View here.
Warsaw Philharmonic
The Warsaw Philharmonic has made a selection of video recordings available on its YouTube channel. Recent offerings include Saint-Saëns's Organ Symphony and Arvo Pärt's Swansong conducted by Artistic Director Andrzej Boreyko, as well as rarities by Polish composers like Grazyna Bacewicz. It's an excellent orchestra very much in the Eastern European tradition and concerts have been master edited for posting online.
Paid Digital Arts Services
Berlin Philharmonic Digital Concert Hall
The BPO Digital Concert Hall contains over 600 orchestra concerts covering more than ten years, including 15 concerts with the orchestra's new Chief Conductor Kirill Petrenko, interviews, backstage footage. Subscriptions or single tickets available.
Medici TV
Thousands of classical music videos are available by subscription, as well as hundreds of events that are broadcast live for free each year, available for 90 days. Subscriptions cost $83.85 per year but single tickets are also available. www.medici.tv
Pictured: Gil Shaham

WHO'S BLOGGING


RENT A PHOTO
Search Musical America's archive of photos from 1900-1992.