---
All material found in the Press Releases section is provided by parties entirely independent of Musical America, which is not responsible for content.
Composer Angélica Negrón's The Island We Made premieres on the Opera Philadelphia Channel on Friday, March 19
Digital commission features Sasha Velour in a film by Matthew Placek
Opera Philadelphia's latest digital offering, The Island We Made, combines ethereal electronic music, personal storytelling, arthouse filmmaking, and the transformative art of drag lip-sync to form an art-opera film. A deeply personal exploration of familial relationships told as a haunting lullaby, The Island We Made stems from the memories and individual relationships of its collaborators: composer Angélica Negrón, drag superstar Sasha Velour, and filmmaker Matthew Placek.
"The inspiration behind this piece is the shared personal stories between Matthew, Sasha, and me, about the limitations of relationships in general, but also particularly those connected to the women that shaped us," said Negrón, who also plays electronics in the work. "The deep resonance that conversations that we've never had with loved ones can have on us and the ways these can find their voice in other vessels and sometimes even within us."
Negrón's textured music blends trembling synths, heavy pauses, pulsating drones, and '90s micro-samples from the soundtrack of her childhood and is performed by vocalist Eliza Bagg and harpist Bridget Kibbey.
As the winner of "RuPaul's Drag Race Season 9," Velour has spoken publicly about the loss of her mother on television, and her vulnerability and personal storytelling has built a strong connection with fans around the world who also faced loss, grief, and healing. For The Island We Made, Velour tapped into that personal story in her lip-synced performance.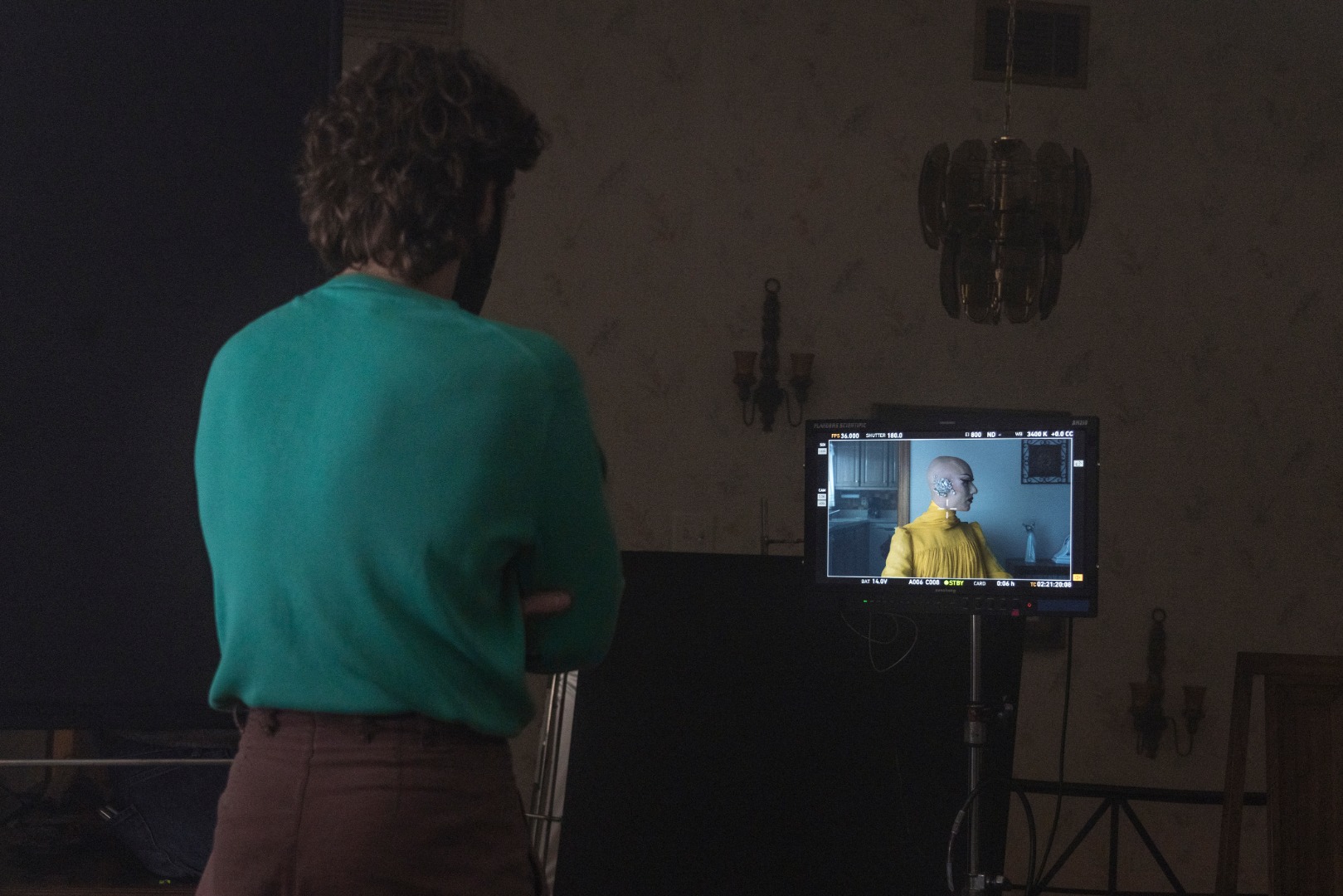 A behind-the-scenes photo of the filming of Angélica Negrón's The Island We Made starring Sasha Velour in a film by Matthew Placek.
"The piece itself plays with the idea of embodiment," Velour said, "which is why lip-syncing felt so correct! By embodying Eliza's voice in drag, I also got to add a personal layer to the storytelling—grounding it in my body but making space for many others at the same time. As Angélica wrote, 'My lips, your voice…inside the space in my mouth.'"
Throughout the film, Velour plays an omniscient observer. "I imagined the character as the embodiment of Queerness," said Velour, "a loving non-judgmental spirit who haunts a house and tends to a person who is busy shaping an idea of it for themselves. In my touring experiences as a drag queen, people have often told me that seeing and listening to drag has helped them better understand their own identity, relationships, maybe even their own inner fabulousness better. It is really the biggest honor; I think it's also one of the reasons that drag has been such an enduring fixture of art and performance!"
Placek, a renowned photographer, filmmaker, and digital artist, worked with Negrón and Velour from the beginning to create the sensitive and evocative film. Together they reflected on the plight and celebration of the mother, Placek said, and the sacred feminine nature of the role.
The film was shot inside a mid-century Staten Island house. The owner's mother had recently passed, and the house is now for sale, a poetic reflection of the themes of The Island We Made.
"The Island We Made is a film examining the limitations of relationships, a multigenerational depiction of 'Mother,' and the transitional state of the 'home,'" Placek said.
The Island We Made premieres on the Opera Philadelphia Channel at 8 p.m. on Friday, March 19, 2021. It is available with a Season Pass, as a seven-day rental for $10, or as part of the $25 Digital Commissions Bundle with Tyshawn Sorey's Save the Boys, Courtney Bryan's Blessed, and a forthcoming work by Caroline Shaw. Visit operaphila.tv for details.

WHO'S BLOGGING


RENT A PHOTO
Search Musical America's archive of photos from 1900-1992.