---
New Artist of the Month: Conductor Lio Kuokman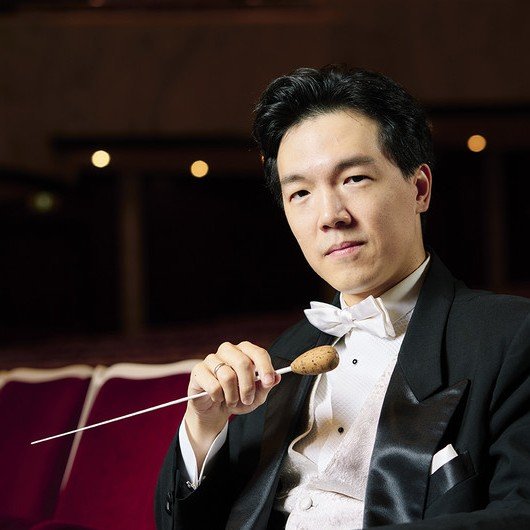 Back in October, when Lio Kuokman stepped in for Jaap van Zweden to lead the Hong Kong Philharmonic Orchestra's season opener, the event somewhat evoked Leonard Bernstein's legendary debut with the New York Philharmonic—with a couple of key differences. Bernstein's radio broadcast aired nationwide while Lio's performance was streamed worldwide. Bernstein had only a few hours' notice before replacing Bruno Walter while Lio was tapped to replace Jaap van Zweden with enough time to complete a mandatory 14-day quarantine after traveling from Taiwan.
But the biggest difference was probably in response time. Bernstein, already the NY Philharmonic's assistant conductor, waited nearly 15 years to become Music Director; Lio was named the Hong Kong Philharmonic's Resident Conductor just two months after substituting for Van Zweden.
For Lio, a native of nearby Macau (one hour by ferry), the position wasn't exactly a homecoming—he'd already been appointed program director of the Macau International Music Festival in January 2020—but the timing was certainly apt. Having spent nearly half of his life in Europe and the United States—most notably as assistant conductor of the Philadelphia Orchestra (2014–2016), where the Philadelphia Inquirer branded him "a startling conducting talent"—the 39-year-old Lio returned "home" at a time when Covid-19 has grounded most international artists, making the "resident" in his title rather profound.
"Programming now changes from week to week, sometimes day to day," says Lio. "You don't just need Plan B. You need plans through X, Y, and Z. This is a big responsibility in Hong Kong now."
The guy with the chopstick
Lio's introduction to live music came at age four, when his music-loving mother took him to hear the Macau Orchestra, then a semiprofessional group of Portuguese musicians and amateur locals. "They played Brahms's Second Symphony," he still recalls. "I was amazed, shocked by that sound. I told Mom, I want to be the guy in front holding the chopstick."
First, though, came piano lessons at a local music store. By age 12 he was playing trombone, then violin, but the piano remained his true love. While still in high school, he won a local piano competition where the top prize was admission in the weekend pre-college program of the Hong Kong Academy for Performing Arts. Two years later, he enrolled in the HKAPA and, after graduating with honors, won a piano scholarship to Juilliard in 2003. New York life proved overwhelming, however, and after graduation he moved on to Philadelphia and the Curtis Institute of Music, where he finally picked up the chopstick.
"It wasn't just that I had a chance to study conducting with Otto-Werner Mueller, who'd trained Paavo Järvi and Alan Gilbert, but I had access to other teachers," he says. "I could ask [former longtime BSO concertmaster] Joseph Silverstein about the Boston Symphony's bowing. And I played a lot more chamber music, which opened my ears to how instruments interact and really helped my conducting."
Early days
Though launching a conducting career during the 2009 financial crisis proved challenging—"One orchestra went bankrupt the week before the concert," he recalls—Lio found a handful of conducting gigs, including a couple of operas in Hong Kong, before he was accepted in 2011 at New England Conservatory, where studies with Hugh Wolff plunged him into contemporary music.
While working as a free-lance cover conductor for the Boston Symphony, Lio received his fateful call that the Philadelphia Orchestra was looking for an assistant conductor. His two years with the Philadelphians, including tours to Europe and Asia, became a crash course in an orchestra's inner workings. "I wasn't just sitting in rehearsal," he says, "I was dealing with the administration on nearly every aspect, including tour planning. How do you visit a site and determine if the orchestra could play there, for example? They didn't teach any of this in school."
Lio first appeared with the Hong Kong Philharmonic as a pianist in 2009. Two years later he made his podium debut with the orchestra and has guest conducted intermittently ever since. When he got the call at the beginning of this season, he was sheltering in Taiwan, where he'd remained after an engagement had been cancelled.
Lio Kuokman conducts the Hong Kong Philharmonic in July of 2020

Lio's October program offered a taste of what Hong Kong can expect: a socially distanced performance of Copland's Fanfare for the Common Man from the choir stalls, a vibrant work by the Macau-born, Hong Kong-based composer Doming Lam, and Beethoven's Triple Concerto featuring the orchestra's concertmaster and principal cellist with Lio conducting from the piano.
Covid-19 shuts things down
What no one expected, however, was that one of the musicians that night would test positive the next morning for Covid-19 and the entire orchestra shipped to a government quarantine center. Lio, however, had already left for France to conduct the Orchestre National du Capitole de Toulouse. After receiving several texts from Hong Kong the next morning, he immediately alerted the Toulouse management. "I'd tested negative before boarding the flight," he says, "so they just said, 'Wear a mask in rehearsal.'"
Soon after announcing Lio's position, the Philharmonic cancelled or postponed much of its season—a significant exception being the orchestra's signature Symphony Under the Stars, which Lio conducted indoors in an empty hall for a YouTube stream on December 12, shortly before the government shuttered the venues completely.
"I'm honored to be back in Macau and Hong Kong, with two organizations that meant a lot to me growing up," says Lio. Future plans for Macau—the 2021 autumn festival season will be announced in July—include generating more new work, perhaps involving international co-commissions. Hong Kong, he admits, has been trickier to schedule.
On February 19, the day that government-run performance venues reopened, Lio was back filming a performance with the Philharmonic to be streamed later in Guangzhou. Rehearsals were interrupted by an impromptu visit from Carrie Lam, Hong Kong's Chief Executive, who'd last seen the orchestra on the season's opening night, hours before the players went into quarantine.
So far this season, quarantine has been the only constant, says Lio. "I spent 70 days in quarantine in 2020," he laughs. "And in March I'll be back in Taiwan with the National Taiwan Symphony Orchestra, which means another 14 days, plus a week of self-monitoring away from crowds."

WHO'S BLOGGING


RENT A PHOTO
Search Musical America's archive of photos from 1900-1992.