---
MA's Free Guide to (Mostly) Free Streams, Jan. 25-Feb. 1
We will be updating this list weekly. Please note that all times are given in U.S. Eastern Time (ET). To calculate in other time zones or counties, British Summer Time (BST) is currently five hours ahead of ET and Central European Time (CET) is currently six hours ahead. U.S. Central Daylight Time (CDT) is one hour behind ET. Mountain Time (MT) is two hours behind ET, while Pacific Time (PT) is three hours behind. Contact editor@musicalamerica.com.
Classical music coverage on Musical America is supported in part by a grant from the Rubin Institute for Music Criticism, the San Francisco Conservatory of Music, and the Ann and Gordon Getty Foundation. Musical America makes all editorial decisions.
---
** Highly recommended
Monday, January 25
1 pm ET: Wiener Staatsoper presents Wagner's Die Walküre. Conductor: Adam Fischer, director: Sven-Eric Bechtolf. With Christopher Ventris, Ain Anger, Waltraud Meier, Linda Watson, and Tomasz Konieczny. Production from January 2016. Register for free and view here.
1 pm ET: Copland House presents Underscored: Jalbert's Crossings. Vermont-born composer Pierre Jalbert was inspired by the migration of people voyaging into new and unfamiliar places and traces Jalbert's own French-Canadian-American ancestry. Crossings is built around a folk song from Quebec, Quand j'ai parti du Canada (When I Left Canada), which is deconstructed, reinterpreted, reassembled, and reordered in inventive and unexpected ways. The program features a complete performance of the work, preceded by an introductory conversation with the composer, and followed by a live Q&A with viewers. Register and view here.
2:15 pm ET: Bayerischen Staatsoper presents Mehta conducts Scubert & Strauss. Zubin Mehta conducts the Bayerisches Staatsorchester in Schubert's Symphony in C D 944, The Great, and Richard Strauss's Four Last Songs, sung by soprano Camilla Nylund. Tickets Euro 4.90. View here.
7 pm ET: 92Y presents Anxiety & The Arts with Jonathan Biss & Stephen Fry. The pianist and musical thinker joins the British polymath to discuss Biss's new Audible Original Unquiet: My Life with Beethoven. In Unquiet, Biss outlines the treasures Beethoven's music has gifted him and the self-doubt and anxiety that went along with it. His greatest pleasure in life was ultimately also responsible for imprisoning him. Fry and Biss discuss their personal experiences as entertainers, and the extent to which mental health issues might have contributed to—and been exacerbated by—their decisions to become performers. Tickets $15. View here.
7:30 pm ET: Met Opera Streams presents Mozart's Don Giovanni. Starring Hibla Gerzmava, Malin Byström, Serena Malfi, Paul Appleby, Simon Keenlyside, Adam Plachetka, Matthew Rose, and Kwangchul Youn, conducted by Fabio Luisi. From October 22, 2016. View here and for 24 hours.
7:30 pm ET: Chamber Music Society of Lincoln Center presents Musical Heritage: Oscar Shumsky. Founding Emerson String Quartet member Philip Setzer, who was a student of Shumsky, hosts an evening devoted to the legendary violinist (1917-2000). Fellow Shumsky students Ida Kavafian and Eugene Drucker, Shumsky's recording producer Eric Wen, with special guest Eric Shumsky, the violinist's viola-playing son, join for an in-depth exploration of Shumsky's life. View here and on demand for one week.
Tuesday, January 26
1 pm ET: Wiener Staatsoper presents Wagner's Siegfried. Conductor: Adam Fischer, director: Sven-Eric Bechtolf. With Christian Franz, Linda Watson, Tomasz Konieczny, Herwig Pecoraro, Jochen Schmeckenbecher. Production from January 2016. Register for free and view here.
2:30 pm ET: Philharmonie de Paris presents Christoph & Julien Prégardien. L'Orchestre de Chambre de Paris is led by Lars Vogt, its new music director, in a concert of Beethoven and Schubert performed by the Prégardiens, father and son. View here. LIVE
2:30 pm ET: Elbphilharmonie presents Rising Stars: Aris Quartet. The first of six concerts by rising star artists chosen by the 22 concert halls that form the European Concert Hall Organisation (ECHO). Here, Aris Quartet play string quartets by Kurtág, Shostakovich, Misato Mochizuki, and Mendelssohn. View here.
3 pm ET: Handel + Haydn Society presents The Magic of Handel. Four of H+H's principal musicians perform on the instruments for which Handel composed. Program: Trio Sonata in A, HWV 396, Variations from Harpsichord Suite in E, HWV 430, Harmonious Blacksmith, and Trio Sonata in G, HWV 399. Suggested donation $10. Register and view here.
7 pm ET: Metropolitan Museum of Art presents They Will Take My Island. The digital world premiere of Armenian-American composer Mary Kouyoumdjian and Oscar-nominated Armenian-Canadian filmmaker Atom Egoyan's They Will Take My Island (2020), a highly personal 30-minute video with performances by the JACK and Silvana string quartets. View here and on demand.
7 pm ET: LA Opera presents Ellen Reid's p.r.i.s.m. A mother and daughter lock themselves away from the world to protect themselves from the dangers lurking outside, but when the girl's memories contradict her mother's stories of the past, she must choose between discovering the truth or holding on to the only life she's ever known. Ellen Reid and librettist Roxie Perkins's opera won the 2019 Pulitzer Prize for Music. Register and view here until February 7.
7:30 pm ET: Nightly Met Opera Streams presents Rossini's Le Comte Ory. Starring Diana Damrau, Joyce DiDonato, Susanne Resmark, Juan Diego Flórez, Stéphane Degout, and Michele Pertusi, conducted by Maurizio Benini. From April 9, 2011. View here and for 24 hours.
Wednesday, January 27
1 pm ET: Wiener Staatsoper presents Wagner's Götterdämmerung. Conductor: Adam Fischer, director: Sven-Eric Bechtolf. With Christian Franz, Linda Watson, Eric Halfvarson, Jochen Schmeckenbecher. Production from January 2016. Register for free and view here.
2 pm ET: Medici.tv presents Mozartwoche 2021: Seong-Jin Cho plays 94 seconds of new Mozart. From the Great Hall of the Mozarteum, the pianist plays a selection of Mozart works including the Piano Sonata No. 12, the Allegro in C, and 94 seconds of a reconstructed work performed here for the very first time. View here. LIVE
2 pm ET: IDAGIO presents Classical (R)evolution with Rachel. Join soprano Rachel Fenlon as she explores what breaking the rules, embracing uncertainty, and thinking "outside the box" does for classical music-making. In this episode: German film director and producer, Jan Schmidt-Garre. View here. LIVE
2:30 pm ET: Philharmonie de Paris presents Orchestra de Paris & Paavo Järvi. Pianist Beatrice Rana joins Paavo Järvi and the Orchestre de Paris for a concert of works by Tchaikovsky and Berlioz. View here. LIVE
2:30 pm ET: Elbphilharmonie presents Rising Stars: Jess Gillam. The second of six concerts by rising star artists chosen by the 22 concert halls that form the European Concert Hall Organisation (ECHO). Here, saxophonist Jess Gillam plays music by Poulenc, Fitkin, Dowland, and Pedro Iturralde. View here.
4 pm ET: The Consulate Generals of Israel & Germany in LA present Recovered Voices with James Conlon. In honor of International Holocaust Remembrance Day, LA Opera's Music Director leads discussion, musical excerpts, and visuals focusing on the Nazi regime's suppression of music by Jewish composers, repertoire he has championed for more than 25 years. The webinar will begin with opening remarks from Dr. Hillel Newman, Consul General of Israel, and Stefan Schneider, Consul General of Germany. View here.
5 pm ET: American Composers Orchestra presents Composer to Composer. Mason Bates talks with John Corigliano about Corigliano's work Circus Maximus (Symphony No. 3) from 2004. Corigliano writes of the piece, "The Roman need for grander and wilder amusement grew as its empire declined. The parallels between the high decadence of Rome and our present time are obvious. Entertainment dominates our reality, and ever-more-extreme 'reality' shows dominate our entertainment." Register and view here.
7 pm ET: Pioneer Valley Symphony presents What is a Chickasaw Classical Composer? Emmy-winning composer Jerod Impichchaachaaha' Tate reflects on how his Chickasaw identity has shaped his classical composition and career, which he has dedicated to the development of American Indian classical composition. Tickets $15. View here.
7 pm ET: Voices of Ascension presents Astronautica: Voices of Women in Space. An online world premiere of the words of women astronauts set to music by nine women composers: Hai-Ting Chinn, Renée Favand-See, Jennifer Jolley, Elaine Lachica, Gilda Lyons, Rashonda Reeves, Kamala Sankaram, Jane Sheldon, and Bora Yoon. Performed by Trio Triumphatrix (soprano Lindsay Kesselman, mezzo-soprano Hai-Ting Chinn, and contralto Kirsten Sollek) with video projections by Elena Mannes. View here.
**7:30 pm ET: Nightly Met Opera Streams presents Gounod's Faust. Starring Marina Poplavskaya, Jonas Kaufmann, and René Pape, conducted by Yannick Nézet-Séguin. From December 10, 2011. View here and for 24 hours.
10 pm ET: New West Symphony presents Holocaust Remembrance. A program featuring interviews with Celina Biniaz, the youngest of Schindler's List survivors and the Violins of Hope Los Angeles Chair Susanne Reyto, along with a showing of a "Violins of Hope" documentary. Festival passes $25. View here.
Thursday, January 28
12 pm ET: Boston Symphony Orchestra presents BSO Online. Violinist Gil Shaham is soloist for Arvo Pärt's Fratres, one of his most characteristic pieces. Prokofiev's Classical Symphony find the deliberately provocative young composer embracing music of grace, clarity, and charm. Stravinsky's The Firebird, composed when he was 27, was more ambitious and imaginative than anything he had written previously. Missy Mazzoli's Set That On Fire completes the program. BSO Assistant Conductor Anna Rakitina conducts. View here for 30 days.
12 pm ET: Chicago Symphony Orchestra presents CSO Sessions Episode 12: Mozart & Brahms. No one knows for sure when or why Mozart composed his dark-hued Serenade for Winds, but it is a more serious and profound work than its name suggests. Brahms's almost orchestral String Sextet memorializes the end of a tumultuous relationship by concealing the name of his former fiancée in the notes. Tickets $15. View here until February 26.
12 pm ET: Young Concert Artists presents Do-Hyun Kim. From Mixon Hall at Cleveland Institute of Music, the pianist performs Mozart's Sonata No. 12 in F, K. 332, Schumann's Fantasiestücke, Op. 12, and Stravinsky's Three Movements from Petrushka. View here. LIVE
1 pm ET: Wiener Staatsoper presents Verdi's Nabucco. Conductor: Marco Armiliato, director: Günter Krämer. With Plácido Domingo, Freddie De Tommaso, Riccardo Zanellato, and Anna Pirozzi. Production from January 22, 2021. Register for free and view here.
**1 pm ET: Royal Stockholm Philharmonic presents Sea Pictures. Jukka-Pekka Saraste conducts the RSPO with mezzo-soprano Katarina Karnéus in a concert comprising Victoria Borisova-Ollas's Open Ground, Elgar's Sea Pictures, and Haydn's Symphony No. 103, Drum Roll. View here.
2:30 pm ET: Elbphilharmonie presents Rising Stars: James Newby. The third of six concerts by rising star artists chosen by the 22 concert halls that form the European Concert Hall Organisation (ECHO). Here, baritone James Newby sings songs by Robert and Clara Schumann. View here.
5 pm ET: Concert Artists Guild presents Tabea Debus & Alon Sariel. Tabea Debus, recorder, and Alon Sariel, theorbo, present a program entitled Ohrwurm that explores how tunes and dances wormed their way into many aspects of music-making in 17th- and 18th-century Europe. In traversing the centuries, contemporary compositions testify to the earworm's place in modern life. View here. LIVE
7 pm ET: The Cleveland Orchestra presents In Focus Episode 5: Musical Patterns. The Cleveland Orchestra is led by Vinay Parameswaran with Jung-Min Amy Lee, violin and Marc-André Hamelin, piano. Program: Pärt's Fratres (for solo violin, strings, and percussion), Glass's Glassworks: Opening (reworked by Christian Badzura), Bach's Keyboard Concerto No. 5, and Adams's Shaker Loops (for string orchestra). View here via TCO's streaming platform Adella.
7:30 pm ET: Nightly Met Opera Streams presents Verdi's Falstaff. Starring Lisette Oropesa, Angela Meade, Stephanie Blythe, Jennifer Johnson Cano, Paolo Fanale, Ambrogio Maestri, and Franco Vassallo, conducted by James Levine. From December 14, 2013. View here and for 24 hours.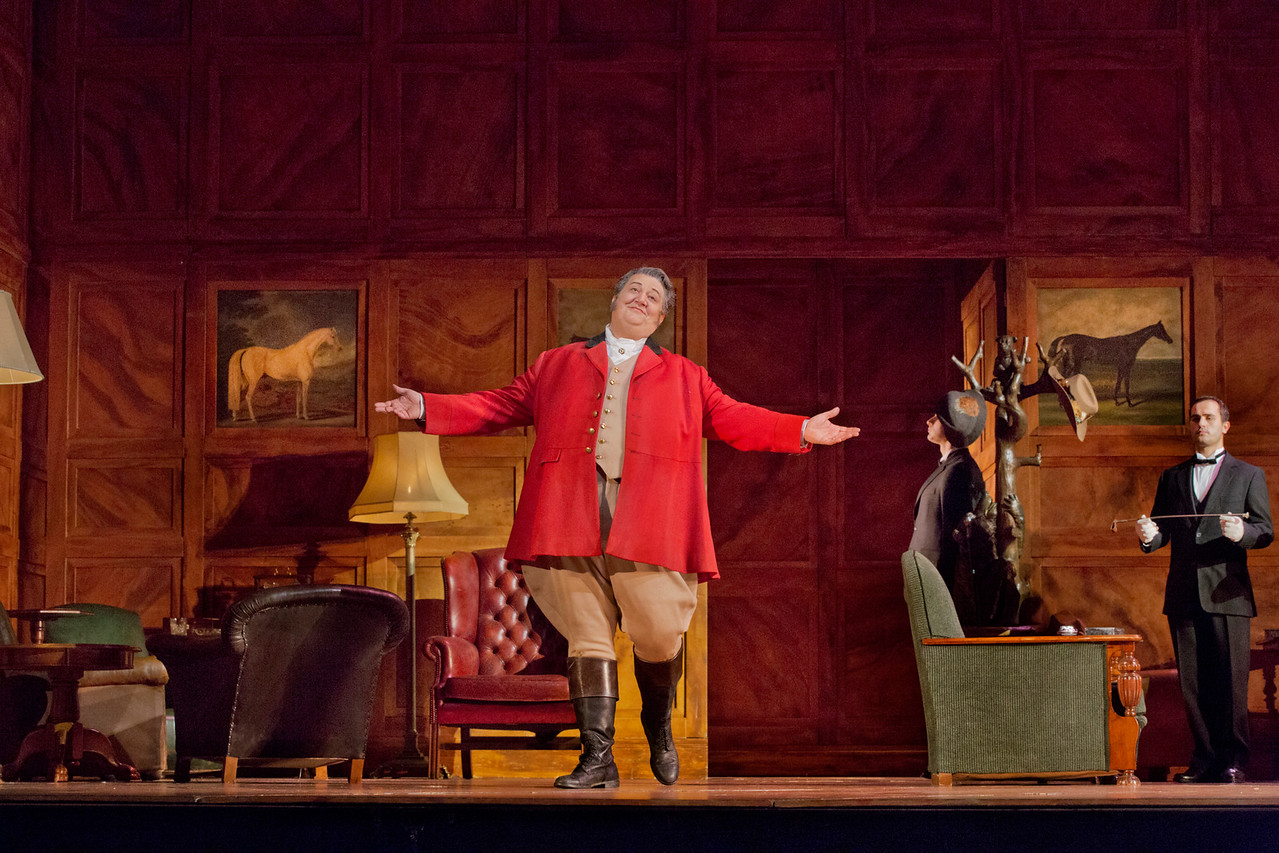 Ambrogio Maestri in the title role of the Met's Falstaff, 2013
7:30 pm ET: Chamber Music Society of Lincoln Center presents Artist Series: Tara Helen O'Connor. The flautist appears in archival performances of Mozart's Quartet in D for Flute, Violin, Viola, and Cello, K. 285, Reinecke's Sonata in E minor for Flute and Piano, Op. 167, Undine, JacobTV's Lipstick for Flute/Alto Flute and Soundtrack, and Françaix's L'heure du berger for Flute, Oboe, Clarinet, Bassoon, Horn, and Piano. View here and on demand for one week.
7:30 pm ET: BroadBand presents Wu Man: Playing at the Borderlines. The pipa virtuoso is featured on the opening night of Latitudes, a virtual performance series. The program will explore past collaborations and includes a new piece with poet, songwriter, and speaker Regie Gibson. The event will be followed by a live Q&A. Tickets $15. View here.
8 pm ET: Atlanta Symphony Orchestra presents Behind the Curtain: Bruch's Violin Concerto. Gemma New conducts Sarah Gibson's warp & weft, Bruch's Violin Concerto No. 1 in G minor with soloist Randall Goosby, and Mozart's Symphony No. 38, Prague. Tickets $20. View here.
8 pm ET: The Philadelphia Orchestra presents Stutzmann Leads an Evening with Beethoven. Nathalie Stutzmann takes the podium for her first performance as the Orchestra's principal guest conductor designate, leading two of Beethoven's early works: the Overture to The Creatures of Prometheus and Symphony No. 1. Tickets $17. View here and on demand until February 4. LIVE
10:30 pm ET: Seattle Symphony presents Haydn Cello Concerto. Guest conductor Gemma New leads the orchestra with French cellist Jean-Guihen Queyras as soloist in Haydn's C major Cello Concerto. Prokofiev's First Symphony, Classical, and Sarah Gibson's warp & weft. View here.
Friday, January 29
6:15 am ET: Royal Stockholm Philharmonic presents Music by Jennifer Higdon and Philip Glass. Anna Stefánsson and Seohee Min violin, Nadine Jurdzinski viola, and Hanna Dahlkvist cello play Jennifer Higdon's Sky Quartet for string quartet, Amazing Grace for string quartet, and Philip Glass's String Quartet No. 2, Company. View here and on demand.
12 pm ET: Princeton Symphony Orchestra presents Brilliant Baroque to Cool Kwela. South Africa's Buskaid Soweto String Ensemble's concert includes the third movement from Mozart's Piano Concerto No. 13 in C with pianist Melvyn Tan, Bruch's Romanze for Solo Viola and Orchestra featuring Buskaid-trained artist Tiisetso Mashishi, and Princeton-based composer Julian Grant's Sancho's Dance-Mix, plus popular vocals, and Kwela, a South African style of music based with jazzy undertones. Tickets: $5. View here for three days.
1 pm ET: Wiener Staatsoper presents Delibes's Sylvia. Conductor: Kevin Rhodes, choreography: Manuel Legris after Louis Mérante. With Nikisha Fogo, Denys Cherevychko, Davide Dato, and Solists, Corps de ballet, and Youth Company of the Wiener Staatsballetts. Production from November 2018. Register for free and view here.
2 pm ET: Medici.tv presents Mozartwoche 2021: Mozartiade: A Collection of Mozart's Songs. From the stage of the Salzburg Mozarteum, soprano Sylvia Schwartz, mezzo-soprano Magdalena Kožená, tenor Mauro Peter, and pianist Elena Bashkirova perform a collection of Mozart songs. View here. LIVE
2 pm ET: DG Stage presents Hélène Grimaud & Dallas Symphony. From the Morton H. Meyerson Symphony Center in Dallas, Hélène Grimaud joins the DSO and conductor Nicholas McGegan for the Piano Concerto No. 20 in D minor. Mozart's Symphony No. 40 in G minor completes the program. Tickets Euro 9.90. View here.
2 pm ET: Concertgebouworkest presents Pintscher conducts Ravel. Composer–conductor Matthias Pintscher leads the Concertgebouworkest in Ravel's Ma Mère l'Oye. Baritone Georg Nigl is the soloist in the Dutch premiere of Pintscher's Songs from Solomon's Garden. View here and for one week.
2 pm ET: The Royal Opera House presents La Fille Mal Gardée. Frederick Ashton's Royal Ballet production is based on a 1789 ballet by Jean Dauberval with music by Ferdinand Hérold orchestrated by John Lanchbery. It features energetic pas de deux, elements of national folk dance, and even dancing chickens. In this recording from 2015, the role of Lise is danced by Natalia Osipova, with Steven McRae as Colas, Philip Mosley as Widow Simone, Christopher Saunders as Thomas, and Paul Kay as Alain. The ROH Orchestra is conducted by Barry Wordsworth. Tickets £3. View here.
2 pm ET: IDAGIO presents Philippe Jaroussky. The countertenor's concert was filmed in the magnificent setting of Royaumont Abbey with violinist and conductor Julien Chauvin and musicians from the Concert de la Loge. Jaroussky performs Vivaldi's Nisi Dominus, as well as Pergolesi's Salve Regina. The program is completed by an aria by Alessandro Scarlatti and concertos by Vivaldi and Francesco Durante. View here. LIVE
2:30 pm ET: Elbphilharmonie presents Rising Stars: Diana Tishchenko. The fourth of six concerts by rising star artists chosen by the 22 concert halls that form the European Concert Hall Organisation (ECHO). Here, violinist Diana Tishchenko plays music by Debussy, Vasco Mendonça, and Franck. View here.
7 pm ET: Bard College presents The Inside Story: Horszowski Trio. The story behind Beethoven's Op. 1, No. 3 (Haydn advised him not to publish it), Rebecca Clarke's Piano Trio (she had to become "Anthony Trent" to enter competitions), and Korngold's Suite (written for a pianist who'd lost his right hand in the war, showing that anything is possible). Horszowski Trio's Jesse Mills also reveals his improvising alter ego in a behind-the-scenes look at music-making. View here.
7:30 pm ET: Nightly Met Opera Streams presents Wagner's Der Fliegende Holländer. Starring Anja Kampe, Mihoko Fujimura, Sergey Skorokhodov, David Portillo, Evgeny Nikitin, and Franz-Josef Selig, conducted by Valery Gergiev. From March 10, 2020. View here and for 24 hours.
7:30 pm ET: Pittsburgh Symphony Orchestra presents For the People Part II. Five female composers (Jennifer Higdon, Libby Larsen, Jessie Montgomery, Florence Price, and Joan Tower) in a program of works all written in the past 100 years by American composers. Andrés Franco conducts with Guest Concertmaster Alexi Kenney. View here and for six months.
8 pm ET: DACAMERA presents Mendelssohn Portrait. The Daedalus Quartet and the Brentano Quartet join forces for Mendelssohn's Octet for Strings, composed when he was just 16 years old. The stream opens with the Brentano Quartet playing two rarely heard pieces from the last year of Mendelsson's life: Theme and Variations and Scherzo. View here.
8 pm ET: Washington Performing Arts presents A Brief and Modern History of the Étude. Jenny Lin champions the étude—a work balancing artistic expression with technical instruction—in a revealing look at the form with pre-recorded video stories or composer interviews. Repertoire will include classic works by Chopin and Liszt, Gershwin standards arranged by Earl Wild, and études by Philip Glass and William Bolcom. The post-show discussion will be led by series host Anastasia Tsioulcas. Tickets $20. View here until February 4.
9 pm ET: Minnesota Orchestra presents Heart & Hope. Eight months after the killing of George Floyd in Minneapolis, this concert opens with Philip Herbert's His Elegy: In Memoriam—Stephen Lawrence, remembering another life tragically lost to racial violence in 1993. Oboist John Snow and violinist Peter McGuire share a musical dialogue in a double concerto by Bach, and Dvorák's Serenade for Winds is conducted by Music Director Osmo Vänskä. View here.
9:30 pm ET: Los Angeles Chamber Orchestra presents Close Quarters Episode 7: Mother of Bravery. Spotlighting the artistry of LACO Artistic Advisor Derrick Spiva, Jr. Program includes Mind The Rhythm (World Premiere) and Mother of Bravery (LACO Commission/World Premiere). With Shauna Davis, co-director/dancer/choreographer, Jaime Martín, conductor, Derrick Spiva Jr., narrator/actor, and pre-recorded electro-acoustic percussion and electronics. View here.
11 pm ET: Old First Concerts presents Ensemble 1828. Nicole Oswald, violin, Isaac Pastor-Chermak, cello, and Alison Lee, piano perform an all-French program of Debussy's Cello Sonata, Franck's Violin Sonata in A, and Ravel's Piano Trio in A minor. Tickets $20. View here.
Saturday, January 30
1 pm ET: San Francisco Opera presents Verdi's La Traviata. The 2014 SFO presentation of John Copley's production stars Nicole Cabell as the courtesan Violetta Valéry and Stephen Costello as Alfredo Germont. The cast also includes Vladimir Stoyanova as Alfredo's father, Giorgio Germont, Daniel Montenegro as Gastone, Dale Travis as Baron Douphol, Hadleigh Adams as Marquis d'Obigny, Andrew Craig Brown as Doctor Grenvil, and Zanda Svede as Flora Bervoix. Music director Nicola Luisotti conducts the SFO Orchestra and Chorus. View here until midnight the following day.
**1 pm ET: Berliner Philharmoniker Digital Concert Hall presents Kirill Petrenko & Daniil Trifonov. Trifonov is the soloist in Prokofiev's exuberant Piano Concerto No. 1 with Kirill Petrenko conducting the BPO. Also on the program is a world premiere by Icelandic composer Anna Thorvaldsdóttir, plus Josef Suk's tone poem A Summer's Tale. Tickets EUR 9.90. View here. LIVE
1 pm ET: OperaVision presents Rossi's Il Palazzo Incantato. Dijon Opera's production was recorded on December 5, 2020. To save his protegé from a fatal destiny, a magician has imprisoned knights and ladies in an enchanted labyrinthine palace and mystifies them to the point of delirium. Luigi Rossi's first opera, boasting sixteen soloists, double and triple choirs for 6 and 12 voices, and numerous ballets, marked the last surge of Roman opera before Argentine conductor Leonardo García Alarcón rediscovered it in the Vatican Library neglected for 380 years. View here for two months.
1 pm ET: Wiener Staatsoper presents Mozart's Die Entführung aus dem Serail. Conductor: Antonello Manacorda, director: Hans Neuenfels. With Lisette Oropesa, Christian Nickel, Regula Mühlemann, Emanuela von Frankenberg, Stella Roberts, Daniel Behle, Michael Laurenz, Christian Natter, Ludwig Blochberger, and Goran Juric. Production from October 2020. Register for free and view here.
2:30 pm ET: Medici.tv presents Alexandre Kantarow plays Brahms & Rachmaninov. Live from the Philharmonie de Paris, the pianist plays Brahms's lyrical Ballades, Op. 10 followed by Rachmaninov's Piano Sonata No. 1, before moving on to Brahms's left-hand transcription of Bach's Chaconne. View here. LIVE
2:30 pm ET: Elbphilharmonie presents Rising Stars: Cristina Gómez Godoy. The fifth of six concerts by rising star artists chosen by the 22 concert halls that form the European Concert Hall Organisation (ECHO). Here, oboist Cristina Gómez Godoy plays music by Saint-Saëns, Mozart, Debussy, Kahn, and Charlotte Bray. View here.
7 pm ET: The Sphinx Organization presents Sphinx Competition Junior & Senior Finals. The national competition offers young Black and Latinx classical string players a chance to compete under the guidance of an internationally renowned panel of judges, and to perform with and receive mentorship from established professional musicians. Prizes range from $3,000 to the top $50,000 Robert Frederick Smith Prize. Three finalists will compete in both Junior and Senior Divisions. View here.
7 pm ET: Astral Nova presents Timothy Chooi. The 2019 Queen Elisabeth Competition-winner shares three contrasting projects characteristic of this multicultural musical omnivore: music from Vivaldi's timeless The Four Seasons, new arrangements of Uyghur folk music, and a sneak-preview of composer Carle Wirshba's Astral Micro Commission in the form of a virtuosic fantasia on Anime and cartoon themes. Tickets $10. View here.
7:30 pm ET: Peoples' Symphony Concerts presents Schubertiade No. 1. A concert of Schubert's music on the weekend of Schubert's birthday with artists including PSC Resident Artist Shai Wosner; Orion Weiss, piano, Bridget Kibbey, harp, Carmit Zori, violin, and Paul Watkins, cello. Program: Schubert's Fantasy for Four Hands in F Minor and Piano Trio in E-flat D929, and movements from Kati Agocs's Northern Lights for solo Harp. Tickets $50 for five concerts. View here.
7:30 pm ET: Nightly Met Opera Streams presents Verdi's Rigoletto. Starring Diana Damrau, Oksana Volkova, Piotr Beczala, Željko Lucic, and Štefan Kocán, conducted by Michele Mariotti. From February 16, 2013. View here and for 24 hours.
8 pm ET: Duke Performances presents Simone Dinnerstein. The first half of the pianist's concert includes Bach's Ich ruf zu dir, Herr Jesu Christ, BWV 639 (arranged by Busoni) and transcriptions by composer Richard Danielpour of Bach's Agnus Dei from the Mass in B minor, and Wenn Ich einmal soll scheiden and Wir setzen, uns mit Tränen nieder from the St. Matthew Passion. The second half is presented as a suite: Couperin's Les Barricades Mystérieuses, Schumann's Arabesque in C, Op. 18, Philip Glass's Mad Rush, and Couperin's Tic Toc Choc. Tickets $10. View here until February 2.
8 pm ET: Third Coast Percussion presents In With The New. TCP say good riddance to 2020 with a program featuring Devonte Hynes's Press, Joe W. Moore III's Halo, Gemma Peacocke's Death Wish, and Rodrigo Bussad's Kodama. View here.
9 pm ET: St Paul Chamber Orchestra presents Piano Quartets with Stewart Goodyear. A repeat of SPCO's 2020 Opening Night featuring pianist Stewart Goodyear. Pieces on the program include an arrangement of Beethoven's Marcia funebre, Tyson Davis's Tableau No. X, Goodyear's own Piano Quartet and Brahms's first Piano Quartet. View here and repeated at 11 pm ET.
9 pm ET: Houston Symphony presents Beethoven 8 & Haydn. Houston Symphony Principal Cellist Brinton Averil Smith is the soloist in Haydn's Cello Concerto No. 2, and the orchestra performs Beethoven's Symphony No. 8 and Miguel Farías's El color del tiempo. Tickets $20. View here. LIVE
10 pm ET: Chamber Music Northwest presents The Singing Cello. Cellist Alisa Weilerstein and pianist Inon Barnatan perform de Falla's Spanish folk-inspired Suite Populaire Espagnole and Rachmaninov's Cello Sonata recorded in The Baker-Baum Concert Hall at The Conrad Prebys Performing Arts Center in La Jolla, CA. Tickets $20. View here.
Sunday, January 31
1 pm ET: Wiener Staatsoper presents Puccini's Tosca. Conductor: Marco Armiliato, director: Margarethe Wallmann. With Evgenia Muraveva, Joseph Calleja, Bryn Terfel, Ryan Speedo Green, and Alexandru Moisiuc. Production from December 2019. Register for free and view here.
1 pm ET: Houston Chamber Choir presents A Time to Lift Up. Led by Founder and Artistic Director Robert Simpson, HCC pays tribute to the indomitable spirit of music educators and their students, with performances by school choirs selected from past Hear the Future annual choral invitational festivals. View here and on demand.
2 pm ET: Peoples' Symphony Concerts presents Schubertiade No. 2. A concert of music on the weekend of Schubert's birthday by the composer himself as well as Gershwin and Cage with artists including pianist Paul Lewis. Program: Schubert's Impromptu in G-flat D899 No. 3 and Piano Quintet in A D667, Trout, Gershwin's Impromptu in 2 Keys, and Cage's Living Room Music (4 percussionists). Tickets $50 for five concerts. View here.
2 pm ET: National Philharmonic presents Music That Celebrates Home. Laura Colgate and Regino Madrid, violins, Bill Neri, viola, Lori Barnet, cello, and Elizabeth Hill, piano perform Alexandra Gardner's Coyote Turns, Philip Glass's Metamorphosis II, Adolphus Hailstork's String Quartet No. 1 (Adagio), Caroline Shaw's Plan & Elevation: The Grounds of Dumbarton Oaks, Cécile Chaminade's Sérénade Espagnole, Op. 150, and Harold Arlen's Somewhere over the Rainbow. View here.
**2 pm ET: Medici.tv presents Mozartwoche 2021: Mozartiade: Daniel Barenboim, Cecilia Bartoli & the Wiener Philharmoniker. From the stage of the Großes Festspielhaus, Cecilia Bartoli, conductor-pianist Daniel Barenboim, and the Vienna Philharmonic perform the Prague Symphony, two arias, and the Piano Concerto No. 24 with the maestro at the keyboard. View here. LIVE
2:30 pm ET: Elbphilharmonie presents Rising Stars: Vanessa Porter. The last of six concerts by rising star artists chosen by the 22 concert halls that form the European Concert Hall Organisation (ECHO). Here, percussionist Vanessa Porter plays music by Sciarrino, Vinko Globokar, David Lang, Aperghis, Emil Kuyumcuyan, and Alexander Sandi Kuhn. View here.
3 pm ET: Philadelphia Chamber Music Society presents Michelle Bradley & Brian Zeger. The winner of the George London-Leonie Rysanek Award and a 2018 alumna of the Metropolitan Opera's Lindemann Young Artist Development Program sings Debussy's Proses Lyriques, Chausson's Chanson perpétuelle, Strauss's Morgen, Op. 27, No. 4 and Befreit, Op. 39, No. 4, Mahler's Rückert Lieder, and a selection of spirituals arranged by Grant Still, Miller, and Johnson. View here and for 72 hours. LIVE
4 pm ET: Our Concerts Live presents Concertos from the Inside: Week 4: Barber. In a 24-part series, Rachel Barton Pine performs the entire solo violin part of the greatest violin concertos unaccompanied and shares her perspective on each, explaining how she prepares and how her performance connects to the work's historical and musical context. The series is geared towards career violinists, advanced students, violin teachers, and violin aficionados. Tickets $20. Register and view here.
5:30 pm ET: Shriver Hall presents Violini a Due: A European Journey. Quicksilver (Robert Mealy and Julie Andrijeski, violins, Avi Stein, harpsichord, and Charles Weaver, lute) plays music by Castello, Fontana, Falconieri, De Murcia, Rosenmüller, Schmeltzer, Buxtehude, Kerll, Cazzati, Legrenzi, and Bach. The performance will be followed by an Artist Q&A. Tickets $15. View here.
6 pm ET: New West Symphony presents Holocaust Remembrance Concert. Michael Christie, Artistic and Music Director, joins with soloists and the Jerusalem String Quartet, and pianist Daniel Vnukowski in a concert that includes Schulhoff's Five pieces for String Quartet, Brahms's String Quartet No. 3 in B-flat, Op. 67, John Williams's Three pieces from Schindler's List, Szpilman's Mazurka in F minor, Weinberg's Sonata No. 1 for Viola, Adagio, and Kovács's Sholem-alekhim, rov Feldman! for Klezmer Clarinet and Piano. Festival passes $25. View here.
6 pm ET: Miami Symphony Orchestra presents Light Your Sunday with Ocean Drive in Vienna. A special concert featuring a traditional Viennese program with a twist of South Beach. MISO performs works by Strauss, Juventino Rosas, Brahms, Tchaikovsky, and Verdi. View here.
7:30 pm ET: Met Opera Streams presents Verdi's Macbeth. Starring Maria Guleghina, Dimitri Pittas, Željko Lucic, and John Relyea, conducted by James Levine. From January 12, 2008. View here and for 24 hours.
Monday, February 1
8:30 am ET: Wiener Staatsoper presents Mozart's Le Nozze di Figaro. Conductor: Philippe Jordan, director: Jean-Pierre Ponnelle. With Andrè Schuen, Federica Lombardi, Louise Alder, Philippe Sly, and Virginie Verrez. Register for free and view here. LIVE
1 pm ET: Royal Stockholm Philharmonic presents Monday at Last. String trio ZPR give the first performance of a Kalevi Aho's new piece for accordion and string trio, with Finnish accordionist Janne Rättyä followed by two works by French composers Philippe Hersant and Henri Dutilleux. The concert opens with music by Stravinsky and Kaija Saariaho. View here.
7:30 pm ET: 92nd St Y presents New York Philharmonic String Quartet & Emanuel Ax. Pianist Emanuel Ax joins friends and longtime collaborators the New York Philharmonic String Quartet for a concert of Beethoven's F-Minor String Quartet, Serioso and Dvorák's songful Second Piano Quintet. Tickets $20. View here.
7:30 pm ET: Met Opera Streams presents The Gershwins' Porgy & Bess. Starring Angel Blue, Golda Schultz, Latonia Moore, Denyce Graves, Frederick Ballentine, Eric Owens, Alfred Walker, and Donovan Singletary, conducted by David Robertson. Production by James Robinson. From February 1, 2020. View here and for 24 hours.
7:30 pm ET: Chamber Music Society of Lincoln Center presents The Art of Interpretation: Debussy & Stravinsky. Husband and wife duo piano team of Alessio Bax and Lucille Chung perform and discuss two works for piano, four hands: Prélude à l'après-midi d'un faune and Petrushka. The compositional wizardry and creativity of both Debussy and Stravinsky (who were good friends) are on full display in this colorful program. View here and on demand for one week. LIVE
7:30 pm ET: SalonEra presents Afro-Caribbean Roots. Haitian-American baritone Jean-Bernard Cerin probes the first iterations of Haiti in the Classical music tradition, keyboardist Henry Lebedinsky introduces modinhas by mulatto composer Joaquin Manoel da Câmara (approx. 1780-1840), and soprano Sherezade Panthaki joins to record rarely performed songs by Guadeloupe-born composer Joseph de Bologne, the Chevalier de Saint-Georges. View here.
Artists and Organizations Offering Free Content
The following are all accessible during the coronavirus pandemic:
Academy of Ancient Music
The most listened-to period instrument ensemble, directed by Richard Egarr, has made a number of streams available on its website. Guest artists include Louise Alder, soprano, Nicola Benedetti, violin, Mary Bevan, soprano, David Blackadder, trumpet, Iestyn Davies, countertenor, Tim Mead, countertenor, Christopher Purvis, bass, and Tenebrae, directed by Nigel Short. Explore here.
American Opera Project
First Glimpse is a video album of 20 songs created during the first year of AOP's 2019-21 fellowship program, Composers & the Voice. Originally intended as a live concert, the videos will be released every Friday beginning October 23 and for the following six weeks. The composers are Alaina Ferris, Matt Frey, Michael Lanci, Mary Prescott, Jessica Rudman and Tony Solitro, with librettists Amanda Hollander and Jonathan Douglass Turner. Videos will be free for one week following their release, after which they will be available to rent or purchase, individually or as a full set through AOP's Website. Explore here.
American Symphony Orchestra
American Symphony Orchestra releases weekly recordings from its archives with content alternating between live video recordings of SummerScape operas and audio recordings from previous ASO concerts. Ethel Smyth's The Wreckers, Richard Strauss's Die Liebe aus Danae, and Korngold's Das Wunder der Heliane, all conducted by Leon Botstein, are all highly recommended and available now.
Apollo's Fire: Music for the Soul
The Cleveland-based baroque orchestra founded by Artistic Director Jeannette Sorrell is offering a series of video streams entitled "Music for the Soul." New episodes are posted here.
Baltimore Symphony Orchestra
BSO Sessions continues to bring the stories of BSO musicians, conductors, and collaborators to life through a documentary-style narrative. In addition to the first three episodes currently available upcoming episodes celebrate a responsible return of winds and brass to the stage, as well as the series debut of Music Director Marin Alsop and Principal Pops Conductor Jack Everly. Assistant Conductor Jonathan Rush interviews film composer Michael Abels and Artistic Partner Wordsmith joins in a special holiday episode with a new rendition of "'Twas the Night Before Christmas." Explore here.
Bard SummerScape & Fisher Center
Archival works highlight Bard's wealth and breadth of programming, including performances from its SummerScape Opera and BMF archives. Recent include Bard SummerScape's 2011 production of Strauss's rarely performed Die Liebe der Danae and last year's Daniel Fish directed staging of Michael Gordon's Acquanetta. More details here.
Bergen Philharmonic
Bergen's outstanding orchestra enjoys national status in Norway with a history dating back to 1765. Its free streaming service was established as part of 250-year anniversary in 2015 and offers a fine selection of works from its concert series in Grieghallen, Bergen. Conductors include Edward Gardner, James Gaffigan, Thierry Fischer, David Zinman, Neeme Järvi, Jukka Pekka Saraste, Nathalie Stutzmann, and Christian Zacharias with soloists including Leif Ove Andsnes, Lise Davidsen, Truls Mørk, Mari Eriksmoen, and Freddy Kempf. Well worth exploring here.
Carnegie Hall
More than 200 teen musicians hailing from 41 states across the US came together in July 2020 as an online virtual community to form three musical ensembles: the National Youth Orchestra of the United States of America (NYO-USA), NYO2, and NYO Jazz. All three ensembles recorded exuberant virtual performance videos during the residency, directed by Emmy Award-winner Habib Azar. The first four videos—Valerie Coleman's Umoja by the musicians of NYO-USA; a unique adaptation of Grieg's Morning Mood by NYO2; and Thad Jones's Cherry Juice and Wycliffe Gordon's We're Still Here by NYO Jazz—are now available for viewing. Explore here.
The Cleveland Orchestra
Concert videos filmed at restaurants, shops, Cleveland Clinic, and iconic locations throughout Greater Cleveland will be released weekly on social media starting November 23. Cleveland Orchestra assistant concertmaster Jessica Lee and her colleagues created these videos to share the power of music with healthcare workers, patients, and the community affected by the COVID-19 pandemic. This series of 7-10 videos will be released weekly as part of the Music Medicine Initiative: The Power of Music for Health and Well-Being, a community collaboration between The Cleveland Orchestra and Cleveland Clinic's Art + Design Institute. Explore here.
Cliburn Kids
The Cliburn launches its expanded, robust online music education program for elementary-school students. Created as a resource for school districts, teachers, and parents, the initiative includes 27 lesson plans to date, each with a seven- to ten-minute video, and corresponding individual and class activities that meet objectives of the Texas Essential Knowledge and Skills (TEKS). New episodes and lesson plans are released every Tuesday of the 2020–2021 school year for a total of more than 50 by May 2021. Explore here.
Daniel Hope: Hope@Home, Next Generation
With the return of restrictions throughout Europe, violinist Daniel Hope is once again playing live from his Berlin living room every evening. As he explains: "I think it is important now for established artists to use their influence to help the next generation, so that they have a chance in the future. That is why I have decided to restart Hope@Home, as well as to reconnect to people in lockdown around the world. Selected mentors will present young, freelance artists. All artists will receive a fee for their performances, and we will adhere to all COVID-19 regulations." Mentors—performing either virtually or live—include Christoph Eschenbach, Anne-Sophie Mutter, Renaud Capuçon, Sol Gabetta, and Sarah Willis. View here with episodes archived here.
Detroit Symphony Orchestra
The Detroit Symphony Orchestra has made its webcast archive available for free. The collection features 200+ works going back three years, and highlights include Leonard Slatkin conducting John Luther Adams's climate change-inspired Become Ocean from 2019, several world premieres, and a host of bite-sized encores. Explore here.
Deutsche Grammophon Yellow Lounge
The German classical music giant is streaming Yellow Lounge broadcasts from its archives. Recent additions include clarinetist Andreas Ottensamer, pianists Alice Sara Ott and Chihiro Yamanaka, and cellist Mischa Maisky. Performances are broadcast in rotation, one video at a time, adding a new performance every few days. DG communicates the start of each new performance by newsletter at the start of each week. To keep updated sign up here.
Finnish National Opera
Finnish National Opera presents Stage24, a series of streamed archived performances on its website, which are then available for the next six months. Recent content includes a staged version of Sibelius's Kullervo, Stravinsky's The Rake's Progress, Caspar Holten's staging of Wagner's Der Fliegende Holländer with Camilla Nylund, and Christoff Loy's Tosca. An excellent company and some interesting and original work worth investigating. Explore here.
Handel and Haydn Society
Boston's Handel and Haydn Society has created the H+H Listening Room where you can hear and watch H+H performances including Mozart's Requiem, Handel's Messiah, and Purcell's Dido and Aeneas filmed at New York's Met Museum. There are also more than a dozen videos of musicians performing from their homes, a special video of principal flutist Emi Ferguson teaching people how to make their own baroque flute, and a new podcast called "Tuning In". In the first episode Principal Cellist Guy Fishman interviews Artistic Director Harry Christophers about Bach's St. Matthew Passion. Explore here.
Kennedy Center: Arts Across America: Winter Traditions.
As millions across the United States will be altering traditions to keep friends, loved ones, and neighbors safe, the Kennedy Center will be sharing performances from across the country and numerous communities and cultures to celebrate traditions held dear. Highlights include performances from Renée Fleming, Amythyst Kiah, Broadway's Austin Colby, Caroline Bowman, and Nicholas Ward, Los Texmaniacs celebrating their own Texas miracle following a battle with COVID-19, and D.C. favorites DuPont Brass, Aaron Myers, and Chuck Redd. Explore Winer Traditions here and other Kennedy Center regular online releases via their digital stage here.
La Scala/RAI
Italy's RAI presents five productions from La Scala Milan including the world premiere of Kurtág's Fin de Partie, Daniel Barenboim conducting Götterdämmerung, Lisette Oropesa in Verdi's I Masnadieri, Montedervi's Orfeo conducted by Rinaldo Alessandrini, and Les Vêpres Siciliennes conducted by Daniele Gatti. A wide range of concerts are also available. Explore and register here.
Leipzig Gewandhaus
Instead of the traditional New Year's Eve Concert with the Gewandhausorchester playing Beethoven's Ninth Symphony, Piano Duo Shalamov played Liszt's version for two pianos, here expanded with Beethoven's original timpani part played by Gewandhaus timpanist Tom Greenleaves. The performance is available here.
Les Arts Florissants
Les Arts Florissants's annual Festival in Thiré, France included a series of 10- to 15-minute "Meditation" concerts recorded earlier this summer. Now available to enjoy online, the Meditations include performances by students of Juilliard's Historical Performance program in the spirit of their annual participation in the Festival. View here.
Lincoln Center Lincoln Center Passport to the Arts
A variety of virtual classes, performances, and bonus content designed for children, teens and adults with disabilities and their families. Offerings include programs with Chamber Music Society of Lincoln Center, Jazz at Lincoln Center, the Metropolitan Opera Guild, New York City Ballet, the New York Philharmonic, and The New York Public Library for the Performing Arts. Families can attend dance, music or drama classes, watch exclusive performances, check out behind-the-scenes content, and even meet performers—all from their homes. Families will receive pre-visit materials, including social narratives, photos, and links before each program. All programs take place via Zoom. Register here.
Los Angeles Chamber Orchestra
LACO AT HOME offers streaming and on demand performances, including a full showing of the orchestra's critically acclaimed West Coast premiere of Dark with Excessive Bright for double bass and strings by LACO Artist-in-Residence Missy Mazzoli. View streaming here and on demand here.
Los Angeles Master Chorale
Videos recorded as part of the "Offstage with the Los Angeles Master Chorale" series from April 24 to June 19 included interviews conducted by Artistic Director Grant Gershon and Associate Conductor Jenny Wong with notable performers—including special guests Reena Esmail, Morten Lauridsen, Anna Schubert, Peter Sellars, Derrick Spiva—as well as Master Chorale singers. Available on demand here.
Metropolitan Opera Live In Schools
The Metropolitan Opera's HD Live in Schools program has launched a new series for the 2020–21 school year, creating cross-disciplinary educational opportunities across the country. For the 2020–21 school year, students and teachers will receive free subscriptions to the Met Opera on Demand service, with a catalogue of more than 700 Live in HD presentations, classic telecasts, and radio broadcasts. Ten operas have been selected for the HD Live in Schools program, and will be presented in five educational units, with two thematically paired operas per unit. The series opens with Beethoven's Fidelio and Donizetti's La Fille du Régiment (September 28–October 16), both of which explore the intersection of music and politics. The Met will continue to offer teachers HD Live in Schools Educator Guides and access to Google Classroom materials that can be adapted for virtual learning lesson plans. In addition, the Met's National Educators Conference will be hosted on a virtual platform this year and take place on five Saturdays throughout the 2020–21 school year. Two conferences, scheduled for October 10, 2020, and October 17, 2020, will also feature live conversations with Met artists. More information here.
Minnesota Orchestra
Minnesota Orchestra at Home shares video, audio, and educational materials through the categories of Watch, Listen and Learn, including videos from the orchestra's archives and newly created "mini-concerts" directly from the homes of Orchestra musicians. Explore and view here.
National Sawdust Digital Discovery Festival, Volume One
With more than 65 events, featuring over 100 artists premiering in a four-month span, National Sawdust Digital Discovery Festival: Volume One was a bright spot in NYC's post-COVID live music world. Featuring post-COVID performances from Robert Wilson, Julian Lage, Tyondai Braxton, Emel Mathlouthi, Matthew Whitaker, Dan Tepfer, Ashley Bathgate, Emily Wells, Brooklyn Rider, Joel Ross, Conrad Tao, Andrew Yee, and Lucy Dhegrae, and recently recorded Masterclasses with Tania León, Ted Hearne, Vijay Iyer, Jamie Barton, Lawrence Brownlee, Trimpin, and Lara St. John. Archival performances include David Byrne, Lara Downes and Rhiannon Giddens, and Ryuichi Sakamoto. Explore here.
New World Symphony
The New World Symphony presents a web-based series called NWS Archive+. Michael Tilson Thomas moderates discussions with NWS Fellows, alumni, guest artists, and visiting faculty about archived recordings. Performances will be available here. NWS Fellows also play live, informal chamber music concerts from their homes in Miami Beach and broadcast via Facebook Live. In addition, the NWS online archive contains master classes, tutorials and town halls, which can be found here. Finally, for the past 10 years, the Fellows have performed one-hour concerts for local school children. These concerts and preparatory material will be available free to students and parents. NWS Educational concerts can be found here.
Opera Australia
OA | TV: Opera Australia on Demand is the Sydney-based company's new digital space. Alongside the world's largest collection of Dame Joan Sutherland on video, OA will offer exclusive content from the OA back catalogue, productions from Handa Opera on Sydney Harbour, and a new series of chat show-style interviews conducted by AD Lyddon Terracini. The first posted full show is Sutherland in The Merry Widow, and the fileted aria's in the section labelled "The Best of Dame Joan Sutherland" are even better. View here.
Opéra National de Paris
The Palais Garnier and Bastille Opera have made their digital stage, "The 3e Scène," free. The platform is a pure place of artistic adventure and exploration, giving free rein to photographers, filmmakers, writers, illustrators, visual artists, composers, and choreographers to create original works. Visit here. Some of Opéra National de Paris's productions are accessible on the company's Facebook Page. In addition, Octave, the Paris Opera's online magazine, is posting articles, videos, and interviews here.
Opera North
One of Britain's most respected smaller opera companies, Opera North has put its acclaimed semi-staged concerts of Wagner's epic Ring Cycle online. "Beg, borrow, or be like Wotan and steal a ticket for this show," said the UK's Times of Das Rheingold. "You'd be lucky to hear as good at Bayreuth," said The Telegraph of Die Walküre. Richard Farnes proves a seriously impressive Wagner conductor. Watch here.
OperaVision
OperaVision offers livestreams of operas available for free and online for up to six months. Previous offerings include Barrie Kosky's visually spectacular Moses und Aron, David McVicar's superb Die Entführung aus dem Serail from Glyndebourne, and Deborah Warner's thoughtful Death in Venice for English National Opera. View upcoming and past content here.
Rotterdam Philharmonic Orchestra: Beethoven at Home
RPO bring Beethoven to living rooms in December playing all nine symphonies. The musicians will perform the first eight symphonies in small chamber ensembles varying from a string sextet to a 15-strong brass ensemble. The Grand Finale takes place on New Year's Eve: Beethoven's Ninth, played by the full orchestra with chorus and soloists. View here.
Orli Shaham Bach Yard Playdates
Pianist Orli Shaham brings her acclaimed interactive concert series for kids to the internet. Bach Yard Playdates introduces musical concepts, instruments, and the experience of concert-going to a global audience of children and their families. A number of 10-minute episodes are already available for on-demand streaming. Programs and performances range from Bach's Two-Part Invention to Steve Reich's Clapping Music. Explore here.
The Sixteen Choral Odyssey
Actor Sir Simon Russell Beale, Harry Christophers and The Sixteen have recorded a special, five-part series. A Choral Odyssey explores choral music from across the ages in iconic, relevant surroundings—from Byrd in Elizabeth I's childhood home of Hatfield House, to Purcell in the reconstructed 17th-century theatre of the Sam Wanamaker Playhouse at London's Globe Theatre. With a mix of conversation, music demonstration and performance, these programs reunite Harry Christophers and Simon Russell Beale—a partnership which proved successful in the popular BBC Sacred Music series—and feature performers from The Sixteen. Tickets £10 per episode. View here until March 31.
The Sphinx Organization
Dedicated to transforming lives through the power of diversity in the arts, Sphinx is presenting SphinxConnect 2021: UNITY! online from January 28 to 30. This year's convening features over 70 speakers. Highlights include an opening session with Elizabeth Alexander, Andrew W. Mellon Foundation President, and a closing session with pianist and 2014 Sphinx Medalist Damien Sneed. Panels include: Artful Resilience: How Musicians Innovate in Crisis, Socially Vocal: A Discussion on Race and Identity in the Arts, This is Everyone's Fight: How Philanthropic Institutions Stepped Forth to Support Artists and BIPOC Institutions with speakers including Jenny Bilfield, Clive Gillinson, and Deborah Rutter. Th Digital sessions are interactive, and participants will have opportunities for one-on-one networking with panelists during the three-day conference. Tickets are $150 as well as a "Pay What You Are Able" option to minimize attendance barriers. Explore here.
Trinity Wall Street
New York's Trinity Church Wall Street introduces daily weekday "Comfort at One" (1 pm ET) streaming performances on Facebook with full videos posted here. Tune in for encore performances of favorite Trinity concerts, professionally filmed in HD, along with current at-home performances from Trinity's extended artistic family.
University of Colorado Boulder
University of Colorado Boulder College of Music faculty artists perform with students and colleagues in Faculty Tuesdays, chamber music recitals featuring world premieres alongside classics. Free most Tuesdays from September 2020 through March 2021. Upcoming performers include violinist Harumi Rhodes, violist Richard O'Neill, cellist David Requiro, pianist David Korevaar, harpist Janet Harriman, and more. Explore here.
Voices of Ascension
New York choir Voices of Ascension, which celebrates its 30th anniversary next season, is posting a daily offering of choral beauty on its website. Music is chosen by staff, members of the chorus and orchestra, and listeners. View here.
Warsaw Philharmonic
The Warsaw Philharmonic has made a selection of video recordings available on its YouTube channel. Recent offerings include Saint-Saëns's Organ Symphony and Arvo Pärt's Swansong conducted by Artistic Director Andrzej Boreyko, as well as rarities by Polish composers like Grazyna Bacewicz. It's an excellent orchestra very much in the Eastern European tradition and concerts have been master edited for posting online.
Paid Digital Arts Services
Berlin Philharmonic Digital Concert Hall
The BPO Digital Concert Hall contains over 600 orchestra concerts covering more than ten years, including 15 concerts with the orchestra's new Chief Conductor Kirill Petrenko, interviews, backstage footage. Subscriptions or single tickets available.
Medici TV
Thousands of classical music videos are available by subscription, as well as hundreds of events that are broadcast live for free each year, available for 90 days. Subscriptions cost $83.85 per year but single tickets are also available. www.medici.tv
Photo credit: Ken Howard, Metropolitan Opera

WHO'S BLOGGING


RENT A PHOTO
Search Musical America's archive of photos from 1900-1992.