---
MA's Free Guide to (Mostly) Free Streams, Jan. 18-25
We will be updating this list weekly. Please note that all times are given in U.S. Eastern Time (ET). To calculate in other time zones or counties, British Summer Time (BST) is currently five hours ahead of ET and Central European Time (CET) is currently six hours ahead. U.S. Central Daylight Time (CDT) is one hour behind ET. Mountain Time (MT) is two hours behind ET, while Pacific Time (PT) is three hours behind. Contact editor@musicalamerica.com.
Classical music coverage on Musical America is supported in part by a grant from the Rubin Institute for Music Criticism, the San Francisco Conservatory of Music, and the Ann and Gordon Getty Foundation. Musical America makes all editorial decisions.
---
** Highly recommended
Monday, January 18
1 pm ET: Wiener Staatsoper presents Giselle. Conductor: Valery Ovsyanikov, choreography: Elena Tschernischova after Jean Coralli, Jules Perrot and Marius Petipa. With Nina Poláková, Masayu Kimoto, Rebecca Horner, Andrey Kaydanovskiy, Alice Firenze, Leonardo Basílio, and Soloists and Corps de ballet des Wiener Staatsballetts. Production from September 2017. Register for free and view here.
2:30 pm ET: Philharmonie de Paris presents Casadesus conducts Debussy, Ravel, Schumann & Beethoven. Jean-Claude Casadesus conducts the Orchestre du Conservatoire de Paris in a Franco-German program of Debussy's Prélude à l'après-midi d'un faune, Ravel's Pavane pour une infante défunte Schumann's Piano Concerto with soloist David Kadouch, and Beethoven's Symphony No. 1. View here. LIVE
7 pm ET: Philadelphia Orchestra presents Martin Luther King, Jr., Tribute Concert. The concert will feature new and archived performances, including Patrice Hawthorne and a string quartet performing the spiritual "Go Tell It on the Mountain" from the Historic Belmont Mansion/Underground Railroad Museum and a performance of Ajibola Rivers's Rumba from Harriett's Bookshop. Laurin Talese joins Yannick Nézet-Séguin and the Orchestra for "Lift Every Voice and Sing," known as the Black national anthem. Members of the brass section will perform Giancarlo Castro's Diversity and Charlotte Blake Alston will narrate excerpts from Dr. King's "I Have a Dream" speech, set to Barber's Adagio for Strings. The broadcast will also highlight prominent Philadelphians who are carrying on Dr. King's vital work today. View here.
7:30 pm ET: Met Opera Streams presents Bizet's Carmen. Starring Anita Hartig, Anita Rachvelishvili, Aleksandrs Antonenko, and Ildar Abdrazakov, conducted by Pablo Heras-Casado. From November 1, 2014. View here and for 24 hours.
7:30 pm ET: SalonEra presents Behind the Scenes. SalonEra's production team and Artists in Residence go behind the scenes for a look at how episodes and remote collaborations come together with fall highlights and a preview of what's to come. View here.
Tuesday, January 19
1 pm ET: Wiener Staatsoper presents Verdi's Don Carlo. Conductor: Marco Armiliato, director: Daniele Abbado. With Stefano Secco, Dmitri Hvorostovsky, Maria Pia Piscitelli, Béatrice Uria-Monzon, and Ferruccio Furlanetto. Production from February 2015. Register for free and view here. **
2 pm ET: Medici.tv presents Mondonville's Titon et l'Aurore. Live from the Opéra-Comique in Paris, this 1753 opera-ballet follows the tumultuous and seemingly unbreakable liaison between l'Aurore (Dawn), a goddess running from her immortal fate, and the shepherd Titon. Basil Twist's staging features Les Arts Florissants under the direction of William Christie. The title roles are interpreted by tenor Reinoud Van Mechelen and soprano Gwendoline Blondeel. View here. LIVE **
2:30 pm ET: Philharmonie de Paris presents Vassilakis & Nagano play Boulez. Dmitri Vassilakis and Hidéki Nagano perform an all-Boulez program including the Second Piano Sonata and the Second Book of Structures for two pianos View here. LIVE
3:30 pm ET: Philharmonie de Paris presents Boffard plays Boulez. Pianist Florent Boffard performs an all-Boulez program including Douze Notations and the First and Third Piano Sonatas. View here. LIVE
7 pm ET: Orchestre Symphonique de Montréal presents Payare conducts Mozart & Ravel. Rafael Payare, the OSM's new Music Director Designate, and Quebec pianist Charles Richard-Hamelin perform Mozart's Piano Concerto No. 24. Gubaïdulina's Fairytale Poem and Ravel's Ma mère l'Oye (Mother Goose) complete the program. Tickets $20. View here.
7 pm ET: Detroit Symphony Orchestra presents Fabio Almazan & DSO String Quartet. Cuban-born jazz pianist and composer Fabian Almazan and his ensemble join a DSO String Quartet to perform Almazan's Alcanza, a vibrant multi-movement suite that fuses jazz and contemporary classical chamber music. Tickets $12. View here.
7:30 pm ET: Nightly Met Opera Streams presents Donizetti's Lucia di Lammermoor. Starring Anna Netrebko, Piotr Beczala, Mariusz Kwiecien, and Ildar Abdrazakov, conducted by Marco Armiliato. From February 7, 2009. View here and for 24 hours.
Wednesday, January 20
12 pm ET: Kronberg Academy presents Kirill Gerstein in an online seminar with cellist Steven Isserlis to discuss the five sonatas for piano and cello by Beethoven. Beethoven's sonatas embrace the three supposed periods of his creative life. Gerstein and Isserlis will discuss this remarkable trajectory, with illustrations from Isserlis's recordings with fortepianist Robert Levin. Register here for the free Zoom seminar. LIVE
1 pm ET: Wiener Staatsoper presents Richard Strauss's Salome. Conductor: Michael Boder, director: Boleslaw Barlog. With Lise Lindstrom, Michael Volle, Waltraud Meier, and Herwig Pecoraro. Production from January 2020. Register for free and view here. **
1 pm ET: Royal Stockholm Philharmonic presents Lied Concert. Soprano Cornelia Beskow, mezzo-soprano Katija Dragojevic, and pianist Magnus Svensson perform music by Gösta Nystroem, Alma Mahler, Elgar, and Britten. View here.
2 pm ET: Pierre Boulez Saal presents Thomas Hampson. The American baritone is joined by long-time collaborator Wolfram Rieger to perform Schubert settings of Goethe, Seidl, and Heine, among others, and contrasts them with lesser known works by some of the composers he drew inspiration from and conversely those who were inspired by him. The concert will be followed by an interactive Q&A. View here and on demand for 30 days.
2:30 pm ET: Philharmonie de Paris presents Orchestre de Paris plays Boulez, Debussy & Ravel. Ludovic Morlot conducts the orchestra and the Accentus choir with soloists Pierre-Laurent Aimard, Christel Loetzsch, and Richard Wilberforce in a program that includes Boulez's Le Soleil des Eaux, Debussy's La Mer, and Ravel's Concerto for the Left Hand. View here. LIVE
7:30 pm ET: Nightly Met Opera Streams presents Bellini's Norma. Starring Sondra Radvanovsky, Joyce DiDonato, Joseph Calleja, and Matthew Rose, conducted by Carlo Rizzi. From October 7, 2017. View here and for 24 hours. **
8 pm ET: Third Coast Percussion presents In With The New. The group will perform repertoire that's new to them, share news about upcoming projects, engage in their signature live Q&A with viewers after the show, and more. Program: Press by Devonté Hynes, Halo by Joe W. Moore III, Kodama by Rodrigo Bussad, and Death Wish by Gemma Peacocke. View here.
Thursday, January 21
12 pm ET: Boston Symphony Orchestra presents BSO Online. Thomas Wilkins leads a BSO program with selections from Kareem Roustom's Aleppo Songs, Piazzolla's Aconcagua, Concerto for Bandoneón and Orchestra (with soloist Hector de Curto), and Hindemith's Mathis der Maler. Also on the program is a chamber music performance of Carlos Simon's Warmth from Other Suns, featuring Victor Romanul and Wendy Putnam, violins, Mary Ferrillo, viola, and Adam Esbensen, cello. $100 donation required. View here for 30 days.
12 pm ET: Vocal Arts DC presents Davóne Tines's MASS. The bass-baritone's program uses the Catholic mass to explore the diversity of the human experience. MASS weaves together a wide range of music spanning centuries and diverse traditions—from arias by Bach, to works by long-neglected 20th-century composers Margaret Bonds, Julius Eastman, and Moses Hogan, to new music by Caroline Shaw and Tyshawn Sorey. Pianist Adam Nielsen accompanies. Tickets $20. View here until February 1.
1 pm ET: Wiener Staatsoper presents Tchaikovsky's Swan Lake. Conductor: Alexander Ingram, Choreography: Rudolf Nureyev. With Olga Esina, Vladimir Shishov, Eno Peci, Soloist and Corps de ballet of Wiener Staatsballetts. Production from March 2014. Register for free and view here.
1 pm ET: IDAGIO presents Thursdays with Thomas. Join Thomas Hampson in conversation with colleagues, friends, and other major personalities of the classical music world. Every week, Thomas invites a special guest for a discussion around their favorite piece of the classical repertoire. View here and on demand.
1 pm ET: Royal Stockholm Philharmonic presents Alan Gilbert conducts Schumann. RSPO conductor laureate Alan Gilbert conducts Ravel's Une barque sur l'océan, Schumann's Violin Concerto in D minor with soloist Frank peter Zimmermann, Lili Boulanger's D'un matin de printemps, and Roussel's Bacchus et Ariane Suite No. 2. View here.
2 pm ET: London Symphony Orchestra presents Berg & Schumann. Sir Simon Rattle leads the LSO in Berg's Violin Concerto, performed by Leonidas Kavakos, and Schubert's Symphony No, 9, The Great. View here for seven days.
2 pm ET: Medici.tv presents Hrusa conducts Brahms, Bartók & Dvorák. Violinist Patricia Kopatchinskaja and the Bamberg Symphony perform from the Joseph Keilberth Saal. Jakub Hrusa conducts a program which includes works by Brahms and Bartók—his Second Violin Concerto—and ends with Dvorák's Symphony No. 6. View here. LIVE
2:30 pm ET: Philharmonie de Paris presents Ensemble Intercontemporain plays Boulez. Léo Warynski leads Ensemble Intercontemporain and Les Métaboles in a program that includes Boulez's Cummings ist der Dichter and Palestrina's Stabat Mater. View here. LIVE
7:30 pm ET: Nightly Met Opera Streams presents Verdi's La Traviata. Starring Natalie Dessay, Matthew Polenzani, and Dmitri Hvorostovsky, conducted by Fabio Luisi. From April 14, 2012. View here and for 24 hours.
7:30 pm ET: Chamber Music Society of Lincoln Center presents Mainstage: Young Ideas/Parting Thoughts. Archival performances of Beethoven's Sonata in E-flat for Violin and Piano, Op. 12, No. 3, Dutilleux's Sonatine for Flute and Piano, and Mendelssohn's String Quartet in F minor, Op. 80. With Anne-Marie McDermott and Juho Pohjonen, pianos, Ida Kavafian, violin, the Schumann Quartet, and Ransom Wilson, flute. View here and on demand for one week.
7:30 pm ET: Detroit Symphony Orchestra presents Vivaldi & Handel. Triple threat conductor, violinist, and countertenor Dmitry Sinkovsky leads the DSO in performances of works by Handel and Vivaldi. Program includes Handel's Music for the Royal Fireworks and Vivaldi's Concerto con Multi Strumenti in D, RV 563a, per la Solennità di San Lorenzo. Tickets $12. View here.
8:30 pm ET: Tulsa Opera presents Tobias Picker & Patricia Racette. Composer and Tulsa Opera Artistic Director Tobias Picker explores the past, present, and future of opera, including in the context of COVID-19 and its impact on the performing arts. In this episode, live-streamed via Zoom, Picker speaks with American soprano Patricia Racette, whose career spanning more than three decades has taken her to the opera houses and concert stages of the world. Register and view here and on demand.
10:30 pm ET: Seattle Symphony presents Bach Oboe Concerto. Seattle Symphony Principal Oboe Mary Lynch is the soloist for Bach's Oboe Concerto in F. Principal Trumpet David Gordon and Associate Principal Trumpet Alexander White perform Vivaldi's Concerto for Two Trumpets. Groeg's Holberg Suite completes the program. Lee Mills conducts. View here.
Friday, January 22
10:30 am ET: Wiener Staatsoper presents Verdi's Nabucco. Conductor: Marco Armiliato, director: Günter Krämer. With Plácido Domingo, Freddie De Tommaso, Riccardo Zanellato, and Anna Pirozzi. Register for free and view here. LIVE
12 pm ET: Curtis Opera Theatre presents Opera On Demand. Ten duet scenes from Italian operas reimagined for the virtual stage. Students have prepared and recorded performances using green screens in their own living spaces and production staff have edited video together so it appears two singers are interacting on the same stage. Unlike video projects that resemble a concert over Zoom, the scenes are conceived, directed, and performed as if both singers were in the same room. Scott Skiba directs with music directors Grant Loehnig and Miloš Repický. Register and view here until February 1.
2 pm ET: DG Stage presents Signum Saxophone Quartet: Echoes. From the Berlin Meistersaal, Echoes features arrangements of works by composers including Dowland, Albinoni, Fauré, Hindemith, Philip Glass, and Peter Gregson. Cellist Hila Karni joins the quartet for Max Richter's On the Nature of Daylight, while also in the mix are Guillermo Lago's Sarajevo, Peteris Vasks's Songs of Love, and an arrangement of Joep Beving's Ab Ovo. Tickets Euro 9.90. View here.
2 pm ET: Concertgebouworkest presents Chung conducts Sibelius & Brahms. Myung-whun Chung conducts the Concertgebouw Orchestra in Sibelius's Violin Concerto, with concertmaster Liviu Prunaru as soloist, followed by Brahms's Symphony No. 4. View here and for one week.
2:30 pm ET: Only Stage presents All About Bach! Festival: Jan Bartos. The pianist plays Bach's Chromatic Fantasy and Fugue in D minor BWV 903 and French Suite No. 6 in E BWV 817. View here.
2:30 pm ET: Philharmonie de Paris presents Rouvali conducts Dessner, Sibelius & Tchaikovsky. Santtu-Matias Rouvali conducts the Orchestre Philharmonique de Radio France in Sibelius's Sixth Symphony, Tchaikovsky's Sixth Symphony, Pathétique and music by Bryce Dessner. View here. LIVE
6 pm ET: Philadelphia Chamber Music Society presents Jason Vieaux & Clancy Newman. Grammy-winning guitarist Jason Vieaux and cellist Clancy Newman perform Gnattali's Sonata for Guitar and Cello, De Falla's Canciones Populares Españolas, Barrios's Waltz in G, Op. 8, No. 4, and Bellafronte's Suite No. 1 for Guitar and Cello. View here and for 72 hours. LIVE
7:30 pm ET: Nightly Met Opera Streams presents Puccini's Tosca. Starring Hildegard Behrens, Plácido Domingo, and Cornell MacNeil, conducted by Giuseppe Sinopoli. From March 27, 1985. View here and for 24 hours.
7:30 pm ET: Detroit Symphony Orchestra presents Beethoven's Second Romance. Dmitry Sinkovsky leads a program that begins with music from Beethoven's early career and travels back to the Baroque, with a stop in Prague, where Mozart's Symphony No. 38 received its premiere. Tickets $12. View here.
7:30 pm ET: Pittsburgh Symphony Orchestra presents For the People Part I. Five female composers (Jennifer Higdon, Libby Larsen, Jessie Montgomery, Florence Price, and Joan Tower) in a program of works all written in the past 100 years by American composers. Andrés Franco conducts with Guest Concertmaster Alexi Kenney. View here and for six months.
8 pm ET: Opera Philadelphia presents Soldier Songs. Composer and librettist David T. Little's Soldier Songs is based on interviews with veterans of five wars. The piece combines elements of theater, opera, rock-infused concert music, and animation to explore the perceptions versus the realities of the Soldier, the exploration of loss and exploitation of innocence, and the difficulty of expressing the truth of war. In a new production imagined for the screen, baritone Johnathan McCullough plays the Soldier. Tickets from $25. View here and on demand.
8:30 pm ET: Houston Grand Opera presents Giving Voice. After the sold-out concert at the Wortham last year—Giving Voice: Lawrence Brownlee and Friends Sing Opera, Gospel, and Standards—tenor Brownlee returns with an all-Black group of opera stars for a second, digital installment of this celebration of diverse voices. Register and view here.
11 pm ET: Old First Concerts presents Samantha Cho plays Debussy, Grieg & Tailleferre. The pianist plays Debussy's Images and Grieg's youthful Sonata in E minor alongside a selection of less-often heard works by Germaine Tailleferre. Tickets $20. View here.
Saturday, January 23
11 am ET: Budapest Festival Orchestra presents Back to Nature: Chamber Music on Period Instruments. BFO musicians play music by Merula, Cima, Cazzati, Gabrieli, Piccinini, Falconieri, Vivaldi, Quantz, and Bach. View here.
12 pm ET: Houston Symphony presents Dan Brown's Wild Symphony. Composed to accompany the author's new children's book, Dan Brown's whimsical orchestral work Wild Symphony takes young listeners on a journey to meet animal friends such as "Maestro Mouse" and "Bouncing Kangaroo." Houston Symphony and conductor Robert Franz premiere excerpts from Wild Symphony onstage. Tickets $20. View here. LIVE
1 pm ET: San Francisco Opera presents Saint-Saëns's Samson et Dalilah. From 2007, director Sandra Bernhard stages Nicolas Joël's SFO production featuring set designs of Biblical Gaza. The opera is led by tenor Clifton Forbis and mezzo-soprano Olga Borodina. Juha Uusitalo sings the High Priest of Dagon, Eric Jordan is Abimelech, and Oren Gradus is an Old Hebrew. Patrick Summers conducts the San Francisco Opera Orchestra and Chorus. View here until midnight the following day.
1 pm ET: Wiener Staatsoper presents Berg's Lulu. Conductor: Ingo Metzmacher, director: Willy Decker. With Agneta Eichenholz, Bo Skovhus, Charles Workman, Angela Denoke, and Franz Grundheber. Production from December 2017. Register for free and view here. **
1 pm ET: Berliner Philharmoniker Digital Concert Hall presents Gatti conducts Shostakovich & Stravinsky. Daniele Gatti Stravinsky's Apollon musagète (revised version from 1947) and Shostakovich's Symphony No. 5 in D minor, op. 47. Tickets EUR 9.90. View here. LIVE
1 pm ET: OperaVision presents Bellini's Il Pirata. Il Pirata marked the beginning of the young Bellini's collaboration with librettist Felice Romani and of an international career as dazzling as it was short. Abandoning the tradition of happy endings, the gothic plot culminates in one of the first 'mad scenes' in the history of opera. The Novaya Opera Orchestra is conducted by Andrey Lebedev and Victoria Agarkova's production stars Irina Kostina as Imogene, Dmitry Korchak as Gualtiero, and Pavel Yankovsky as Ernesto. View here for six months. LIVE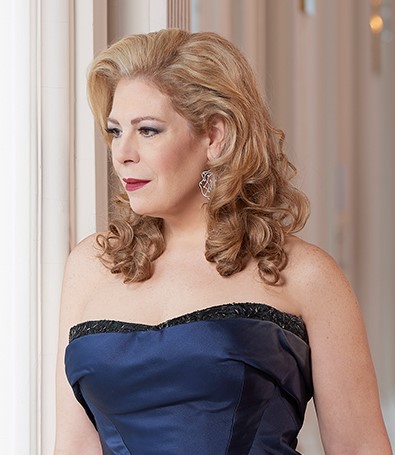 1 pm ET: The Metropolitan Opera presents Sondra Radvanovsky & Piotr Beczala. In a concert from the historic Stadthalle in Wuppertal, Germany, the soprano and tenor perform popular arias and duets from some of the classic operas they've performed at the Met and other world stages, including Andrea Chénier, La Forza del Destino, Luisa Miller, and Rusalka. The singers will be accompanied by Vincenzo Scalera on piano Shot with multiple cameras, the concert will be linked by satellite to New York City and hosted by soprano Christine Goerke. Pay-per-view tickets are $20 and available here. The concert can be viewed for 12 days. LIVE
5 pm ET: Paracademia presents The Atterbury House Sessions: Sybartite5. Violinist Lara St. John curates the first in a series of 11 chamber music concerts celebrating the 150th anniversary of New York's iconic Atterbury House. This week, Sybarite5. View here.
7 pm ET: Detroit Chamber Winds & Strings presents John Luther Adams's Sila.
In collaboration with the Great Lakes Chamber Music Festival and the Cranbrook Center for Collections and Research, three Detroit-based organizations have recorded a live presentation of John Luther Adams's outdoor work Sila: The Breath of the World. The 32 musicians performed spread across the Cranbrook Upper School Quadrangle (the Cranbrook Education Community is a designated historic landmark). Register and view here.
7:30 pm ET: Nightly Met Opera Streams presents Massenet's Manon. Starring Lisette Oropesa, Michael Fabiano, Carlo Bosi, Artur Rucinski, Brett Polegato, and Kwangchul Youn, conducted by Maurizio Benini. From October 26, 2019. View here and for 24 hours.
7:30 pm ET: Peoples' Symphony presents Zukerman, Forsyth & Wosner. Resident Artist Shai Wosner plays an all-Beethoven program with Amanda Forsyth and Pinchas Zukerman. Continuing the celebrations of Beethoven's 250th birthday, they perform three seminal chamber works: the Violin Sonata in F, Op. 24, Spring Sonata, the Cello Sonata in A, Op. 69, and the Kakadu Variations, Op. 121A for piano trio. Tickets $50 for a five-concert series. View here.
8 pm ET: Rhode Island Philharmonic presents All Mozart. David Robertson conducts members of the orchestra and pianist Orli Shaham in Mozart's Serenade No.10 in B-flat, Gran Partita, and the Quintet in E flat for Piano and Winds, K. 452. The performance is limited to a small live audience in accordance with Rhode Island state COVID laws. Tickets $40. View here. LIVE
8 pm ET: Juventas presents Walcott Humphrey Center Stage. The third of five concerts focusing on the work of living composers. Program: Theresa Martin's Paragon, JacobTV's Garden of Love, James Lee III's Ad Anah, Jörg Widmann's Fantasie, Amanda Harberg's Sonata for Clarinet and Piano, Nikola Resanovic's alt.music.ballistix, Michael Markowski's Unfamiliar Territory. With Wolcott Humphrey, clarinet and Julia Scott Carey, piano. Join at 7 pm ET for a pre-concert composer conversation. View here.
8 pm ET: A Far Cry presents Horizons. Lei Liang's Gobi Gloria captures the dance and rituals of Southern Mongolia. John Luther Adams's The Wind in High Places represents the Aeolian harp strummed by the winds of the Alaskan tundra, with the quartet treated as a shimmering 16-string instrument. Finally, Thomas Sleeper's String Quartet No. 2 reflects the sound and pulse in the natural world including a moment of stillness in the second movement joined by the murmurs of a Tibetan prayer bowl. View here.
8:30 pm ET: Austin Chamber Music Center presents Jupiter String Quartet. A new series of virtual events opens with a program entitled Inspiration recorded exclusively for this event at the University of Illinois in Champaign-Urbana, where the ensemble has been artists-in-residence since 2012. The program includes Michi Wiancko's To Unpathed Waters, Uncharted Shores alongside Mendelssohn's Quartet in E-flat, Op. 12. The musicians will join the audience before the performance for a live chat. Tickets are pay what you can up to $40. View here.
9 pm ET: Boulder Philharmonic presents Zuill & Zwilich. Cellist Zuill Bailey performs Pulitzer Prize-winning composer Ellen Taaffe Zwilich's new concerto, written for Zuill, a work full of playful jazz and pop influences. The program also includes Rachmaninov's Vocalise, (Zuill Bailey, cello and Michael Butterman, piano), and Schubert's Trout Quintet. Tickets $40. View here until February 6. LIVE
Sunday, January 24
11 am ET: Budapest Festival Orchestra presents Music of the Future: Contemporary Chamber Music. BFO musicians play music by Gyula Fekete, Toru Takemitsu, David Maslanka, Csaba Szabó, and György Selmeczi. View here.
1 pm ET: Wiener Staatsoper presents Wagner's Das Rheingold. Conductor: Adam Fischer, director: Sven-Eric Bechtolf. With Tomasz Konieczny, Norbert Ernst, Jochen Schmeckenbecher, Herwig Pecoraro, Michaela Schuster, and Caroline Wenborne. Production from January 2016. Register for free and view here.
4 pm ET: Our Concerts Live presents Concertos from the Inside: Week 3, Tchaikovsky. In a 24-part series, Rachel Barton Pine performs the entire solo violin part of the greatest violin concertos unaccompanied and shares her perspective on each, explaining how she prepares and how her performance connects to the work's historical and musical context. The series is geared towards career violinists, advanced students, violin teachers, and violin aficionados. Tickets $20. Register and view here.
7 pm ET: Opera Saratoga presents America Sings. Damien Sneed returns to Opera Saratoga with baritone Justin Austin, an alum of Opera Saratoga's Young Artist Program. Details to be announced. View here.
7:30 pm ET: Rochester Philharmonic Orchestra presents Delfs & Beethoven. Andreas Delfs conducts a concert opening with Anna Clyne's Restless Oceans, inspired by poet Audre Lorde's Woman Speaks. Franz Schreker's Chamber Symphony and Beethoven's First Symphony complete the program. Tickets $25. View here until March 10.
7:30 pm ET: Met Opera Streams presents Wagner's Die Walküre. Starring Deborah Voigt, Eva-Maria Westbroek, Stephanie Blythe, Jonas Kaufmann, Bryn Terfel, and Hans-Peter König, conducted by James Levine. From May 14, 2011. View here and for 24 hours.
Monday, January 25
1 pm ET: Wiener Staatsoper presents Wagner's Die Walküre. Conductor: Adam Fischer, director: Sven-Eric Bechtolf. With Christopher Ventris, Ain Anger, Waltraud Meier, Linda Watson, and Tomasz Konieczny. Production from January 2016. Register for free and view here.
1 pm ET: Copland House presents Underscored: Jalbert's Crossings. Vermont-born composer Pierre Jalbert was inspired by the migration of people voyaging into new and unfamiliar places and traces Jalbert's own French-Canadian-American ancestry. Crossings is built around a folk song from Quebec, Quand j'ai parti du Canada (When I Left Canada), which is deconstructed, reinterpreted, reassembled, and reordered in inventive and unexpected ways. The program features a complete performance of the work, preceded by an introductory conversation with the composer, and followed by a live Q&A with viewers. Register and view here.
2:15 pm ET: Bayerischen Staatsoper presents Mehta conducts Scubert & Strauss. Zubin Mehta conducts the Bayerisches Staatsorchester in Schubert's Symphony in C D 944, The Great, and Richard Strauss's Four Last Songs, sung by soprano Camilla Nylund. Tickets Euro 4.90. View here.
7 pm ET: 92Y presents Anxiety in the Arts with Jonathan Biss and Stephen Fry. Pianist and musical thinker Jonathan Biss joins British polymath Stephen Fry to discuss Biss's new Audible Original Unquiet: My Life with Beethoven. In Unquiet, Biss outlines both the treasures Beethoven's music has gifted him and the self-doubt and anxiety that went along with it. His greatest pleasure in life was ultimately also responsible for imprisoning him. Fry and Biss discuss their personal experiences as entertainers, and the extent to which mental health issues might have contributed to—and been exacerbated by—their decisions to become performers. Tickets $15. View here.
7:30 pm ET: Met Opera Streams presents Mozart's Don Giovanni. Starring Hibla Gerzmava, Malin Byström, Serena Malfi, Paul Appleby, Simon Keenlyside, Adam Plachetka, Matthew Rose, and Kwangchul Youn, conducted by Fabio Luisi. From October 22, 2016. View here and for 24 hours.
7:30 pm ET: Chamber Music Society of Lincoln Center presents Musical Heritage: Oscar Shumsky. Founding Emerson String Quartet member Philip Setzer, who was a student of Shumsky, hosts an evening devoted to the legendary violinist (1917-2000). Fellow Shumsky students Ida Kavafian and Eugene Drucker, Shumsky's recording producer Eric Wen, with special guest Eric Shumsky, the violinist's viola-playing son, join for an in-depth exploration of Shumsky's life. View here and on demand for one week.
Artists and Organizations Offering Free Content
The following are all accessible during the coronavirus pandemic:
Academy of Ancient Music
The most listened-to period instrument ensemble, directed by Richard Egarr, has made a number of streams available on its website. Guest artists include Louise Alder, soprano, Nicola Benedetti, violin, Mary Bevan, soprano, David Blackadder, trumpet, Iestyn Davies, countertenor, Tim Mead, countertenor, Christopher Purvis, bass, and Tenebrae, directed by Nigel Short. Explore here.
American Opera Project
First Glimpse is a video album of 20 songs created during the first year of AOP's 2019-21 fellowship program, Composers & the Voice. Originally intended as a live concert, the videos will be released every Friday beginning October 23 and for the following six weeks. The composers are Alaina Ferris, Matt Frey, Michael Lanci, Mary Prescott, Jessica Rudman and Tony Solitro, with librettists Amanda Hollander and Jonathan Douglass Turner. Videos will be free for one week following their release, after which they will be available to rent or purchase, individually or as a full set through AOP's Website. Explore here.
American Symphony Orchestra
American Symphony Orchestra releases weekly recordings from its archives with content alternating between live video recordings of SummerScape operas and audio recordings from previous ASO concerts. Ethel Smyth's The Wreckers, Richard Strauss's Die Liebe aus Danae, and Korngold's Das Wunder der Heliane, all conducted by Leon Botstein, are all highly recommended and available now.
Apollo's Fire: Music for the Soul
The Cleveland-based baroque orchestra founded by Artistic Director Jeannette Sorrell is offering a series of video streams entitled "Music for the Soul." New episodes are posted here.
Baltimore Symphony Orchestra
BSO Sessions continues to bring the stories of BSO musicians, conductors, and collaborators to life through a documentary-style narrative. In addition to the first three episodes currently available upcoming episodes celebrate a responsible return of winds and brass to the stage, as well as the series debut of Music Director Marin Alsop and Principal Pops Conductor Jack Everly. Assistant Conductor Jonathan Rush interviews film composer Michael Abels and Artistic Partner Wordsmith joins in a special holiday episode with a new rendition of "'Twas the Night Before Christmas." Explore here.
Bard SummerScape & Fisher Center
Archival works highlight Bard's wealth and breadth of programming, including performances from its SummerScape Opera and BMF archives. Recent include Bard SummerScape's 2011 production of Strauss's rarely performed Die Liebe der Danae and last year's Daniel Fish directed staging of Michael Gordon's Acquanetta. More details here.
Bergen Philharmonic

Bergen's outstanding orchestra enjoys national status in Norway with a history dating back to 1765. Its free streaming service was established as part of 250-year anniversary in 2015 and offers a fine selection of works from its concert series in Grieghallen, Bergen. Conductors include Edward Gardner, James Gaffigan, Thierry Fischer, David Zinman, Neeme Järvi, Jukka Pekka Saraste, Nathalie Stutzmann, and Christian Zacharias with soloists including Leif Ove Andsnes, Lise Davidsen, Truls Mørk, Mari Eriksmoen, and Freddy Kempf. Well worth exploring here.
Carnegie Hall
More than 200 teen musicians hailing from 41 states across the US came together in July 2020 as an online virtual community to form three musical ensembles: the National Youth Orchestra of the United States of America (NYO-USA), NYO2, and NYO Jazz. All three ensembles recorded exuberant virtual performance videos during the residency, directed by Emmy Award-winner Habib Azar. The first four videos—Valerie Coleman's Umoja by the musicians of NYO-USA; a unique adaptation of Grieg's Morning Mood by NYO2; and Thad Jones's Cherry Juice and Wycliffe Gordon's We're Still Here by NYO Jazz—are now available for viewing. Explore here.
The Cleveland Orchestra
Concert videos filmed at restaurants, shops, Cleveland Clinic, and iconic locations throughout Greater Cleveland will be released weekly on social media starting November 23. Cleveland Orchestra assistant concertmaster Jessica Lee and her colleagues created these videos to share the power of music with healthcare workers, patients, and the community affected by the COVID-19 pandemic. This series of 7-10 videos will be released weekly as part of the Music Medicine Initiative: The Power of Music for Health and Well-Being, a community collaboration between The Cleveland Orchestra and Cleveland Clinic's Art + Design Institute. Explore here.
Cliburn Kids
The Cliburn launches its expanded, robust online music education program for elementary-school students. Created as a resource for school districts, teachers, and parents, the initiative includes 27 lesson plans to date, each with a seven- to ten-minute video, and corresponding individual and class activities that meet objectives of the Texas Essential Knowledge and Skills (TEKS). New episodes and lesson plans are released every Tuesday of the 2020–2021 school year for a total of more than 50 by May 2021. Explore here.
Daniel Hope: Hope@Home, Next Generation
With the return of restrictions throughout Europe, violinist Daniel Hope is once again playing live from his Berlin living room every evening. As he explains: "I think it is important now for established artists to use their influence to help the next generation, so that they have a chance in the future. That is why I have decided to restart Hope@Home, as well as to reconnect to people in lockdown around the world. Selected mentors will present young, freelance artists. All artists will receive a fee for their performances, and we will adhere to all COVID-19 regulations." Mentors—performing either virtually or live—include Christoph Eschenbach, Anne-Sophie Mutter, Renaud Capuçon, Sol Gabetta, and Sarah Willis. View here with episodes archived here.
Detroit Symphony Orchestra
The Detroit Symphony Orchestra has made its webcast archive available for free. The collection features 200+ works going back three years, and highlights include Leonard Slatkin conducting John Luther Adams's climate change-inspired Become Ocean from 2019, several world premieres, and a host of bite-sized encores. Explore here.
Deutsche Grammophon Yellow Lounge
The German classical music giant is streaming Yellow Lounge broadcasts from its archives. Recent additions include clarinetist Andreas Ottensamer, pianists Alice Sara Ott and Chihiro Yamanaka, and cellist Mischa Maisky. Performances are broadcast in rotation, one video at a time, adding a new performance every few days. DG communicates the start of each new performance by newsletter at the start of each week. To keep updated sign up here.
Finnish National Opera
Finnish National Opera presents Stage24, a series of streamed archived performances on its website, which are then available for the next six months. Recent content includes a staged version of Sibelius's Kullervo, Stravinsky's The Rake's Progress, Caspar Holten's staging of Wagner's Der Fliegende Holländer with Camilla Nylund, and Christoff Loy's Tosca. An excellent company and some interesting and original work worth investigating. Explore here.
Handel and Haydn Society
Boston's Handel and Haydn Society has created the H+H Listening Room where you can hear and watch H+H performances including Mozart's Requiem, Handel's Messiah, and Purcell's Dido and Aeneas filmed at New York's Met Museum. There are also more than a dozen videos of musicians performing from their homes, a special video of principal flutist Emi Ferguson teaching people how to make their own baroque flute, and a new podcast called "Tuning In". In the first episode Principal Cellist Guy Fishman interviews Artistic Director Harry Christophers about Bach's St. Matthew Passion. Explore here.
Kennedy Center: Arts Across America: Winter Traditions
As millions across the United States will be altering traditions to keep friends, loved ones, and neighbors safe, the Kennedy Center will be sharing performances from across the country and numerous communities and cultures to celebrate traditions held dear. Highlights include performances from Renée Fleming, Amythyst Kiah, Broadway's Austin Colby, Caroline Bowman, and Nicholas Ward, Los Texmaniacs celebrating their own Texas miracle following a battle with COVID-19, and D.C. favorites DuPont Brass, Aaron Myers, and Chuck Redd. Explore Winer Traditions here and other Kennedy Center regular online releases via their digital stage here.
La Scala/RAI
Italy's RAI presents five productions from La Scala Milan including the world premiere of Kurtág's Fin de Partie, Daniel Barenboim conducting Götterdämmerung, Lisette Oropesa in Verdi's I Masnadieri, Montedervi's Orfeo conducted by Rinaldo Alessandrini, and Les Vêpres Siciliennes conducted by Daniele Gatti. A wide range of concerts are also available. Explore and register here.
Leipzig Gewandhaus
Instead of the traditional New Year's Eve Concert with the Gewandhausorchester playing Beethoven's Ninth Symphony, Piano Duo Shalamov played Liszt's version for two pianos, here expanded with Beethoven's original timpani part played by Gewandhaus timpanist Tom Greenleaves. The performance is available here.
Les Arts Florissants
Les Arts Florissants's annual Festival in Thiré, France included a series of 10- to 15-minute "Meditation" concerts recorded earlier this summer. Now available to enjoy online, the Meditations include performances by students of Juilliard's Historical Performance program in the spirit of their annual participation in the Festival. View here.
Lincoln Center Lincoln Center Passport to the Arts
A variety of virtual classes, performances, and bonus content designed for children, teens and adults with disabilities and their families. Offerings include programs with Chamber Music Society of Lincoln Center, Jazz at Lincoln Center, the Metropolitan Opera Guild, New York City Ballet, the New York Philharmonic, and The New York Public Library for the Performing Arts. Families can attend dance, music or drama classes, watch exclusive performances, check out behind-the-scenes content, and even meet performers—all from their homes. Families will receive pre-visit materials, including social narratives, photos, and links before each program. All programs take place via Zoom. Register here.
Los Angeles Chamber Orchestra
LACO AT HOME offers streaming and on demand performances, including a full showing of the orchestra's critically acclaimed West Coast premiere of Dark with Excessive Bright for double bass and strings by LACO Artist-in-Residence Missy Mazzoli. View streaming here and on demand here.
Los Angeles Master Chorale
Videos recorded as part of the "Offstage with the Los Angeles Master Chorale" series from April 24 to June 19 included interviews conducted by Artistic Director Grant Gershon and Associate Conductor Jenny Wong with notable performers—including special guests Reena Esmail, Morten Lauridsen, Anna Schubert, Peter Sellars, Derrick Spiva—as well as Master Chorale singers. Available on demand here.
Metropolitan Opera Live In Schools
The Metropolitan Opera's HD Live in Schools program has launched a new series for the 2020–21 school year, creating cross-disciplinary educational opportunities across the country. For the 2020–21 school year, students and teachers will receive free subscriptions to the Met Opera on Demand service, with a catalogue of more than 700 Live in HD presentations, classic telecasts, and radio broadcasts. Ten operas have been selected for the HD Live in Schools program, and will be presented in five educational units, with two thematically paired operas per unit. The series opens with Beethoven's Fidelio and Donizetti's La Fille du Régiment (September 28–October 16), both of which explore the intersection of music and politics. The Met will continue to offer teachers HD Live in Schools Educator Guides and access to Google Classroom materials that can be adapted for virtual learning lesson plans. In addition, the Met's National Educators Conference will be hosted on a virtual platform this year and take place on five Saturdays throughout the 2020–21 school year. Two conferences, scheduled for October 10, 2020, and October 17, 2020, will also feature live conversations with Met artists. More information here.
Minnesota Orchestra
Minnesota Orchestra at Home shares video, audio, and educational materials through the categories of Watch, Listen and Learn, including videos from the orchestra's archives and newly created "mini-concerts" directly from the homes of Orchestra musicians. Explore and view here.
National Sawdust Digital Discovery Festival, Volume One
With more than 65 events, featuring over 100 artists premiering in a four-month span, National Sawdust Digital Discovery Festival: Volume One was a bright spot in NYC's post-COVID live music world. Featuring post-COVID performances from Robert Wilson, Julian Lage, Tyondai Braxton, Emel Mathlouthi, Matthew Whitaker, Dan Tepfer, Ashley Bathgate, Emily Wells, Brooklyn Rider, Joel Ross, Conrad Tao, Andrew Yee, and Lucy Dhegrae, and recently recorded Masterclasses with Tania León, Ted Hearne, Vijay Iyer, Jamie Barton, Lawrence Brownlee, Trimpin, and Lara St. John. Archival performances include David Byrne, Lara Downes and Rhiannon Giddens, and Ryuichi Sakamoto. Explore here.
New World Symphony
The New World Symphony presents a web-based series called NWS Archive+. Michael Tilson Thomas moderates discussions with NWS Fellows, alumni, guest artists, and visiting faculty about archived recordings. Performances will be available here. NWS Fellows also play live, informal chamber music concerts from their homes in Miami Beach and broadcast via Facebook Live. In addition, the NWS online archive contains master classes, tutorials and town halls, which can be found here. Finally, for the past 10 years, the Fellows have performed one-hour concerts for local school children. These concerts and preparatory material will be available free to students and parents. NWS Educational concerts can be found here.
Opera Australia
OA | TV: Opera Australia on Demand is the Sydney-based company's new digital space. Alongside the world's largest collection of Dame Joan Sutherland on video, OA will offer exclusive content from the OA back catalogue, productions from Handa Opera on Sydney Harbour, and a new series of chat show-style interviews conducted by AD Lyddon Terracini. The first posted full show is Sutherland in The Merry Widow, and the fileted aria's in the section labelled "The Best of Dame Joan Sutherland" are even better. View here.
Opéra National de Paris
The Palais Garnier and Bastille Opera have made their digital stage, "The 3e Scène," free. The platform is a pure place of artistic adventure and exploration, giving free rein to photographers, filmmakers, writers, illustrators, visual artists, composers, and choreographers to create original works. Visit here. Some of Opéra National de Paris's productions are accessible on the company's Facebook Page. In addition, Octave, the Paris Opera's online magazine, is posting articles, videos, and interviews here.
Opera North
One of Britain's most respected smaller opera companies, Opera North has put its acclaimed semi-staged concerts of Wagner's epic Ring Cycle online. "Beg, borrow, or be like Wotan and steal a ticket for this show," said the UK's Times of Das Rheingold. "You'd be lucky to hear as good at Bayreuth," said The Telegraph of Die Walküre. Richard Farnes proves a seriously impressive Wagner conductor. Watch here.
Opera Saratoga
As cases of the coronavirus continue to increase across the country, Opera Saratoga has converted its popular in-school OPERA-TO-GO tour into an interactive, virtual program to ensure safety while continuing to provide a unique and enriching arts education experience. The new program will feature the digital world premiere of The Selfish Giant, a new one-act opera based on the short story by Oscar Wilde, written by Brazilian-American composer Clarice Assad and librettist Lila Palmer, commissioned by American Lyric Theater in New York City specifically for young audiences. Register here before January 22.
OperaVision
OperaVision offers livestreams of operas available for free and online for six months. Previous offerings include Barrie Kosky's visually spectacular Moses und Aron, David McVicar's superb Die Entführung aus dem Serail from Glyndebourne, and Deborah Warner's thoughtful Death in Venice for English National Opera. View upcoming and past content here.
Rotterdam Philharmonic Orchestra: Beethoven at Home
RPO bring Beethoven to living rooms in December playing all nine symphonies. The musicians will perform the first eight symphonies in small chamber ensembles varying from a string sextet to a 15-strong brass ensemble. The Grand Finale takes place on New Year's Eve: Beethoven's Ninth, played by the full orchestra with chorus and soloists. View here.
Orli Shaham Bach Yard Playdates
Pianist Orli Shaham brings her acclaimed interactive concert series for kids to the internet. Bach Yard Playdates introduces musical concepts, instruments, and the experience of concert-going to a global audience of children and their families. A number of 10-minute episodes are already available for on-demand streaming. Programs and performances range from Bach's Two-Part Invention to Steve Reich's Clapping Music. Explore here.
The Sixteen Choral Odyssey
Actor Sir Simon Russell Beale, Harry Christophers and The Sixteen have recorded a special, five-part series. A Choral Odyssey explores choral music from across the ages in iconic, relevant surroundings—from Byrd in Elizabeth I's childhood home of Hatfield House, to Purcell in the reconstructed 17th-century theatre of the Sam Wanamaker Playhouse at London's Globe Theatre. With a mix of conversation, music demonstration and performance, these programs reunite Harry Christophers and Simon Russell Beale—a partnership which proved successful in the popular BBC Sacred Music series—and feature performers from The Sixteen. Tickets £10 per episode. View here until March 31.
Sparks & Wiry Cries
2021's songSLAM festival opens virtually on Monday, January 11 at 5 pm ET and continuing with 12 days. The festival will feature 14 emerging composer/performer teams presenting new art song compositions, recorded in November at New York City's Blue Building. In this year's virtual format, audiences can vote-by-text for as little as $1 per vote and the teams to generate the most funds will win cash prizes. One composer will also earn mentorship from Tom Cipullo, and a panel of judges including mezzo-soprano Stephanie Blythe, bass-baritone Eric Owens, composer Reinaldo Moya and Sparks' Co-Artistic Directors Erika Switzer and Martha Guth will choose their favorite composer from the pool of submissions and commission an additional work to be premiered during the 2022 songSLAM festival. After the winners are announced on Friday, January 22 at 9 pm ET, the online festival will conclude with two world-premieres. All performances are free to the public. Explore here.
The Sphinx Organization
Dedicated to transforming lives through the power of diversity in the arts, Sphinx is presenting SphinxConnect 2021: UNITY! online from January 28 to 30. This year's convening features over 70 speakers. Highlights include an opening session with Elizabeth Alexander, Andrew W. Mellon Foundation President, and a closing session with pianist and 2014 Sphinx Medalist Damien Sneed. Panels include: Artful Resilience: How Musicians Innovate in Crisis, Socially Vocal: A Discussion on Race and Identity in the Arts, This is Everyone's Fight: How Philanthropic Institutions Stepped Forth to Support Artists and BIPOC Institutions with speakers including Jenny Bilfield, Clive Gillinson, and Deborah Rutter. Th Digital sessions are interactive, and participants will have opportunities for one-on-one networking with panelists during the three-day conference. Tickets are $150 as well as a "Pay What You Are Able" option to minimize attendance barriers. Explore here.
Trinity Wall Street
New York's Trinity Church Wall Street introduces daily weekday "Comfort at One" (1 pm ET) streaming performances on Facebook with full videos posted here. Tune in for encore performances of favorite Trinity concerts, professionally filmed in HD, along with current at-home performances from Trinity's extended artistic family.
University of Colorado Boulder
University of Colorado Boulder College of Music faculty artists perform with students and colleagues in Faculty Tuesdays, chamber music recitals featuring world premieres alongside classics. Free most Tuesdays from September 2020 through March 2021. Upcoming performers include violinist Harumi Rhodes, violist Richard O'Neill, cellist David Requiro, pianist David Korevaar, harpist Janet Harriman, and more. Explore here.
Vertical Player Repertory: The Constitution
VPR is releasing of a series of videos from Benjamin Yarmolinsky's oratorio The Constitution, a work which played six sold-out live performances in 2019 and was called "an important work," and "uniformly excellent," by Musical America. First up is Voting Rights, which sets the text "The right of citizens of the United States, who are 18 years of age or older, to vote shall not be denied or abridged by the United States, or by any state, on account of age, by reason of failure to pay any poll tax or other tax, on account of sex, on account of race, on account of color, or of previous condition of servitude." Future releases will include The First Amendment (Treason), The Fifth Amendment (Self-Incrimination), The Sixth Amendment (Impartial Jury), The Eighth Amendment (Cruel and Unusual Punishment), The Thirteenth Amendment (Abolition of Slavery), and The Miranda Warning (a world premiere). Explore here.
Voices of Ascension
New York choir Voices of Ascension, which celebrates its 30th anniversary next season, is posting a daily offering of choral beauty on its website. Music is chosen by staff, members of the chorus and orchestra, and listeners. View here.
Warsaw Philharmonic
The Warsaw Philharmonic has made a selection of video recordings available on its YouTube channel. Recent offerings include Saint-Saëns's Organ Symphony and Arvo Pärt's Swansong conducted by Artistic Director Andrzej Boreyko, as well as rarities by Polish composers like Grazyna Bacewicz. It's an excellent orchestra very much in the Eastern European tradition and concerts have been master edited for posting online.
Paid Digital Arts Services
Berlin Philharmonic Digital Concert Hall
The BPO Digital Concert Hall contains over 600 orchestra concerts covering more than ten years, including 15 concerts with the orchestra's new Chief Conductor Kirill Petrenko, interviews, backstage footage. Subscriptions or single tickets available.
Medici TV
Thousands of classical music videos are available by subscription, as well as hundreds of events that are broadcast live for free each year, available for 90 days. Subscriptions cost $83.85 per year but single tickets are also available. www.medici.tv
Pictured: Sondra Radvanovsky
Photo by Michael Cooper

WHO'S BLOGGING


RENT A PHOTO
Search Musical America's archive of photos from 1900-1992.