---
MA's Free Guide to (Mostly) Free Streams, September 7-14
We will be updating this list weekly. Please note that all times are given in U.S. Eastern Time (ET). To calculate in other time zones or counties, British Summer Time (BST) is currently five hours ahead of ET and Central European Time (CET) is currently six hours ahead. U.S. Central Daylight Time (CDT) is one hour behind ET. Mountain Time (MT) is two hours behind ET, while Pacific Time (PT) is three hours behind. Contact editor@musicalamerica.com.
Classical music coverage on Musical America is supported in part by a grant from the Rubin Institute for Music Criticism, the San Francisco Conservatory of Music, and the Ann and Gordon Getty Foundation. Musical America makes all editorial decisions.
---
Monday, September 7

1 pm ET: Berliner Philharmoniker Digital Concert Hall presents Musikfest: Christian Dierstein and Dirk Rothbrust. Over years of research with percussionists Dierstein and Rothbrust, composer Rebecca Saunders has developed a special vocabulary of sounds for percussion. In the second concert of her composer portrait, Dust and Void are presented in new expansive versions alongside a new work for percussion duo. View for free here. LIVE
1 pm ET: Church of Trinity Wall Street presents Comfort at One. From May 2019: The Choir of Trinity Wall Street members Molly Netter, Clifton Massey, Brian Giebler and Jonathan Woody joined the Trinity Baroque Orchestra for Bach's Meine Seel erhebt den Herren, BWV 10, and Johann Friedrich Fasch's Concerto in D for Trumpet, Two Oboes and Strings. View here.
7:30 pm ET: SalonEra presents Classical Salon. Join guests Aisslinn Nosky (violin), Thomas Carroll (clarinet), Allison Monroe (violin), and Yvonne Smith (viola), for music written to be enjoyed in one's living room. Works by Druschetzky, Haydn, Weber, and the Chevalier de Saint-Georges. Suggested donation $10, register and view here.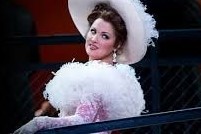 7:30 pm ET: Met Opera Streams presents Massenet's Manon. Starring Anna Netrebko, Piotr Beczala, Paulo Szot, and David Pittsinger, conducted by Fabio Luisi. From April 7, 2012. View here and for 24 hours.
Tuesday, September 8

1 pm ET: Berliner Philharmoniker Digital Concert Hall presents Igor Levit plays Beethoven 4. Levit juxtaposes sonatas from various periods of Beethoven's life, creating rich relationships to enhance the clarity of contours and, thus, the eloquence of Beethoven's music. Program: Piano Sonata No.17 in D minor Tempest, No. 11 in B flat, No. 3 in C, and No. 8 in C minor Pathétique. Register and view for free here. LIVE
5:45 pm ET: International Music Foundation presents Rush Hour Concert: Avalon String Quartet. Blaise Magnière and Marie Wang, violin, Anthony Devroye, viola, and Cheng-Hou Lee, cello play Gabriela Lena Frank's Leyendas: An Andean Walkabout and Dvorák's String Quartet No. 12, Op. 96 American. View here and on demand. LIVE
7:30 pm ET: Nightly Met Opera Streams presents Gounod's Roméo et Juliette. Starring Diana Damrau, Vittorio Grigolo, Elliot Madore, and Mikhail Petrenko, conducted by Gianandrea Noseda. From January 21, 2017. View here and for 24 hours.
Wednesday, September 9
12:30 pm ET: Berliner Philharmoniker Digital Concert Hall presents Musikfest: Ensemble Musikfabrik plays Rebecca Saunders. The composer and Musikfabrik have been working together since 1998. Program includes Either or for two trumpets, Fury II, Concerto for Double Bass and Ensemble, dichroic seventeen for accordion, electric guitar, piano, two percussionists, cello and two double basses, Quartet for Accordion, Clarinet, Piano and Double Bass, and Skin for soprano and 13 instruments. View for free here. LIVE
1 pm ET: IDAGIO presents Classical (R)evolution with Rachel. Join soprano Rachel Fenlon as she explores what breaking the rules, embracing uncertainty, and thinking "outside the box" does for classical music-making. In this episode: tenor Simon Bode. View here.
1:30 pm ET: London Symphony Orchestra presents Simon Rattle conducts Knussen, Turnage & Britten. Oliver Knussen's songs with soprano Lucy Crowe and A Sea Interlude starts the concert. The homage to Knussen continues with a world premiere dedicated to his memory: Last Song for Olly by Mark-Anthony Turnage. The evening ends with tenor Allan Clayton and Richard Watkins on French horn in Serenade for Tenor, Horn and Strings by Benjamin Britten. View here (medici.tv subscription may be required).
7:30 pm ET: Chamber Music Society of Lincoln Center presents Inside Chamber Music Plus. CMS Resident Lecturer Bruce Adolphe explores chamber music works, performed in full by CMS Artists. This week: Britten's String Quartet No. 1 in D, Op. 25 with the Escher Quartet. Excerpts performed by Amphion String Quartet. View here.
7:30 pm ET: Nightly Met Opera Streams presents Berlioz's La Damnation de Faust. Starring Susan Graham, Marcello Giordani, and John Relyea, conducted by James Levine. From November 22, 2008. From April 14, 2018. View here and for 24 hours.
8 pm ET: Midsummer's Music presents Friends of Old: Part I. Anton Reicha and Beethoven were born in the same year, 1770, became friends playing in the Elector's orchestra, and reunited in Vienna in 1901. Their quintets suggest a life-long musical relationship. Here, Reicha's Clarinet Quintet in F, Opus 107 is played by Dan Won clarinet, David Perry and Ann Palen violins, Sally Chisholm viola, and Greg Sauer cello. Hosted by Norman Gilliland of WPR. View here and repeated September 11 at 9 pm ET and September 13 at 4 pm ET.
Thursday, September 10
1 pm ET: Berliner Philharmoniker Digital Concert Hall presents Igor Levit plays Beethoven 5. Levit juxtaposes sonatas from various periods of Beethoven's life to enhance the clarity of contours and, thus, the eloquence of Beethoven's music. Program: Piano Sonata No. 2 in A, No. 7 in D, No. 6 in F, and No. 18 in E flat. Register and view for free here. LIVE
1 pm ET: IDAGIO presents Thursdays with Thomas. Join Thomas Hampson in conversation with colleagues, friends, and other major personalities of the classical music world. Every week, Thomas invites a special guest for a discussion around their favorite piece of the classical repertoire. View here and later on demand. LIVE
7 pm ET: Chamber Music Society of Lincoln Center presents Transcending: CMS Celebrates 50 Years. Premiere screening of a documentary about CMS with special appearances by Co-Artistic Directors David Finckel and Wu Han, Executive Director Suzanne Davidson, Ojai Music Festival Artistic and Executive Director Ara Guzelimian, the Calidore String Quartet, Daniel Hope, Kristin Lee, Cho-Liang Lin, Anthony McGill, Arnaud Sussmann, Jimmy Thompson, and more. View here.
7 pm ET: Opera Grand Rapids presents Collegiate Vocal Competition Final Round Concert. Finalists in the OGR National Collegiate Vocal Competition compete for one of the largest collegiate vocal prizes in the Nation. The final round judging will take place in a live-streamed concert where viewers will be able to vote for their favorite performer to win the Friends of the Opera Award. View here. LIVE
7:30 pm ET: Nightly Met Opera Streams presents Massenet's Cendrillon. Starring Kathleen Kim, Joyce DiDonato, Alice Coote, Stephanie Blythe, and Laurent Naouri, conducted by Bertrand de Billy. From April 28, 2018. View here and for 24 hours.
8 pm ET: Metropolis Ensemble & House of Yes presents Free Assembly. A collaborative platform for artists who might otherwise never meet. Curated by Metropolis Ensemble artists Immanuel Wilkins, Erika Dohi, Daniel Anastasio, and Ryan Francis, creators are paired to share and collaborate, culminating in thematic video performances as part of a rolling online festival. Artists include Andy Akiho, Colin Brookes, Charmaine, Du Yun, Vijay Iyer, Katherine Kyo Hyeon Lim, Mariel Roberts, Sandbox Percussion, Jen Shyu, and Paul Wiancko. Register and view here.
8 pm ET: Tippet Rise Art Center presents Tippet Rise & Friends at Home. The third concert in a monthly series features the Escher String Quartet filmed at the Domo sculpture on August 10, 2019. Program includes Mozart's String Quartet in F, K. 590 and Barber's Adagio from String Quartet Op. 11. View here.
8 pm ET: Midsummer's Music presents Friends of Old: Part II. Anton Reicha and Beethoven were born in the same year, 1770, became friends playing in the Elector's orchestra, and reunited in Vienna in 1901. There quintets suggest a life-long musical relationship. Here, Beethoven's String Quintet in C is played by David Perry and Ann Palen violins, Sally Chisholm and Allyson Fleck violas, and Greg Sauer cello. Hosted by Norman Gilliland of WPR. View here and repeated September 12 at 9 pm ET and September 13 at 4 pm ET.
8 pm ET: Berkeley Symphony presents Joseph Young & Friends. A series of free online musical gatherings hosted by BS Music Director Joseph Young. In this first installment, Young shares details of his life and career path with performance highlights captured in concert halls around the world. View here.
10 pm ET: Pacific Symphony presents Summer Replay. Program: Tchaikovsky's 1812 Overture—complete with live cannons and fireworks—plus, Borodin's Polovtsian Dances and the Procession of the Nobles by Rimsky-Korsakov. The concert opens with an interview with Principal Trumpet Barry Perkins. Register and view here and on demand for 45 days.
Friday, September 11
7:55 am ET: Buglisi Dance Theatre & Lincoln Center present Table of Silence Project 9/11. Conceived and choreographed in 2011 by Jacqulyn Buglisi, the site-specific work was first presented on the tenth anniversary of 9/11. The choreography is based on ancient labyrinths, mandalas, and sacred geometry. This year, the work will feature live and virtual performance elements with professional dancers from the New York City community encircling Lincoln Center's iconic fountain. New video content will include an excerpt from Buglisi's Requiem, a new three-minute film by Nel Shelby Productions that features dancers from around the world, and the full presentation of the 2019 Table of Silence Project 9/11. View here.
1 pm ET: OperaVision presents Prokofiev's The Gambler. Recorded at the Lithuanian National Opera on February 12, 2020. Prokofiev's first full-length opera is based on Dostoyevsky's partly autobiographical novella ironically written to settle gambling debts. Directed by Vasily Barkhatov and conducted by Modestas Pitrenas, it stars the winner of the 2019 International Opera Award, Asmik Grigorian, in the role of Polina. View here and on demand for three months.
1 pm ET: Church of Trinity Wall Street presents Comfort at One. A special presentation and collection of musical offerings from Trinity's past 9/11 services. View here.
2 pm ET: Hatfield House Chamber Music Festival presents Opening Concert. The Ninth annual Festival unites art, history, and music in four chamber concerts filmed in front of a private family audience in Lord Salisbury's historic home. In the first concert, filmed in the Marble Hall (home to the famous Rainbow Portrait of Queen Elizabeth I), cellist and Festival Director Guy Johnston joins with pianist Melvyn Tan and clarinettist Julian Bliss to play Beethoven's Trio in B-flat, Op. 11 for Clarinet, Cello, and Piano (slow movement), Schubert's Impromptu, Op. 90, No. 2, and Mendelssohn's Cello Sonata No 2 in D. View here.
7:30 pm ET: Nightly Met Opera Streams presents Bizet's Les Pêcheurs de Perles. Starring Diana Damrau, Matthew Polenzani, Mariusz Kwiecien, and Nicolas Testé, conducted by Gianandrea Noseda. From January 16, 2016. From February 1, 2020. View here and for 24 hours.
8 pm ET: The Kennedy Center presents Noseda Fridays: American Portraits. Original broadcast date January 22, 2017. Gianandrea Noseda conducts the National Symphony Orchestra in The Star-Spangled Banner (orch. Stravinsky), John Williams's Music from the film Lincoln and Suite from the film J.F.K., Copland's Lincoln Portrait (with Phylicia Rashad, narrator), Bernstein's Fanfare for the Inauguration of John F. Kennedy, and Gershwin's Rhapsody in Blue (with Jon Kimura Parker, piano). View here.
8 pm ET: Dreamstage presents Tessa Lark & Michael Thurber. The violinist and double bass player duet in arrangements of bluegrass melodies—including Wooden Soldier, Tumble Time, Appalachian Fantasy, and Cedar and Sage—alongside the music of J.S. Bach including a series of his Inventions, the Preludio from Partita No. 3 in E, and the Minuet, from Suite No. 1 in G?. Tickets $25, register and view here. LIVE
8:30 pm ET: Houston Grand Opera presents Tamara Wilson Live from the Cullen. HGO opens its 66th season from the Wortham Theater Center's Cullen Theater with a performance by soprano Tamara Wilson. The 2016 Richard Tucker Award winner and an HGO Studio alumna is internationally known for her interpretations of Verdi, Mozart, Strauss, and Wagner. View here. LIVE
Saturday, September 12
1 pm ET: The Metropolitan Opera presents Joyce DiDonato. In the fifth of a 12-part series, the mezzo-soprano performs a concert titled "I Dream a World" in Bochum, Germany. The title is taken from a new work with music by Kenyatta Hughes and text by Langston Hughes. The program also features Baroque masterworks by Handel and Monteverdi and pieces by composers like Berlioz and Mahler, as well as well-known songs such as "La vie en rose" and Rodgers and Hammerstein's "You'll never walk alone." Shot with multiple cameras, the concert will be linked by satellite to New York City where it will be hosted by soprano Christine Goerke. Pay-per-view tickets are $20 and available here. The concert can be viewed for 12 days. LIVE
2 pm ET: Dreamstage presents Dresden Festival Orchestra. The players of the Dresden Festival Orchestra are experts in historically informed performance practice and play on period instruments. Here they play Beethoven's Symphonies Nos. 1 and 2 led by Catalan conductor Josep Caballé-Domenec?. Tickets $25, register and view here. LIVE
2 pm ET: VOCES8 Live From London presents Apollo5: Where All Roses Go. The vocal quintet explores love in its many different manifestations: life and loss; beauty and mortality; brave romance and fragility in rejection; the steadfast devotion of a mother's love (heightened by the awareness of inevitable separation); and in the Christian narrative the Virgin Mary and the eventual ultimate sacrifice. Tickets $16 and view here.
5 pm ET: Bright Shiny Things presents Room | to | Breathe: World Hold On. "World Hold On" unites us through sound, rhythm and poetry that exemplify our plight here on earth. To be fed, to be sheltered, to be loved. The program includes the world premiere of Drew Hemenger's Breathe and, performed by the composer herself, Dalit Warshaw's Resurrection. Artists: Adrienne Danrich, soprano, Shane Shanahan, percussion, composer, Dalit Warshaw, piano/composer, Blythe Gaissert, mezzo-soprano, Louis Levitt, double bass, and Michael Kelly, baritone. Part of all proceeds benefit Rise Against Hunger, a non-profit working to end hunger. Tickets $25 here and the concert is repeated at 8 pm ET.
5:30 pm ET: Bard Music Festival presents Out of the Silence: A Celebration of Music. The second of four concerts pairing works by Mendelssohn, Tchaikovsky, Dvorák, and Bartók with music by ten prominent Black composers. The Orchestra Now, conducted by Leon Botstein, James Bagwell, Andrés Rivas and Zachary Schwartzman, plays Jessie Montgomery's Strum, Alvin Singleton's After Choice, Adolphus Hailstork's Sonata da Chiesa, and Dvorák's Serenade for Strings. View here.
7:30 pm ET: Nightly Met Opera Streams presents Berlioz's Les Troyens. Starring Deborah Voigt, Susan Graham, Karen Cargill, Bryan Hymel, Eric Cutler, Dwayne Croft, and Kwangchul Youn, conducted by Fabio Luisi. From January 5, 2013. From February 1, 2020. View here and for 24 hours.
8 pm ET: Saratoga Performing Arts Center presents Joshua Bell. Program: Beethoven's Violin Sonata No. 5 in F, Op. 24, Dvorák arr. Kreisler Slavonic Fantasy, Chopin arr. Sarasate Nocturne in E-flat, Op. 9, No. 2, and Wieniawski's Polonaise de Concert, Op. 4. Featuring pianist Peter Dugan and a Q&A with Bell. Tickets: $10 and view here.
Sunday, September 13
11 am: English Chamber Orchestra presents Teatime Music: Fairies, Fauns & Fantasy. Steeped in magic and musical sorcery, Debussy's Prélude à l'après-midi d'un faune and Ravel's Mother Goose Suite is complemented by the reverie of Ravel's Introduction and Allegro. Tickets $13 and view here.
1 pm ET: Berliner Philharmoniker Digital Concert Hall presents Daniel Harding conducts Beethoven's Pastoral. Berg's Lyric Suite, a highly personal piece of program music, is paired with Beethoven's Pastoral, also program music, in which the composer expresses his love for nature with bird calls, the splashing of streams, and thunderstorms. Daniel Harding conducts the Berlin Philharmonic to mark the Beethoven anniversary year. View here (Euro 9.90 subscription required). LIVE
2 pm ET: Dreamstage presents Simone Kermes. Adored by her audiences, Simone Kermes likes to surprise her viewers with performances that combine the authentic style of the Baroque with a lively and personal approach. In Canzonetta d'Amore, Kermes and Amici Veneziani perform music that spans the 16th to the 20th century including works by Merula, Purcell, Handel, Monteverdi, Vivaldi, Pergolesi, Jacques Brel, and Pete Seeger. Tickets $25, register and view here. LIVE
2 pm ET: Carolyn Enger presents After-Work Classics From Her Lawn. Pianist Carolyn Enger offers a socially distanced lawn event for locals where listeners can bring a chair and enjoy her playing from her open window in Englewood, NJ. "Celebrating Beethoven at 250," features three of the composer's popular piano works in this anniversary year. To attend, email here or view livestream here.
2:30 pm ET: Wigmore Hall presents Christian Gerhaher & Gerold Huber: Schubert and Berg. A program of songs from the German Lieder tradition, including a set of five songs by Berg often named "Postcard-Lieder" after the shortness of the texts. Program includes Schubert's Abendbilder, Himmelsfunken, Sonetts I – III, Gesänge des Harfners I – III, Am Fenster, Alinde, and Im Frühling, plus Berg's Four Lieder Op. 2, "Schliesse mir die Augen beide," and Altenberg Lieder Op. 4. View here. LIVE
3 pm ET: Live From Music Mountain presents A Tribute to Peter Serkin. Highlights of performances by Serkin and conversations with artists who were close to him, including Emanuel Ax, Jaime Laredo, Jeremy Denk, and Benjamin Hochman; Tashi members Fred Sherry, Ida Kavafian, and Richard Stoltzman; producer Marty Krystall; Milena Pajaro-van de Stadt of the Dover Quartet; composers Derek Bermel and Andreia Pinto-Correia; and one of Serkin's last students, Tomoki Park. View here. LIVE
6 pm ET: Lyric Opera of Chicago presents For the Love of Lyric. A starry lineup is led by soprano Renée Fleming and music director Doug Peck. Special guests include Heather Headley, soprano Ailyn Pérez, bass Soloman Howard, and mezzo-soprano J'Nai Bridges. Members of The Patrick G. and Shirley W. Ryan Opera Center Ensemble and members of the Chicago Children's Choir will also perform. View here.
7:30 pm ET: Met Opera Streams presents Massenet's Werther. Starring Lisette Oropesa, Sophie Koch, Jonas Kaufmann, David Bižic, and Jonathan Summers, conducted by Alain Altinoglu. From March 15, 2014. From April 7, 2012. View here and for 24 hours.
8 pm ET: Hershey Felder presents George Gershwin Alone. The story of America's great composer incorporating his best-known songs, the hits of An American In Paris and Porgy and Bess, and a complete performance of Rhapsody In Blue. With over 3000 performances in the role, from Broadway to London's West End, Felder brings Gershwin to life on the stage of one of Europe's oldest theatres in Florence, Italy. Tickets $55, register and view here.
Monday, September 14
8 am ET: Wigmore Hall presents Alban Gerhardt & Markus Becker: Schumann, Shostakovich, and Beethoven. The German cellist sheds fresh light on familiar scores. Schumann's Adagio and Allegro, Op. 70 was written for horn but with violin and cello versions; Shostakovich's wrote his early Cello Sonata during a time of turmoil; and Beethoven dedicated his Fourth and Fifth Cello Sonatas to his friend and confidante, the Countess Marie von Erdödy. View here. LIVE
1 pm ET: Church of Trinity Wall Street presents Comfort at One. From March 2020: The only Bach + One performance in 2020, this concert features The Choir of Trinity Wall Street in Herbert Howells's Take Him, Earth for Cherishing and, joined by the Trinity Baroque Orchestra, in Bach's Weinen, Klagen, Sorgen, Zagen, BWV 12. View here.
2:30 pm ET: Wigmore Hall presents Leonidas Kavakos & Enrico Pace. The Greek violinist and Italian pianist come together for a selection of Beethoven's duo sonatas: Violin Sonata No. 3 in E flat, Op. 12 No. 3, Violin Sonata No. 7 in C minor, Op. 30 No. 2, and Violin Sonata No. 10 in G, Op. 96. View here. LIVE
7:30 pm ET: Met Opera Streams presents Donizetti's Don Pasquale. Starring Anna Netrebko, Matthew Polenzani, Mariusz Kwiecien, and John Del Carlo; conducted by James Levine. From November 13, 2010. View here and for 24 hours.
8 pm ET: Heartbeat Opera presents The Secret Sauce: Seven years in Seven Soirées. An exuberant soirée-style retrospective of the company's first seven years, featuring adventurous archival footage from the vaults and tantalizing stories. Hosted by Wendy Lesser, award-winning writer and founding editor of Threepenny Review. Tickets from $30 and view here.
Artists and Organizations Offering Free Content
The following are all accessible during the coronavirus pandemic:
Academy of Ancient Music
The most listened-to period instrument ensemble, directed by Richard Egarr, has made a number of streams available on its website. Guest artists include Louise Alder, soprano, Nicola Benedetti, violin, Mary Bevan, soprano, David Blackadder, trumpet, Iestyn Davies, countertenor, Tim Mead, countertenor, Christopher Purvis, bass, and Tenebrae, directed by Nigel Short. Explore here.
American Composer's Orchestra
For volume 3 of Connecting ACO Community (August 2 - October 4, 2020), the orchestra commissioned seven short works for solo instrument or voice. Each composer was offered $500 to write the work, and each performer was offered $500 to perform the work, with the rights to stream for six months. Recorded sessions are available here.
American Opera Project
American Opera Project presents Opera Comes Home, three world premiere English-language productions. As One is a chamber opera by composer Laura Kaminsky, librettist Mark Campbell and librettist/filmmaker Kimberly Reed in which two voices trace a transgender protagonist from her youth in a small town to Norway. Three Way, with music by Robert Paterson and libretto by David Cote, is an opera on the present and future of sex and love. Harriet Tubman, with music and libretto by Nkeiru Okoye, tells how a young girl born in slavery becomes Harriet Tubman, the legendary Underground Railroad conductor. View here.
American Symphony Orchestra
American Symphony Orchestra releases weekly recordings from its archives with content alternating between live video recordings of SummerScape operas and audio recordings from previous ASO concerts. Ethel Smyth's The Wreckers, Richard Strauss's Die Liebe aus Danae, and Korngold's Das Wunder der Heliane, all conducted by Leon Botstein, are all highly recommended and available now. **
Apollo's Fire: Music for the Soul
The Cleveland-based baroque orchestra founded by Artistic Director Jeannette Sorrell is offering a series of video streams entitled "Music for the Soul." New episodes are posted here.
Australian Chamber Orchestra
ACO Home Casts are curated by Artistic Director Richard Tognetti with an emphasis on content that reflects the ACO's artistry, dynamism, and sense of adventure. Musicians have been equipped with a mini in-home studio and training, enabling them to record, produce, and broadcast directly from their homes. This includes full-length ACO concerts broadcast as Facebook Watch Parties hosted by an ACO musician, intimate solo performances filmed live from musicians' homes, and "Ask-Me-Anything" Instagram interviews. Each week's schedule is announced Monday mornings here.
Baltimore Symphony Orchestra
BSO musicians are putting live-streamed concerts on the orchestra's Facebook page on Wednesday and Sunday nights "for the near future."
Bard SummerScape & Fisher Center
Archival works highlight Bard's wealth and breadth of programming, including performances from its SummerScape Opera and BMF archives. Recent include Bard SummerScape's 2011 production of Strauss's rarely performed Die Liebe der Danae and last year's Daniel Fish directed staging of Michael Gordon's Acquanetta. More details here.
Budapest Festival Orchestra Quarantine Soirées
Hungarian conductor Ivan Fischer has created a new concert series in response to the worldwide musical shutdown. The Quarantine Soirées are LIVE and free to view online. Visit here for details of upcoming concerts.
Carnegie Hall
Live with Carnegie Hall features live performances, storytelling, and conversations that offer deeper insights and behind-the-scenes personal perspectives while integrating historical or recent audio/video content drawn from concerts, master classes, and recordings. Explore here.
The Cleveland Orchestra
The Cleveland Orchestra is offering archival videos, daily Mindful Music Moments videos, and videos from musicians performing from home. Explore here.
Cliburn at Home
Cliburn Watch Party relives moments from the Van Cliburn International Piano Competition, Cliburn Kids explores rhythm, storytelling, dance, and listening games in short educational journeys. Cliburn Amateur Spotlight are performance videos submitted by the 72 who were accepted as competitors for the 2020 Cliburn International Amateur Piano Competition (rescheduled to 2022). Explore here.
Daniel Hope
In Hope@Home on Tour, British violinist Daniel Hope took his livestreamed TV series out of his Berlin living room and on the road. The 27 half-hour episodes of live musical performance and conversation in English, all professionally produced for the German/French ARTE TV network, were filmed at a succession of visually compelling locations, many of which are not open to the public. All episodes have now been archived until October 31 in the ARTE Media Library here.
Detroit Symphony Orchestra
The Detroit Symphony Orchestra has made its webcast archive available for free. The collection features 200+ works going back three years, and highlights include Leonard Slatkin conducting John Luther Adams's climate change-inspired Become Ocean from 2019, several world premieres, and a host of bite-sized encores. Explore here.
Deutsche Grammophon Yellow Lounge
The German classical music giant is streaming Yellow Lounge broadcasts from its archives. Recent additions include clarinetist Andreas Ottensamer, pianists Alice Sara Ott and Chihiro Yamanaka, and cellist Mischa Maisky. Performances are broadcast in rotation, one video at a time, adding a new performance every few days. DG communicates the start of each new performance by newsletter at the start of each week. To keep updated sign up here.
Finnish National Opera
Finnish National Opera presents Stage24, a series of streamed archived performances on its website, which are then available for the next six months. Recent content includes a staged version of Sibelius's Kullervo, Stravinsky's The Rake's Progress, Caspar Holten's staging of Wagner's Der Fliegende Holländer with Camilla Nylund, and Christoff Loy's Tosca. An excellent company and some interesting and original work worth investigating ** Explore here.
Handel and Haydn Society
Boston's Handel and Haydn Society has created the H+H Listening Room where you can hear and watch H+H performances including Mozart's Requiem, Handel's Messiah, and Purcell's Dido and Aeneas filmed at New York's Met Museum. There are also more than a dozen videos of musicians performing from their homes, a special video of principal flutist Emi Ferguson teaching people how to make their own baroque flute, and a new podcast called "Tuning In". In the first episode Principal Cellist Guy Fishman interviews Artistic Director Harry Christophers about Bach's St. Matthew Passion. Explore here.
Kennedy Center
The Kennedy Center is offering a free, live digital performance initiative, Couch Concerts, to help inspire, uplift, heal, and bring the performing arts into homes across the country and around the world during these difficult times. Couch Concerts stream direct from artists' homes on the Kennedy Center website. Audiences can discover a wide range of other at-home programming through the Kennedy Center at Home webpage.
La Scala/RAI
Italy's RAI presents five productions from La Scala Milan including the world premiere of Kurtág's Fin de Partie, Daniel Barenboim conducting Götterdämmerung, Lisette Oropesa in Verdi's I Masnadieri, Montedervi's Orfeo conducted by Rinaldo Alessandrini, and Les Vêpres Siciliennes conducted by Daniele Gatti. A wide range of concerts are also available. Explore and register here.
NEW: Les Arts Florissants
Les Arts Florissants's annual Festival in Thiré, France included a series of 10- to 15-minute "Meditation" concerts recorded earlier this summer. Now available to enjoy online, the Meditations include performances by students of Juilliard's Historical Performance program in the spirit of their annual participation in the Festival. View here.
Lincoln Center
From the archives of Lincoln Center's resident organizations comes a trove of video, including rarely seen footage from decades of Live from Lincoln Center, more recent performances from across campus, and live streams wherever performances are still happening. Lincoln Center Pop-Up Classroom broadcasts on Facebook Live every weekday at 10 am ET and is led by some of the world's best artists and educators. #ConcertsForKids teams up with top artists to bring world-class performances and diverse musical perspectives from their homes to yours. Explore here.
Los Angeles Chamber Orchestra
LACO AT HOME offers streaming and on demand performances, including a full showing of the orchestra's critically acclaimed West Coast premiere of Dark with Excessive Bright for double bass and strings by LACO Artist-in-Residence Missy Mazzoli. View streaming here and on demand here.
Los Angeles Master Chorale
Videos recorded as part of the "Offstage with the Los Angeles Master Chorale" series from April 24 to June 19 included interviews conducted by Artistic Director Grant Gershon and Associate Conductor Jenny Wong with notable performers—including special guests Reena Esmail, Morten Lauridsen, Anna Schubert, Peter Sellars, Derrick Spiva—as well as Master Chorale singers. Available on demand here.
NEW: Mark Morris Dance Group
The third and last collection of the MMDG online series—Solo Works, 1984-2000—includes solo pieces choreographed between 1984 and 2000, two performed by Mark Morris and two by other company members. All the recordings are preceded by introductions by Morris. Featured dances include Offertorium (1988, performed in 1988 at Get Down!), Peccadillos (2000, performed by Joe Bowie at Jacob's Pillow in 2006), Greek to Me (1998, performed by Mark Morris at the New Victory Theater in 2000), and O Rangasayee (1984, performed by Dallas McMurray at Lincoln Center's White Light Festival in 2016). Explore here until September 30.
Metropolitan Opera Free Student Streams
Students and teachers worldwide can draw from the Met's online library of operas and curricular materials plus new conversations with Met artists and educators. Resource materials will be made available weekly via the Met website starting on Mondays at 10 am ET, including extensive background information; activities to help students engage before, during, and after the performance stream; illustrated synopses; coloring pages; and audio clips. On Wednesdays at 5 pm ET, each week's performance will be made available for streaming on the Met website, where it will remain for 48 hours. An hour before each performance stream, students from around the world will have the opportunity to interact directly with a singer or member of the creative team on Zoom. More information here.
Minnesota Orchestra
Minnesota Orchestra at Home shares video, audio, and educational materials through the categories of Watch, Listen and Learn, including videos from the orchestra's archives and newly created "mini-concerts" directly from the homes of Orchestra musicians. Explore and view here.
NEW: National Sawdust Digital Discovery Festival, Volume One
With more than 65 events, featuring over 100 artists premiering in a four-month span, National Sawdust Digital Discovery Festival: Volume One was a bright spot in NYC's post-COVID live music world. Featuring post-COVID performances from Robert Wilson, Julian Lage, Tyondai Braxton, Emel Mathlouthi, Matthew Whitaker, Dan Tepfer, Ashley Bathgate, Emily Wells, Brooklyn Rider, Joel Ross, Conrad Tao, Andrew Yee, and Lucy Dhegrae, and recently recorded Masterclasses with Tania León, Ted Hearne, Vijay Iyer, Jamie Barton, Lawrence Brownlee, Trimpin, and Lara St. John. Archival performances include David Byrne, Lara Downes and Rhiannon Giddens, and Ryuichi Sakamoto. Explore here.
New World Symphony
The New World Symphony presents a web-based series called NWS Archive+. Michael Tilson Thomas moderates discussions with NWS Fellows, alumni, guest artists, and visiting faculty about archived recordings. Performances will be available here. NWS Fellows also play live, informal chamber music concerts from their homes in Miami Beach and broadcast via Facebook Live. In addition, the NWS online archive contains master classes, tutorials and town halls, which can be found here. Finally, for the past 10 years, the Fellows have performed one-hour concerts for local school children. These concerts and preparatory material will be available free to students and parents. NWS Educational concerts can be found here.
Opera Australia
OA | TV: Opera Australia on Demand is the Sydney-based company's new digital space. Alongside the world's largest collection of Dame Joan Sutherland on video, OA will offer exclusive content from the OA back catalogue, productions from Handa Opera on Sydney Harbour, and a new series of chat show-style interviews conducted by AD Lyddon Terracini. The first posted full show is Sutherland in The Merry Widow, and the fileted aria's in the section labelled "The Best of Dame Joan Sutherland" are even better. ** View here.
Opéra National de Paris
The Palais Garnier and Bastille Opera have made their digital stage, "The 3e Scène," free. The platform is a pure place of artistic adventure and exploration, giving free rein to photographers, filmmakers, writers, illustrators, visual artists, composers, and choreographers to create original works. Visit here. Some of Opéra National de Paris's productions are accessible on the company's Facebook Page. In addition, Octave, the Paris Opera's online magazine, is posting articles, videos, and interviews here.
Opera North
One of Britain's most respected smaller opera companies, Opera North has put its acclaimed semi-staged concerts of Wagner's epic Ring Cycle online. "Beg, borrow, or be like Wotan and steal a ticket for this show," said the UK's Times of Das Rheingold. "You'd be lucky to hear as good at Bayreuth," said The Telegraph of Die Walküre. Richard Farnes proves a seriously impressive Wagner conductor. Watch here.
OperaVision
OperaVision offers livestreams of operas available for free and online for six months. Previous offerings include Barrie Kosky's visually spectacular Moses und Aron, David McVicar's superb Die Entführung aus dem Serail from Glyndebourne, and Deborah Warner's thoughtful Death in Venice for English National Opera. View upcoming and past content here. **
The Philadelphia Orchestra
Music Director Yannick Nézet-Séguin and The Philadelphia Orchestra are offering new ways to engage with the music and musicians of the Orchestra. Through WATCH, LISTEN, LEARN the Virtual Philadelphia Orchestra will fulfill its ongoing commitment to bring music, in video and audio forms, as well as interactive education and enrichment, to audiences. Content is available here.
Orli Shaham Bach Yard Playdates
Pianist Orli Shaham brings her acclaimed interactive concert series for kids to the internet. Bach Yard Playdates introduces musical concepts, instruments, and the experience of concert-going to a global audience of children and their families. A number of 10-minute episodes are already available for on-demand streaming. Programs and performances range from Bach's Two-Part Invention to Steve Reich's Clapping Music. Explore here.
The Sixteen
The Sixteen and founder Harry Christophers launched Quarantine with The Sixteen, a regular schedule of digital content. The Sixteen Virtual Choir's performance of Sheppard's Libera nos involved each part being recorded at each singer's home. Other features include: Choral Chihuahua, a podcast by The Sixteen and I Fagiolini; Stay at Home Choir performing Sir James MacMillan's O Radiant Dawn; Archive performances, including MacMillan's Stabat Mater performed in the Sistine Chapel and Bach's St Matthew Passion with Streetwise Opera; Recipes for isolation; Video diaries providing insight into daily lives during lockdown; Weekly playlists. Explore here.
NEW: Token Creek Chamber Music Festival
Under the artistic direction of composer John Harbison and violinist Rose Mary Harbison, this annual summer series (September 1 to 15) offers a two-week virtual season of compilations from 30 years of performances. Archival programs from the "Music from the Barn" series highlight the wealth and breadth of festival programming. Among the many artists represented are the late Lorraine Hunt Lieberson and pianists Robert Levin, Christopher Taylor, and Leonard Stein. New programs are posted daily at 5 pm ET and will remain throughout September. Explore here.
Trinity Wall Street
New York's Trinity Church Wall Street introduces daily weekday "Comfort at One" (1 pm ET) streaming performances on Facebook with full videos posted here. Tune in for encore performances of favorite Trinity concerts, professionally filmed in HD, along with current at-home performances from Trinity's extended artistic family.
Tulsa Opera
Tulsa Opera has launched its Staying Alive web series, which includes virtual performances of opera, popular music, and musical theater, directly from guest artists' homes. Each week, the series features artists from around the world, including artists that have been recently heard on the Tulsa Opera stage or would have been heard in the company's new production of Tobias Picker's Emmeline, cancelled due to the pandemic. New content appears every Monday, Wednesday, and Friday at 2 pm CT. Explore here.
Voices of Ascension
New York choir Voices of Ascension, which celebrates its 30th anniversary next season, is posting a daily offering of choral beauty on its website. Music is chosen by staff, members of the chorus and orchestra, and listeners. View here.
Warsaw Philharmonic
The Warsaw Philharmonic has made a selection of video recordings available on its YouTube channel. Recent offerings include Saint-Saëns's Organ Symphony and Arvo Pärt's Swansong conducted by Artistic Director Andrzej Boreyko, as well as rarities by Polish composers like Grazyna Bacewicz. It's an excellent orchestra very much in the Eastern European tradition and concerts have been master edited for posting online.
NEW: Shai Wosner's Diabelli Variations Project
Starting Tuesday, September 8, Shai Wosner begins on a month-long journey through Beethoven's Diabelli Variations. Beginning with the work's famous theme—a waltz by Anton Diabelli—Wosner performs and provides insight into one variation per day until he has completed all 33. View here.
Paid Digital Arts Services
Berlin Philharmonic Digital Concert Hall
The BPO Digital Concert Hall contains over 600 orchestra concerts covering more than ten years, including 15 concerts with the orchestra's new Chief Conductor Kirill Petrenko, interviews, backstage footage.
Medici TV
Thousands of classical music videos are available by subscription, as well as hundreds of events that are broadcast live for free each year, available for 90 days. Subscriptions cost $83.85 per year. www.medici.tv
Archived Recent Performances
The following broadcast events have occurred since the start of the COVID-19 crisis and are still available for viewing:
March 12
The Philadelphia Orchestra and Music Director Yannick Nézet-Séguin performed BeethovenNOW: Symphonies 5 & 6 as well as Iman Habibi's Jeder Baum Spricht to an empty Verizon Hall for live broadcast. An outstanding concert captured in excellent visuals and sound. www.philorch.org/live
Miller Theater's Bach Collection was performed live for a virtual audience. The program included Jesu, Joy of Man's Desiring (arr. Hess), Concerto for Violin and Oboe in C minor, BWV 1060 (arr. Fischer), Chorale Prelude Ich ruf zu dir, Herr Jesu Christ, BWV 639 (arr. Busoni), and Cantata Ich habe genug, BWV 82, with Kady Evanyshyn, mezzo-soprano, Rebecca Fischer, violin, Alecia Lawyer, oboe, Simone Dinnerstein, piano, Baroklyn. View here.
March 14
Canadian pianist Garrick Ohlsson played an impressive selection of works by Beethoven, Prokofiev (the Sixth Sonata), and Chopin to an empty house at New York's 92nd Street Y. View here.
March 16
In front of an empty auditorium (very visible thanks to excellent camerawork) Melbourne Symphony Orchestra was conducted by Forth Worth Symphony Music Director Miguel Harth Bedoya in dynamic performances of Bloch's Schelomo with soloist Timo-Veikko Valve, and Rimsky-Korsakov's Scheherazade. Available here.
March 26
92nd St. Y presents Jonathan Biss playing Beethoven's last three piano sonatas. Written, as Beethoven said, "in a single breath," these pieces represent the apotheosis of his piano writing, showing his mastery of the variation form (in Op. 109), his expertise in the forms of the musical past (the fugue, in Op. 110), and an ability to be cutting-edge (considering Op. 111 as a whole, but especially the famous 'boogie woogie' moments in the second movement). Available here.
April 10
Handel's Messiah with The Tabernacle Choir and Orchestra at Temple Square and soloists Amanda Woodbury, Tamara Mumford, Tyler Nelson, and Tyler Simpson. Recorded in 2018 but archived for a rainy day such as this. Available here.
April 10
Bach's St. John Passion, performed by Bach Collegium Japan conducted by Masaaki Suzuki from the Cologne Philharmonic. View here.
April 14
92nd St Y presents Marc-André Hamelin who streamed a characteristically elegant program from his home, with the timely inclusion of Liszt's Bénédiction de Dieu dans la solitude. The repertoire also included C. P. E. Bach, Enescu, Fauré, Scriabin, and six selections from Debussy's Preludes, Book II. View here.
May 8
The Berliner Philharmoniker's European Concert. In order to comply with social distancing rules and hygiene requirements Kirill Petrenko conducts the orchestra in chamber music formation from the empty Philharmonie Berlin. Federal President Steinmeier to deliver opening address. Program: Pärt's Fratres, Ligeti's Ramifications, Barber's Adagio for Strings, Mahler's Symphony No. 4 (arrangement for chamber ensemble by Erwin Stein) with Christiane Karg, soprano. Subscribe or trial for free and view in the Digital Concert Hall.
June 28
San Francisco Symphony Orchestra presented MTT25: An Online Tribute for Michael Tilson Thomas. Hosted by famed vocalists Audra McDonald and Susan Graham, the event featured contributions and tributes by musicians of the San Francisco Symphony and Chorus, an array of distinguished guest artists, and many surprises. View here.
June 30
Live At Carnegie Hall presented Russian pianist Daniil Trifonov discussing his career with fellow pianists Emanuel Ax and Sergei Babayan and the venue's Executive and Artistic Director Sir Clive Gillinson. Interspersed with excerpts from Trifonov's performances, one newly recorded at home and others previously captured at Carnegie Hall. On demand here.
**Highly recommended
Pictured: Anna Netrebko as Manon Lescaut in the Met Opera's 2012 production
photo by Ken Howard

WHO'S BLOGGING


RENT A PHOTO
Search Musical America's archive of photos from 1900-1992.