---
New Artist of the Month: Baritone Lucia Lucas
There can't be too many women out there singing Wotan, but these days Lucia Lucas numbers Wagner's flawed deity among her signature roles. One of a handful of transgender singers making increasing waves on the current operatic scene, Lucas, a trans baritone, leapt to prominence this year following remarkable performances as the predatory Don in Tulsa Opera's staging of Don Giovanni. "Vocally, Lucas is the real deal, possessing a firm, virile baritone with bags of stamina and plenty of heft up top," was how I described her bravura opening night performance on May 3.
Even more interesting were the options that opened up directorially. Strutting her stuff at the Don's party in full drag played glorious havoc with the audience's gender compass as a woman who had been playing a man transformed into a man dressed as a woman. All in a day's work in the crossdressing world of opera you might think, but Lucas's path to music was never a given.
Raised in Sacramento by parents who were both engineers, Lucas started out as a French hornist, though a 20-piece chamber choir and a student appearance in The Pajama Game developed a taste for singing and acting. "Somehow I fell into it, but the reason I stuck with it was it became a way for me to communicate," Lucas explains, relating how an opera-curious 18-year-old landed a first teacher. "I went to his studio and I sang about one phrase before he asked if I'd ever thought about studying voice privately?"
Early enthusiasms included Samuel Ramey, the first singer Lucas really listened to in order to understand how the operatic voice works, along with singers of the previous generation. "My ideal was always to sing like George London and communicate like Leonard Warren," is how she puts it.
Heading for Chicago College of Performing Arts where Ramey was a guest teacher ("I had two coaching sessions with him during the four years I was doing my masters," she admits ruefully), she studied with Richard Stilwell, a voice of reason who spotted her natural empathy for the German Romantic repertoire. Two more years as a young artist at Chicago Opera Theater found Lucas working with Scott Gilmore who encouraged the idea of going to Germany. "He worked with me on "Abendlich" from Das Rheingold, which I sang for the casting director from Deutsche Oper Berlin at an Opera Foundation audition," she explains.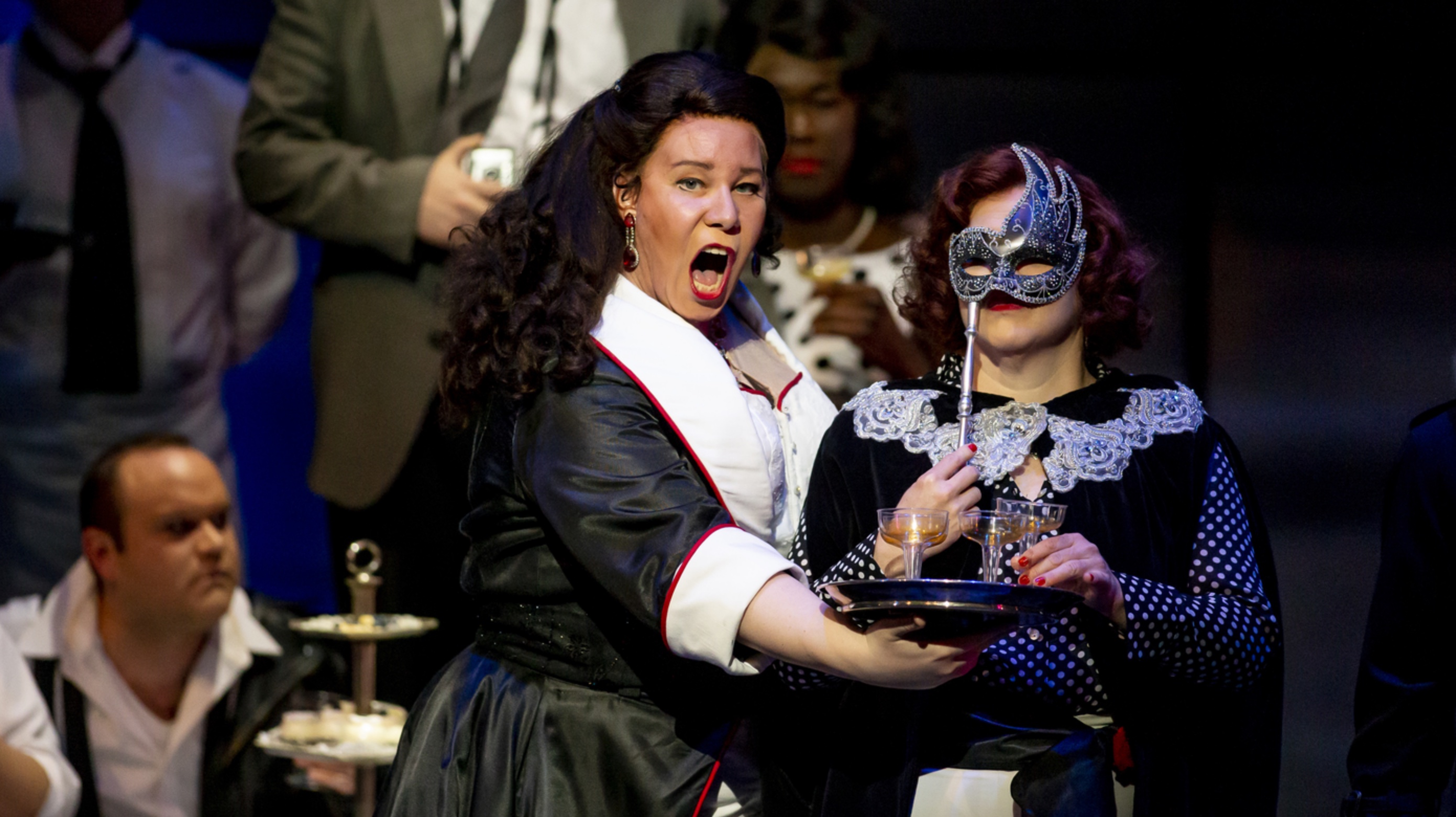 At Tulsa Opera in May, Lucia Lucas sang Don Giovanni with Pamela Armstrong as Donna Elvira
A year's stipend as a young artist followed, one that saw her singing 46 roles in Berlin plus a three-month secondment at Teatro Reggio Torino for 18 performances of Idomeneo and Peter Grimes and two performances of Tannhäuser in concert with Johann Botha. A baptism of fire? "Absolutely," she laughs. "I was performing all the time."
Things were going well. In 2011 she went to Heidelberg where Peter Spuhler was Intendant, following him on contract to Karlsruhe. But Lucas was not comfortable. "As soon as I knew there were boys and girls," is how she describes her childhood realization that her gender was awry. "Every single big moment in my life it was something I thought about," she admits. "OK, I'm choosing not to transition right now. I'm choosing to go do my masters and I understand transitioning would put that in jeopardy. Even when I eventually decided to come out, it was still the same thing. I knew I could lose my job, but it was the first time as an adult I was really willing to hold that above my career."
"I'd always thought I'll have a big career, go sing at the Met, maybe blow out my voice or whatever and then retire and go have a private life," she continues. "It was like, drive it like you stole it, wreck it, who cares? But I was almost five years into my career and it clearly wasn't dying. So, I thought, can I be a poor starving artist for the rest of my life? And the answer was, not if I can't be true to myself."
She knew that transitioning wouldn't affect her voice, and after a year of preparation Lucas underwent FFS (facial feminization surgery) in 2014. "I talked with the doctor and he said your nose is fine—I don't want to touch it, and I said great, because if you'd said you wanted to touch my nose I'd have to say I don't know how that's going to work with singing," she admits. "The only thing I requested was that he not open up my sinus cavity. I've heard of people who've had surgery and have screws or plates inserted and when the weather changes it can be hard on them."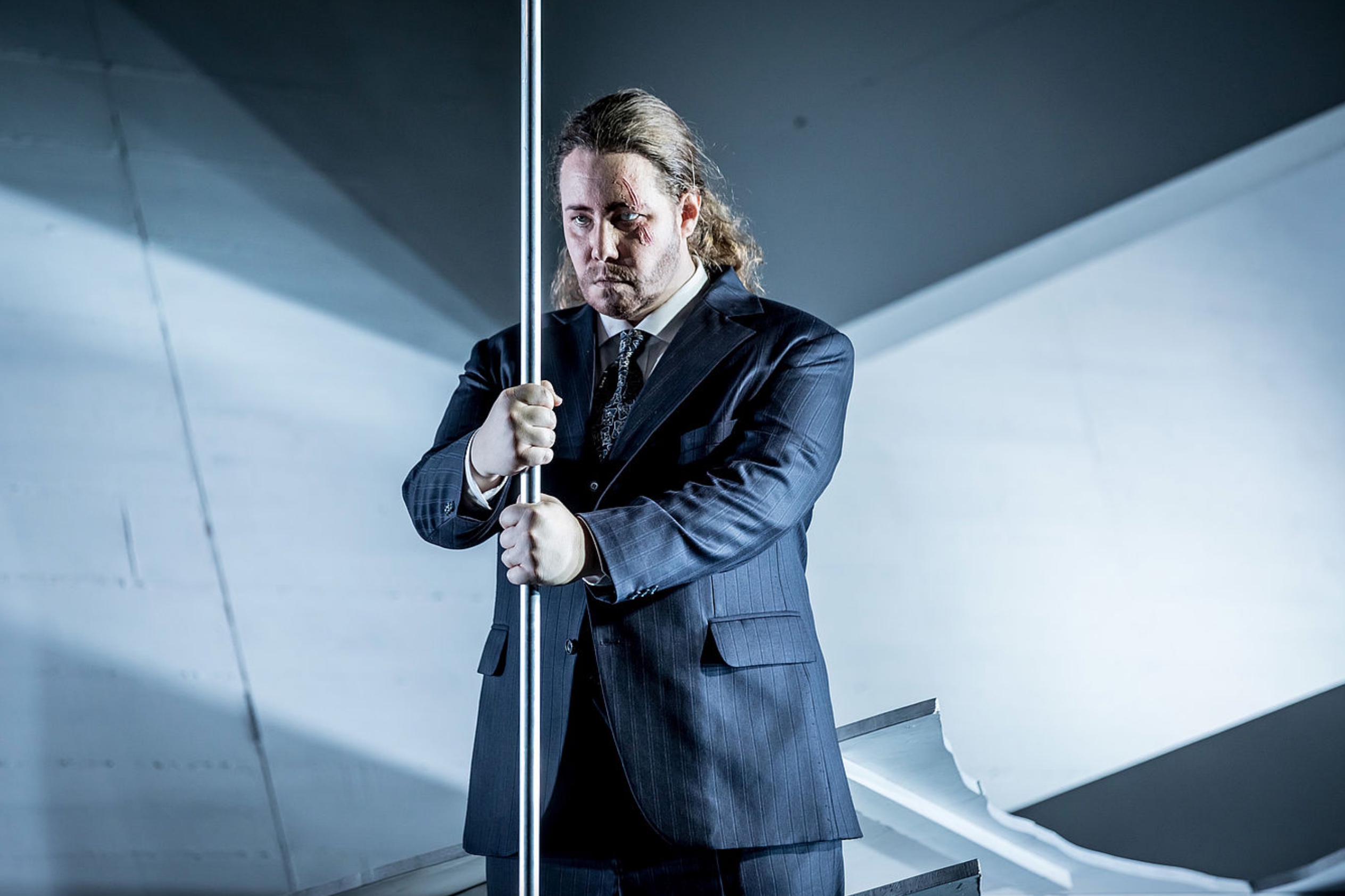 As Wotan in Die Walküre at Theater Magdeburg
After she came out, she sang Marcello in Bohème, Thoas in Iphegénie, and Ford in Falstaff. "I actually didn't miss a show," she says proudly. Even when a new boss in Karlsruhe chose not to renew her contract, Lucas didn't lose heart. "The people who aren't with me, they're not with me and that's fine—I don't waste time with them," she says. "I'd decided that if my career was going forward, I couldn't be a stealth female baritone."
Going freelance she sang High Priest in Samson et Dalila for Berthold Scheider who went on to cast her as the four villains in a four-director version of The Tales of Hoffmann. "I played Lindorf as a sort of Merkel or Clinton-esque character," she recalls. "Then Christopher Alden had me as a female Doctor Miracle with a big Susan B. Anthony skirt—it was super creepy—and I was a kind of One Flew Over the Cuckoo's Nest nun for the Giulietta act."
Directors quickly saw the dramatic add-on of a baritone who presents as a woman but has decades of experience playing a man. Composer and Tulsa Opera Artistic Director Tobias Picker was immediately interested. "He told me he was writing an opera with a trans character and he'd like it to be played by a trans person—would I like to come audition?" Lucas explains. "So, early in 2018 I went to sing for him, and he said yeah, 'I want to work with you.' Less than a month later he said, 'I'm casting a Don Giovanni; would you be interested in singing Giovanni?'"
In Tulsa, Lucas wasn't just making her role and U.S. debut as Mozart's #MeToo malefactor, on this occasion she shattered another glass ceiling as the first out transwoman to perform a principal role on an American opera stage. Picker's new work, based on David Ebershoff's novel The Danish Girl, is slated for a European premiere in 2022, meanwhile Lucas's professional mantra is that she is "always happy to play a man onstage (so long as she doesn't have to play one in real life)." And as for any worries that people might see her as the latest operatic box office gimmick, her reply is sanguine and smart: "Come for the spectacle, stay for the talent," she parries. "I mean, if I was bad, would we be talking right now?" Touché.
Photo credits: Shane Bevel (top); Andreas Lander

WHO'S BLOGGING


RENT A PHOTO
Search Musical America's archive of photos from 1900-1992.