---
New Artist of the Month: Composer Michael Vincent Waller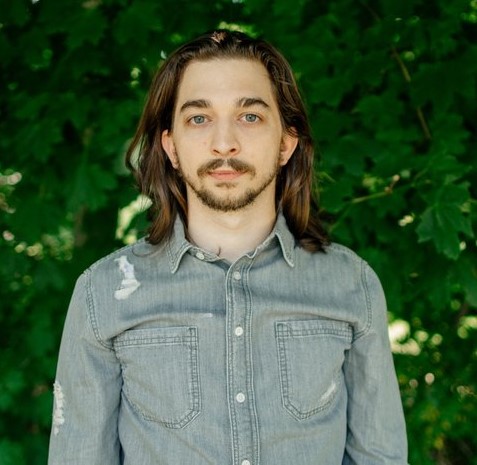 NEW YORK--The contemplative aura that gently emanates from Michael Vincent Waller's music suggests a hard-won focus on the essential, distilled from long decades of reflection and experience. But the composer was already shaping this unique sound world while still in his 20s. Now 33, he's poised for a breakout moment as his work draws increasing attention from international new-music circles.
"One thing I'm trying to explore as an artist is the organic, intuitive sense we have about experiences—the human subtext to what is happening in the music, in its colors, harmonies, and melodies," Waller remarked while taking a break from his day job in midtown Manhattan. "There's a world of inner abstraction and feeling below language that drives me."
The result is a growing body of instrumental compositions for solo piano and chamber ensemble, often dubbed with the (frankly pointless) tag "post-Minimalist" that has established Waller as a presence amid New York's frenzied, kaleidoscopic downtown contemporary music scene. His works are also planned for performance at such festivals as Autres Mesures in Rennes, France—organized by Melaine Dalibert—where one of his pieces will be played later this month. The pianists and new music champions Dante Boon and Reinier Van Houdt will perform one of his pieces for two pianos in Amsterdam in April.
Waller began immersing himself in New York's avant-garde music community around 2010, just a few years after earning a degree in finance at NYU while studying music as a minor at NYU's Steinhardt School. Holding down office jobs in the daytime to make a living, he has become a familiar figure as a creative curator of concerts and an enthusiastic collaborator with an impressive range of like-minded artists, from Pauline Kim Harris and Conrad Harris to the S.E.M. Ensemble and Ensemble Daedalus, among many others.
Waller refers to a "core constellation" of musicians who understand his music and whose aesthetic in turn inspires him. These moreover lead to flexible, fresh collaborations with other artists. Waller believes this kind of networking with performers is important to keep him from becoming "locked" into patterns. The pianists Marija Ilic and R. Andrew Lee, for example, have turned out to be important advocates and regular collaborators. Lee has variously partnered with musicians such as cellist Seth Parker Woods and Bay Area percussionist William Winant to play Waller's compositions.
After first encountering Waller's music via his two-disc debut album The South Shore (2015), I was especially captivated by the humbling eloquence of Lee's performance on Trajectories (2017), the composer's second full-length release to date—as well as by the searingly beautiful cello contribution to that effort by Parker Woods (on the piece "Lines"). "Working with Andy has inspired me to write more piano music," Waller points out. His major project for 2019 will revolve around preparing for the release of this third album—not yet titled—which will feature Lee and Winant on piano and vibraphone, respectively.
This kind of artistic rapport is all the more essential in the absence of the institutional support of academia or major orchestras. Indeed, Waller's formation as a young composer was largely through the informal, one-on-one mentoring relationships he pursued after completing official studies at NYU. Born in Staten Island and raised in Florida, Waller says his grandmother, a self-taught pianist, encouraged him to pursue music. But not until he went off to college did his interest become more than casual.
Experimental art rock, Bartók, and J.S. Bach anchored the desire to compose. After being introduced to the Dream House—an ongoing art and sound installation by La Monte Young and his wife Marian Zazeela located in a TriBeCa apartment on Church St.—Waller became a protégé of the legendary but reclusive musical pioneer. It was Young who initiated him into the mysteries of drone-based minimalism, unconventional tuning systems, and Hindustani raga-inspired, durational improvisation.
"Some of the lessons were very unorthodox," Waller recalls. "I'd be waiting hours for La Monte in the Dream House. There were disciple training exercises to see how committed you really were—lessons that would go deep into the night." From Young and his obsession with "tuning as a function of time, with the relationship between pitch and time," Waller learned intense focus and a novel way to think about sound, not only as a means to an end but as a phenomenon in itself.
A few years later, he also began studying with composer Bunita Marcus, absorbing aspects of the Morton Feldman tradition from her. Waller moved on from Young to "another chapter of my life" with Marcus. "I was focused on improvisational, drone-based composition using very limited pitch sets with La Monte. Bunita pushed the idea of being able to bring my music to the page, so all my pieces have been completely through-composed since then. I like to think that La Monte was my undergrad period and Bunita my grad school in composition."
Discretion (2012), a chamber piece for eight players, is an early study in duration using static chords and pregnant silences that illustrates a clear La Monte Young influence, along with shades of the Wandelweiser (silent music) school and John Cage. But already in the same year, in Y per Henry Flynt for solo cello (the title plays off Young's 1960 X for Henry Flynt), Waller was making a transition into what he describes as a "more melodic, neo-Baroque, neo-Renaissance sound that was no longer encapsulated in 20th-century aesthetics."
Waller decided to include that piece on The South Shore, which traces the intriguing blend of influences from medieval, raga, and modally based musical systems with the classical and Minimalist elements that also make up his compositional toolkit. The carefully thought-out programming of his albums is matched by a keen attention to the other aspects of a record release—the visuals, the packaging, the unifying concept—that recalls a 1960s aesthetic of the album.
Not surprisingly, Waller also involves himself as a producer, working with such indie labels as XI, which was founded by experimental music and film pioneer Phill Niblock (who also provided the photographic image for the cover of Trajectories). His upcoming 2019 album, which Waller expects to release in the fall, will appear on the Unseen Worlds label.
"Once I committed to putting out records, I started thinking of the entire record-producing culture," Waller says, "and that means thinking of the album as an art object along with its imagery and overall concept. Where chamber music can often be just about the piece itself, I wanted to connect a body of work with a more powerful concept as an album."
Looking back at the arc of influences from La Monte Young, Bunita Marcus, and his many other collaborations, Waller points out that what underlies them all is his affinity "for contemplation and for a kind of introspective music that is more about trying to go inside my own thoughts than about attempting to make [the listener] feel anything in particular."

WHO'S BLOGGING


RENT A PHOTO
Search Musical America's archive of photos from 1900-1992.