---
Four Opera Stagings in Parma: Traditional to Ingenious to Ridiculous
PARMA, ITALY—As with opera in the rest of Italy, the Parma Verdi Festival has had its ups and downs. On my last visit, in 2008, things were looking up. A product of the city's Teatro Regio, the festival had grown to a four-week event embracing the composer's birthday in October. It offered three solidly cast productions by major Italian directors and was apparently looked on with favor by Silvio Berlusconi government, ensuring support from Rome.
But the ravages of the financial crisis were already exerting themselves, and while the festival's artistic aspirations remained lofty, money wasn't there to support them. In 2014 there was just one production; meanwhile a mounting deficit at the theater eventually reached €12 million ($14.12 million). A new general director was engaged to turn things around, Anna Maria Meo, a trained musicologist with cultural management experience in Florence. Progress was quick. In 2016 the festival staged four operas, three of them based on plays by Friedrich Schiller.
A visit this year (October 12-15) revealed much that was familiar but also a new international dimension, exemplified by, among other things, a bold staging of Stiffelio by Graham Vick. Its radical nature stemmed not from some extreme reinterpretation; rather it embodied a totally different way of presenting opera through its creative use of an unorthodox performance space, the early 17th-century Teatro Farnese within the huge complex known as the Palazzo Pilotta.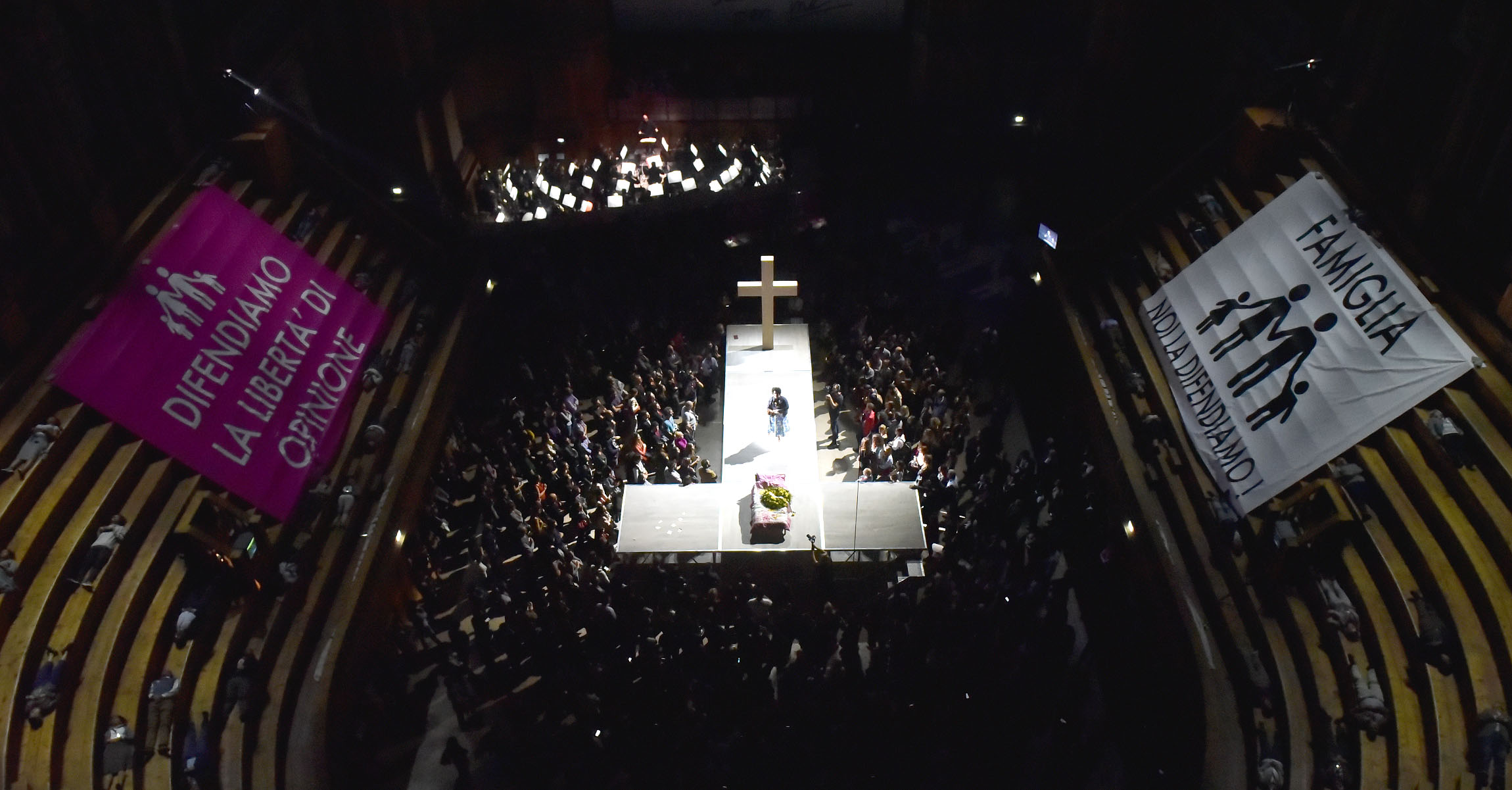 The set-up for Steffelio at Teatro Farnese: the audience stood in the middle
Seating in the Teatro Farnese is in bleacher-like rows that form a U-shaped structure akin to a stadium. On this occasion, the orchestra was seated at one end of the U; and the 600-member audience stood in the center, mixed in with a number of extras and at times even the chorus.
Especially because Vick is English, one thought of the Proms concerts at London's Royal Albert Hall. But here the opera was played out in the center as well, on moveable platforms about four feet high and with minimal props. As the action shifted to new positions, the audience was encouraged to move as well, so that for most of the time spectators could be extraordinarily close to the singers—sometimes just a few feet away.
You felt right at the center of Verdi's unusual domestic drama about the adulterous wife of a Protestant minister, because literally you were. The opera registered powerfully, due both to the format and the quality of the performance. Maria Katzarava's dramatic soprano grippingly conveyed Lina's all-consuming remorse, while the impassioned music for Stiffelio found a similarly compelling proponent in Luciano Ganci. Francesco Landolfi brought out the humanity of Stankar, Lina's crusty father shamed by her conduct. The opera's resolution brought a stirring moment when, after Stiffelio obliquely forgives his wife from the pulpit, the congregational cry "Perdonata! Perdonata!" resounded from people on all sides of you.
The festival's cosmopolitanism didn't happen by chance. Verdi was born in nearby Bussetto, played the organ in a local church, and built his villa in the hamlet of Sant'Agata. Local hero aside, Anna Maria Meo has insisted that, "to celebrate Verdi properly, an international forum is necessary," as she pointed out in an interview. Accordingly, she has involved such Verdi scholars as Francesco Izzo, the late Philip Gossett's successor as general editor of Verdi's works in critical editions. Izzo, who presided over two stimulating midday concerts by young singers focusing on varying cabaletta repeats, heads a new advisory panel. Opera Europa chose the festival as the site for its autumn meeting, thereby drawing more than 300 professionals to Parma. Meo has also put the festival on the European tour circuit. Seventy percent of its audience comes from outside Italy.
While financing from various governmental levels remains essential, Meo has dramatically stepped up corporate and individual giving, abetted by a 2014 law granting individuals a tax credit of 65 percent of the amount of cultural contributions. The Teatro Regio does not rank among Italy's opera houses known as "enti lirici," but rather is a "teatro di tradizione." This has its advantages, Meo pointed out, because it is not obliged to maintain an orchestra and, accordingly, has fewer fixed costs. For the current festival, responsibilities are shared by Parma-based Filarmonica Arturo Toscanini and the orchestra of Bologna's Teatro Comunale.
Meo has stimulated involvement of the local populace by doing everything from arranging for dozens of free ancillary events to encouraging restaurants to open earlier in the evening so that visitors who like to dine before performances can do so. In a city celebrated for its namesake cheese and prosciutto, eating is a cherished activity.
The other three productions—like Stiffelio, all new—had points in their favor, even the least satisfactory one, La Traviata in a Regietheater staging by Andrea Bernard. Depicting Violetta as the proprietor of an auction house rather than a prostitute made nonsense of the plot, but worse was having Alfredo bring along his subsequent female companion for his reunion with the dying Violetta, nullifying the dramatic rationale of Verdi's music for the rest of the opera. Nonetheless, the exquisite, technically assured Violetta of Isabel Lee, a young Milan-trained South Korean reportedly in her first staged opera, proved a sensation. And the charming, 300-seat theater in Verdi's home town of Bussetto proved a fine place to appreciate her talents.
If Stiffelio and Traviata had a modern look, they were balanced by traditional stagings of Jérusalem and Falstaff in the Teatro Regio. It was a treat to encounter Verdi's first opera for Paris, which improved on I Lombardi, from which it was fashioned, yet has never emerged from the earlier opera's shadow. The production by Hugo de Ana, who was a presence during the Muti years at La Scala, was characteristically lavish in the monumentality of its sets, the resplendence of its projections, and the vividness of its costumes. When one wondered whether décor depicting a palace in Toulouse might also serve for a desert near Jerusalem in this tale of Crusades, an answer was quickly forthcoming as copious quantities of sand noisily rained onto the stage.
Of the four productions, Jérusalem had the best-known singers. Ramón Vargas was strong as Gaston, a Byronic figure falsely accused of murder and sentenced to die but not before a ceremonial degradation (new to the French version) of his military honor. Annick Massis doesn't really have the voice for Hélène but was so affective, not least in a rhapsodic account of the "cabaletta della visione," that all was forgiven. The redoubtable velvet-voiced Michele Pertusi was in top form as Roger. Given the festival's no-cuts policy, the ballet composed for Paris was included, all 25 minutes, in attractive choreography by Leda Lojodice, and the opera was ably conducted by Daniele Callegari.
Falstaff in Jacopo Spirei's zesty staging got off to a rollicking start when the fat knight sat on a chair and the whole stage tilted. Clever too were Nikolaus Webern's sets, which, in lieu of an indoor setting, depicted a residential intersection (with yellow-blinking traffic light) for the women's first scene, thereby emphasizing the neighborliness of the Fords and Pages. Although the cast was mixed, it benefited mightily from the Falstaff of the young Georgian baritone Mikheil Kiria. Possessed of the physique du rôle and a booming voice, he had everything the role demands, including a leggero touch for certain delectable phrases. Juan Francisco Gatell and Damiana Mizzi did well as the young lovers, and Verdi's miraculous final score was led with style and authority by Riccardo Frizza.
---

WHO'S BLOGGING

WHO ELSE IS BLOGGING
Interviews with musicians who have successfully created their own opportunities.
PROFESSIONAL
GROWTH
FIND:
»MORE

NETWORK
FIND:
Updates to artist manager rosters
»MORE
RENT A PHOTO
Search Musical America's archive of photos from 1900-1992.