---
New Artist of the Month: Composer Reena Esmail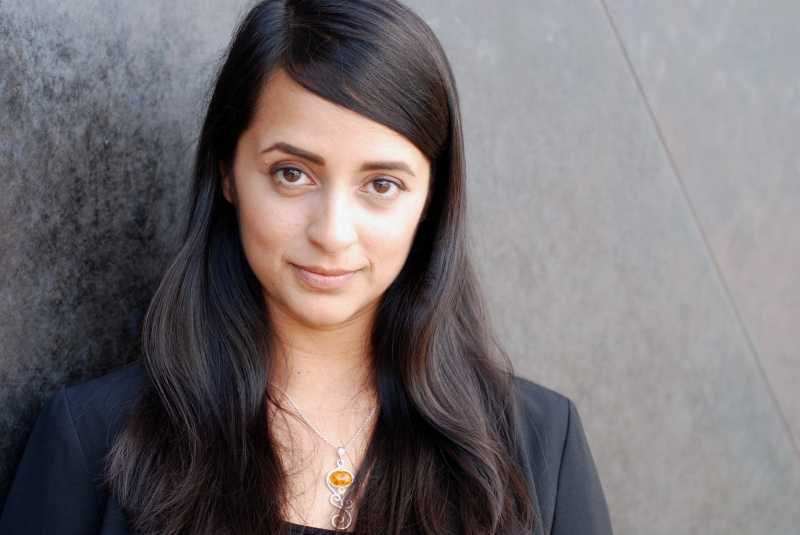 At Chorus America's annual conference last June in Los Angeles, a general session devoted to the topic "The Medicine of Music" featured a singalong demonstration of a new interactive choral work titled Take What You Need. It wasn't only the members of Street Symphony and the Urban Voices Project, a community choir of singers from LA's Skid Row neighborhood, who appeared transformed as they sang this music by Reena Esmail. The large audience of choral professionals from around America joined in, visibly moved by this confirmation of musical meaning.
"It was such a powerful moment, because I've always wanted my music to connect people to one another," Esmail told me in a recent interview.
As Composer-in-Residence with Street Symphony (cofounded by LA Philharmonic violinist Vijay Gupta as a project to bring music to the homeless population), Esmail created the anthemic Take What You Need last year as a vehicle for the disenfranchised from the Skid Row community to join with professional musicians and tell their deeply moving personal stories. Following the model of the Kronos Quartet's Fifty for the Future Initiative—in which Esmail herself has participated—Street Symphony recently made the piece available for free use to community organizations (on the website http://twyn.info/), who are encouraged to adapt it to accommodate specific performers and contexts.
"It started as a piece for string quartet and four singers but now there arrangements for everything from piano and one singer to orchestra and double choir. Even down to the very practical compositional choices, this piece is designed to value the needs of musicians and community alike, and to allow a warmth and mutual understanding to develop between them," says Esmail.
A consistent focus of the work by this 34-year-old composer has been on mediating between cultural contexts that are normally kept separate. In 2016 she produced her most ambitious score to date, the oratorio This Love Between Us, on a co-commission from Juilliard 415 and Yale's Schola Cantorum. Setting statements from the canonical texts of seven major religious traditions of India, This Love underscores "how each of these faith traditions approaches the topics of unity, of brotherhood, of being kind to one another" and blends Indian and Western classical styles in unique ways for each section. Writing it during the 2016 U.S. presidential election period added a layer of urgency and purpose, adds the composer.
Another major achievement of the past year has been the world premiere of her Clarinet Concerto, which Esmail wrote for the Albany Symphony and soloist Shankar Tucker. "In most situations, I am the conduit between Western and Indian music, but occasionally I get to work with a musician who has that dual training and can cross over like I do." Esmail also enjoys an ongoing relationship with the Albany Symphony—next year will unveil another new commission, for Hindustani vocalist and orchestra, as part of its American Music Festival—which means, she says, that "I know the musicians, so I feel comfortable inviting them to try new ways of playing, and to join with me as I explore the spaces between these two musical worlds."
Esmail refers to her unique manner of collaboration, which sets aside the abstract and instead is tailored to the character and knowledge of the performers with whom she works: "Western notation alone does not convey everything I want to share with my musicians. So I often make a recording of myself singing key melodic phrases as part of the 'score.' Indian music is essentially taught by call and response, and I want the Western performers to have a chance to interact with my work in that same way."
The result is a 21st-century conception of what it means to "compose" music: "Our world is now connected to the point that the score doesn't have to be limited to what can be written on paper. I want musicians to remain grounded in their own technique, but then to explore how that technique can enable them to move into new spaces."
It's a process that came in handy when Esmail was asked to collaborate with David Harrington of Kronos and violinist Kala Ramnath to shape Amrit (one of the Kronos's Fifty for the Future open library). "I was literally sitting between these two musical luminaries, translating between them in real time. It felt like I was translating between the leaders of two great nations, trying to convey their thoughts to one another in a way that felt direct but respectful, that acknowledged and honored the values of both of their musical traditions."
Esmail spent most of her early life navigating between siloed cultural identities. She grew up in Los Angeles, her father a Muslim from Pakistan and her mother a Catholic raised in Kenya. "Because of my Indian diaspora background, I often felt that my choice to be a Western musician separated me from my cultural heritage. That is why so much of my work now exists between the traditions of Western and Indian classical music. I am often the musical Other in both directions: as the representative of Indian music among Western musicians or vice versa."
But Esmail has turned this into a creative advantage—both for herself and for performers of her work: "When you take a step outside of a single system of music, it allows you think a little more broadly, and to use your perspective to draw together groups of people who wouldn't otherwise interact with each other."
Although her parents are not musical, they encouraged Esmail to pursue her obvious passion. Initially she fashioned herself after singer-songwriters and Broadway composers before gravitating to classical piano, which remained her focus through high school, until she was accepted as a composition major at Juilliard. "One of my teachers at the LA County High School for the Arts saw that I was wired like a composer, even though I'd barely written any formal music at that point."
After Juilliard, Esmail went on to Yale's graduate program in composition. Her thesis was on collaborative practices between Hindustani and Western music, which she continues to foster through Shastra, an organization she cofounded with Payton MacDonald to encourage this cross-cultural work among musicians. Esmail speaks of her most significant mentors in terms of family: "Susan Botti is my composer-mom. She immediately understood who I was in a way no one else had up to that point. And Aaron Jay Kernis is my composer-dad. He knows how to ask exactly the right questions, and has often believed in my ideas before I did."
A Fulbright to India proved revelatory. She studied Hindustani vocal music with sitarist Gaurav Mazumdar (whose appearance this month on the BBC Proms spotlights the connections between Philip Glass and Ravi Shankar) but also traveled far and wide across the country, interacting with professional musicians and local street musicians alike.
"I grew up bilingual, in an Indian family. But studying Indian music in India, in the only place in the world where I am not a minority, allowed me to engage deeply on so many levels. It gave me an irreplaceable sense of identity and belonging. I strive to recreate that feeling in the music I write."
One upcoming project that especially excites Esmail is a piano trio she is writing for cellist Joshua Roman and his new music series at Seattle's Town Hall. "While I divide my time equally between orchestral, choral, and chamber music, I think my voice as a composer feels most like a chamber music voice. I'm so drawn to this exchange and dialogue that happens in small ensembles, to this kind of intimate interaction between people."

WHO'S BLOGGING


RENT A PHOTO
Search Musical America's archive of photos from 1900-1992.