---
Where Training in the Arts Meets Training for Life
Performing-arts conservatories have moved from being strictly ivory-tower meccas for precious geniuses to more reality-based institutions. Recognizing that polishing artistic skills is only part of their mandate, many now offer—even require—training in career development that can help students jump-start their professional lives. Here are a few examples.
Curtis Institute of Music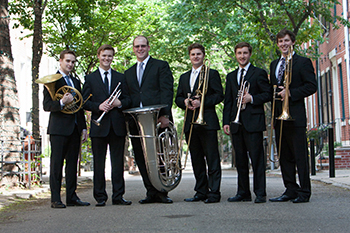 At Curtis, especially under current President Roberto Diaz, career development means teaching students to think and act not only like entrepreneurs, but as "artist-citizens" looking to make social impact through music. [The Brass Project, a sextet focused on diverse styles and audiences, is a 2016 outgrowth of the Curtis Institute's Artist-as-Citizen curriculum. PHOTO: Janos Sutyak]
Artist-as-Citizen Curriculum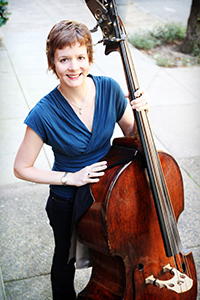 Director of Professional Development and Community Engagement Mary Javian describes a "three-tier Artist-as-Citizen curriculum," inaugurated in 2014, that is built around community partnerships.
Social Entrepreneur, phase one, is a mandatory course for all 175 students, requiring them to spend 15 hours per semester in service with one of Curtis's partners. It also features faculty and guest lectures on entrepreneurship
The Community Artists Program, phase two, awards $2,000 to six students per year (based on application) to carry out a social-service
project idea, with the help of a mentor.
ArtistYear, phase three, is open to alumni as well as students. It is based on application and modeled after programs like Teach for America, offering artists a living stipend and health insurance and placing them with local community partners for an entire year of service. In 2015-16, projects included building a choral program and staging a production of Dreamgirls at South Philadelphia High School, and teaching regular music classes at various homeless living facilities.
Career Office Hours and Workshops
Javian offers career advice as well as organizing sessions for students with either faculty or outside consultants. The latter group has ranged from
saxophonist and Prism Quartet founder Matt Levy to local start-up business consultant Aaron McLean. There are also regular workshops on budgets and personal finance, web site development, negotiating contracts, marketing, grant writing, commissioning, community engagement, and interactive performance.
Alumni Support
Although ArtistYear is already open to all alumni under the age of 28, Curtis is also building an Alumni Network to include:
Student mentors from recent graduates
Regional ambassadors to bolster career guidance and network for students in their respective cities
Curtis Storytellers, a Facebook-driven platform for alumni to share their
projects
Artist Residencies
Though perhaps not identified as such, artists in residence often provide career guidance to students. The group Eighth Blackbird's residency, begun
in 2012-13, has had a huge impact on students, according to Javian. Shorter residencies have included those of composer Steven Mackey, jazz pianist Vijay Ayer, and, in the coming school year, eclectic violinist and Musical America's 2016 Instrumentalist of the Year Jennifer Koh.
---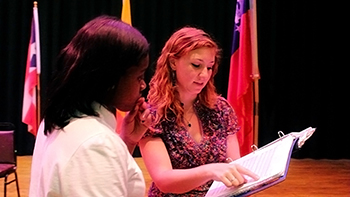 Curtis's Artist-as-Citizen Curriculum Links Students with a Wide Variety of Community Partners
All-City Orchestra
First Person Arts, promoting empowerment through storytelling
Mighty Writers after school writing program for grades 7-12
Penn Rittenhouse Hospice
Philadelphia Sinfonia
Project HOME, which helps women transition out of homelessness
Opera Philadelphia
South Philadelphia High School
Taggert Elementary School
U-Penn Memory Center, which treats Alzeihmer's
Watermark Senior Living
[As part of her ArtistYear project, Curtis graduate soprano Alize Rozsnyai worked with students at South Philly High to produce Dreamgirls; she is shown here in rehearsal.]
---
The Guildhall School of Music and Drama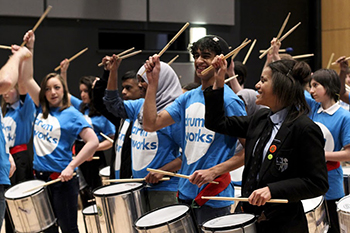 Like Curtis, London's Guildhall sees teaching entrepreneurship as essential to career development. The school, housed in London's Barbican complex, is home to roughly 900 students at the college level, plus nearly 2,500 under-18 students in its Junior Guildhall program. [Drum Works was among the Creative Entrepreneurs projects incubated at The Guildhall School of Music and Drama. PHOTO: Susan Sanroman]
Curriculum Structure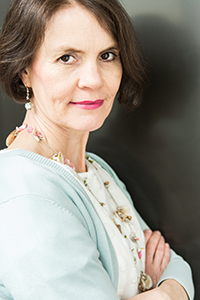 Helena Gaunt, vice principal of research and academic development, says career development is integrated into the core curriculum. All undergraduate music majors have two required courses, taken in their first and fourth years, respectively:
Professional Studies features introductions to performance psychology, health and wellbeing, improvisation, and communication skills.
Professional Studies 2 calls for students to submit a Professional Portfolio, with statement of professional intentions, CV/biography, photos, press information, recordings, and video material.
In between, students can choose from some 30 electives in music, many of which have broader career applications. A course in Music Administration, for instance, includes lessons in all manner of behind-the-scenes operations, from budgeting and contracts to promotion and sponsorship.
Creative Entrepreneurs
The Creative Entrepreneurs program, available by competitive application, is what Gaunt calls a "business incubator initiative," run in collaboration with Cause4, a London-based social-enterprise and philanthropy consulting firm. During the 12-month (September-September) program, young entrepreneurs receive access to:
Mentoring and coaching (roughly 30 hours per year) one-on-one, with local business leaders from PricewaterhouseCoopers, Amati Global Investors, The Culture Capital Exchange, local arts group Artichoke Trust, the BBC, and the City of London Corporation
Office space (roughly 20 hours per week of access) in central London
Seminars and workshops (80 hours per year) with Cause4 members and other professionals, to develop entrepreneurial skills like business planning and company structure, digital development, sales, marketing, leadership, finance, and pitching a product to potential investors
A Pitch event at the end of the program term, giving entrepreneurs the opportunity to pitch their idea to outside investors
Creative Entrepreneurs has "incubated" 22 new businesses and projects, including:
Drum Works, a music education program geared toward confronting disengagement within London public schools
Turn of Phrase, which seeks to improve workplace gender equality by applying vocal training to public speaking
Lyribox, an online vocal training resource that won a 2015 Deutsche Bank Award for Creative Enterprise
Beginning in the coming year (September 2016), Creative Entrepreneurs will be open to applicants outside Guildhall for a fee of £2,900. Alumni networking The Guildhall School gathers valuable alumni statistics through the Destinations of Leavers in Higher Education (DLHE) survey, required of all higher ed graduates in the U.K. Gaunt explains that, since opening a dedicated alumni office in 2006, the school is in much closer contact with its 10,000-strong alumni base, using a LinkedIn group and other social media "to develop a community of creative entrepreneurs in the performing arts."
Indiana University Jacobs School of Music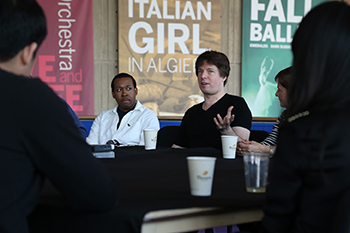 "I feel like I'm in a construction zone right now," says Alain Barker, director of entrepreneurship and career development at the Indiana University Jacobs School of Music. Indeed, big changes are afoot at the school's Entrepreneurship and Career Development Center, particularly the addition of two new career specialists, Joanie Spain and Meryl Krieger. The two will give the center "greater bandwidth," as Barker puts it, taking over one-on-one advising (previously Barker's responsibility) and networking with other school departments to integrate career training into Jacobs's culture. Nonetheless, a number of careerrelated initiatives are already afoot. [Jacobs School alumnus Joshua Bell participates in one of the many "Well-Advised Lunches" hosted by Project Jumpstart.]
Certificate in Music Entrepreneurship
Aside from the career center itself, one of the Jacobs School's most innovative degree programs is the Certificate in Music Entrepreneurship, a collaboration with IU's Kelley School of Business. The 15-credit curriculum includes two courses at the Jacobs School (taught by Barker) and three at the Kelly School:
Introduction to Music Entrepreneurship (Jacobs)
Exploring Entrepreneurship (Kelley)
New Venture Management (Kelley)
Managing & Behavior in Organizations (Kelley)
Practicum in Music Entrepreneurship (Jacobs)
Students can receive a Music Entrepreneurship certificate with their Bachelor of Music degree. The first recipients will graduate in spring 2017.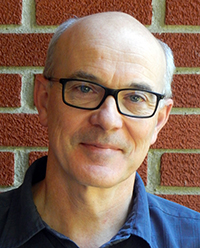 Project Jumpstart
Founded in 2010 by Angela Beeching, an international career specialist and author of Beyond Talent, Project Jumpstart employs two graduate and two undergraduate students to organize panel discussions, roundtables, workshops, and career-focused "Well-Advised Lunches" with guest speakers. Project Jumpstart also promotes contemporary career thinking through two internal email newsletters: the weekly Jumpstart Digest and monthly Entrepreneur of the Month.
Innovation Competition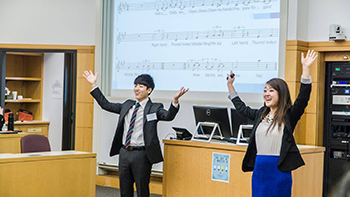 Every January, the Jacobs School and the Kelley School's Johnson Center for Entrepreneurship host an Innovation Competition for student projects. First- and second-place winners receive small cash prizes. Last year's projects included: [Jacobs School 2016 Innovation Competition finalists Yesong Na and Alice Park present their project, PreA, a new concept for a piano academy.]
"The Listener's Guide," a YouTube channel (winner)
"OnCue Music," a software program for organists and choir directors
"Music Concierge Service," which curates music and promotes new works
"Facing the Music," a TEDTalks-style presentation about art music
"PreA,"an innovative piano academy that integrates creativity and leadership training
The competition is coordinated with innovation competitions in other IU schools or departments, with winners placed in the finals of the Johnson Center's IDEA competition, which carries a $10,000 prize.
Ensemble Mentoring
Barker says that he and other faculty have also invested heavily in mentoring new ensembles. Notable alumni groups include the Verona String Quartet, currently resident student ensemble at Juilliard, and the Kenari Saxophone Quartet, which earned second place at the inaugural M-Prize Chamber Arts competition.
Health and Wellness
"Survivability in the music world has a lot to do with health," Barker notes, "whether it be emotional health or physical resilience for the very athletic side of music." The Jacobs School thus takes a "holistic" approach to career development, offering a Mind and Body workshop at the beginning of each academic year, and a free, semester-long Classically Trained Fitness course to help students gain flexibility and avoid injury.
The Juilliard School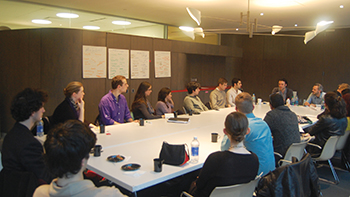 In addition to incorporating career skills and entrepreneurship into its curriculum, Juilliard's Alan D. Marks Center for Career Services, opened last year, sponsors a number of projects to help create what Director Barrett Hipes calls an "entrepreneurial ecosystem" on campus. [A career roundtable discussion at the Juilliard School.]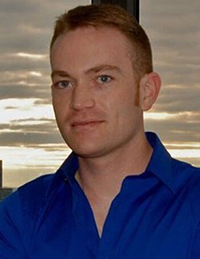 Hire Juilliard Performer Program
In matching students with local performance opportunities, Hire Juilliard Performer calls upon upper classmen to serve as matchmakers. These roughly 150 students (at any given time) receive extensive training in customer service, contracts, and details of event production, enabling them to be "first call" soloists and to organize groups for outside clients. Hipes estimates that roughly 600 off-campus performances engage about 1,300 students and alumni each year, a substantial number given a total enrollment of 850.
Career Advising
Hipes says that he and Assistant Marks Center Director Katherine Howell have "upwards of 500-600 student appointments a year." They can be scheduled through an online Career Portal, accessible to both students and alumni, which also features résumé templates, cover letter and bio samples, and a platform for recording and receiving feedback on mock interviews.
Career Grants
Michael (brother of Alan) Marks, an avid amateur pianist, has provided endowments for a number of career grants, including $150,000 per year for 15 graduating students ($10,000 each) who are going into freelance careers (not, Hipes points, out for those going to grad school, or who "score that Boston Symphony job.") An additionally, $75,000 per year is set aside for:
Career grants, which provide up to $1,000 for audition travel or production costs of a demo
Project grants, which offer students up to $2,500 for unique "one-off" projects
Entrepreneurship grants, which are awarded to four to six students annually and have no restricted time limit; Hipes reports that recipients maintain close contact with the Marks Center throughout their projects and apply for funding as they need it. Grant recipients in 2015 include:
New Curricular Developments
Next spring, Juilliard will give its "entrepreneurial ecosystem" a boost with "Essentials of Entrepreneurship in the Arts," a new mandatory course that will require students to develop a project concept—such as a new business or concert. Juilliard faculty and outside presenters will offer guidance along the way.
San Francisco Conservatory
The San Francisco Conservatory currently offers much of the same careerdevelopment training as other schools. But it is taking a bold step forward in 2016-17 by making professional development a full-fledged academic department.
Curriculum
Currently, all of the school's roughly 170 undergraduates are required to take Practical Aspects of a Career in Music, a two-credit course, and choose from a number of electives, all taught by SFC faculty:
Practical Aspects of a Career in Music (required)
Musical Startups
Intro to Music Technology for Performers
Building Your Digital Presence
Psychology of Music Teaching and Learning
Alexander Technique
Training the Musical Brain
Teaching Artistry
Health and Wellness
The Conservatory's 188 graduate students have the option of either taking any of the above courses or doing an internship under the Professional Development and Engagement Center (PDEC).
The PDEC Office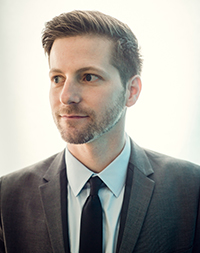 The "P-Deck," as it is affectionately known, began with the arrival of President David H. Stull from the Oberlin Conservatory in 2013. Today, it is run by Associate Dean for Professional Development Ryan Brown, a Princeton-trained composer and founder of the San Franciscobased multi-genre presenter Switchboard Music. Located in the Conservatory library, the PDEC office offers one-on-one advising
by Brown and trained student assistants, and runs a number of community engagement and student grant programs.
Student Professional Development Fund
Over the past four years the SPDF has offered individual $750 professional development grants collectively worth $10,000 per semester. In the coming year, grants will become tiered, with $1,000 grants for larger-scale projects. SPDF grants have fully or partially funded a student-run day-long music marathon in three venues called Hot Air; an album of original compositions called Music for Healing, inspired by diverse spiritual traditions and intended for use in hospice care; and the world premiere performance and recording of a large work for string orchestra called One.
Engagement
The PDEC's Music to Go program, which matches selected student performers with local gigs, and an Outreach and Tutoring program that embeds studentteachers in San Francisco public schools, both offer valuable "real world" experience. Internships coordinated by the PDEC also give students an insight into working behind the scenes.
Workshops
Run by Brown and PDEC staff, workshops have included short presentations on résumés and cover letters, as well as more in-depth sessions such as:
Taxes for Artists
Intro to Website Design
Public Speaking
Starting and Running a Chamber Ensemble
13 Ways of Looking at Your Career in Music
Intro to Grant Writing for Artists
---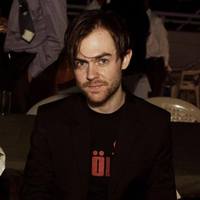 Ian VanderMeulen is a graduate of Oberlin College and Conservatory of Music and worked for six years as an editor at Symphony magazine. He is currently pursuing a doctorate at New York University.

WHO'S BLOGGING


RENT A PHOTO
Search Musical America's archive of photos from 1900-1992.