---
MA 30 The Influencers: Xun Sun

Music Director and Conductor
Orchestra of Southern Utah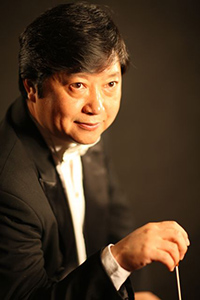 The highly photogenic yet relatively remote region of southern Utah is not exactly the first place you would think of as a hotbed of intercontinental cultural exchange. Yet Xun Sun, music director of the semi-professional Orchestra of Southern Utah and director of orchestral activities at Southern Utah University in Cedar City, is making it so, utilizing his contacts and energies to establish a twoway connection between this region and his native China.
In 2011, Xun Sun took 11 members of the orchestra on a tour of China, performing concerts in honor of Helen Foster Snow, a Cedar City-born journalist and author who helped the Chinese organize workers' cooperatives during the Japanese invasion in World War II. Back in Cedar City, Xun Sun spearheaded the campaign to have a stature of Snow erected in the city park.
While on tour, he introduced Chinese audiences to works that have been commissioned by the orchestra, including the Marshall McDonald/Steven Sharp-Nelson Spanish Trail Suite. The musical exchanges have gone in the other direction as well, one example being Chinese conductor Tao Wu being invited to lead a choral/orchestral composition, Chao Yang Valley, in Cedar City in 2014, with the OSU Chorale singing in Mandarin. "Xun Sun has helped open our musical world," says Sara Penny, OSU violist and past president of the orchestra.
His connections have given SUU students access to various Chinese universities and performing organizations, including Hunana Normal University, for instruction in Mandarin. With China an increasingly prominent economic and cultural world power, Sun is bringing that influence to a region that might have been otherwise left out of the loop.

WHO'S BLOGGING


RENT A PHOTO
Search Musical America's archive of photos from 1900-1992.