---
Remote Music Lessons, in Real Time and Almost-Real Time

Online learning is pretty common these days, but what about online performance learning? Is it really possible to duplicate the in-person, hands-on experience in real time? For some, the answer is decidedly "yes." For others, it's "soon!"
A virtual viola teacher
"It's a little strange to look at a TV and have it talk back to you, but I got used to it." Susan Bengston, a senior at the Cleveland Institute of Music, has had hundreds of viola lessons over the Internet during the past five years. "You adapt very quickly," she adds.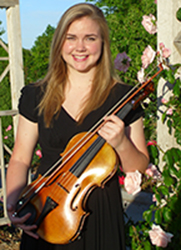 She started in high school in Richland, WA, a location too far from the Pacific Northwest's major music centers in Seattle and Portland to have access to top-level viola teachers. Every Monday morning before school, she took a 60-minute lesson with CIM viola professor Jeffrey Irvine—she at a studio on the Washington State University campus in Richland, he at CIM. Sound and video were communicated via a video conferencing system over the high-speed Internet2 network.
---
Internet2 is a U.S. consortium formed in 1997 to build a high-performance, high-speed, computer network for research and education. Members include major research institutions, nonprofit organizations that are research- and education-oriented, corporations with a role in advanced networking, and connector networks. Internet2 has vastly greater bandwidth than what is available on the standard Internet. Originally geared toward the hard sciences, such as medical imaging and particle physics, the network has had an arts and humanities initiative since 2000.
---
"I'm not sure I would be at a conservatory if it weren't for distance learning," Bengston continues. "It's very intense to prepare for conservatory auditions, and having an instructor who knows what you need to do to get in, and how to push you to become a better player, is really crucial."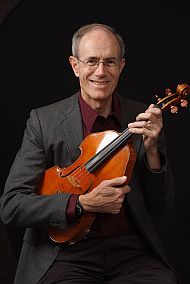 Irvine, who has other online viola students, considers the digital classroom a pretty comfortable teaching environment. "The sound quality isn't quite the same, but I feel that I am 80 to 90 percent effective online as I am in person," he says. "I can hear vibrato. I can tell tone color, though it feels slightly deceiving at times. Clarity, what the student is doing with timing, how they're shaping a phrase, and the basic mechanical things—bow speed, articulation, the way they start notes, how well they sustain from bow to bow—all those things I feel like I can hear over the Internet."
Bengston paid $1,400 per semester, the same as a preparatory student physically at CIM, for 15 weeks of lessons (the distance education department waived the normal connection fee of $150 per session). In Cleveland, where Bengston has continued to work (in person) with Irvine, she also has had other interactive online learning experiences, with, for instance Tim Frederiksen, a viola professor at the Royal Danish Academy of Music.
In many ways, her early online playing with Irvine was indispensable to Bengston's development as a violist. "It would have been very hard for me without it," she says. "To have something consistent and affordable was a blessing."
It started with pioneering Pinchas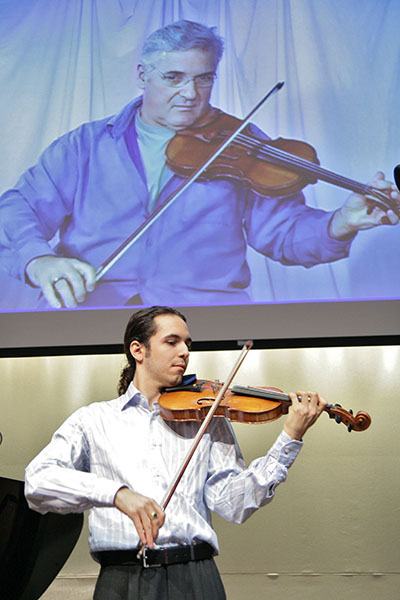 It was 1996 when the Manhattan School of Music became the first major U.S. conservatory to get into interactive online education. "We started because of the vision of Pinchas Zukerman, who was intrigued with video conferencing and how it could support our newly minted Zukerman Performance Program," says Christianne Orto, dean of distance learning and recording arts at MSM. Zukerman used video conferencing to work with students when he was on tour, and that practice continues today. Other prominent musicians, such as baritone Thomas Hampson, have used Internet2 to teach classes originating at MSM for other conservatories, such as the Curtis Institute of Music. (PHOTO: Pinchas Zukerman teaches MSM student Jesus Reina via Polycom.)
Video conferencing had mainly been a business tool, and using it for music was groundbreaking. Orto remembers having to lease bundled digital phone lines for early projects, such as making a connection with Henri Dutilleux in Paris that allowed the French composer to witness the New York premiere of his Timbres, espaces and take questions from the audience. "Think of it as an extraordinarily expensive phone call," she says.
The conservatory now reaches up to 10,000 students a year in its virtual learning space. "We deliver educational content to 39 states and 23 countries," Orto says of distance learning classes for K-12 schools and community centers. For conservatory students, there are Internet2 sessions with players from the Berlin Philharmonic, the London Symphony Orchestra, and other leading musical institutions. MSM also connects its students and faculty with counterparts at other conservatories and music schools in the U.S. and abroad.
The Polycom connection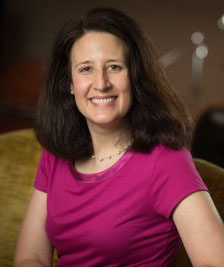 Orto collaborated with California-based Polycom to create video conferencing devices that can properly accommodate music, and MSM and other schools now use them for most of their online music teaching. The school districts that make up the bulk of the market for distance music education also use Polycom models.
"If the mission is outreach to provide music education, the Polycom works very well," Orto says. "Between $7,500 and $12,500 is the range for a good Polycom system for music. And you can just plug it in and play."
The system does not enable "the holy grail standard" of interactive music, however, which is the ability of musicians to play together in real time.
"Absolutely not," says Orto. "There's too much delay in the processing of the signal. Polycom has about 250 milliseconds of delay, or basically a quarter of a second. And then if you are going to connect between New York and, say, Los Angeles, that's also going to add in delay because of the distance, even on Internet2. In all, it could be a delay of half a second to three quarters of a second, so you can't play simultaneously."
And then came LOLA
But you can, for the most part, with LOLA. In 2012, some 600 engineers, researchers, and scientists representing Internet2 members jumped to their feet and cheered after witnessing a live duo performance by a violinist in Philadelphia and a cellist in DeKalb, IL. Using Internet2, the players, almost 1,000 miles apart, were connecting through a new video conferencing application called LOLA. "Tech people don't tend to get excited, but they were flabbergasted that day," says Dan Nichols, an Internet2 multimedia specialist from Northern Illinois University who helped facilitate the demonstration.
"It was a breakthrough," says Ann Doyle, community engagement manager for Internet2. "People saw that musicians in remote sites could play simultaneously. We had never been able to achieve that before." Interaction with Polycom was one thing, but simultaneous, synchronized interaction was something else—and unique to LOLA.
Developed by the G. Tartini Conservatory in Trieste, Italy, and the Italian Research & Education Network, LOLA stands for "low latency." Latency—or delay—is unavoidable in video conference technologies like Polycom. "But with LOLA there is virtually no delay. It's like you're in the same room," says Brian Shepard, professor of audio design practice at the University of Southern California.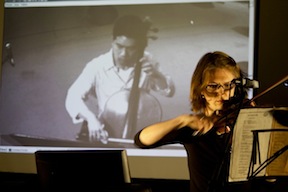 Yet for all its promise, LOLA is still an experimental application, and only about 40 institutions around the world—fewer than half in the U. S.—are able to use it. "I think LOLA is a glimpse of the future," Orto says. "And it's a very exciting future, but it's not practical at this time. LOLA is all about enabling musicians to play together in real time, and that is not a deal breaker in music instruction." High quality video-conferencing devices like those made by Polycom, she says, are sufficient for a fluid back and forth interaction between teacher and student. (PHOTO: LOLA's eureka moment: In 2012 violinist Marjorie Bagley in Philadelphia played a duet in real time with cellist Cheng-Hou Lee in Dekalb, IL.)
LOLA also requires enormous bandwidth—around 800 megabits per second. A Polycom connection, on the other hand, provides good sound running on as little as two to six megabits per second.
The Cleveland Institute of Music recently added LOLA to its distance education tool box. "I think it's going to be a game changer," says Greg Howe, director of distance education. "It's a little unstable, and the video is not necessarily so beautiful, but it's a game changer."
Cutting edge in Miami Beach
Founding Artistic Director Michael Tilson Thomas conceived the New World Symphony to be in the forefront of new music technologies, as embodied by its spectacular South Beach home, the New World Center, designed by Frank Gehry and opened in 2011.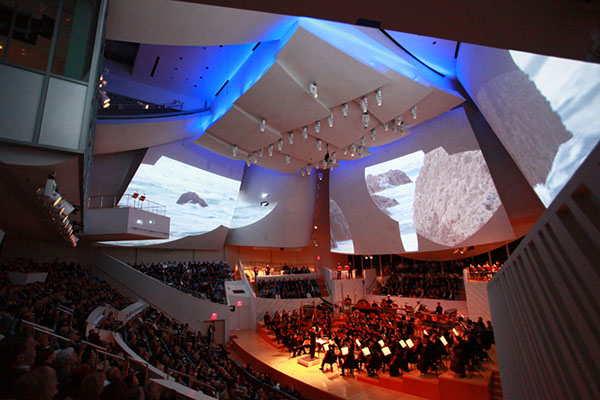 "The building is completely wired with fiber optic cable to every room," says Justin Trieger, the NWS technical director for distance education and new media initiatives. "I essentially have a centralized distribution system where all the interactive technology is housed and from there I can distribute audio/video signals to any space in the building. We basically created a fiber optic circulatory system." The center contains 17 miles of fiber optic cable. (PHOTO: The New World Symphony performing in the New World Center, which houses 17 miles of fiber optic cable.)
New World, made up of recent conservatory and music school graduates on fellowships, is way ahead of the curve when it comes to deploying technology like LOLA over Internet2. It has as many as 150 interactive musical exchanges a season with other institutions.
Audition training with the best.
New World Symphony double bass player Noah Reitman, who graduated in May, received audition coaching from the principal bass players of the Metropolitan Opera Orchestra and San Francisco and Pittsburgh symphonies. "I was playing for people I respected, and it didn't matter that they were sitting in a box of front of me instead of in person," he says. The coaching paid off: In June, Reitman won the audition to be assistant principal bass for the Vancouver Symphony Orchestra. (PHOTO: A student at the Royal Danish Academy of Music during a Global Audition Training Program session; he is seeking feedback from the trombonists at the bottom of the photo.)
Similarly, the Global Audition Training Project, a collaboration among NWS and four other institutions, enables conservatory musicians to receive feedback from the best in the business, via Polycom. In one session, for example, five trombonists played and got advice from principal trombonists in the Cleveland Orchestra, the Vienna Philharmonic, the Shanghai Symphony, and others.
Berklee College of Music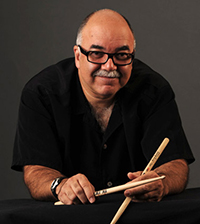 Berklee College of Music [began experimenting with real time virtual master classes around 2000. An early effort featured Peter Erskine, a jazz drummer and composer, who was beamed via digital phone lines and Polycom systems from Los Angeles to the school's Boston campus.
"The high point was when everyone involved forgot that there was a screen between them," says David Mash, senior vice president for innovation, strategy, and technology. "It was an ensemble class with a group of students in Boston performing and Peter coaching, and after about 40 minutes, it was like the technology became invisible. The music and the teaching and the learning were all that really mattered. That was a magical moment that convinced me that this was something very important."
Today, Berklee is an Internet2 member and has experimented with LOLA. The Boston campus is connected to the school's Valencia location in Spain, and there are frequent collaborations both over the network and between recording studios, made easy because they both have the same, interconnected, recording consoles.
"We can record and add tracks easily from one side to the other," Mash says. "You can have recording session in both studios simultaneously, with students on both sides doing one track at a time, and both sides can get the files in real time and play them where they're at. It enables a lot of interaction."
Berklee Online, separate from the college and the largest online school in the world with 150 courses and 10,000 students a year, does not for the most part have classes in real time. Instead, in conventional e-learning fashion, teachers and students send text and sound and video back and forth, and the only live interactivity in class is a weekly chat.
---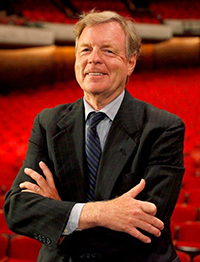 John Fleming writes for Classical Voice North America, Opera News, and other publications. For 22 years he covered the Florida music scene as performing arts critic of the Tampa Bay Times.

WHO'S BLOGGING


RENT A PHOTO
Search Musical America's archive of photos from 1900-1992.