CONTESTS & AWARDS
Musical America has developed the most advanced search in the international performing arts industry. Click on the tabs below to identify the managers, artists, presenters, businesspeople, organizations and media who make up the worldwide performing arts community.

---
Management companies that advertise in the print edition have a hyperlink to their Artist Roster.
(If you would like to advertise in the Directory and receive the benefit of having your roster appear in this database, please click here.)
artists,Artists & Ensembles
choral,Choral Groups
dance,Dance Companies
I am looking for
Artists & Ensembles
Choral Groups
Dance Companies

---
opera,Opera Companies
orch,Orchestras
inpres,International Concerts & Facilities Managers
usfaci,US/Canada Facilities
usperf,US/Canada Performing Arts Series
fest,Festivals
I am looking for
Opera Companies
Orchestras
International Concerts & Facilities Managers
US/Canada Facilities
US/Canada Performing Arts Series
Festivals
---
usradi,Classical Music Radio Stations (US/Canada)
inradi,Classical Music Radio Stations (Global)
usnews,Newspaper Music Critics (US/Canada)
usmags,Music Magazines (US/Canada)
inmags,Music Magazines (Global)
publ,Publishers of Music
reco,Record Companies
I am looking for
Publishers of Music
Record Companies

---
Spotlight:
Record Companies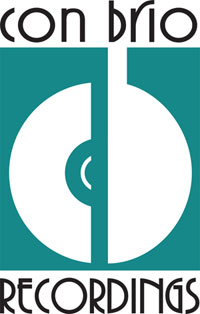 Con Brio Recordings
1961 Rose Ln.
Pleasant Hill, CA 94523
(925) 689-3444
---

---
A Night for Celebration: MA Awards, 2018 Version
In what has become the annual de-facto industry holiday party, Musical America hosted its yearly awards and reception Wednesday night at Carnegie Hall. The five "of the year" honorees and their assorted entourages were on hand to receive their awards, presented with much warmth and generosity of spirit by Sedgwick Clark, features editor of the Musical America International Directory of the Performing Arts, the 2018 edition of which is due out presently.
In addition to comprehensive national and international listings, manager reports, and year-end news summaries, the 2018 Directory contains articles that pay tribute to each of the honorees: Andris Nelsons, Artist of the Year; Francisco J. Núñez, Educator of the Year; Sondra Radvanovsky, Vocalist of the Year; Augustin Hadelich, Instrumentalist of the Year; and Mason Bates, Composer of the Year.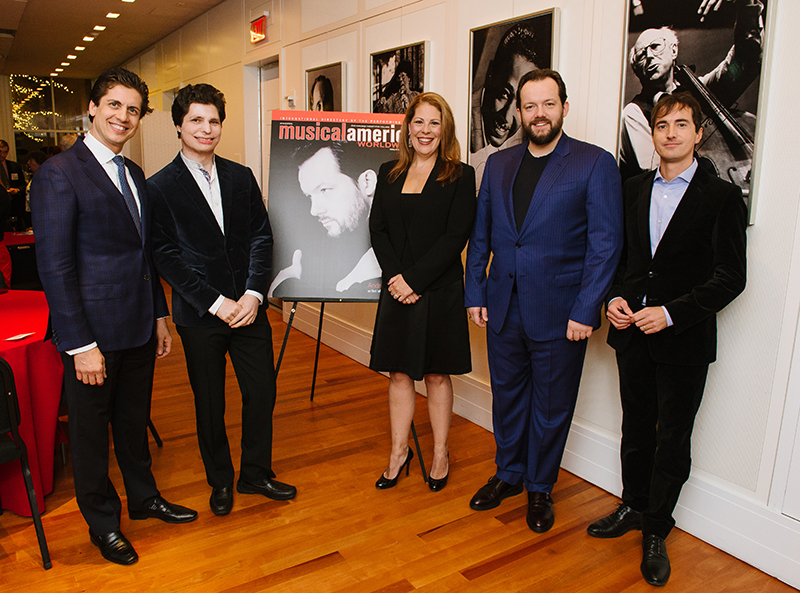 Left to right: Francisco J. Núñez, Educator of the Year; Augustin Hadelich, Instrumentalist of the Year;
Sondra Radvanovsky, Vocalist of the Year; Andris Nelsons, Artist of the Year; Mason Bates, Composer of the Year
Stephanie Challener, owner and publisher of Musical America Worldwide, began the evening's festivities by thanking each of the event's key sponsors: Columbia Artists; the International Violin Competition of Indianapolis; Meyer Sound; and Steinway & Sons.
In accepting the Composer of the Year award, Mason Bates explained that, unlike many composers, he works not just in solitary, notating musical ideas as they may emerge, but also, and often, surrounded by an orchestra. Because he and his laptop are often the "electronica" piece of his symphonic works, he explained, he spends much of his time around musicians and administrative staff all over the U.S. "There's a lot of good stuff happening at the grass roots level," he said, pointing out how important it is to recognize the positive news about the business. He also took time to thank the Kennedy Center, where he is composer-in-residence, and the Santa Fe Opera, for supporting and showing interest in his first opera, The (R)evolution of Steve Jobs, which premiered last summer, "before it was hot."
Instrumentalist of the Year Augustin Hadelich picked up on Bates's urgings to recognize the positive work going on in the performance world. He too travels widely, in this case with his "Ex-Kiesewetter" Strad violin, and sees much good news to report. "I think sometimes that people in New York are not aware that so many groups are playing at such a high level," he said. His remarks included many thanks, to his manager, Patricia Handy; his teacher at Juilliard, Joel Smirnoff; and to Glen Kwok at the International Violin Competition of Indianapolis, which Hadelich won in 2006 and which, he said, "changed my life completely."
Vocalist of the Year Sondra Radvanovsky explained that she had promised herself that she wouldn't get emotional, and then proceeded to do so—charmingly. She was feeling very grateful, she explained, not only for the gift of her talent, but to her mom, who was on hand; to John Fisher, now assistant general manager for music administration at the Metropolitan Opera, for his care in coaching her in the early career years; to manager Alec Treuhaft; her husband Duncan Lear; and her pianist Anthony Manoli, who predicted back when she was known primarily as a Verdi soprano, that she would one day be singing Bellini and Donizetti. She disagreed at the time, but today the former composer's Norma and the latter's three British queens are two of her signature feats.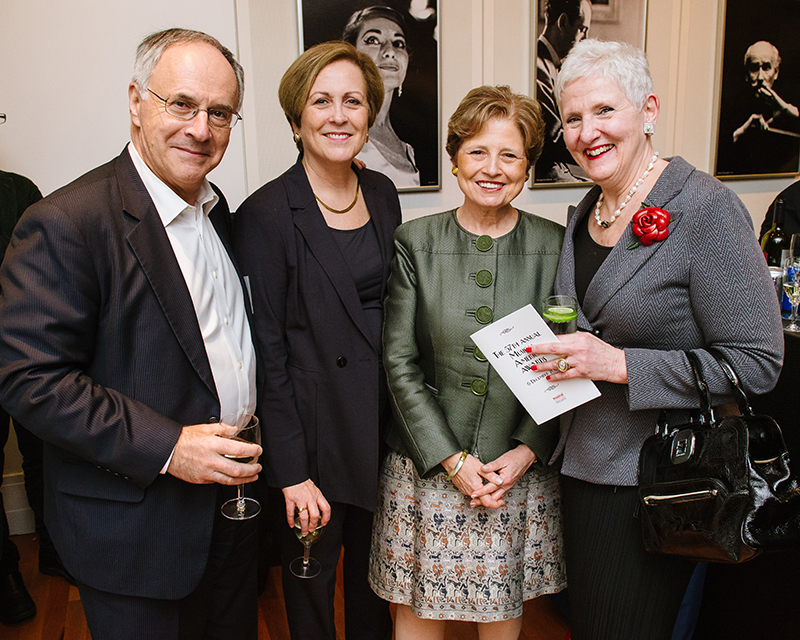 Power Quartet: Clive Gillinson, Executive and Artistic Director of Carnegie Hall; Deborah Rutter, President of the Kennedy Center; Deborah Borda, President and CEO of the New York Philharmonic; Mary Lou Falcone, of ML Falcone Public Relations
Francisco J. Núñez, Educator of the Year, also expressed gratitude, to his publicist, Connie Shuman, his mom (in the audience), and his wife. He also thanked the team at the Young People's Chorus of New York City, which he launched nearly 30 years ago with just a few young singers and which today boasts an enrollment of 1,700 and is active in five countries. YPC's goal, he explained, is bringing children of diverse backgrounds—and their families—together through music. "Music brings us together," he said, "We need to get more music in the room and more children in the room." YPC currently reaches 48 school districts out of New York's 52, he said, "and we're trying to figure out how to get to the other four." With Núñez leading the charge, they most certainly will.
Just ticking off Andris Nelsons credits as Artist of the Year turned out to be a time-consuming exercise, and at the end of his introductory remarks, which pointed out the conductor's two music directorships, his numerous recording projects, and his generally ballistic career trajectory, Clark asked the room, "Is anyone else exhausted"? In response, Nelsons was all humility, attempting to point out that all a conductor has to do is wave his arms, that it is the musicians and the administration of any orchestra or opera company that do all the work. "I love so much every Boston Symphony Orchestra musician and staff member," he said. "This prize is only possible due to you. It makes me so proud and happy." He recalled a recent BSO performance of Strauss's Alpine Symphony and said with quiet emphasis, "Nobody plays like they do!"
At the end of all the celebrations, each guest received a "goody bag," which this year was plentiful indeed, compliments of Avie Records, BSO Classics, Deutsche Grammophon, the San Francisco Symphony, and YPC.

RENT A PHOTO
Search Musical America's archive of photos from 1900-1992.