---
Van Cliburn's Cold War Triumph. Part II of the Prologue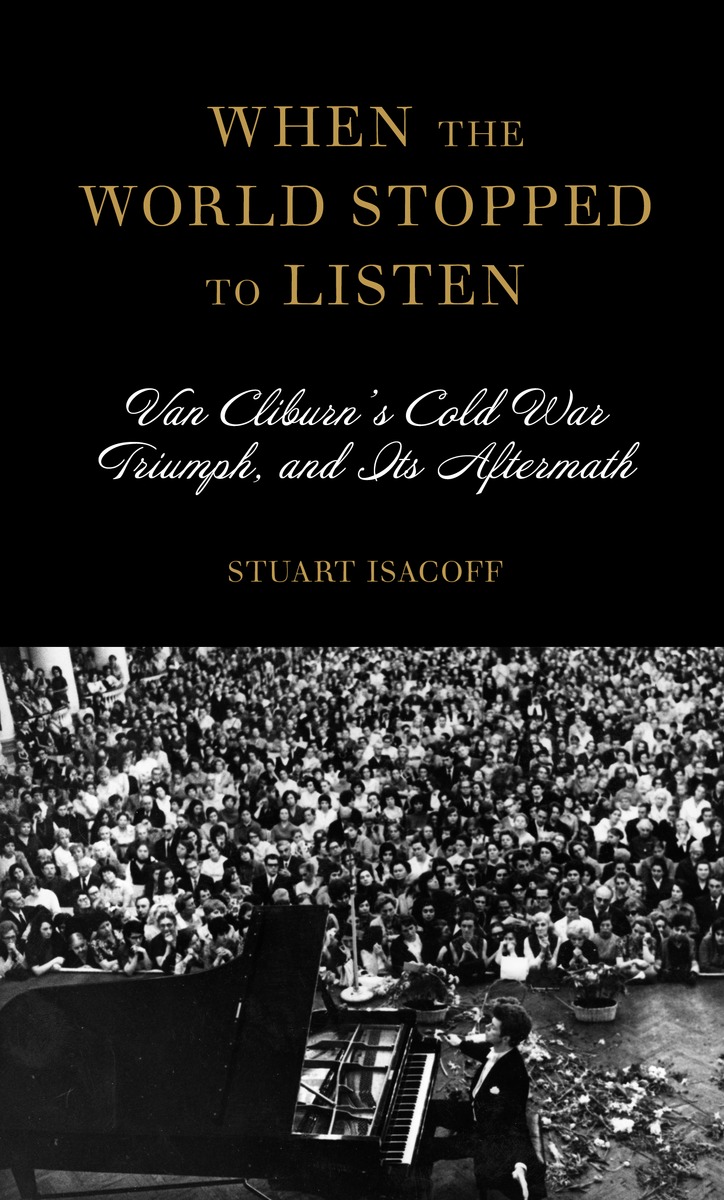 When the World Stopped to Listen: Van Cliburn's Cold War Triumph, Stuart Isacoff's, newest book, is an exploration of Cliburn's spectacular win at the first Tchaikovsky International Piano Competition in Moscow, at the height of the Cold War in 1958. Following is the second part of the book's Prologue. Part I was posted Monday.

Broadcasts of the competition were so popular that the streets were often empty when the pianists were performing. Listening became a collective rite, binding enthusiasts together into what one prominent Russian music critic called a national veche, the equivalent of a medieval popular assembly. Those admirers created so strong a ballast against possible Kremlin tampering with the jury vote that it was said years later by critic Tamara Grum-Grzhimailo that the seeds of perestroika were first planted in this moment, during the Tchaikovsky Competition. Some in the Kremlin, of course, resisted the American's coronation, dreading a Cold War defeat. Yet Van's appeal was hardly political. It was personal. He had the uncanny ability to melt nearly anyone's self-reserve. He had always worn his heart on his sleeve, and though hard-nosed friends in New York often snickered at his overwrought sentimentality, the Russians responded in kind. Van's deep-seated humility made his magnetism, even his exaggerated emotions, feel trustworthy.
Below the surface, a more complex dynamic was in play. Raised in the genteel hothouse of an East Texas culture where people are taught to keep their inner demons well buried, Cliburn was less simple than he seemed, yet he projected a kind of spiritual purity: not in the sense of his having rejected earthly temptation—far from it—but through an aura of plain, unsullied decency.
His pianism shared many of the same qualities. He sat regally erect at the instrument, like a king on his throne (not unlike the great nineteenth-century pianist Sigismond Thalberg, who had allegedly developed his posture by smoking a Turkish pipe while practicing); but his tone, like his character, was warm and entrancing, a "magnolia blossom" sound, as one Texas patron described it. His hands could swallow large portions of the keyboard in a single swoop, and through them the music flowed as naturally as a spring breeze, its surges and taperings artfully measured, gently gusting with a pulse that was both sure-footed and elastic.
And somehow, it all sounded confessional. Whether he was performing Bach or Rachmaninoff, the piano seemed to be sharing intimate secrets. His unique sound—the glowing tone and gentle earnestness, the way the music's dynamics under his fingertips rose and fell like sighs as he shaped a melody—collapsed the distance between himself and his listeners, so that as he played, Chopin's heart seemed to beat within their own chests.
Though his rivals at the competition were well trained, there was something different about Van's art. For many in the audience it represented the face of freedom. Performing under the auspices of a repressive regime and before an intimidating jury of some of the world's greatest musicians, he seemed to answer to no authority other than the shifting tides of his own soul. The mere act of hearing him became liberating.
When the American took home the gold, it set off a commotion around the world, opening diplomatic doors and launching one of music's most remarkable careers. Van Cliburn's story has the outlines of a Homeric epic, with great forces arrayed against each other like deities on a great battlefield; challenges that tested the strength of individual souls; and a hero who rose to mythical heights in an extraordinary victory that proved only fleeting, before the gods of fortune exacted their price.
Much of what happened has remained untold: It's a dramatic mix of political intrigue and private struggle; of blossoming artistry and the pitfalls of celebrity; of small glimmers of hope that thrived in the midst of a terrifying clash of global powers. It is above all a tale of the ability of an artist to touch and transform others, but also a caution about art's limitations. For Van Cliburn—as well as for other top winners of the first Tchaikovsky Piano Competition—triumph and decline were inextricably joined.
Excerpted from WHEN THE WORLD STOPPED TO LISTEN: Van Cliburn's Cold War Triumph by Stuart Isacoff. Copyright © 2017 by Stuart Isacoff. Published by arrangement with Alfred A. Knopf, an imprint of The Knopf Doubleday Publishing Group, a division of Penguin Random House LLC.
---

WHO'S BLOGGING

WHO ELSE IS BLOGGING
Interviews with musicians who have successfully created their own opportunities.
PROFESSIONAL
GROWTH
FIND:
»MORE

NETWORK
FIND:
Updates to artist manager rosters
»MORE
RENT A PHOTO
Search Musical America's archive of photos from 1900-1992.