---
New Artist of the Month: Composer Abbie Betinis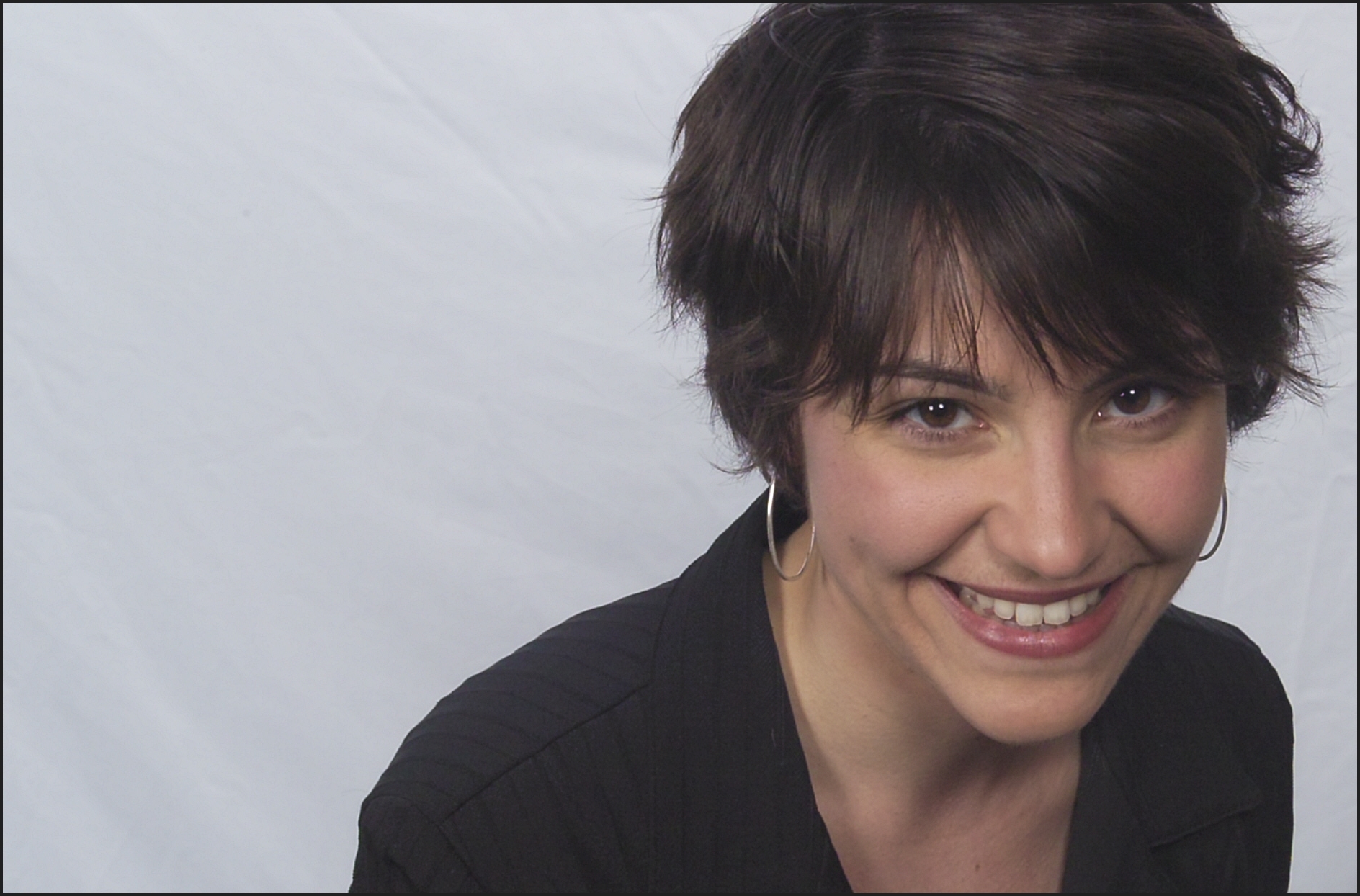 It's no surprise that Abbie Betinis has established herself at the vanguard of young composers writing for chorus. Her musical upbringing (Suzuki training beginning at age four) and heritage (she is, respectively, the great grand-daughter and grand-niece of composers and carol-writers Bates and Alfred Burt) have instilled in her a fluent understanding of the voice and a love for the tradition of communal singing. Her compositional voice, at once eclectic and identifiably hers, is grounded in idiomatic melodic writing and expressive lyricism. At the same time, she continually draws on new ideas and cultural influences to expand her musical vocabulary.

I first encountered Betinis's music in 2010, when the St. Olaf Choir made a stop in New Haven on its US tour. Her Bar xizam ("Upward I rise") was on the program that night, and I was transfixed; her setting of the poem by Hâfez, the 14th-century Persian mystic poet, begins mesmerizingly with a unison hum in all voices and then gradually expands outward as the singers begin to find their voices. The piece depicts the ascent of the soul, building to a euphoric climax after five minutes of slowly rising motion. Betinis also incorporates elements from the Shepard scale, an Escher-like aural illusion in which the pitch seems to be perpetually rising. Following the radiant apex of the piece, an achingly beautiful chorale-like coda expresses Hâfez's assertion that, on the day he dies, he will finally see the face of God. I had never heard music so imaginatively and viscerally capture a text, and I was hooked.
Betinis's compositions often reflect the influence of early or non-Western musical techniques or materials. Her diverse catalogue features pieces that incorporate elements from shape – note singing, Gaelic keening, Chinese compassion mantras, and, as in the case of Bar xizam, 14th-century Sufi mysticism. Yet these elements are not merely instances of cultural appropriation, but rather an earnest synthesis of her research and training. In the program note for her extended work From Behind the Caravan: Songs of Hâfez, she asserts that the music is not intended to sound Persian, but rather is a personal interpretation of several influences, including Middle Eastern musical modes, Persian poetic meter, and even her own memories of dancing unabashedly as a child with her family to joyful music.
That joy is realized in the first and final movements of Caravan, in which she portrays Hâfez casting off his shawl and breathing out his despair with a sigh, "Ah!" At this moment in both movements, the music whirls feverishly faster as the singers intone an ecstatic unison melody, while the viola and percussion swirl around the singers in a dancelike fervor. Her use of Middle Eastern modes – in this instance, a major scale with the lowered sixth – is both evocative and poignant, without a hint of banality.
Betinis is also skillful at incorporating existing music into her compositions, as in her arrangements of the shape-note hymn The Babe of Bethlehem and the Ravenscroft ballad Remember, O Thou Man. Both works draw their source material from the original melodies, but Betinis's arrangements bring a fresh harmonic inventiveness and contrapuntal vitality. The Babe of Bethlehem is another vocal tour de force, with a hushed modal opening that introduces the tune, and then spins forward with virtuosic imitative writing and frequent use of canon, one of her frequent hallmarks. Though the melody is usually preserved unaltered, she reharmonizes the accompanying voices with delightfully unexpected twists and turns. Likewise, her Remember, O Thou Man maintains the original 17th-century melody but adds rich chromatic harmonies, rhythmically complex counterpoint, and a lush harp and cello accompaniment.

Her catalogue includes nearly 60 commissioned works for some of the country's finest conductors and ensembles, including the American Suzuki Foundation, Cantus, Dale Warland Singers, James Sewell Ballet, The Rose Ensemble, Young New Yorkers' Chorus, and Zeitgeist. Among her more recent works is A Blessing of Cranes, a collaborative commission from the 2014 American Choral Directors Association Women's Choir Commission Consortium, which includes more than 35 women's choruses from around the United States and Canada.

Published in 2016, A Blessing of Cranes is a multi-sensory work that invites the singers to fold origami cranes, referencing the Japanese legend that promises a wish will be granted to anyone who folds 1,000 paper cranes. The work pays tribute to Sadako Sasaki, a young Japanese girl who survived the Hiroshima bombing but later succumbed to leukemia caused by radiation, who during her illness folded some 1,300 cranes in hopes of healing the world from war. Betinis's piece is both healing and prophetic, and reflects her own pacifism and commitment to justice.

That commitment has recently been manifested in the form of Justice Choir, a collaboration between Betinis and her colleagues Tesfa Wondemagegnehu and Andrea Ramsey. Justice Choir is something of a grass-roots effort, designed to bring people together to inspire unity and policy change and to amplify a demand for social justice through singing. She notes that, though public activism is a relatively new endeavor for her, she comes from a long line of community activists dedicated to social justice and pacifism, and that her own private struggle as a three-time cancer survivor helped instill in her a sense of resilience and perpetual resistance.

As a co-founder of the Independent Music Publishers Cooperative, Betinis is an innovator of the self-publishing and promotional model for composers. Although she is also published by older publishing houses like Graphite and Hal Leonard, her advocacy for composers' rights and expertise on copyright and the self-publishing industry have gained national recognition.
I had the opportunity to speak with Abbie Betinis at the 2017 American Choral Directors Association national conference. Despite a grueling schedule managing her shared publisher's booth and presenting at reading sessions, she made time to speak at length with each person who approached her table. Over the course of two or three days, I became even more impressed with her generosity, artistry, and commitment to justice. At one point during a reading session, she became emotional when introducing a piece meant to inspire unity and acceptance, and asserted her conviction that our role as artists has never been more important in our lifetimes than now. Betinis overflows with compassion, kindness, and energy, and her ability to use her talents to effect social change is all the more admirable.
Abbie Betinis holds a B.A. in music from St. Olaf College, an M.A. in music composition from the University of Minnesota, and has done post-graduate work in Paris, where she studied harmony and counterpoint in the tradition of Nadia Boulanger. She is a two-time McKnight Artist Fellow, a recipient of the American Composers Forum's Subito and Encore grants, the Craig and Janet Swan Composer Prize, the Esoterics' Polyphonos Young Composer Prize, and has won awards from Donne in Musica (Italy), Minnesota Music Educators Association, and New York's Sorel Organization.
---

WHO'S BLOGGING

WHO ELSE IS BLOGGING
Interviews with musicians who have successfully created their own opportunities.
PROFESSIONAL
GROWTH
FIND:
»MORE
NETWORK
FIND:
Updates to artist manager rosters
»MORE
RENT A PHOTO
Search Musical America's archive of photos from 1900-1992.