---
New Artist of the Month: Violinist Stephen Waarts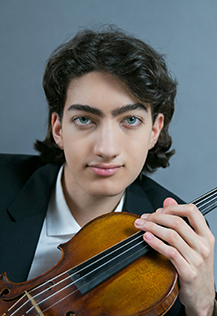 At a recent Young Concert Artists gala concert at Lincoln Center, 20-year-old violinist Stephen Waarts tackled Prokofiev's difficult, moody Second Violin Concerto with remarkable poise and assurance—qualities that can elude artists twice his age.
"I often think how strange it is to play the violin," said Waarts in a recent in an interview, "although I mostly view myself as incredibly lucky to be pursuing this path."
In just a few years, Waarts has performed in hundreds of concerts with scores of ensembles around the world, including the Cleveland Orchestra. His biography notes that he has played over 30 concertos, including some rarities by Castelnuovo-Tedesco, Ernst, and Szymanowski, in addition to repertory standards by Sibelius, Tchaikovsky, and others. And while he has expressed love for Mozart, the Brahms Violin Concerto remains a perennial favorite.
"The level of detail involved in playing at a high level is quite perplexing sometimes," he continues. "A tiny change in a phrasing can make a huge difference to me personally, but then I wonder if an audience member would also think it's a huge difference."
Probably not, but such acute sensitivity is part and parcel of his artistry. Waarts began his studies in San Francisco at the age of five. He found he loved the violin after he and his twin brother went to a concert at the Living Wisdom School in Palo Alto, with a cadre of six- and seven-year fellow violin students. He remembers that they played "probably quite terribly in hindsight! It was actually my brother who really wanted to start, and I followed along. He was talented, too, but stopped playing when he was 10 or so—now he's getting his degree in biochemistry." (Waarts's many non-musical interests include math, literature, the visual arts, and art history.)
At 14, he graduated from both the School for Independent Learners (Los Altos, CA) and from the preparatory division of the San Francisco Conservatory of Music, where he studied with Li Lin. He also worked briefly with Itzhak Perlman and with Alexander Barantschik (concertmaster of the San Francisco Symphony), and baroque violinist Elizabeth Blumenstock. Waarts currently studies with Mihaela Martin at the Kronberg Academy near Frankfurt, Germany.
At the Curtis Institute, from which he graduated last February, his teachers included Aaron Rosand and, for piano, Annie Petit. He also studied conducting and composition and often writes his own cadenzas. "I think the most challenging thing is having the style of the cadenza fit the composition. It's important to be tasteful and in proportion to the body of the concerto," he says.
Waarts showed his gifts early, when in 2010 he won second prize in the Menuhin Competition in Oslo. Watching him in a video play the Chausson Poeme at age 13, he seems uncommonly calm, as if he has already found an inner peace.
He has a tall, gangly frame and strikingly long fingers; in a performance of Bartók's Violin Sonata No. 2 (from his Curtis graduation recital last April with pianist Chelsea Wang), they traverse the fingerboard with easy dexterity and nimble accuracy, leaping with ease to the high end of the fingerboard.
He also summons up a seductive tone, thanks in part to a c. 1868 violin by Jean-Baptiste Vuillaume. "I've been very lucky to have it for a long time now, since I was 12 or so," says Waarts. "It's definitely shaped my playing in a big way, though I'm not sure I could explain exactly how. The violin is able to produce a lot of different colors, so it helps me in that way, and I'm sure its innate sound has contributed to my personal ideal concept of sound, which is different for every player of course. I've noticed the Vuillaume has developed a lot the more I've played on it; often people are surprised that it's the same violin they heard a couple years ago."
In the first of Szymanowski's three Mythes and in Ravel's Tzigane, performed last March as part of his winning a 2017 Avery Fisher Career Grant (with pianist Jessica Zylina Osborne), the instrument's luscious sound was a key part of Waarts's poetry. The sensuousness of the Szymanowski was matched by some downright savageness in the Ravel, in which he nailed the tricky pizzicatos leading to the breathtakingly difficult final bars.
In addition to winning the YCA auditions in 2013, the Menuhin, and Avery Fisher awards, Waarts received both Second Prize and Audience Prize at the 2013 Montreal International Competition, and the Audience Prize at the 2015 Queen Elisabeth Competition.
He has a particular fondness for chamber music, calling it "the most enjoyable and selfless form of music making. It's quite cliché to say this, but I believe one should always look for the chamber music aspects in any piece one plays, including concertos." A regular at Music@Menlo, in August he will return to Krzyzowa-Music, the Polish festival founded in 2015 by violinist Viviane Hagner.
"I often think how strange it is to play violin," he says, continuing in a philosophical vein. "Sometimes it seems quite frivolous… when there are so many more 'important' things going on in the world. But I've always believed music can make a huge difference in the world."
Photo by Matt Dine
---

WHO'S BLOGGING

WHO ELSE IS BLOGGING
Interviews with musicians who have successfully created their own opportunities.
PROFESSIONAL
GROWTH
FIND:
»MORE

NETWORK
FIND:
Updates to artist manager rosters
»MORE
RENT A PHOTO
Search Musical America's archive of photos from 1900-1992.