---
New Artist of the Month: Baritone Jeffrey Gavett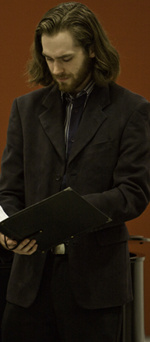 As a graduate of Westminster Choir College and Manhattan School of Music, baritone Jeffrey Gavett studied the classics but was simultaneously drawn to the harder edges of metal rock. Growing up near Portland, Maine, he became a fan of music by Steve Reich and English electronic musician/composers Autechre and Aphex Twin. He even gave some thought to being an electronic musician, but fate had other plans.
Much of the inspiration for his current musical milieu derives from a concert experience in 2001 when Fantômas, a group headed by vocalist Mike Patton, was opening act for an otherwise conventional band. "The songs were all 45 seconds to a minute long," he recalled in a recent interview. "There were no words—just Patton shrieking and jumping around the stage. He had multiple microphones, and he was sort of conducting and thrashing all around. I was entranced by it. People were booing and reacting really terribly to it. But it was so intense and strange—I loved it. I thought, I want to be a singer. Of course, I don't do anything like what he does."
Gavett's universe includes many types of sounds, sometimes far afield from traditional singing or speech. In addition to solo work, most of his time is divided between his two groups, loadbang and the six-member a cappella group Ekmeles, where shrieks, lip smacks, gutteral throat clearing, and dramatic inhalations of breath are all fair game.
Gavett founded Ekmeles seven years ago, taking its name from the Greek "meles" (melody) and "ek" (outside), since most of its cutting-edge repertoire likes "outside" the usual parameters of the voice. Ekmeles has amassed dozens of commissions, and performed such contemporary landmarks as Stockhausen's Stimmung, and David Lang's the little match girl passion.
"I started the group because I wanted to sing small group works that were experimental and weird," says Gavett. I heard CDs of [German contemporary vocal group] Neue Vocalsolisten and thought, 'This stuff is crazy, I want to do things like this.'
"There's not a huge tradition of that kind of singing in the U.S. There are early music groups—Anonymous 4 or New York Polyphony—but there aren't a lot of models. The Swingle Singers are an important precedent, but they have a totally different underpinning for their style." Ekmeles has done some of the works that Ben Johnston wrote for Ward Swingle, such as Sonnets of Desolation (1981), and Ci Gît Satie (1966). The latter, a quasi-jazz composition, is written for voices, bass, and drum set, with the vocalists scat singing. Gavett adds, somewhat deadpan, "Our focus is music that is not easily digestible, at first."
His solo performances have included the finale of the 2015 Resonant Bodies Festival (New York), plus appearances in Reykjavik (Iceland), Strasbourg, Oslo, and Zagreb. He sings with another group called loadbang, an unorthodox quartet of trumpet, trombone, bass clarinet, and baritone. The name "loadbang" is derived from programming language used in creating live electronics.
"Four of us who were drinking buddies in grad school thought we should be friends who play music together. I wrote the first piece for the group, DEATH, for a composition course." They first played together on April 1, 2008 on a series of 20-minute performances called Power Concerts put together by Andy Kozar and Will Lang, the group's trumpet and trombone. The concerts were held at 10 p.m. on Tuesdays ("sort of like a salon") in a space that was the former library at MSM, which had been gutted. "It was raw and unfinished" remembers Gavett, "and had a hole in the floor that Will fell through once. We played my piece, Earle Brown's December 1952, and, since it was April Fool's Day, we sang a couple of barbershop quartets."
To date, the group has over 50 works in its repertoire, written by such composers as Reiko Füting, Hannah Lash, Alexandre Lunsqui, and Angélica Negròn. Christopher Cerrone's How to Breathe Underwater, with electronics, is one of its most-performed commissions. The ensemble is currently partnering with Boston's Longy School of Music in the first annual Longy's Divergent Studio (June 11-18) to offer participants coaching, performances, and seminars on microtonal and atonal ear training.
On May 12, Ekmeles will present Julius Eastman's Macle (1968) at Philadelphia's Sanctuary of the Rotunda, part of a four-concert Eastman tribute called "That Which Is Fundamental," curated by Bowerbird, an organization dedicated to experimental music, art, film, and dance. And on May 20 at New York's DiMenna Center, Gavett and his singers will offer the U.S. premiere of British composer Joanna Bailie's Harmonising, which uses ring modulators, altered bird songs, sounds of airplanes, and recordings from a calliope playing the overture to Rossini's William Tell. The evening also includes first performances of several pieces commissioned by the group, as well as End Words, commissioned of Christopher Trapani by Chamber Music America. Trapani, says Gavett with a touch of awe, "is developing a whole new system of electronics that will be reacting to—and can be tuned to—live singing. He spent about three hours with each of us, recording samples of sustaining vowels and consonants in different pitch ranges, and has software that can analyze the samples, compare them in terms of timbre and pitch, and graph them as a cloud of little particles. I'm glad I don't have to actually know how it works." No, he just has to perform it--clearly a challenge that he relishes.
---

WHO'S BLOGGING

WHO ELSE IS BLOGGING
Interviews with musicians who have successfully created their own opportunities.
PROFESSIONAL
GROWTH
FIND:
»MORE

NETWORK
FIND:
Updates to artist manager rosters
»MORE
RENT A PHOTO
Search Musical America's archive of photos from 1900-1992.