---
New Artist of the Month: Pianist Mariam Batsashvili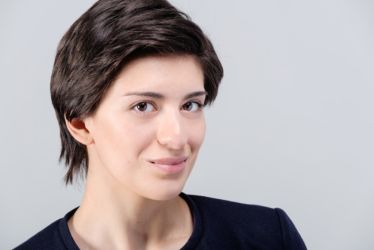 Pianist Mariam Batsashvili is not very well known in the United States, but that will surely change. The 23-year-old winner of 2014 Franz Liszt Piano Competition in Utrecht (following a 2011 victory at the International Franz Liszt Competition for Young Pianists in Weimar) can be found online performing Liszt, Bach/Busoni, and more (mariambatsashvili.com), where her stunning musicality and solid technical command display an assurance and thoughtfulness rare in a player so young.
Batsashvili's fan base is already growing. Among the benefits of her competition wins were concert dates throughout the world, including a few appearances in America, where she debuted in New York at the 2016 International Keyboard Institute and Festival. IKIF's director, Jerome Rose, says he used his connections in Utrecht to bring to his stage this "beautiful pianist," who impresses "not only by her flair and technique, but by the discipline she demonstrates to become a great classical artist."
Critics have agreed: In Utrecht, where she was the first ever female winner in 30 years, she also garnered the Press Prize. The Dutch newspaper NRC Handelsblad noted that Batsashvili "turns every phrase into something special." The competition's jury cited her "tremendous touch" and "sincere emotion." Selected by the European Concert Hall Organization (ECHO) as a "Rising Star" for the 2016/17 season, her schedule now includes appearances in major European concert halls, including venues in Paris, Cologne, Vienna, Brussels, London, Hamburg, and Amsterdam.
A native of Tblisi, Georgia, Batsashvili began playing and singing at the age of four. "I am a musician because of my grandmother," she reports. "She was a piano teacher. When I was six she took me to Natalia Natsvlishvili at the E. Mikeladze Central Music School in my hometown." Natsvlishvili is still her most important influence (their lessons together continue via Skype), though the young pianist is now also a student of Grigory Gruzman at the Hochschule für Musik Franz Liszt in Weimar, as a scholarship holder of the Deutsche Stiftung Musikleben.
Within a year of beginning her musical studies in Tblisi, she entered a Georgian children's competition and won. It sealed her fate. "I decided then that this is what I would do for the rest of my life," she says. The prize was $20. Asked what she did with the money, Batsashvili reveals why Rob Hilberink, director of the Utrecht competition, describes her as "one of the kindest persons you will ever meet."
"I spent it on a gift for my teacher," she recalls. "She gives me so much, teaching me not only about music, but about how to live. Since I was only seven, I discussed it with my parents, and we decided to give her a lamp, so she could think of me whenever it was lit." That gracious gesture also symbolizes her approach to music making, which is rooted in a spirit of generosity toward her audience. Her focus is on reaching, rather than impressing, her listeners.
"If I play purely, and don't put my ego on top by trying to show off my technique or musicality," she explains, "I can serve in the right way and remind people of the depth of the art. I am a conduit between the music and the public. That doesn't mean I try always to be comforting. If I play something touching, it may remind someone of a horrible memory of suffering or loss. But music, like great literature and other arts, knows everything we might experience, and in that way it can convey a kind of empathy for our lives."
Honing her abilities is an ongoing task, of course. "I don't like an overly sweet sound," she says. "But some pianists hit the piano. That's violence. The piano is your friend, not your enemy." Her practice routines are designed to expand her sensitivity to the instrument. "At home I had an upright piano. In Georgia, we don't have many great pianos, so I was taught to make the best possible sound from whatever piano I touched. If the sound is not good, my teacher always blames the pianist."
To assure a beautiful tone, she has used the technique of practicing on a table top, or the lid of the piano. "Using your fingers without creating a percussive sound, pushing your fingers deeply against the surface to feel the heaviness without hitting, you can achieve a soft, singing sound." Rather than playing scales, she has cultivated her brilliant facility by playing Czerny etudes. "I believe he was a genius," she says. "Practice him and your hand is ready for everything. I used to play him every day, but never mechanically. He is really very musical."
Today, she has daily lessons in Weimar whenever she is in town—"I bring my teacher everything, because in playing so much one can develop the problem of becoming routine; that kills the music"—while continuing long-distance studies with Natalia Natsvlishvili, who coaches her in new material.
"I am super busy with new pieces," she reports, "and I have to play five concertos in 2017." Following performances at Amsterdam's Concertgebouw (Liszt Piano Concerto No. 1), in Rotterdam (Tchaikovsky Piano Concerto No. 1), and Brussels (Saint-Saëns Piano Concerto No.2), along with recitals in more than 30 countries, Mariam Batsashvili is ever on the go. "I travel with my scores and test myself constantly on the train or in the car," she says. "And I want to learn Beethoven's Hammerklavier Sonata. I've already programmed it for next year. It's my next challenge."
Americans will have an opportunity to hear her next October 18, when this vibrant artist next alights in New York City, at Steinway Hall.
Stuart Isacoff's next book, When the World Stopped to Listen: Van Cliburn's Cold War Triumph and its Aftermath, will be published by Alfred A. Knopf in April.
---

WHO'S BLOGGING

WHO ELSE IS BLOGGING
Interviews with musicians who have successfully created their own opportunities.
PROFESSIONAL
GROWTH
FIND:
»MORE

NETWORK
FIND:
Updates to artist manager rosters
»MORE
RENT A PHOTO
Search Musical America's archive of photos from 1900-1992.