Jansons! Petrenko! Gergiev!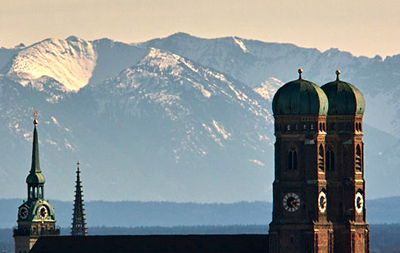 By ANDREW POWELL
Published: January 23, 2013
MUNICH — With the city council's blessing today of Valery Gergiev's hire as the next Chefdirigent of the Munich Philharmonic, all three of the Bavarian capital's globally renowned orchestras will be in Soviet-born hands by late 2015.
This September, 40-year-old Kirill Petrenko of Omsk, Siberia, finally takes over the theater-based Bavarian State Orchestra; his appointment was announced in 2010. (Before then he leads Der Ring des Nibelungen at Bayreuth, in the northern part of the state.) Riga-born Mariss Jansons, 70, has been Chefdirigent of the Bavarian Radio Symphony Orchestra since 2003; his present contract is expected to be lengthened, reflecting a collegial tenure.
Munich's three other professional orchestras — the Münchener Kammerorchester, the Münchner Rundfunkorchester and the Münchner Symphoniker — have German conductors.
The when and who of Gergiev's appointment, leaked last week by the Abendzeitung newspaper, are a surprise. It was only four months ago that Lorin Maazel began his music directorship of the MPhil. Contrary to one London report, Maazel was never announced as "temporary" music director. His main contract covers the period 2012–15 and he additionally helped during the abrupt interregnum that followed predecessor Christian Thielemann's deeply lamented exit. It is not clear whether the 82-year-old French-born Pittsburgher — soon to sub for Riccardo Muti on a Chicago Symphony Orchestra tour of East Asia — would have preferred to retain the position. Anyway, recent Munich concerts led by him have lacked spark.
Moscow-born Gergiev, 59, is another prominent name for Munich, but hardly one associated with the Beethoven-Brahms-Bruckner repertory that has defined the MPhil in its finest seasons, under Ferdinand Löwe (1908–14), Rudolf Kempe (1967–76) and Thielemann (2004–11). He is not known for Mozart or Schubert, and is no Mahlerian either. A 2010 Verdi Requiem at the MPhil's acoustically appalling, city-operated Gasteig home suffered from misshapen phrases and apparent under-rehearsal. Not even a 2011–12 Shostakovich cycle, divided between the MPhil and the Mariinsky Orchestra, brought consistently probing and satisfactory results.
But Gergiev's finger-wiggling, turn-the-page spontaneity can work wonders in coloristic music, or in episodic works, or in passages laden with irony or humor. His Mussorgsky and Prokofiev are unsurpassed, his Rimsky-Korsakov and Tchaikovsky much admired. The conductor is surprisingly adept, too, in certain scores by Berlioz and Wagner.
Gergiev will relinquish his job as principal conductor of the London Symphony Orchestra, it seems, near the time his new duties start. The Munich job paid a reported €800,000 (roughly $1.1 million) during the last Thielemann years.
Photo © Landeshauptstadt München
Tags:
Abendzeitung
,
Bavarian Radio Symphony Orchestra
,
Bavarian State Opera
,
Bavarian State Orchestra
,
Bayerische Staatsoper
,
Bayerischer Rundfunk
,
Bayerisches Staatsorchester
,
BRSO
,
Christian Thielemann
,
Commentary
,
Kirill Petrenko
,
London Symphony Orchestra
,
Lorin Maazel
,
Mariinsky Orchestra
,
Mariss Jansons
,
MKO
,
München
,
Münchener Kammerorchester
,
Münchner Philharmoniker
,
Münchner Rundfunkorchester
,
Münchner Symphoniker
,
Munich
,
Munich Chamber Orchestra
,
Munich Philharmonic
,
News
,
Symphonieorchester des Bayerischen Rundfunks
,
Valery Gergiev
Related posts
Tags: Abendzeitung, Bavarian Radio Symphony Orchestra, Bavarian State Opera, Bavarian State Orchestra, Bayerische Staatsoper, Bayerischer Rundfunk, Bayerisches Staatsorchester, BRSO, Christian Thielemann, Commentary, Kirill Petrenko, London Symphony Orchestra, Lorin Maazel, Mariinsky Orchestra, Mariss Jansons, MKO, München, Münchener Kammerorchester, Münchner Philharmoniker, Münchner Rundfunkorchester, Münchner Symphoniker, Munich, Munich Chamber Orchestra, Munich Philharmonic, News, Symphonieorchester des Bayerischen Rundfunks, Valery Gergiev