Gergiev Undissuaded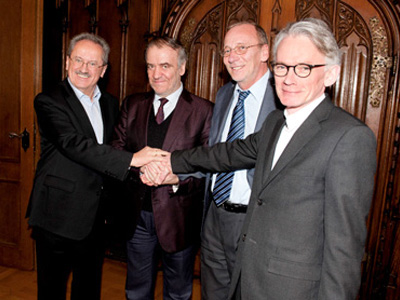 By ANDREW POWELL
Published: May 20, 2014
MUNICH — In a rambling, two-page "personal statement" to Munich Philharmonic subscribers made public today (May 20), Valery Gergiev stressed the role of music as bridge-builder and affirmed his now divisive assumption of the post of Chefdirigent of the orchestra, effective in fall 2015.
The statement covers a grab bag of topics, from Realpolitik to the Russian Orthodox faith, from Mariinsky Theater duties to a Munich Stravinsky cycle, from Glinka's Europeanization of Russian music to recent Ukraine "events." Coyly, it acknowledges that "future political developments could give rise to problems."
One bizarre paragraph refers to the Russian people's continuing support for "taboos that have not applied in Western countries for many years," presumably a reference to non-advances in human rights. "With respect to my personal stance," it states, "there is no one in my ensemble and team who could accuse me of anything. One of my most important principles is respect for others and their personal lives."
This effort by Gergiev was in part an outcome of a politically forced meeting he had with the orchestra's Intendant Paul Müller and the City of Munich's Kulturreferent Hans-Georg Küppers three days ago (May 17) in Linz during a Mariinsky Orchestra visit to Austria. The encounter had been expected to take place in Munich late this week when the touring Russians arrive here, and it may have been moved up (and away) to refract attention.
Photo © 2013 Wild und Leise
Related posts:
Gergiev, Munich's Mistake
Maestro, 62, Outruns Players
Busy Week
Jansons! Petrenko! Gergiev!
MPhil Vague on Gergiev Hours
Tags: Commentary, Glinka, Hans-Georg Küppers, Linz, Mariinsky Orchestra, Mariinsky Theater, München, Münchner Philharmoniker, Munich, Munich Philharmonic, News, Paul Müller, Valery Gergiev