Rechenberg on Dupré's Chemin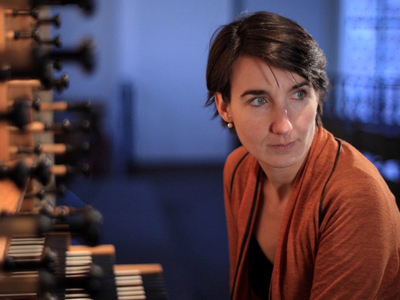 By ANDREW POWELL
Published: May 22, 2014
MUNICH — Composer first, virtuoso second. That, increasingly, is history's view of Marcel Dupré, the long-lived, globe-trotting Frenchman whose suite Le Chemin de la Croix received a fluent and technically assured performance on Palm Sunday (April 13) from Munich organist Helene von Rechenberg.
The hour-long score follows the sequence of fourteen Stations standard in the Roman Church since the 17th century and widely depicted in the arts, from the sentencing of Jesus to his entombment. Their scriptural basis is partial. Dupré quickly establishes color and emotion in each piece. Encounters with Simon of Cyrene and Veronica summon dreaminess, unreality. The 3rd, 7th and 9th Stations, when Jesus falls, form a plodding dark thread that is never literal; Jésus tombe pour la troisième fois, a march, swirls turbulently.
It was a February 1932 Brussels Conservatory reading of Paul Claudel's 1911 versets of the same title that led to Dupré's work, his Opus 29, initially "improvisations" for that event. In finished form, contrarily, the absence of words probably heightens the composition's eloquence, and Graham Steed has suggested Dupré's inspiration was essentially visual. Liszt's vocal and more concise Via Crucis of 1879 offers contrast, not always in Liszt's favor.
As played by Rechenberg on the excellent Sandtner organ at St Joseph's Church in Tutzing, south of here on Lake Starnberg, the opening and closing pieces had a roused, tense profile, buttressing the suite: Jésus est condamné à être crucifié an expression of outrage framed by slow, halting sections; and Le corps de Jésus est mis au tombeau, the longest piece at about seven minutes, a progression from noble simplicity through quiet percussive measures to a rising, bright, quiet close. Trained in Freiburg and with Michael Radulescu in Vienna, Rechenberg consistently found satisfying weight and shape for phrases, in music that is less dense than much of her repertory.
Dupré himself performed Le Chemin de la Croix yearly at Saint-Sulpice in Paris, where he was director of music until his death, at 85, in 1971. The work has since gained a following through recordings and is played during Lent on both sides of the Atlantic, although its length and the need for completeness preclude a routine place on recital programs. It is related in subject matter to Dupré's four-movement Symphonie-Passion, notated in 1924 as Opus 23 but improvised three years earlier on Macy's 28,000-pipe organ in Philadelphia. The virtuoso gave close to 300 recitals in the United States.
Photo © unknown
Related posts:
Brahms Days in Tutzing
BR Chor's St Matthew Passion
Christie Revisits Médée
Written On Skin, at Length
With Viotti, MRO Looks Back
Tags: Helene von Rechenberg, Le Chemin de la Croix, Lent, Marcel Dupré, Michael Radulescu, München, Munich, Palm Sunday, Paul Claudel, Review, Saint-Sulpice, Tutzing, Via Crucis