Rigoletto Lands in Stadium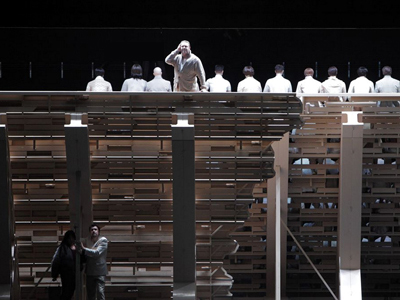 By ANDREW POWELL
Published: December 21, 2012
MUNICH — They all laughed eight years ago when Bavarian State Opera set Verdi's Rigoletto on the Planet of the Apes, and the production fast vanished. Naturally, then, the return of the deformed ducal jester in a new régie last Saturday (Dec. 15) promised relative normalcy, perhaps even a faithful night at the theater.
So much for expectations. Young Hungarian director Árpád Schilling gets the planet right but strips the bitter tale of period, place, and — crucially — social order. Stadium bleachers substitute for Renaissance Mantova. The action unfolds, when courtiers aren't sitting, near and on top of the prompter's box. Costumes suggest nouveau siècle clones on vacation.
Sure, this opera has traveled before without falling apart, to 1940s New York and to Hollywood studio offices, for example, but always with Victor Hugo's power structure intact. Schilling's Duca operates with no apparent authority, and his Gilda plays a tough game: remote, not much of a daughter, and never the guarded innocent.
Under the circumstances, the cast on opening night toiled uphill. Patricia Petibon keenly projected Gilda's music, even when required to deliver the gushy Caro nome from the bleachers (and among the vile razza dannata). But her Italian eluded comprehension and her trills were feeble. Joseph Calleja, singing at the epicenter of his repertory, made an ideal Duca. The closing diminuendo revealed powers in reserve and superlative control.
Franco Vassallo had a good night too, robust of tone and expressive against the odds. In a singular blemish, the long last Pietà of Miei signori, perdono, pietate went amusingly haywire, as if he (correctly) sensed his jester character was emoting without pull in the house.
Tackling Monterone and Sparafucile, the Russian bass Dimitry Ivashchenko got to toy with Schilling's one inspired prop, a penny-farthing wheelchair that serves as apparatus of the assassin. His is a majestic voice, and every consonant and vowel of the text came across. Nadia Krasteva, from Sofia, who this year concluded a ten-year stint as ensemble member at the Vienna State Opera, deployed her warm chest voice to striking effect in the roles of Giovanna and Maddalena. Sadly the director gives her little to do but vamp, which she does well, even if it is not necessarily what she does best.
Marco Armiliato drew immaculate playing from the orchestra. He also held the attention of the Bavarian State Opera Chorus, normally a weak link. Tempos were moderate, occasionally expansive.
Only time will tell whether Schilling's non-conception lasts longer than the Apes show, but it should be around until Dec. 30, when Planet Earth gets to see it via streaming. Fabio Luisi is slated to lead performances next summer. For context, Bavarian State Opera mounts three new Verdi productions in 2012–13, scheduling nine Verdi operas in all, to balance the nine Wagner operas due.
Photo © Wilfried Hösl
Related posts:
Netrebko, Barcellona in Aida
Kušej Saps Verdi's Forza
Kaufmann Sings Manrico
With Viotti, MRO Looks Back
Verdi's Lady Netrebko
Tags: Árpád Schilling, Bavarian State Opera, Bayerische Staatsoper, Bayerischer Staatsopernchor, Dimitry Ivashchenko, Franco Vassallo, Giuseppe Verdi, Joseph Calleja, Kritik, Marco Armiliato, München, Munich, Nadia Krasteva, Patricia Petibon, Review, Rigoletto