Petrenko Hosts Petrenko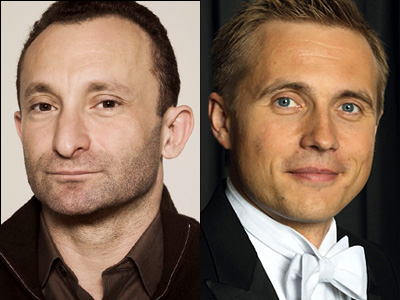 By ANDREW POWELL
Published: April 22, 2016
MUNICH — Vasily Petrenko's debut at Bavarian State Opera this weekend prompts a glance at two Russian-born, modestly profiled conductors who have built distinct careers in Western Europe while sharing a last name. The guest from Liverpool will lead Boris Godunov, last revived two years ago by company Generalmusikdirektor Kirill Petrenko.
Inviting Vasily to work in Kirill's house was sweet, ingenuous. After all, the two Petrenkos are what trademark attorneys call "confusingly similar" marks, a factor that doesn't vanish just because real names are involved, or because it's the arts. Are artists products? Their work is, notwithstanding the distance from commerce.
The Petrenkos are not of course the first conductor-brands to overlap, but unlike the Kleibers or Järvis, Abbados or Jurowskis, no disparity of talent or generation neatly separates them. Then, inescapably, there is the matter of dilution: a "Toscanini" needs no specifier.
As it happens, agents have promoted the Petrenkos as if with accidental care over geography. Although both men have enjoyed positive forays Stateside, awareness of them in Europe diverges. For a full decade, Vasily has been the "Petrenko" of reference in Britain. Kirill has been "Petrenko" in Germany.
Kirill has had such minimal renown in Britain, in fact, that retired Bavarian State Opera chief Peter Jonas last summer on Slipped Disc could report the following about the Bavarian State Orchestra's upcoming European tour: "The [orchestra's] committee and their management offered themselves to the [BBC] Proms for 2016 … and were sent away with the exclamation, 'Oh no … . Kirill Petrenko? We do not really know about him over here.' … The tour will happen all over Europe but without London." Indeed it will.
In the meantime, Calisto Bieito's staging of Boris Godunov gets a three-night revival April 23 to 29 with a strong cast: Sergei Skorokhodov's pretender, Ain Anger's chronicler and Alexander Tsymbalyuk's riveting Boris. How will Vasily grapple with the (1869) score? Opera featured prominently in his career only at the start.
Kirill
Vasily
Кирилл Гарриевич Петренко
Василий Эдуардович Петренко
born
Feb. 11, 1972, in Omsk — 44
July 7, 1976, in St Petersburg — 39
hair
auburn, curly
blond, straight
eyes
brown
gray
height
5 feet 3 inches
6 feet 5 inches
weight (est.)
145 lbs., trim
180 lbs., trim
training
Vorarlberg State Conservatory in Feldkirch
St Petersburg Conservatory
influences
Bychkov, Chung, Eötvös, Lajovic
Jansons, Martynov, Salonen, Temirkanov
early job
Kapellmeister, Volksoper, Vienna, 1997–99
Resident Conductor, Mikhailovsky Theater, St Petersburg, 1994–97
now
Generalmusikdirektor, Bavarian State Opera
Sjefdirigent, Oslo Philharmonic; Chief Conductor, Royal Liverpool Philharmonic
lives in
refused to disclose
Birkenhead Park, Merseyside
companionship
rumored to have platonically dated soprano Anja Kampe
married to Evgenia Chernysheva, choral conductor and music tutor; Sasha (11), Anna (2)
faith
private
Russian Orthodox
favorite team
refused to disclose
Zenit St Petersburg (soccer)
diplomacy
on Ukraine: "I observe the conditions there with great concern. What is happening there is anything but normal. A political solution [is needed] that does not impinge on Ukraine's sovereignty." Speaking at the National Theater, March 6, 2014
on women conductors: "[Orchestras] react better when they have a man in front of them … . A cute girl on a podium means that musicians think about other things." Quoted in The Guardian, Sept. 2, 2013
humor
while working with Miroslav Srnka on his 2015 opera South Pole: "If the composer is dead, you'd like to ask him questions, but you can't. If [he] is alive, you can ask him questions, but sometimes you'd prefer he would be already dead." Reported by Slipped Disc, Jan. 18, 2016
while attempting damage control: "We were saying that because a woman conductor is still quite a rarity … , their appearance [on] the podium, because of the historical background, always has some emotions reflected in the orchestra." Quoted in The Telegraph, May 8, 2014
distinctions
Honorary Scouser
Echo Klassik Award
achievement
survived nine cycles conducting Der Ring des Nibelungen at Bayreuth
completed a Shostakovich cycle for Naxos
strengths
Mussorgsky, Strauss, Elgar, Scriabin, Berg
Shostakovich
weakness
Donizetti (and probably Verdi)
what John von Rhein said
"Solidity of technique, quality of leadership, depth of musical ideas and ability to strike a firm rapport with [Chicago Symphony Orchestra] members … [determine whether a conductor] stands or falls … . By all these standards [he] sent the needle off the symphonic Richter scale at his first concert." March 2012 CSO debut
"His beat is clear and he has a knack for focusing on the essentials, his long fingers fluttering in a highly expressive manner … . He inspired the [Chicago Symphony Orchestra] to go well beyond its normal megawatt virtuosity, and this made for a blistering account of the Shostakovich [Tenth]." Dec. 2012 CSO debut
CDs
Suk's Asrael Symphony and Pfitzner's opera Palestrina for CPO and Oehms
Rachmaninoff's First Symphony and the Shostakovich Cello Concertos with Truls Mørk for Warner and Ondine
career trajectory
modest inclination
less modest inclination
compass setting
north, tardily
south, east, west
Placing the two Petrenkos side by side here, like baseball cards, meant compiling at least some personal facts along with the musical. So, three questions went to the conductors' handlers. How tall is he? Where does he live (part of town)? What's his favorite sports team?
This proved awkward, however, especially on one side, and hitherto-cordial staffers turned as cool as, well, trademark attorneys. Vasily's people cooperated with partial answers. Kirill's, deep inside Bavarian State Opera, stonewalled: "Mr. Petrenko generally does not wish to answer any personal questions."
As it turned out, Vasily was on record with full answers over the years to all three questions for various media outlets. The man is an open book. This left Kirill's side with unflattering holes. But the opera company's hands were tied. Apparently under instructions from the artist, nobody could even confirm he lives in Munich (where he has drawn a paycheck for 30 months already). And he may not.
Bavarian State Opera: "What's not to understand about 'Mr. Petrenko does not wish to answer any personal questions'? Who puts out the rule that a conductor … does have to comprehend or be willing to be part of public relations? … So, in fact, we do not want to convey anything to anybody. This is the 'line to be drawn' from our side."
Mention of Vasily went over badly. BStO: "What kind of idea is it anyways to compare two artists because they share the same last name?" Prepared descriptors accompanied the rhetoric: "ridiculous" and a "game." How not to kill a story.
Shown the data for the above table, the opera company took to sarcasm: "Yes, sure, [inventing] height and weight [measurements] is of course totally acceptable." But Kirill's height had become public half a year ago* at ARD broadcaster Deutsche Welle. BStO did not either know this or wish to share the knowledge. Its hapless official scanning DW: "Oh, it's on the Internet! It's gotta be true!"
[*Earlier actually: Lucas Wiegelmann included it in an excellent 2014 discussion for Die Welt.]
Photos © Bayerische Staatsoper (Kirill Petrenko), Royal Liverpool Philharmonic (Vasily Petrenko)
Related posts:
Petrenko's Sharper Boris
Portraits For a Theater
Bieito Hijacks Boris
Nazi Document Center Opens
Petrenko to Extend in Munich
Tags: Ain Anger, Alexander Tsymbalyuk, Bavarian State Opera, Bavarian State Orchestra, Bayerische Staatsoper, Bayerisches Staatsorchester, Boris Godunov, Commentary, Kirill Petrenko, München, Munich, Mussorgsky, News, Oslo Philharmonic, Royal Liverpool Philharmonic, Sergei Skorokhodov, Vasily Petrenko
---